We are so excited to share these amazing National Park Gifts! Being a Park Ranger for 20 years and spending as much time as possible in parks I have to say I would be happy to receive any of these National Park inspired gifts.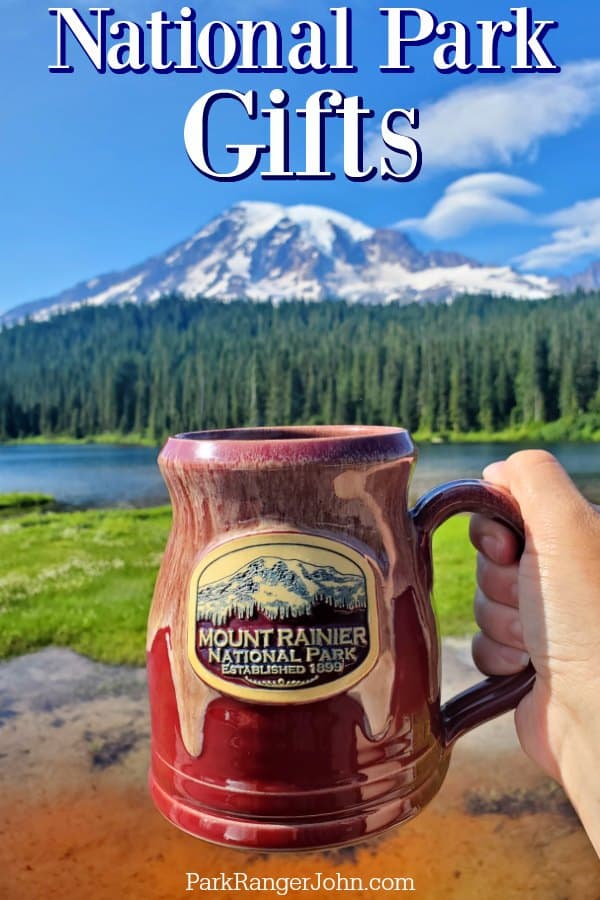 National Park Gifts
We wanted to put together a gift guide to help you find the best gifts for National Park lovers possible! These gifts range from National Park specific items to fun things we know park lovers will be excited about.
When it comes to gifts for National Park Lovers we think we have you covered! From board games, books, mugs, and more we have the gift you are looking for!
We were gifted some of these products while others we purchased and have in our own National Park collection. We wanted to bring you the perfect gift for family and friends and parks lovers in your life.
These are the perfect way to remember your favorite national park trip or plan for future trips to United States National Parks.
This holiday season you can bring a smile to your park loving friends and family with an amazing National Parks inspired gift!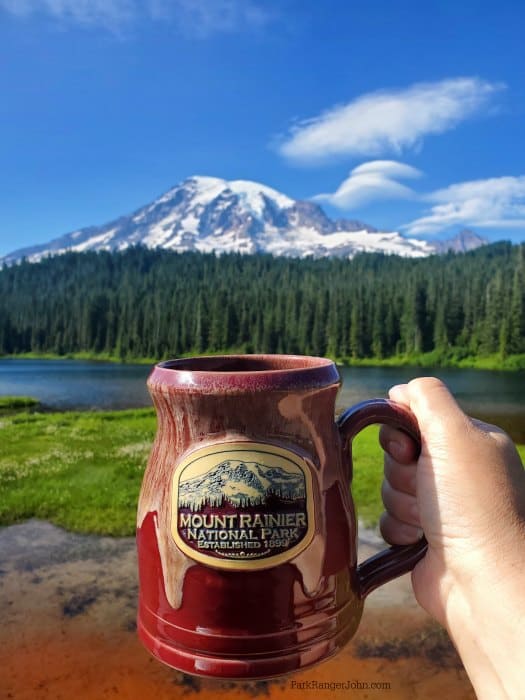 National Park Coffee Mug
Deneen Pottery produces amazing hand-thrown mugs and pottery products personalized for National Parks. You can find them in many of the National Park Gift shops.
We found a huge variety of Deneen Pottery in the National Park Gift Shop in Mount Rainier NP. We picked up this tankard mug and I have fallen madly deeply in love with it. I am so excited to have a collection of Deneen Pottery Mugs to commemorate our trips to National Parks.
This company is a second-generation family pottery business that has been in business since 1972. Every piece is hand-thrown on a potters wheel and touched by over 24 pairs of hands through the production process in St. Paul, Minnesota.
Each mug is lead-free, food-safe, oven and freezer-ready, dishwasher proof, and microwavable.
Check out all of the epic National Park Mugs they make here.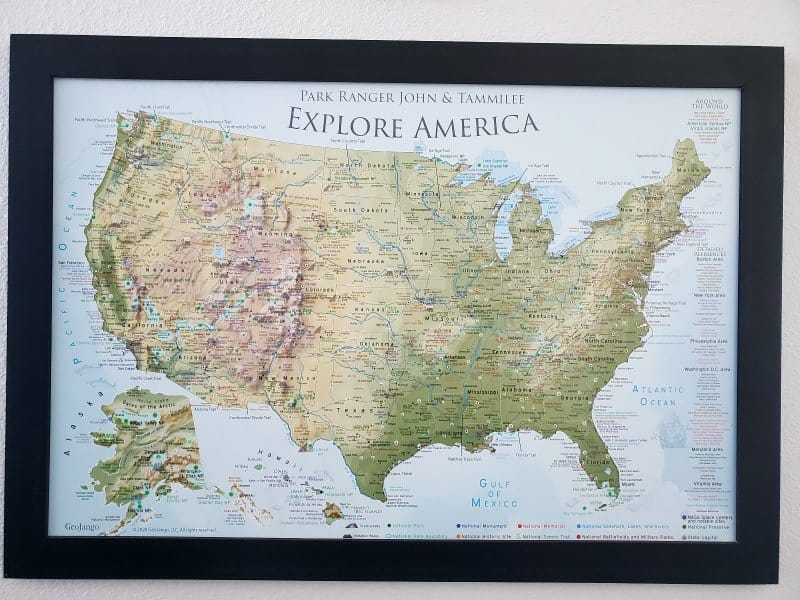 Personalized National Park Map
I think this may be one of the most epic National Park Gifts you can order! A personalized National Park Map to track all of the parks visited.
GeoJango even lets you personalize the map with your own title and information. I love that this map not only includes the 63 National Parks but also Historic Sites, Historical Parks, National Seashores and really all of the parks.
You can mark how many of the 423 US National Park Sites you have visited easily on this map!
The map comes with multi-colored push pins to make it easy to mark the parks you have visited. We had so much fun going through and pinning each of the parks we have been to. It may have even created a few road trip ideas as we looked at the map.
We hung our personalized GeoJango National Park Map near the entrance to our office. Every day we can look at it and dream of which parks we will visit next. I found my wife looking at it plotting a cross country road trip to reach a few new parks we haven't been to.
GeoJango National Park Map includes:
Detailed cities & significant locations across the USA
❃ USA Interstates and Major Rivers
✦ Over 600 National Park Service Sites (includes all 62 National Parks open for operation as of 2020)
★ Historical Cities (O.K. Corral, St. Augustine, Colonial Williamsburg, Jamestown, Mackinac Island, Branson, historic western towns, and more)
✪ Extraordinary Places (Barringer Crater, Biosphere 2, Golden Gate Bridge, Four Corners, Hoover Dam, Niagara Falls, and more)
▲ The location of the tallest elevation in every state - numbered from the highest (1 in Alaska) to lowest elevation (50 in Florida)
✔ 10 of the most climbed peaks in the USA with the peak name and elevation in feet
●●● National Scenic Trails that span the USA
You can order your own personalized National Park Map on GeoJango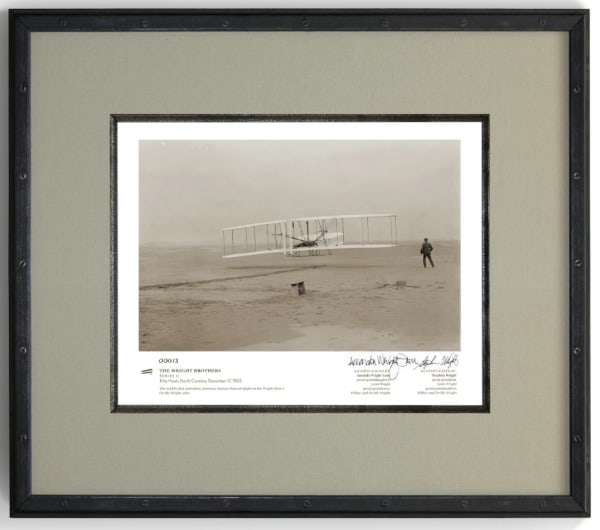 Wright Brothers matted Giclée historical print
I am so inspired thinking about the Wright Brothers and how they worked tirelessly to reach their dream of creating an airplane. When I heard about the Wright Brothers collection of gift ideas I was so excited!
We have The Wright Brothers® Kitty Hawk Series 1.1 | matted Giclée historical print (14x11) hanging right above our desks and every day I look at it. It is such an epic reminder to push for our dreams and that anything is possible.
Wind, sand, and a dream of flight brought Wilbur and Orville Wright to Kitty Hawk, North Carolina where, after four years of scientific experimentation in Dayton, Ohio, they achieved the first successful airplane flights on December 17, 1903.
When members of the Wright family assisted in the selection of this initial Series 1 grouping of photos, they recalled their experiences while taking part in the centennial celebrations around the world.
This image captures one of the famous first flights, arguably one of the most memorable photos in existence today, at the Kill Devil Hills sand dunes near Kitty Hawk.
Certificate of Authenticity document
Image sourced from Special Collections and Archives, Wright State University
Archival matte paper
Acid-free matting
Color: Black & White
Print size: 14.00 x 11.00 in
Mat size: 19.00 x 16.00 in
Printed in the U.S.A.
You can order your own print or look at additional prints on Wright Brothers USA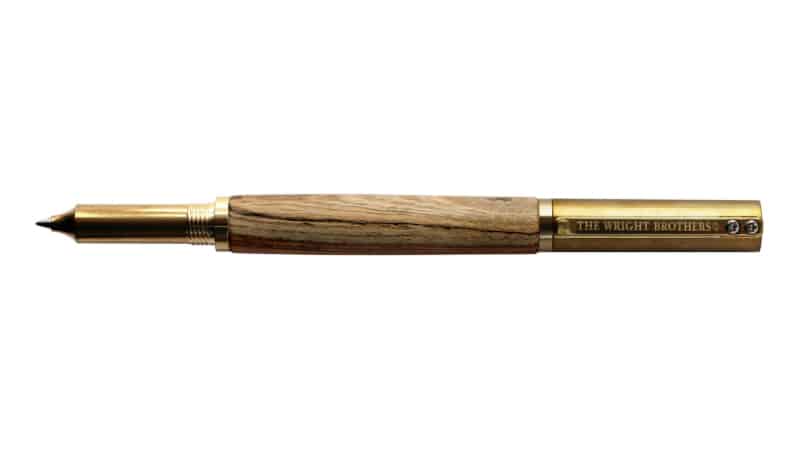 The Wright Brothers® Huffman Prairie rollerball pen
The Wrights spent a considerable amount of time developing a dependable, fully-controllable airplane at the actual Huffman Prairie Flying Field. On October 5, 1905, this was the site of the first practical flight when Wilbur Wright piloted the Wright Flyer III for a world record of over 24 miles in 39 minutes.
This distinctive, limited-edition pen features Honey Locust hardwood from the property of Huffman Prairie, near Dayton, Ohio, where Wilbur and Orville perfected the invention of flight. The fine writing instrument made from brass is well suited to document your notable daily observations.
Certificate of Authenticity document
Writing system: Rollerball
Hardware finish: Brass
Barrel finish: Honey Locust hardwood from Huffman Prairie
Cap detail: Laser-etched Wright Flyer icon
Refill type: Rollerball
Made in the U.S.A.
You can order your own pen on Wright Brothers USA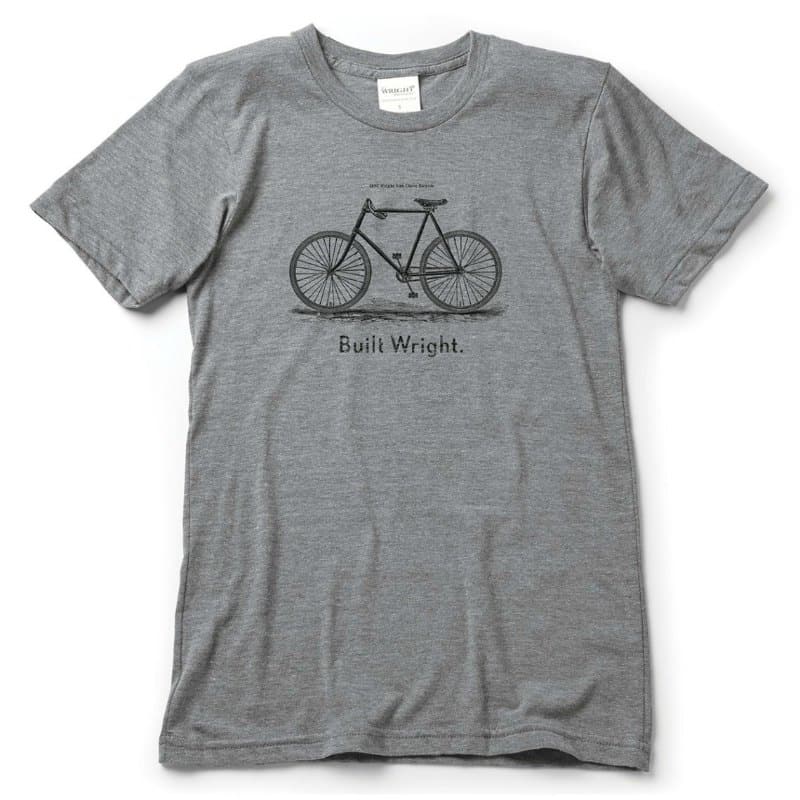 The Wright Brothers® Built Wright. T-shirt
Before they flew, they rolled. History was made at the Wright Cycle Co. Your shirt shows the top-of-the-Wright line—The Wright Van Cleve. It took mechanical ingenuity and perseverance to design and manufacture a bicycle in the 19th century.
That same mechanical ingenuity and perseverance took the Wright brothers into the sky. Observations recorded from the action of balancing and turning a bicycle lead them to believe that a flying machine needed not two, but three axes of control. Classic crew cut and design.
The caption at the top reads "1897 Wright Van Cleve bicycle". The label on the inside reads "The Wright Brothers." Like the Van Cleve, it's built in the U.S.A.
Tri-blend (50% polyester/25% cotton/25% rayon) construction
Polyester retains shape and elasticity
Cotton lends both comfort and durability
The addition of rayon makes for a unique texture and drapes against the body for a slimming look
Durable rib neckband
Trim fit
Color: Athletic Grey
Size: S, M, L, XL, XXL
Made in the U.S.A.
You can order your own shirt and check out the other great designs on Wright Brothers USA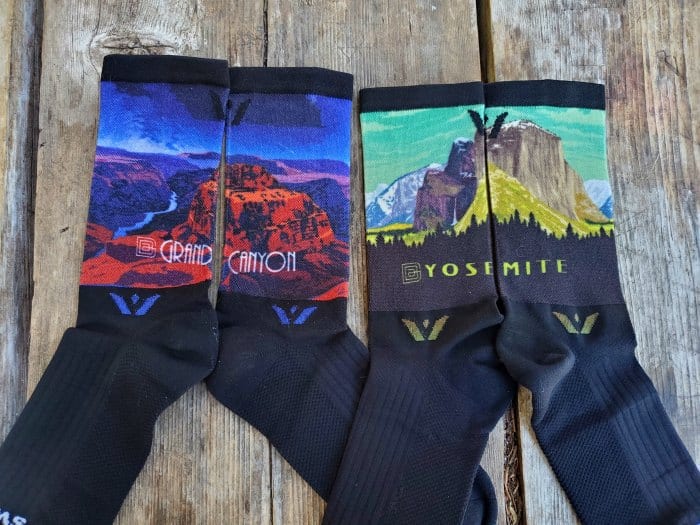 National Park Socks
Swiftwick has produced a limited edition series of National Park inspired socks and they are amazing. Talk about the perfect National Park Gift that can be worn all the time.
Swiftwick proud to support the work of the National Park Foundation, the official charity of America's national parks.
High-performance fibers regulate temperature and keep feet dry.

The medium cushion provides lasting comfort.

Moderate compression gently hugs feet to support muscles and keep socks in place.

Seamless toe eliminates irritation and blisters.
Find out more about these epic socks on the Swiftwick website.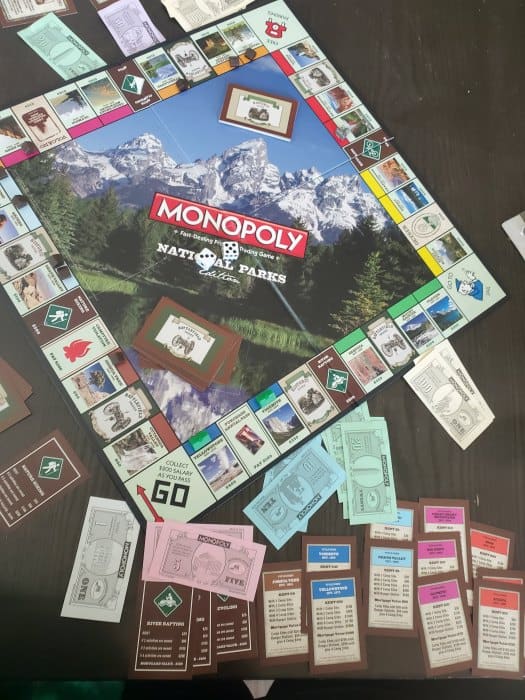 National Parks Monopoly
The National Park themed Monopoly Game is perfect for anyone who loves National Parks!
The game has been completely updated including 6 custom tokens - ranger hat, tent, canoe, bison, hiking boot, and camera.
Instead of buying Park Place or Boardwalk, you have the chance to own Yellowstone and Yosemite! These epic parks are of high value during this great game.
We had so much fun playing National Park Monopoly!
National Park Monopoly includes:
Game Board
6 Tokens
28 Title Deed Cards
16 Historic Sites Cards
16 Battlefield Parks Cards
2 Dice
32 Camp Sites
12 Ranger Stations
Pack of Custom Money
Buy on Fun.com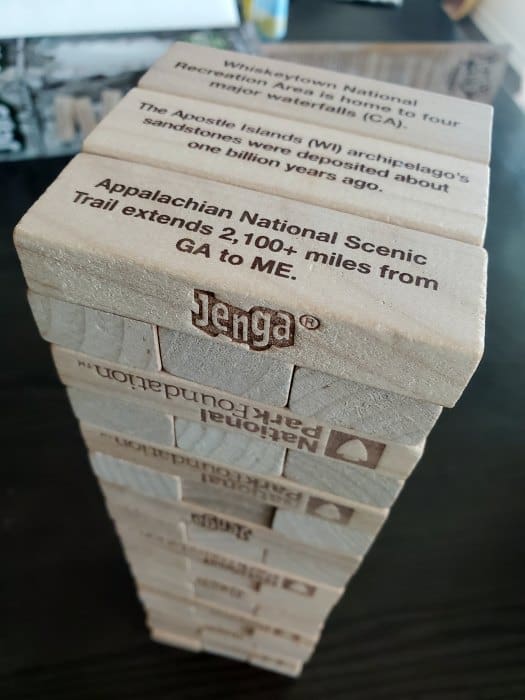 National Park Jenga
I have to confess I had never played Jenga before we started playing the National Park Jenga Game.
We had so much fun not only waiting to see who would knock it over but also learning fun National Park facts that are printed on each piece of the Jenga Game.
National Park Jenga includes:
54 Custom Jenga Blocks
Loading Tray
Instructions
Buy it on Fun.com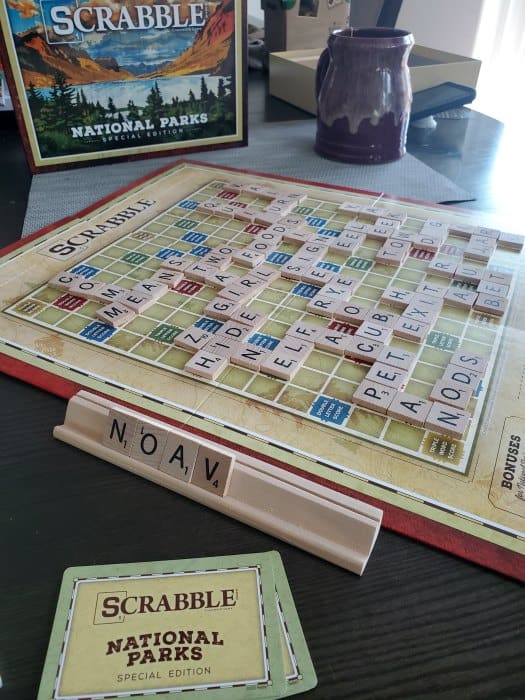 Scrabble National Park Edition
Bonus points for National Park inspired words, customize each game with the National Parks bonus cards and score even more points, AND a portion of every purchase goes toward the National Park Foundation to support the restoration and preservation of Americaʻs most treasured resources.
This game is the perfect National Park Gift! So much fun and park themed.
National Park Scrabble includes:
Game Board
26 Custom National Park Cards
100 Wooden Letter Tiles
4 Wooden Tile Racks
Letter Tile Bag
Rules
Buy it on Fun.com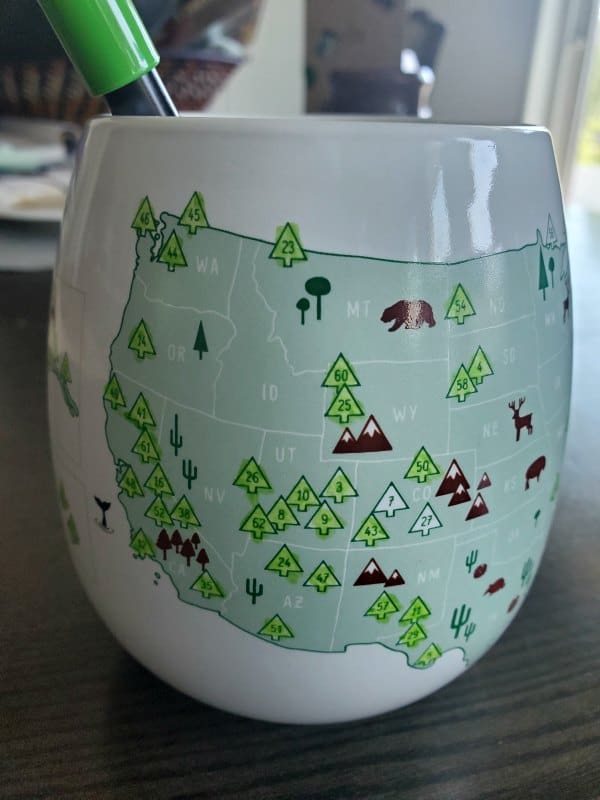 National Park Color Map Mug
The National Park Color Map Mug is the perfect way to track how many of the US National Parks you have been to!
We have been to 50 of the 62 National Parks as of today but we are hoping to visit #7 and #27 on the National Park Color Map Mug soon. Do you know which parks we hope to visit?
It was so much fun filling in the trees to designate which parks we have visited. I love that I can have my coffee in the morning and look at this National Park Mug to see which parks we still have to visit.
Buy it on Uncommon Goods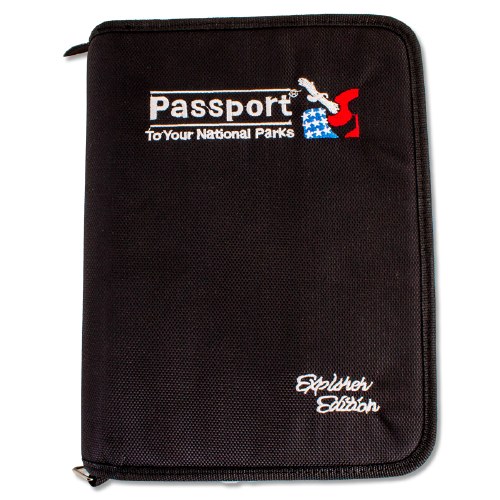 National Park Passport Books are an amazing way to track which parks have been visited. They are a National Park Gift that keeps on giving for years to come!
We love picking up a new passport stamp every time we are in a park. We use them to remember what years we visited parks and even put small photos in our passport book to track our adventures
Find out more about National Park Passport Books.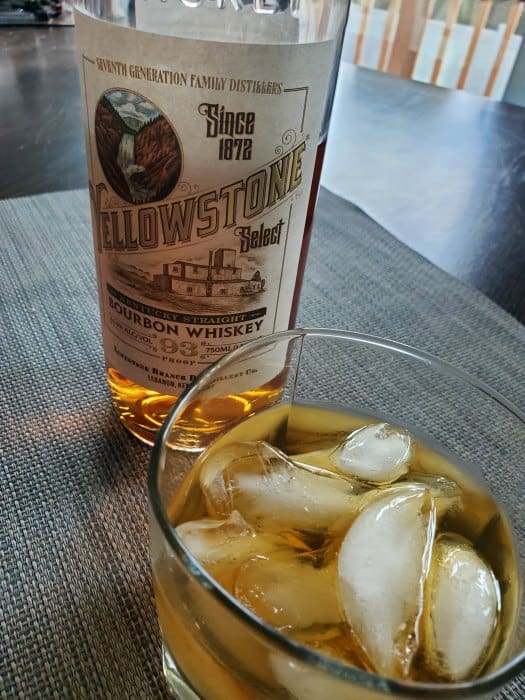 Yellowstone Bourbon Whiskey
I personally love Yellowstone Bourbon Whiskey as a gift!
It shares my love of the parks and is a great drink after a great day exploring. I have always been a little partial to a Bourbon on the rocks and I find this bourbon smooth and great tasting while being true to the Jim Beam brand legacy of Bourbon.
The best part about this gift is that everyone wins. You give a great gift, someone will think you are the best for giving them this as a gift, and Yellowstone Bourbon is donating a portion of Yellowstone Bourbon proceeds to the National Parks Conservation Association (NPCA), an independent, nonpartisan organization devoted to nurturing our country's national parks for future generations.
This is something to raise your glass and say cheers to!
We hope the National Park Fan in your life loves the National Park Gifts you pick out! We also have great guides for Camping Gifts, National Parks Books, National Parks Games, and more coming soon!