Things to do in Black Canyon of the Gunnison National Park may surprise you with all of its activities! The park is open year-round and even provides winter recreation like cross country skiing in the winter.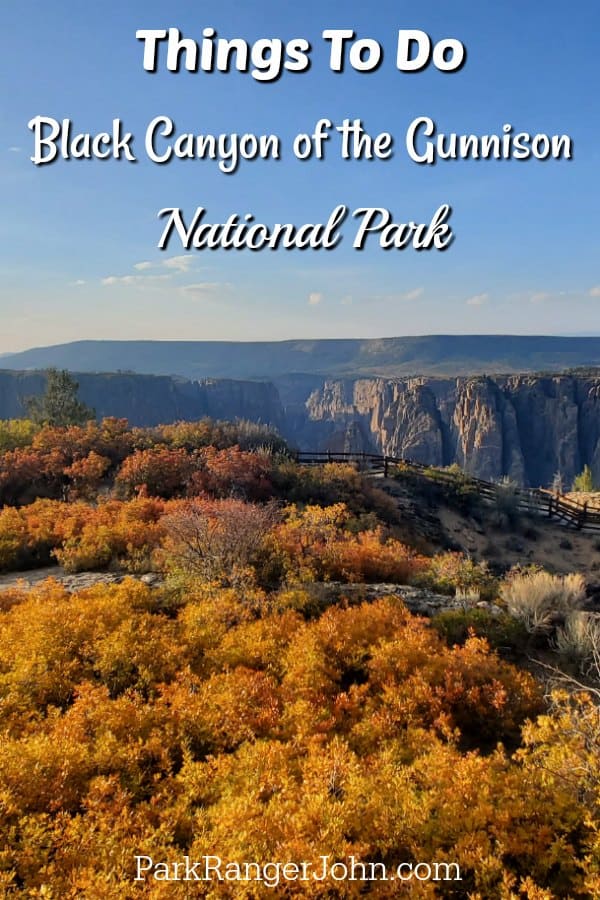 Things to do in Black Canyon of the Gunnison National Park
Black Canyon of the Gunnison is located in western Colorado and is one of the recent parks making the name change to National Park (1999). The park itself was created as a National Monument in 1933.
Black Canyon of the Gunnison National Park gets its name from the river that traverses the terrain. One of the steepest river descents in North America, the Gunnison River, boasts a 95 feet per mile drop in elevation. As the river cuts a narrow path through the mountains, it leaves an impressive narrow canyon.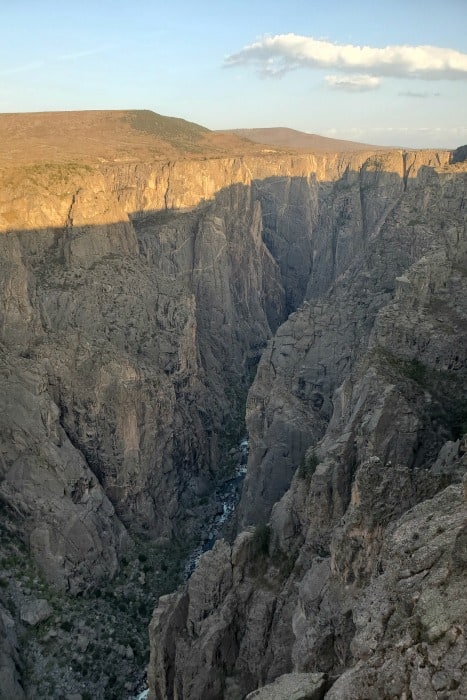 Each year visitors to the park are lured by the scenic south rim, the challenging rock climbing at "The Black" and roaring class IV rapids in the river itself.
When we were planning our trip to Black Canyon of the Gunnison we honestly thought it would be a park we could see in a few hours and we would see everything we needed to see. Everything we had heard and read made it seem like there was little to do besides a couple of scenic drives so we were delightfully surprised when we started exploring!
The only problem is that we planned for 3-4 hours in the park with a tight schedule. Can I just admit that we really wished that we had planned more time here? This means that we will have to do a return trip!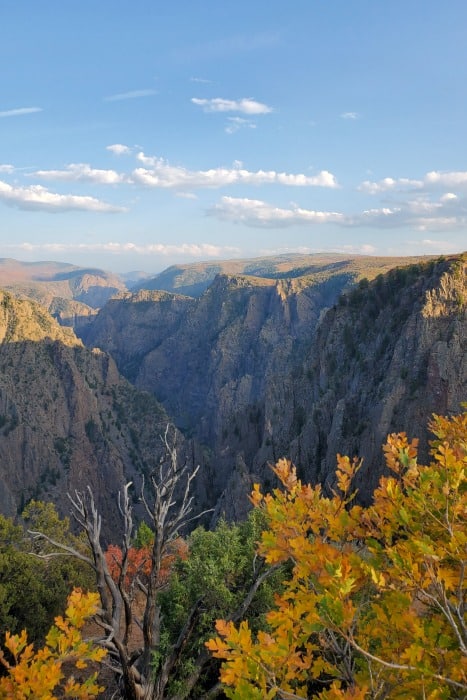 When we were planning our trip we were confused why people kept saying that you needed 3+ hours to visit 12 scenic viewpoints on a 7-mile drive. What we didn't realize was that each of the 12 viewpoints generally included a short to long walk out to the overlook.
When they say it is a walk to the overlook they really mean a walk! One of the overlooks had a sign designating it was 1300 yards to the overlook. This is kind of deceiving as 1300 yards each way is equal to 1.48 miles!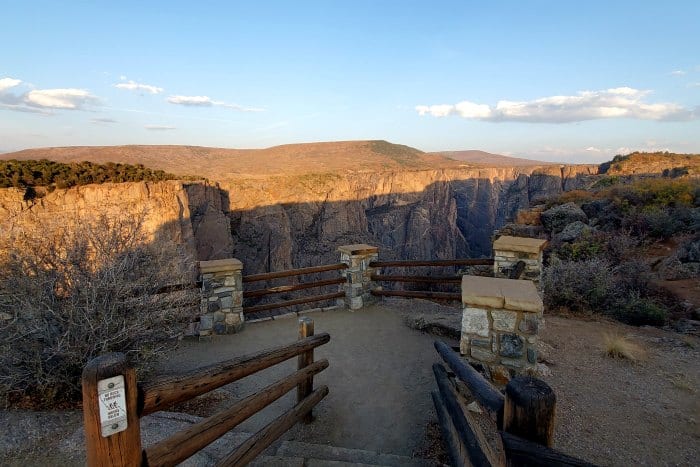 Scenic Drive
There are actually two scenic drives in the park. The main scenic drive that most visitors visit is the South Rim Road drive. There is a more remote North Rim Road Drive for those who plan ahead to spend some time in the park.
The South Rim Road scenic drive is 7 miles long and has 12 scenic overlooks with names like Tomichi Point, Gunnison Point, Chasm View, and ends at High Point. Visitors can hike 1.5-mile roundtrip out and back to Warner Point for an excellent view!
The North Rim Road is accessed through Crawford State Park with 6 viewpoints with sheer drop-offs giving spectacular views of the canyon. Make sure to dedicate at least 2-3 hours for each of the scenic drives. I would also suggest giving yourself a little extra time if you are like me and want to walk out to each of the viewpoints, take photos and just enjoy the moment.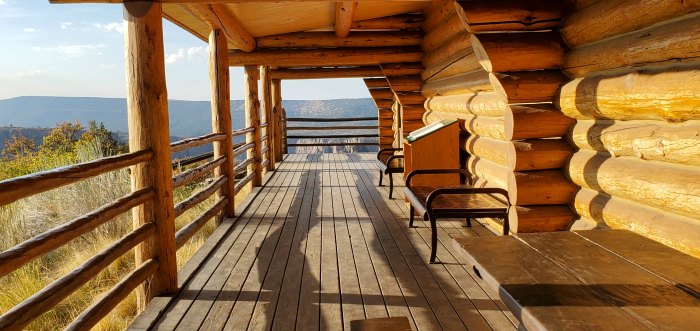 South Rim Visitor Center
The park visitor center is perched on the edge of the canyon on the East Portal Road just past the campground and entrance station. Do not miss the back deck that offers sweeping views of the Black Canyon.
The visitor center has a park store, ranger desk, and bathrooms just down from the visitor center.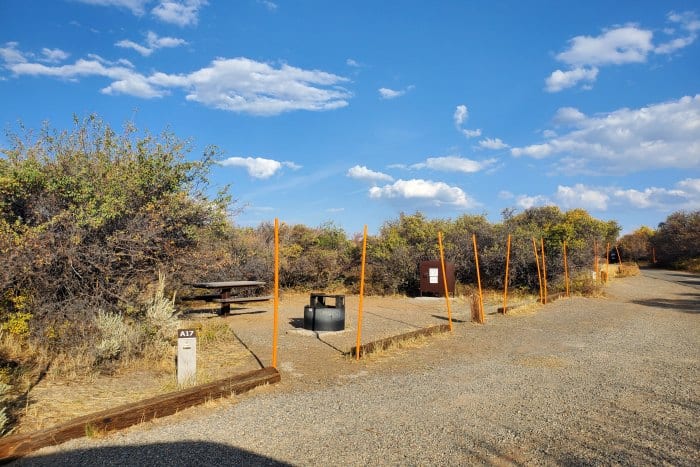 Camping
The South Rim Campground is the only campground in the park where you can make reservations. The campground consists of three loops of camping and 88 total sites just down from the visitor center on the South Rim. Campsites are pretty standard for front country camping and come with a fire ring, picnic table, food storage lockers, and the B Loop has electrical hookup sites.
The North Rim Campground on the North Rim Road only has 13 campsites and oftentimes fills up in the summer months. The maximum combined vehicle length is 22 feet.
East Portal Campground is actually located in Curecanti National Recreation Area but you can only get to it by going through the Black Canyon of the Gunnison National Park. This remote campground has 15 tent-only campsites and is open seasonally.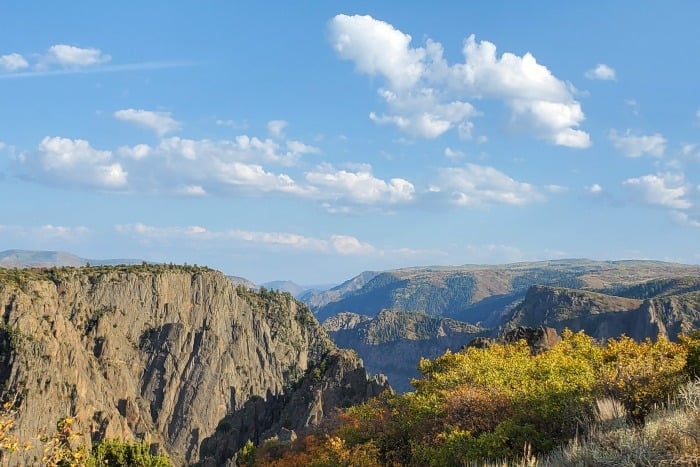 Dark Sky Park
One of the highlights of Black Canyon of the Gunnison happens after the sun goes down. This park is an International Dark Sky Park. You can see thousands of stars while gazing out into the universe.
Park Ranger John Pro Tip:
Did you know the National Park Service has a Natural Sounds and Night Skies Division?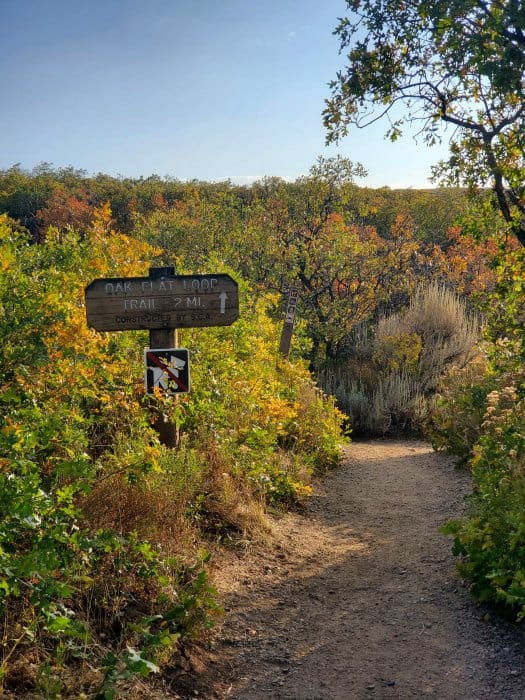 Hiking
There are 8 hiking trails, 4 on the South Rim and another 4 on the North rim varying from 2/3 mile-7 miles. Most trails are considered moderate to strenuous and many trails pass by steep drop-offs.
I would suggest the Cedar Point Nature Trail for those looking for an easy hike. This trail interprets local flora and takes visitors to two overlooks with breathtaking views of the river over 2,000 feet below! Visitors can also see the famous Painted Wall, the tallest cliff in Colorado (2,250 ft.).
I would say that hiking in Black Canyon of the Gunnison is not for the faint of heart because of the steep drop-offs, you need to supervise children to ensure their safety, and hiking can be more strenuous for those not in good physical condition as this is a high elevation park. Remember, that trails lead down into the canyon and what goes down must come up.]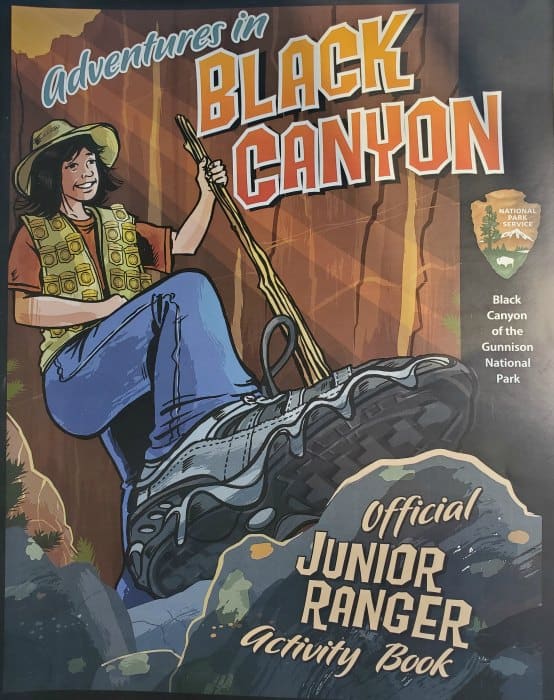 Junior Ranger
You can pick up a Junior Ranger program at the visitor center. The Junior Ranger programs are great for all ages! I like to do them because I always seem to learn something about the park I am visiting! My wife always laughs at me when I get sworn in as a Junior Ranger when I was a Ranger for 20 years! Thankfully for me, she usually does the honors and gets sworn in. I have a great wife!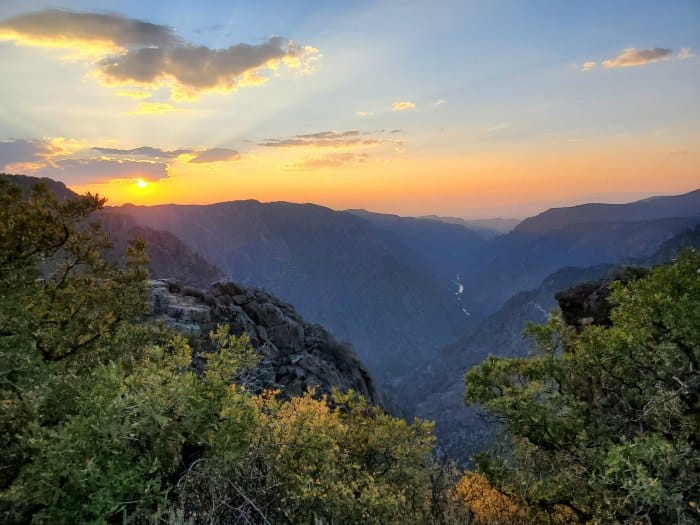 Sunset View
Sunset view is perfectly placed for an incredible view of the sunset looking right down into the canyon and river. This point was rather popular for sunset and it did not disappoint! I would plan on showing up early as the parking lot is small and it fills up quickly. Don't worry because sunset lasts for quite a while and is worth seeing!
Fall Colors
I was completely surprised when we arrived at Black Canyon of the Gunnison and its crazy fall colors! The park is filled with Gambel Oak which was on full display with its yellow and orange leaves everywhere!
We were here on September 20th. and wish we had planned more time here and at Curcanti National Recreation Area which was also filled with fall colors.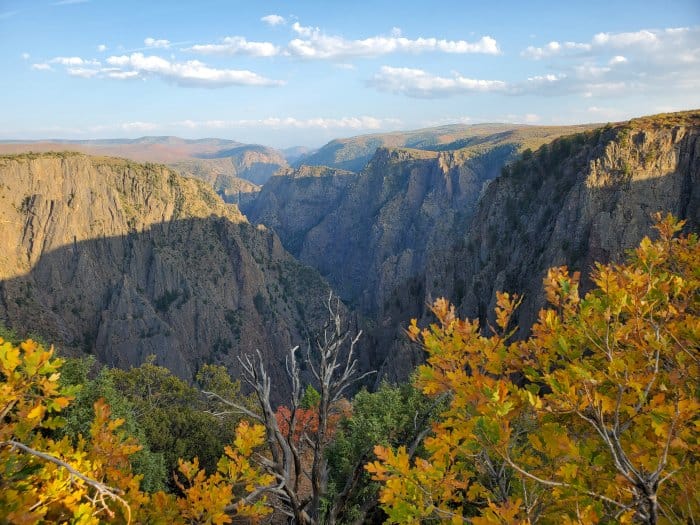 Travel Tips
Pack bug spray! While we were watching the sun go down the bugs definitely came out!
Don't miss Curecanti National Recreation Area which is connected to the Black Canyon of the Gunnison NP. This National Recreation Area amazed us with all it had to offer.
Don't forget to pack sunscreen and sun protection. There is not a ton of shade on the walks out to the overlooks.
If you get vertigo in high places be prepared while in the park. My wife felt vertigo at a couple of overlooks after looking down. It is shocking to see just how deep the canyon is.
Please keep an eye out on your kids. The trails and overlooks are near sheer cliffs! It is a straight drop down to the river in many places.
This park is at over 8,000 feet in elevation. If you live near sea level you will want to be aware that hiking at high elevation can drain your body quickly.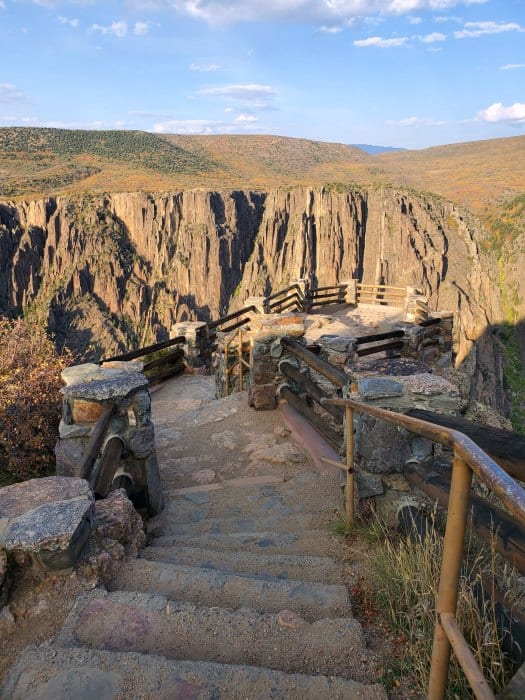 Things to know when planning a trip to Black Canyon of the Gunnison NP
Lodging – There is no lodging within Black Canyon of the Gunnison. The closest town for lodging is Montrose, Colorado.
Camping – There is only one campground within the park that rakes reservations.
Food/Drink – There are no restaurants or facilities within the park. Make sure to plan ahead with snacks and water.
Cell Service – We randomly had epic T-mobile cell phone service at the Sunset viewpoint. We had enough cell service to do a Facebook live of the sunset.
Additional parks to visit on your Colorado or United States Road Trip:
Curecanti National Recreation Area
Things to do at Great Sand Dunes National Park
Florissant Fossil Beds National Monument
Check out all of the National Parks in Colorado and neighboring Utah National Parks, Wyoming National Parks, Nebraska National Parks, Arizona National Parks, Kansas National Parks, Oklahoma National Parks, and National Parks in New Mexico.