There are so many amazing things to do in Capitol Reef National Park. The park is filled with history, geology, hiking, two epic scenic drives, petroglyphs, and so much more! Here is my list of things to do in Capitol Reef National Park in Utah.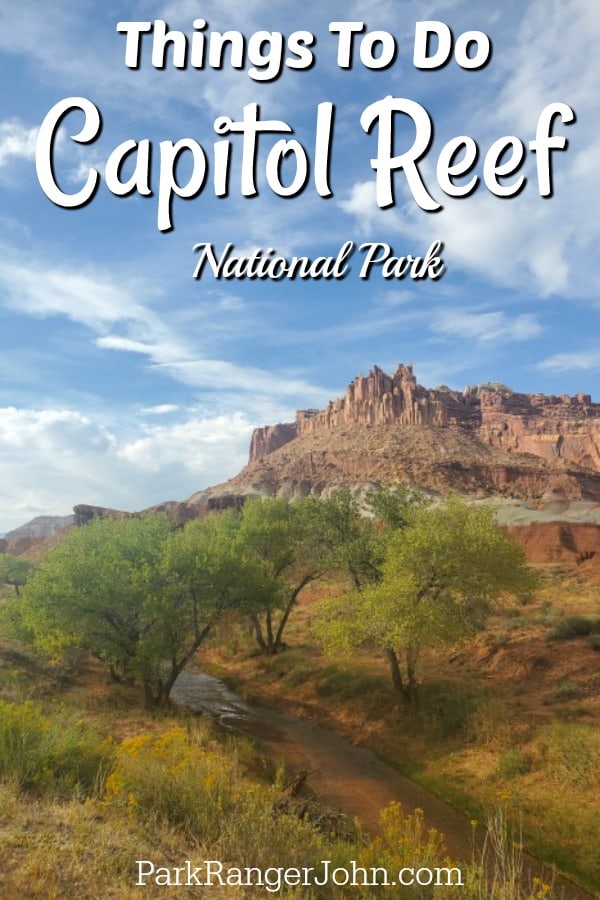 Things to do in Capitol Reef National Park
Capitol Reef National Park is located less than 3 hours from Arches and Canyonlands National Parks in the east and Bryce Canyon National Park and scenic highway 12 to the southwest. This ideal location offers visitors the opportunity to visit all of the Big 5 National Parks in Utah in a two week trip.
Hike the petroglyph trail
This easy hike is located right along Highway 24 near the parks visitor center in the Fruita District. This short trail provides visitors a great view of the Petroglyphs! There are a couple of great boardwalk trails that are easy, flat and something that almost everyone can enjoy!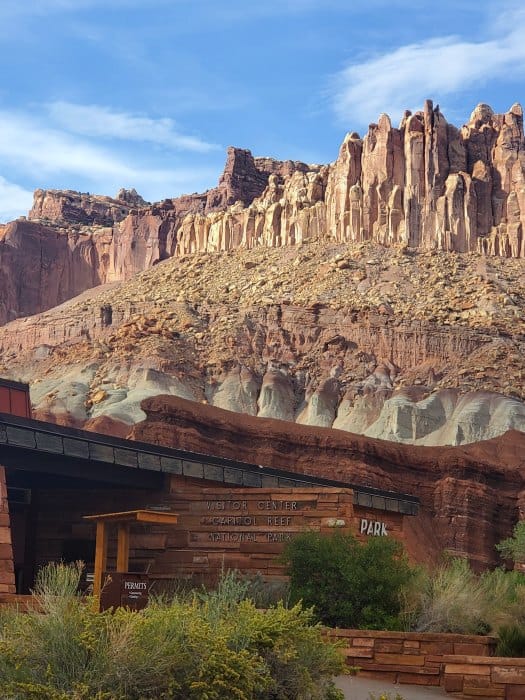 Visitor Center
The visitor center should be one of the first stops on your visit to Capitol Reef. It is the place to find out road conditions along with the scenic drives, weather, and if there is any danger/potential of flash flooding during your visit.
You will also need to avoid some of the parks' well-known hiking trails like the grand wash trail, Cassidy Arch, and the capitol gorge trail if there is a potential of flash flooding.
The visitor center also has all the park visitor favorites like interpretative displays, park movie, interpretative programs, a gift shop, and restrooms.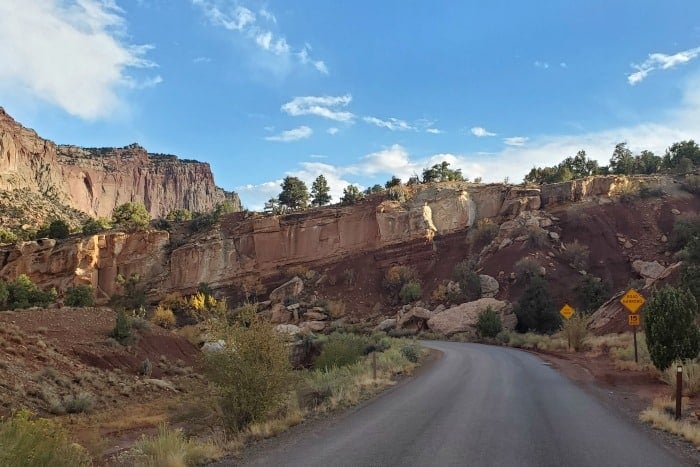 The 10-mile scenic drive departs near the Fruita Campground. The main portion of the scenic drive is paved with the last bit being a gravel road.
This scenic drive takes you along the famous Waterpocket Fold and gives visitors the chance to see the effects of flash flooding up close without having to hike up a slot canyon.
There is a couple great hikes here so make sure to do so if you have time.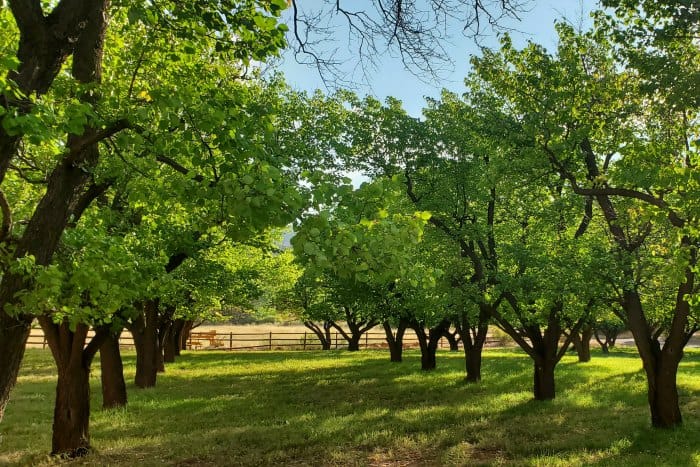 Fruit Orchards
You will be amazed by all of the fruit orchards along the main road in the Fruita District. When the fruit is ripe, park visitors are allowed to pick fruit right off the trees in many of the orchards. There is apple, cherry, apricot, peach, pear, plum, grape, and nectarine. There are also pecan, walnut, and almond trees.
There is a fee for picking fruit if you want to leave the orchard with it. There is a self-pay station and price info at each of the orchards.
Here is an approximate guide to when fruits are ready. Of course, this can change by weather conditions. You can call for updated fruit blossom and harvest times, call (435) 425-3791. After the introduction, press #1 for visitor information, and then press #5 for the fruit hotline.
Harvest
Cherries: June 11 - July 7
Apricots (early): June 27 - July 22
Apricots (regular): June 28 - July 31
Peaches: August 4 - September 6
Pears: August 7 - September 8
Apples: September 4 - October 17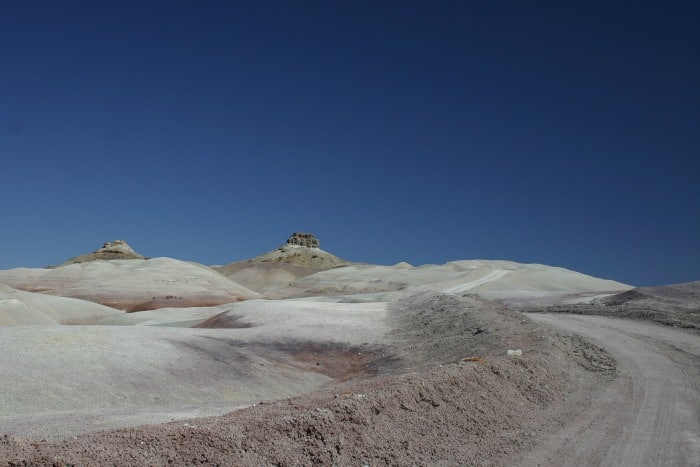 The Cathedral Valley scenic drive is a full-day adventure. It is also one of the most beautiful drives I have taken in a National Park or anywhere! Be advised that this drive requires a high clearance 4x4 vehicle to cross streams, drive through sand, and traverse through rocky areas.
Some of the highlights of the drive include the Bentonite Hills, the Upper and Lower South Deserts, and numerous massive monoliths including the well-known Temple of the Sun and the Temple of the Moon. Make sure to read my article on the Cathedral Valley Scenic Drive for more information and go prepared.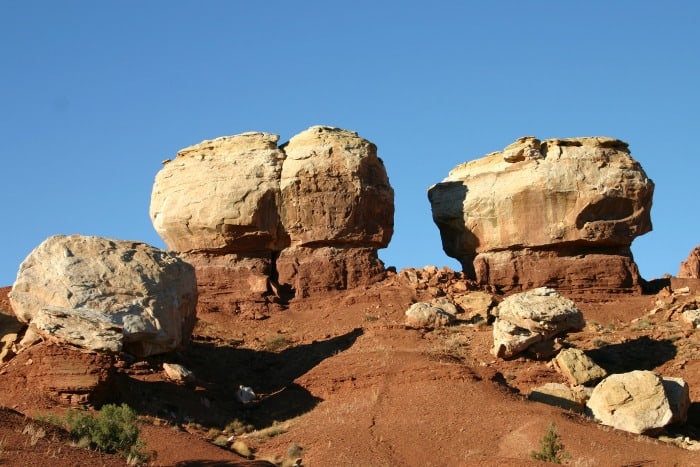 Photograph Twin Rocks
Twin Rocks greets park visitors as they enter the park from the west. These colorful rocks instantly capture everyone's attention as if to let them know they are in for something special visiting Capitol Reef National Park. Continue past twin Rocks, to the goosenecks overlook, sunset points, and Chimney Rock. This is also a great point to check out the night sky!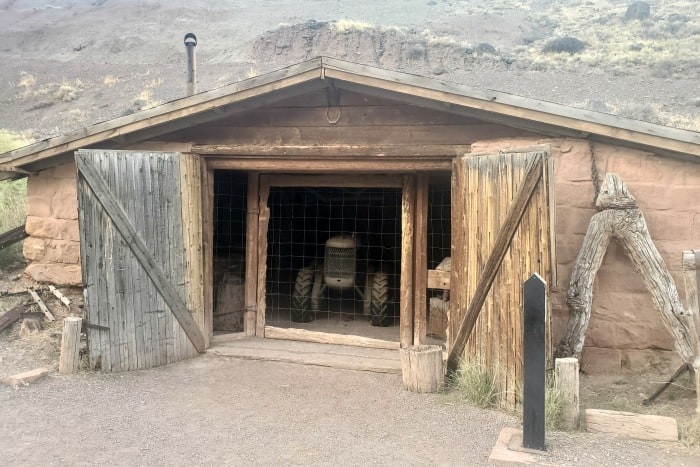 Historic Fruita District
The historic Fruita District is truly the heart of Capitol Reef National Park. This is where you will find the visitor center, Fruita Campground, fruit orchards, Gifford House, Fruita Schoolhouse, and fruit orchards.
It is easy to see why early Native Americans, then settlers decided to stay in Fruita as it is truly an oasis in the desert. There was plenty of water, the fertile grounds were excellent for growing crops and fruit trees. The trees provided protection from the hot summer days and the area was teeming in wildlife.
Park Ranger John Pro Tip
The Gifford Homestead gets a small delivery of homemade pies made with the fruit from the orchard daily (when in season). They were so good, I ate one there and then went and bought another to go! They are so delicious that every time I visit the park I try to pick up an extra pie or three so I can take them for snacks.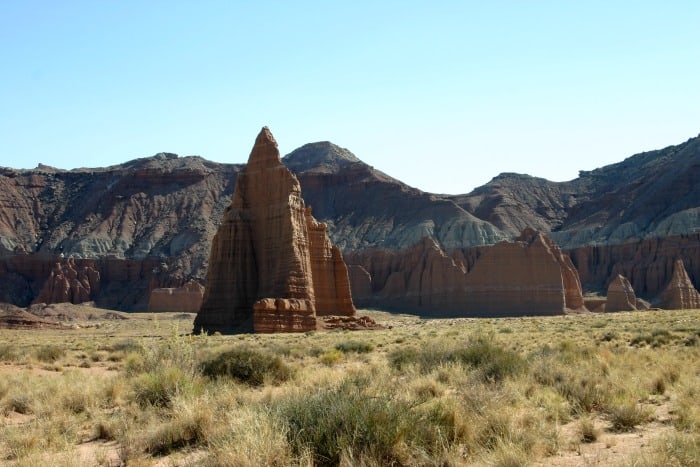 Hiking
Capitol Reef NP is a hiker's paradise! The Hickman Bridge trail is probably the most popular trail in the park but all trails are worth a hike in Capitol Reef National Park! There are 15 trails alone in the Fruita District ranging from easy to strenuous so make sure to bring your boots!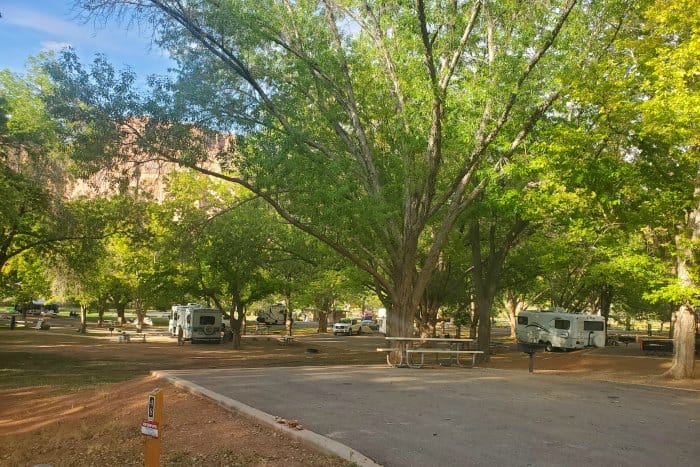 Camping
The Fruita Campground is surrounded by fruit orchards and truly gorgeous! There are three loops of large campsites that have paved parking pads, picnic tables, fire rings, and barbecue brassieres.
There were deer all over the place when we visited, amazing views of the rocks glowing in the sunset, and a peaceful calm in the campground.
Find out more by checking out our Fruita Campground article.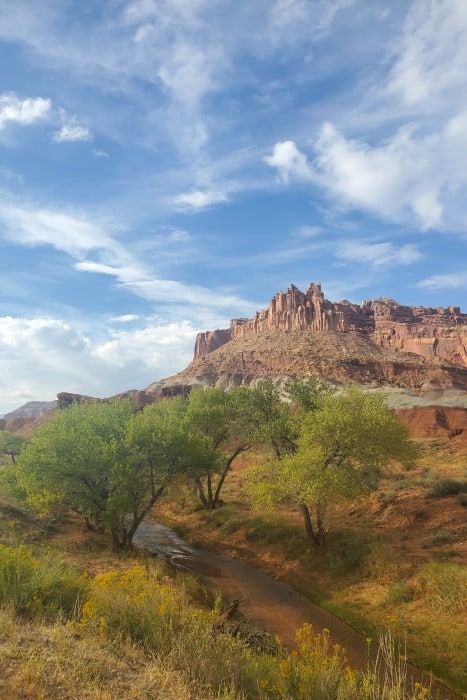 Become a Junior Ranger
You can pick up a junior ranger program at the visitor center. This is an amazing way for visitors of all ages to learn about the park.
Did you know that Capitol Reef was designated an International Dark sky Park in 2015? Before leaving home, make sure to download the Junior Ranger Night Explorer activity guide.
Additional Utah Travel Articles
Things to do at Arches National Park
Cedar Breaks National Monument
Check out all of the National Parks in Utah along with neighboring Colorado National Parks, Idaho National Parks, Wyoming National Parks, Nevada National Parks, Arizona National Parks, and New Mexico National Parks.