Epic Cathedral Valley in Capitol Reef National Park is one of my most memorable experiences while visiting our national parks! It had everything that I could hope for including captivating scenery, a sense of adventure, rugged remoteness, and several hikes and become one with nature.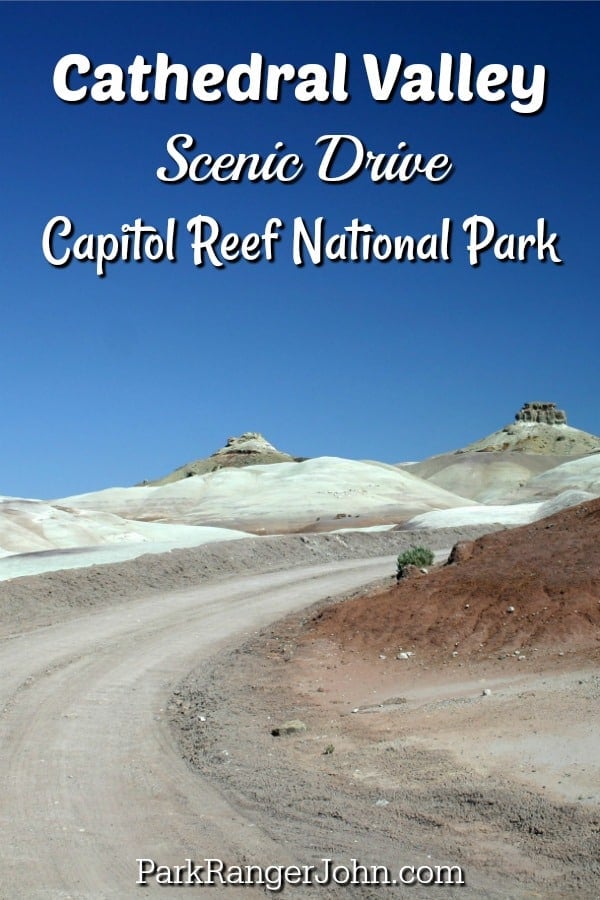 Epic Cathedral Valley in Capitol Reef National Park
The first thing you should know is that this trip requires some advance preparation before just wandering out on this 57.6 mile stretch of remote desert. Temperatures can get close to or exceed 100 degrees Fahrenheit for half of the year.
You will most likely be out there by yourself, especially if you go on a hike. I did this adventure on a busy weekend and only saw one other vehicle the entire day. Make sure that you have a vehicle that is up to the challenge and is in good running order.
I say these things as your personal safety is important. Cell phone service is non-existent out here, a tow will cost you a lot more that you can imagine and the feeling of being trapped in the desert is a horrible feeling so make sure to plan ahead so that you have an epic adventure to Cathedral Valley.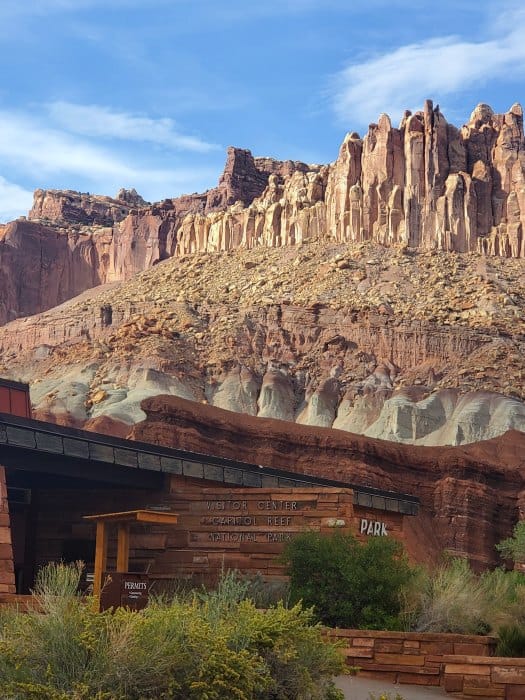 Capitol Reef Visitor Center
The visitor center should be everyone's first stop before heading out into Cathedral Valley. This is a great place to get information about road and river crossing conditions and the weather report.
Weather can make a dramatic difference in road conditions! Make sure to pick up a copy of the booklet "Self-Guided Auto Tour of Cathedral Valley" at the visitor center and make sure you reference it while driving the Cathedral Valley Loop.
If you are not familiar with off-road driving, I would recommend Mark A. Smith's Guide to Safe Common Sense Off-Road Driving.
There are several side roads along the way and not having directions can easily have you lost in a very remote area.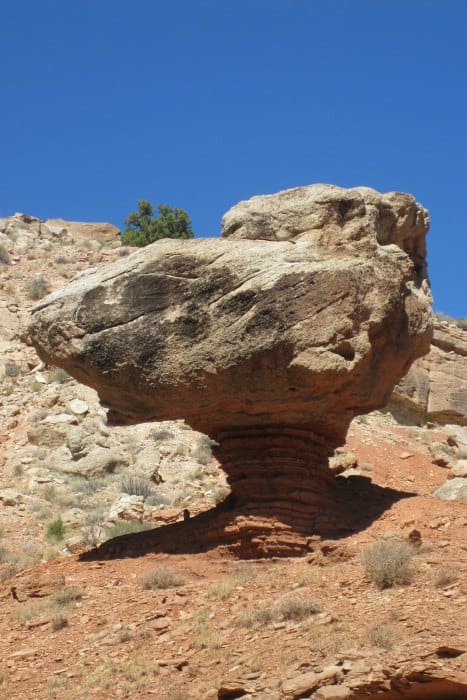 Drive a High Clearance 4X4
I have heard countless park visitors tell me that they can go anywhere with their car. Please take this warning seriously as cars are not built like high clearance vehicles with four-wheel drive.
Your vehicle is going to get tested early, in fact shortly after leaving Highway 24 you will be at the Harnett Road River Ford. Vehicle clearance is extremely important during river crossings because if you get water into your intake, you can almost guarantee your engine to "Hydro-Lock" leaving you with a car that no longer runs and you with a massive tow bill and vehicle repair.
Shortly after the river crossing, you are going to run into sand. Dangers include deep ruts and soft sand, all of which helps to have a high clearance 4x4 with good traction tires. Shortly after the sand is the Bentonite Hills. This area becomes virtually impassible when it is wet.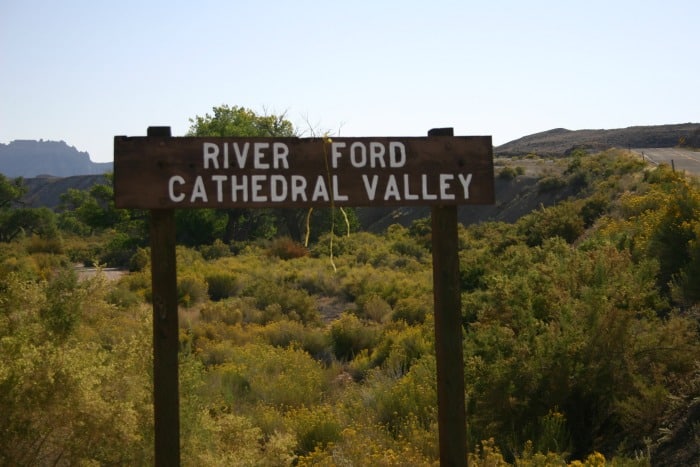 If this was not enough, always keep your eyes out for ruts, rocks, and other dangers. Remember this is a remote dirt road. Visitors each year get the great idea to take this road in their cars and end up with a massive tow bill and an overall bad experience.
Now that I have given you the warnings, I think this road is very manageable in the right vehicle and good weather conditions. Make sure that you leave with a full tank of gas, safety/first aid kits, tools for minor vehicle repairs, and extra food and water.
It is also a great idea to practice the buddy system. This means that you go out with a friend who also has a high clearance 4x4. If someone was to break down, you have someone there who can help.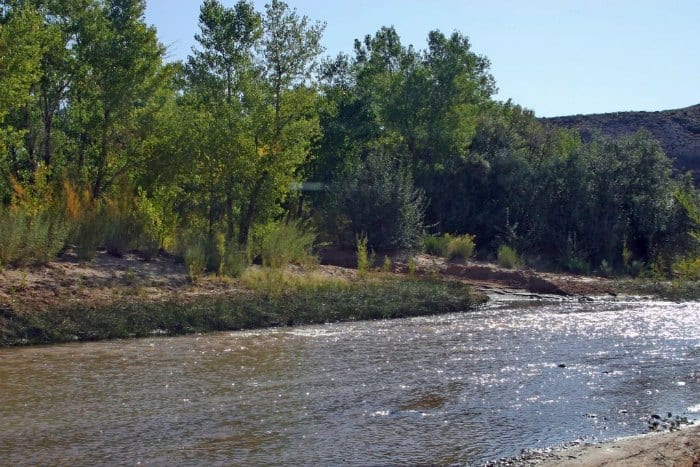 Start of the Cathedral Valley Scenic Drive
The Cathedral Valley Loop Road starts/ends at either the Harnet Road River Crossing and the Cathedral Road crossing near Caineville, Utah. I recommend starting at the Harnett Road river crossing as you can never predict the weather and I would prefer to cross the river before weather conditions change. I also like to end the day with the Temple of the Sun and Temple of the Moon at sunset and this route puts you there in the afternoon.
The Harnet Road is located off Highway 24 approximately 11.7 miles east of the Capitol Reef Visitor Center. It is a short dirt road to the river crossing. Pay attention as you exit the river upstream from where you get in.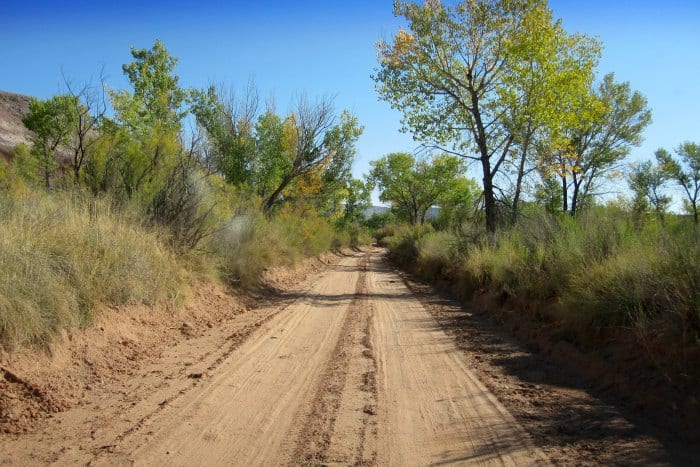 The Cathedral Valley Scenic Drive along Harnet Road
Once you have crossed the river you will continue on a sandy road for a while before coming up to the Bentonite Hills approximately 9 miles into your trip. This area is awe-inspiring and feels like you are on another planet! It is a photographer's dream and I took lots of photos!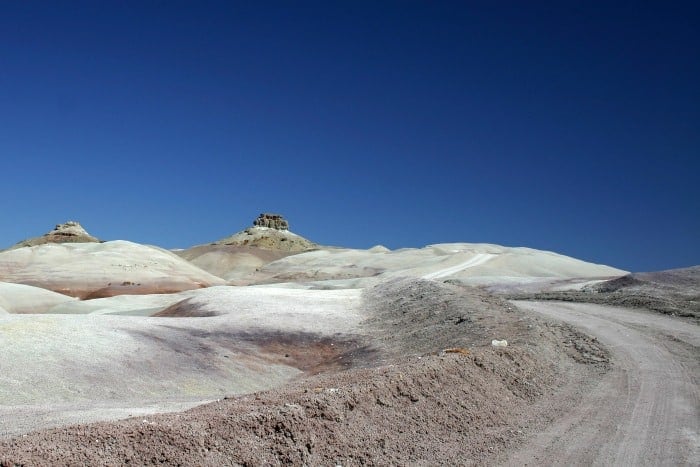 You will eventually see an old abandoned truck beside the road. It captured everyone's attention and I immediately had to hop out of the vehicle and photograph it! We continued to the Lower and Upper South Desert Overlooks. Both offered incredible views!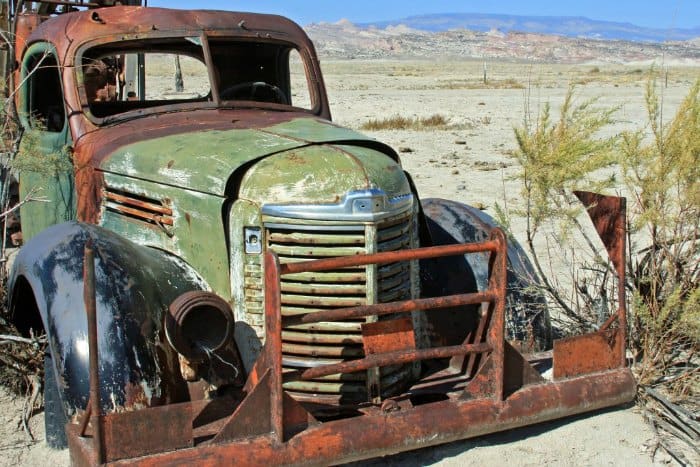 I can still vividly remember taking a short walk to the Upper South Desert Overlook and just staring out into the expanse. I stood on the edge of the cliff and felt like I was having my very own "Lion King Moment" starring out over my kingdom of the Upper South Desert! I am adding the photo but sometimes photos can's capture the feeling of vastness. It's a moment that I will always remember.
Cathedral Valley Scenic Drive along Cathedral Road
After leaving the Upper South Desert you will come up to the Harnet Junction. Make sure to turn onto Cathedral Road. The Cathedral Valley Campground will be on your left. This primitive 6 site campground will definitely provide you with solitude! Don't expect the creature comforts of home at this remote campground.
You will have a place for a tent, a vault toilet, a picnic table, a fire grate, and incredible views of monoliths just northeast of the campground! The campground is open year-round but it is at 7000' in elevation and can be impossible to get to during the winter and bad weather. The best part is that this campground is free to those who are up for the adventure.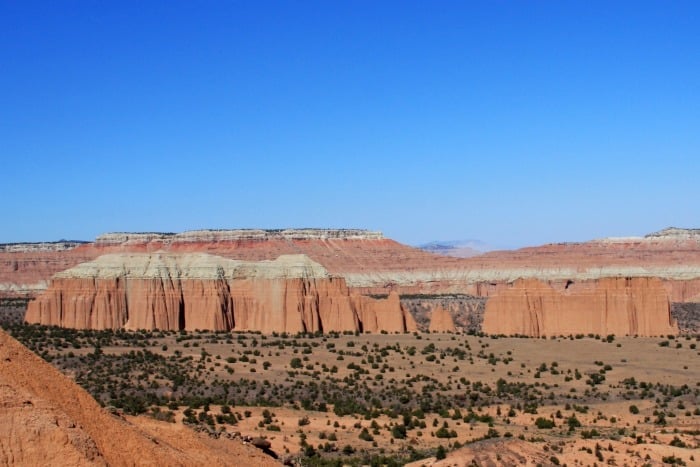 Park Ranger John Pro Tip: Very few visitors actually camp at the Cathedral Valley Campground. Those who do will be treated to something truly special. The monoliths will start to glow red as sunset approaches! Match this with some of the bluest skies you will ever see and you are in for a magical experience!
The next stop is the Gypsum Sinkhole. This 200' deep and almost 50' wide sinkhole is worth a visit but hard to photograph.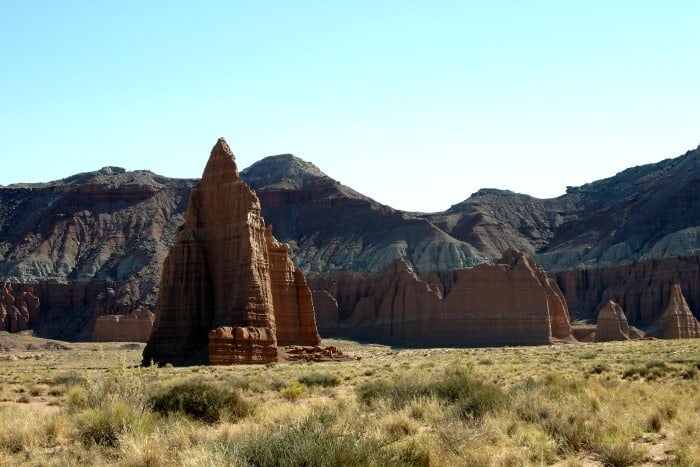 Temple of the Sun and Moon
Approximately 9 miles past the Gypsum Sinkhole is perhaps two of the best-known Monoliths; Temple of the Sun and Temple of the Moon. These monoliths have become one some the iconic views of the American Southwest and are the highlight to many visitors to the area. This is for good reason as these 400-foot rocks demand your attention!
After getting your last views of these incredible monoliths it is time to head back. The last 15 miles as it crosses through the Middle Desert and the Caineville Wash on BLM Land. You will get back to Highway 24 near the town of Caineville after several hours of exploring the Cathedral Valley. This is a long day, especially if you get out and go for a hike.
You will still have a nice drive to get back to camp and everyone will be exhausted from a long day. A big part of the fatigue is from sensory overload. I'm sure the heat and intense sun are also contributing factors to being fatigued.
The great news is that this is only one part of Capitol Reef National Park to explore.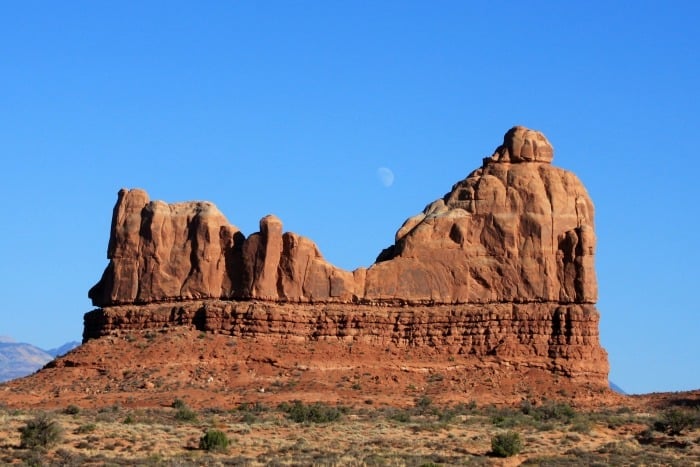 Additional Capitol Reef National Park Posts
For more information on Utah National Parks
Cedar Breaks National Monument
Check out all of the National Parks in Utah along with neighboring Colorado National Parks, Idaho National Parks, Wyoming National Parks, Nevada National Parks, Arizona National Parks, and New Mexico National Parks.