Complete Guide to Yucca House National Monument in Colorado, including things to do, history, nearby lodging and camping, directions, and so much more.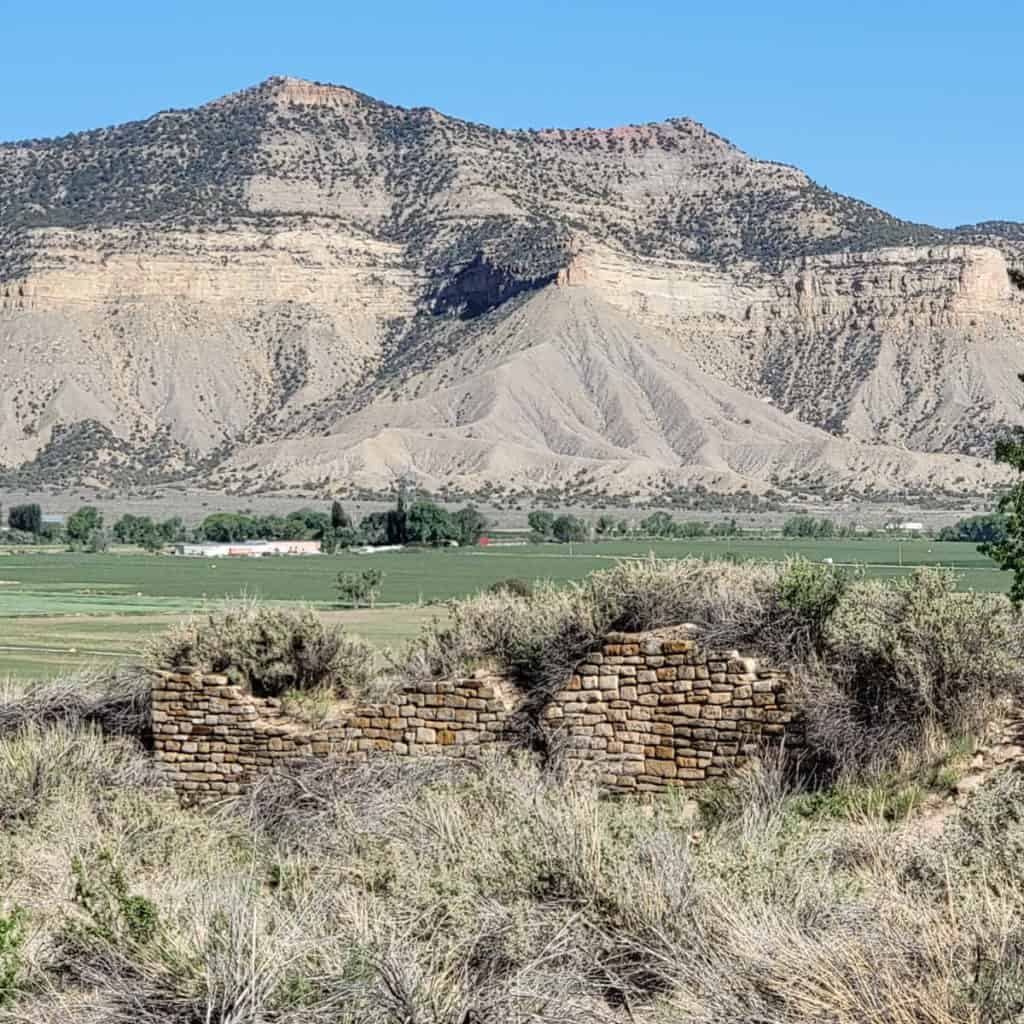 Yucca House National Monument
Yucca House National Monument is a unique National Park Site in southwestern Colorado. Unique because there is really no infrastructure for the park and you will need to drive on private farm roads to reach it.
About Yucca House National Monument
There are currently no facilities at Yucca House National Monument. When planning your visit you will want to make sure you print the visitor guide to take with you.
Woodrow Wilson made Yucca House a National Monument by Presidential Proclamation on December 19, 1919.
When visiting Yucca House you may be surprised to find that the pueblo and Kivas have not been excavated. What you will see are mounds of dirt but only a bit of a broken wall from the ancestral pueblo.
We had read that getting to Yucca House was an adventure and I have to say it is so true!
You have to travel farm roads, park next to a farmhouse and cross a boardwalk to reach the sign for the park.
When we visited the park we actually arrived when the family that lives next to the park was celebrating a family birthday party.
We were not sure if we were going to be able to find parking with all of the guests but thankfully another visitor was leaving when we pulled up.
I have to tell you we experienced something I never thought would happen while visiting a National Park Site. We had to run through sprinklers to reach the gate for the park. LOL!
Thankfully it was a warm Colorado afternoon because we were quite wet by the time we crossed the boardwalk and reached the park gates.
Once you cross the boardwalk and a short dirt path you will reach the National Park Service gate. Make sure to close the gate to keep any animals out of the park.
There is a guest book in the brown box on the left of the entrance gate that you can sign so the park service can track how many visitors are visiting the park.
After the gate, there is a small dirt trail that leads you to a small hill. When you look closely at the hill you can see the remnants of the Puebloan ruins archaeological site.
It is believed that buried under what you see at the park is a large pueblo village. Yucca House played an important one in the Ancient Pueblo civilization from A.D. 1150-1300. It was one of the largest villages in the southwest.
The National Park Service describes the site -
You will see two areas with large mounds of rubble covered with vegetation. Toward the base of Ute Mountain is the "West Complex," a large pueblo with an estimated 600 rooms, over 100 kivas, and a great kiva (that perhaps served the entire community).

A productive spring flows through the middle of the complex. "Upper House," the highest portion of the West Complex, rises 15 to 20 feet above the nearby architecture, dominating the surrounding landscape. It must have been an impressive building.

To your east is the "Lower House" with some of the only visible standing masonry at the site. The "Lower House" is an L-shaped pueblo with at least eight first-story rooms. A low wall encloses the plaza with a great kiva at its center. Yucca House, one of the largest archeological sites in southwest Colorado, acted as an important community center for the Ancestral Puebloan people from A.D. 1150-1300.
There is really one main trail that leads you to this pueblo ruins. You could explore more of the site but there are no designated trails or interpretive panels to guide you through the park.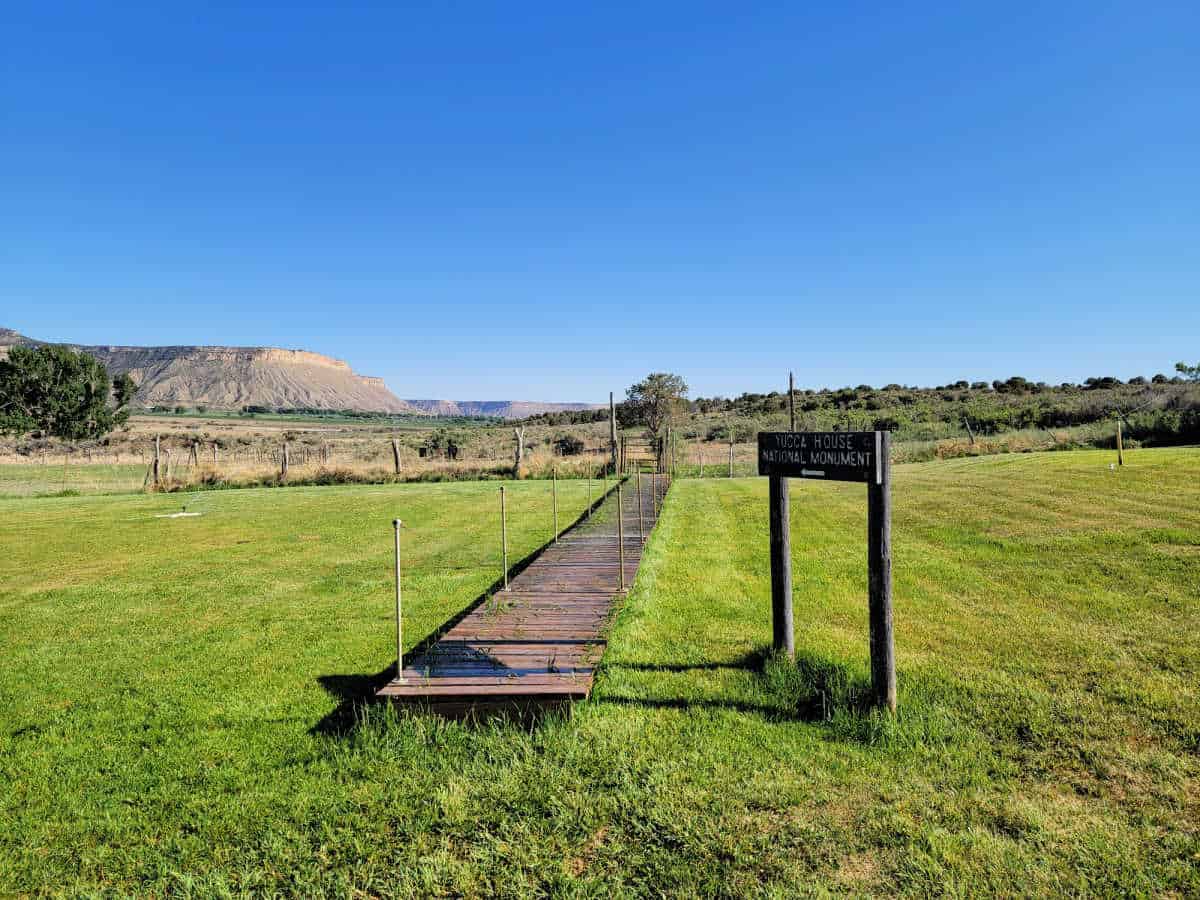 Is Yucca House National Monument worth visiting?
Yes, Yucca House National Monument is definitely worth visiting. This monument is a hidden gem located in southwestern Colorado, near the Mesa Verde National Park. The United States national monument preserves one of the largest archeological sites in the region and offers visitors a glimpse into the lives of the ancestral Puebloan people who inhabited the area over 1,000 years ago.
The monument features well-preserved ruins of ancient structures, including kivas, pit houses, and plazas. The site is also surrounded by beautiful natural scenery, including mesas, canyons, learn about the history and culture of the ancestral Puebloan people.
Overall, Yucca House National Monument is a unique and fascinating destination for anyone interested in history, archaeology, and outdoor recreation. Whether you are a solo traveler, a family with kids, or a group of friends, this monument is sure to leave you with unforgettable
This is one of the most unique parks we have visited in the National Park System.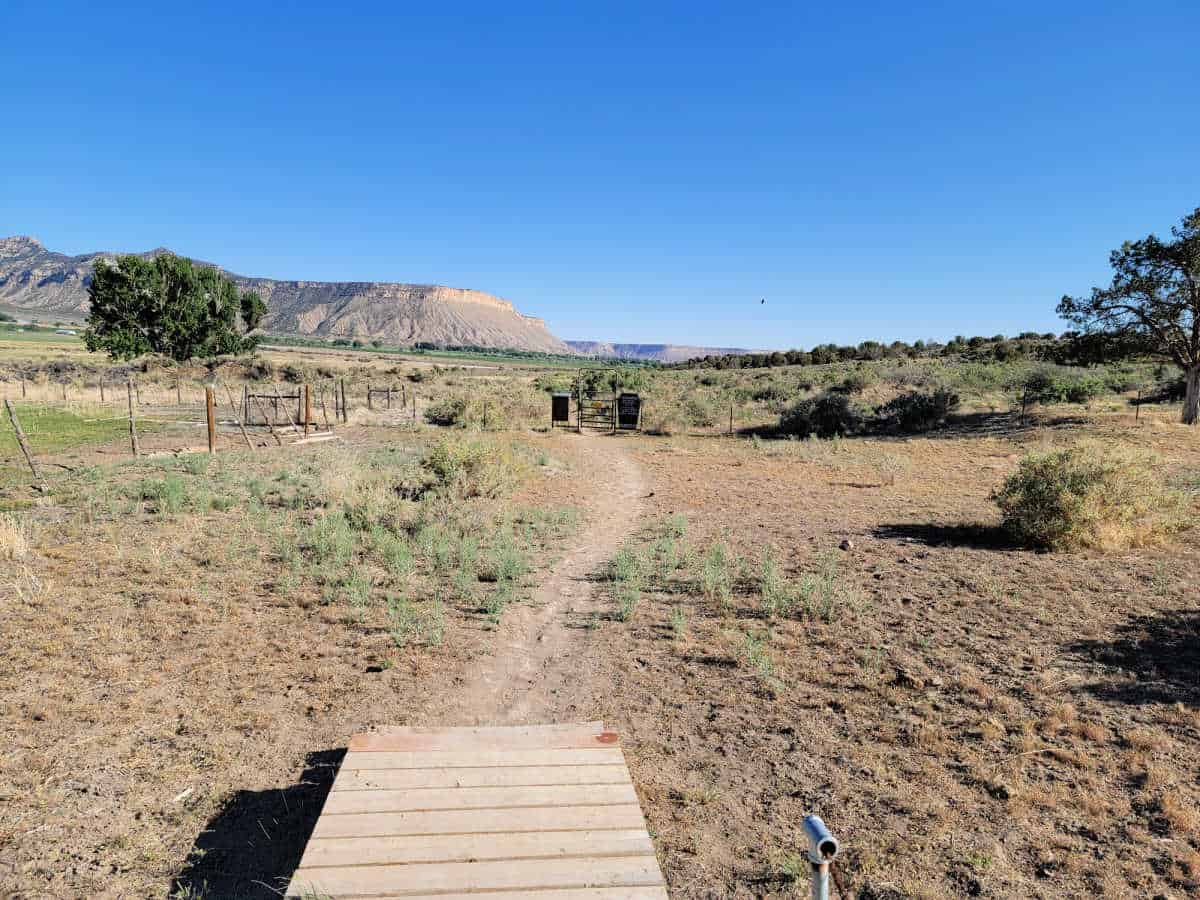 History of Yucca House National Monument
Yucca House National Monument protects and preserves the ruins of a large, unexcavated ancestral Puebloan village. Once believed to have been built by the Aztecs, the village is thought to have been a center for the Ancestral Puebloan community from roughly 1150 CE until 1300.
As the site is unexcavated, the only evidence you will see of this once-bustling center are two areas that house large mounds of rubble, long since covered with vegetation. Although the site has only been known to archeologists for a little over 100 years, the native tribes in the area have known about Yucca House for centuries.
The ruins, combined with the desert fauna and flora, transport you to a time when Yucca House was once a grand Pueblo.
Who Were the Ancestral Puebloans?
The Ancestral Puebloans were a Native American civilization that inhabited the southwestern region of the United States, including parts of present-day Colorado, Utah, Arizona, and New Mexico.
The Ancestral Puebloans were also referred to as the Anasazi, a Navajo word meaning "ancestors of our enemies," or "ancient enemies." The Navajo now interpret the term to mean "ancient ones." Today, many Puebloans find the word Anasazi derogatory.
They are thought to have developed from the Oshara tradition which was a Southwestern Archaic tradition that emerged in New Mexico and Colorado. Archeologists believe that the Ancestral Puebloan culture first appeared in the 12th century BCE.
The Ancestral Puebloans lived in several different types of houses ranging from pit houses, clan houses, cliff-side dwellings, and large Pueblos. The Yucca House National Monument is an example of a grand Pueblos. The Spanish colonists who encountered the villages of these "ancient ones," called them Puebloans.
The Ancestral Puebloans are also remembered for the rock art they left behind. Where there were communities and Puebloans, you can usually find petroglyphs and pictographs, which are images that have been chipped, carved, or painted into the rock face. The images left behind are usually of patterns, humans, and animals.
Another thing the Ancestral Puebloans were known for was their pottery. The pottery they created and used for formal events and purposes was decorated. In the northern areas, formal pottery was usually gray or white, with black patterns.
What Happened to the Ancestral Puebloans?
The Ancestral Puebloans' civilization flourished for centuries until around 1300 CE, when many of their communities were abandoned. The reasons for the sudden abandonment of the settlements are still debated by archeologists and historians.
The Ruins of Yucca House National Monument
The site is divided into three sections: the West Complex, the Upper House, and the Lower House. The complex was built around a spring, as were all Ancestral Puebloan settlements. The complex contains multiple rooms, kivas, and plazas. It is estimated that 13,000 people could have lived at Yucca House.
The West Complex is the largest of the ruins consisting of 600 rooms and 100 kivas, which are large underground circular rooms used for spiritual ceremonies, and were an integral part of Puebloan life. In addition, the complex contains a very large kiva that was believed to serve the entire community and has a spring that runs through it.
The kivas were not only used for ceremonies but were also where the elders told stories, recanting the oral history of the tribe.
The Upper House refers to a section of the West Complex made from adobe and is the highest point. The Upper House rises 20 feet above the rest of the ruins, towering over the complex.
East of the Upper House is the Lower House, which contains the complex's only remaining stone walls. Lower House is an L-shaped building that contains roughly eight first-story rooms and a large kiva.
Archaeology at Yucca House National Monument
The first scholar to describe the site was William H. Holmes, an anthropologist, and Archeologist. Holmes visited the site in 1878 and was the first to draw a map of the area. Holmes described the complex and the spring that flowed through it.
At the time of Holmes' visit, archeologists believed that the remains of the Ancestral Puebloan village had been built by the Aztecs. Because of this belief, Holmes named the site Aztec Springs.
Recent Archaeology at Yucca House National Monument
The ruins that once housed a bustling Ancestral Pueblo community were studied and re-mapped in 1918 by Jessie Walter Fewkes. More recent investigations of the site occurred in 1964 and 2000.
The first period of investigation was conducted by Al Lancaster, who in 1964 worked carefully to expose the northwest corner of the Lower House. They stabilized the masonry wall as they worked. During that year it was discovered that some of the walls of the Upper House were made of adobe, or mud bricks, which is not usual for the period (1200 CE).
Non-invasive archeological techniques were used on the site in 2000 when the owner of the land donated an additional 24 acres. The aim was to remap the ruins, as the last map was drawn up nearly 100 years prior. They also examined the pottery found on top of the ground to create a better timeline for the site.
The 2000 investigation confirmed that the visible portions of the ancient Pueblo were built sometime in the Pueblo III period, so between 1150-1300 CE.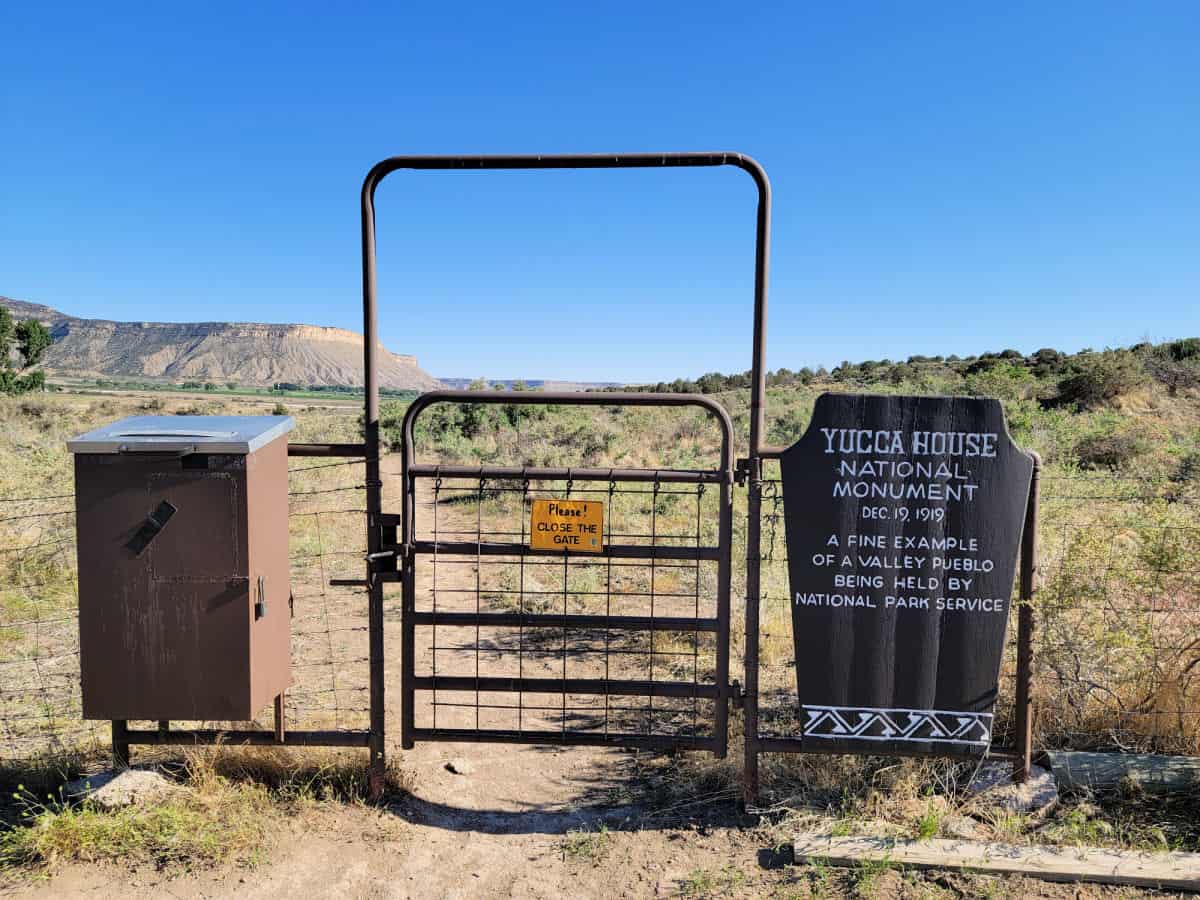 Things to know before your visit
Entrance fee
$0.00 - There is no entrance fee to visit the park.
Planning a National Park vacation? America the Beautiful/National Park Pass covers entrance fees for an entire year to all US National Park Sites and over 2,000 Federal Recreation Fee Sites.
The park pass covers everyone in the car for per vehicle sites and for up to 4 adults for per-person sites.
Buy on REI.com and REI will donate 10% of pass proceeds to the National Forest Foundation, National Park Foundation and the U.S. Endowment for Forestry & Communities.
Learn more about National Park Passes for parks that have an entrance fee.
Free Entrance Days -Mark your calendars with the five free entrance days the National Park Service offers annually.
Time Zone
Mountain Time Zone
Pets
Pets are not allowed in Yucca House National Monument
Cell Service
Cellular network coverage is accessible, however, the quality of service may differ depending on the network provider.
Park Hours
Open 24 hours, Year round
Wi-Fi
There is no WiFi service at Yucca House NM
Insect Repellent
Insect repellent is always a great idea when outdoors, especially if you are around any body of water.
We use Permethrin Spray on our clothes before our park trips.
Water Bottle
Make sure to bring your own water bottle and plenty of water with you. Plastic water bottles are not sold in the park.
Parking
The parking lot is conveniently located near the boardwalk to the park. You may have to park near farm equipment.
Visitors must park in designated areas only and follow the parking rules and regulations. The parking lot is open year-round, and visitors can park their vehicles for free.
The parking area is across from a residence so don't be shocked when there are other vehicles and farm equipment near you. We were there when the family was celebrating a birthday party and there were tons of cars.
Food/Restaurants
While the monument itself doesn't have any restaurants or food options, there are plenty of dining options nearby in Cortez.
Gas
There is no gas station located within the Yucca House National Monument. The nearest gas stations are located in the nearby towns of Cortez and Mancos, both of which are approximately 10 miles away from the monument.
Drones
Drones are not permitted within National Park Sites.
National Park Passport Stamps
National Park Passport stamps can be found in the visitor center.
Make sure to bring your National Park Passport Book with you or we like to pack these circle stickers so we don't have to bring our entire book with us.
Electric Vehicle Charging
There is currently no electric vehicle charging station located within Yucca House National Monument. However, there are several charging stations in nearby towns such as Cortez and Mancos, which are within a reasonable driving distance from the monument.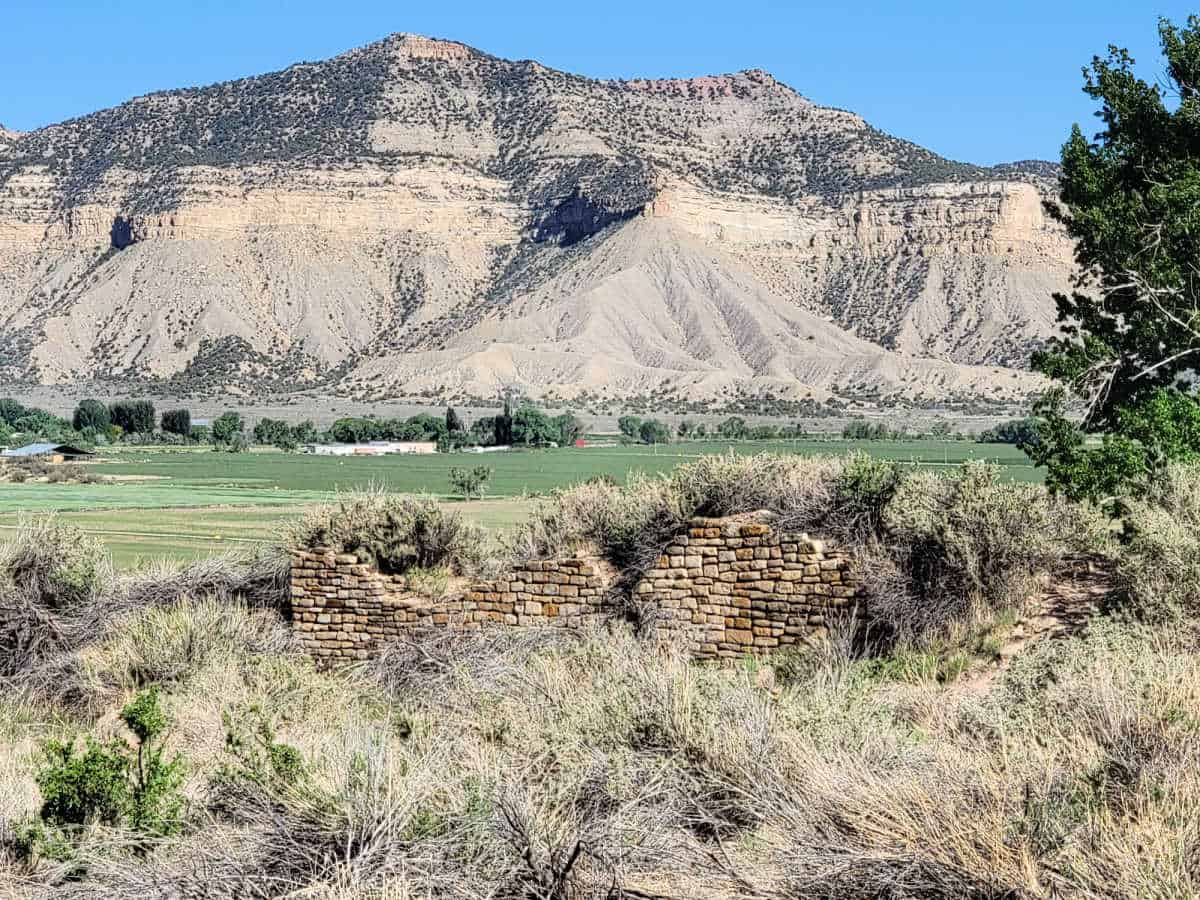 Details about Yucca House NM
Size - 35 acres
Check out how the park compares to other National Parks by Size.
Date Established
December 19, 1919 by President Woodrow Wilson
Visitation
Visitation is not tracked for the park.
Learn more about the most visited and least visited National Parks in the US
National Park Address
Off County Rd 20.5
Cortez, CO 81321
National Park Map
Where is Yucca House NM?
Yucca House National Monument is located in southwestern Colorado, United States. It is situated about 12 miles south of the town of Cortez and 15 miles north of the entrance to Mesa Verde National Park.
Estimated distance from major cities nearby
Durango, CO - 56 miles
Farmington, NM - 63 miles
Aztec, NM- 78 miles
Bloomfield, NM- 77 miles
Montrose, CO- 146 miles
Grand Junction, CO- 206 miles
Redlands, CO- 232 miles
Clifton, CO- 210 miles
Gallup, NM- 128 miles
Alamosa, CO- 205 miles
Grants, NM- 190 miles
Los Alamos, NM- 254 miles
Espanola, NM- 236 miles
Glenwood Springs, CO- 291 miles
Taos, NM- 256 miles
Estimated Distance from nearby National Park
Mesa Verde National Park - 22 miles
Great Sand Dunes National Park - 220 miles
Black Canyon of the Gunnison National Park - 158 miles
Canyonlands National Park - 117 miles
Arches National Park - 130 miles
Bryce Canyon National Park - 358 miles
Where is the National Park Visitor Center?
The park does not have a designated visitor center. You can ask questions at the Mesa Verde NP Visitor Center.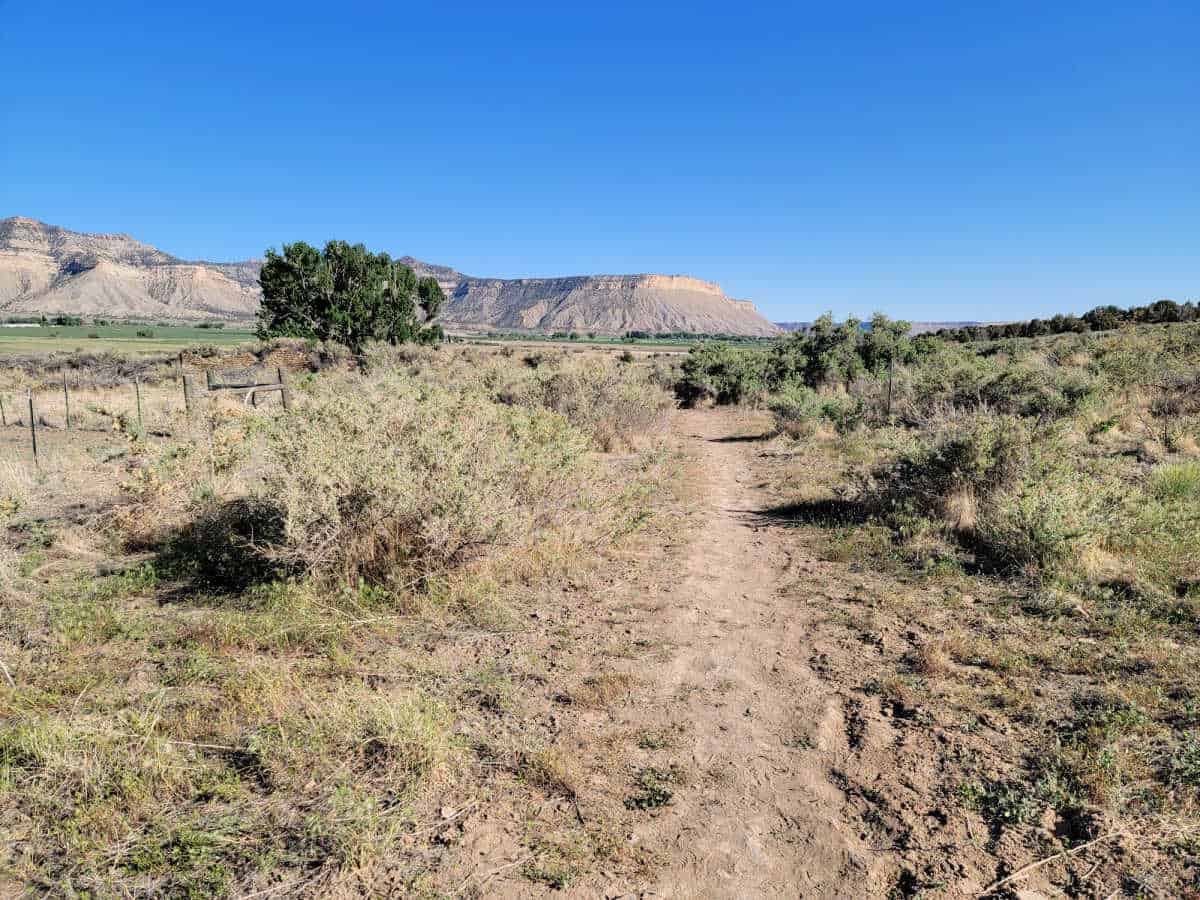 Getting to Yucca House NM
Closest Airports
Cortez Municipal Airport - 10 miles
Durango-La Plata County Airport - 70 miles
Four Corners Regional Airport - 64 miles
International Airports
Albuquerque International Sunport - 248 miles
Regional Airports
Aztec Municipal Airport- 77 miles
Montrose Regional Airport- 188 miles
Driving Directions
The directions to the park may change in the future.
On January 13, 2021, the President signed the Yucca House National Monument Expansion Plan which would expand the park from 33 acres to 193 acres thanks to an amazing donation by Bernard and Nancy Karwick. The expansion would include a new park entrance off of Road 20.5
Plane - The closest airport is Cortez, Colorado, United States
Car - There are a few brown National Park Signs as you travel to the park. The monument is surrounded by private land.
Once you leave the main highway and paved roads, the road to Yucca House becomes gravel or dirt, which may be impassible in wet weather. You may need to pass through livestock gates and close them behind you.
If the gate to the farmhouse is closed you can open it and pass through just make sure to close it behind you.
The parking areas are next to the grass near the boardwalk to the park. You may have to park near farm equipment.
Public transportation - There is no public transportation to the park in Montezuma County, Colorado.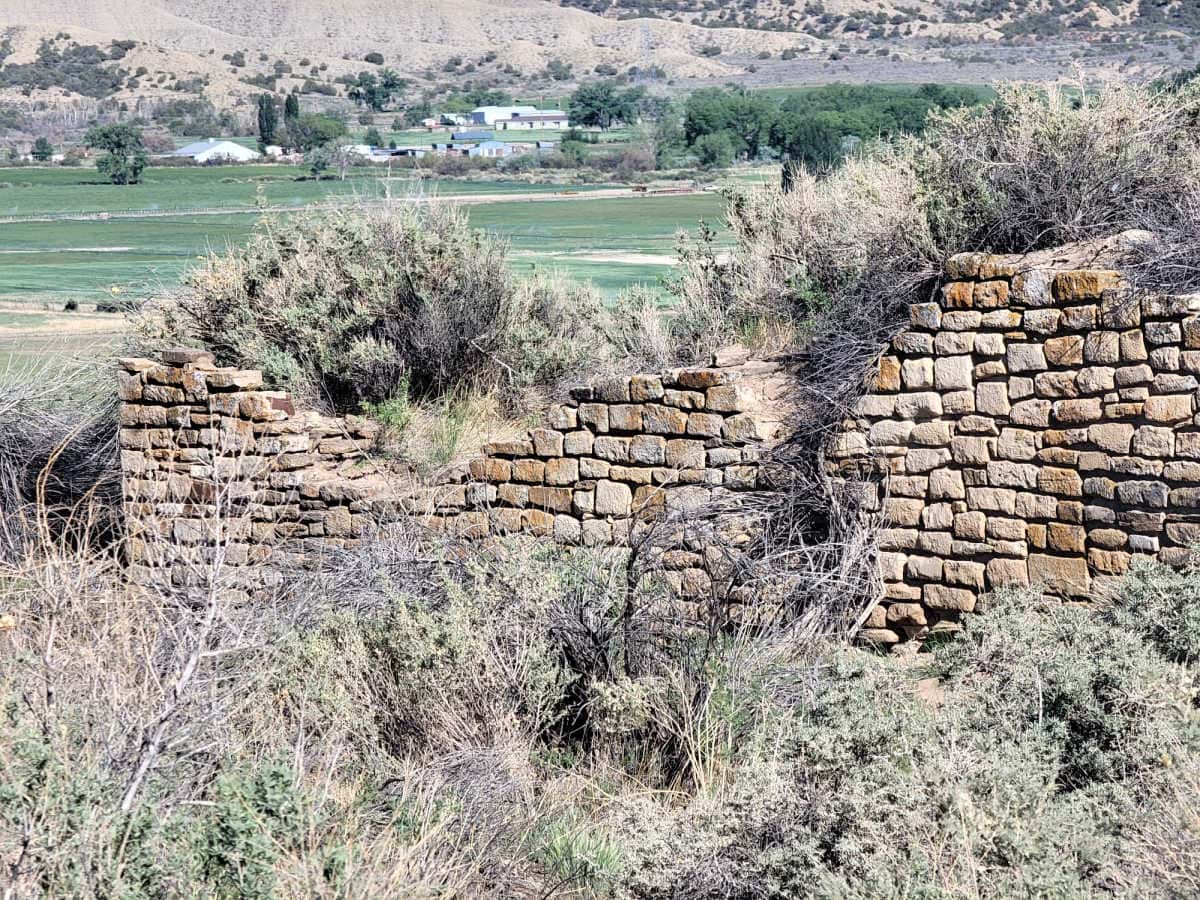 Best time to visit
The best time to visit Yucca House National Monument is during the spring and fall seasons. During these times, the weather is mild and pleasant, making it ideal for exploring the park.
The temperatures during these seasons are also perfect for outdoor activities such as hiking and camping. The spring season, which runs from March to May, offers visitors the chance to see wildflowers in bloom and enjoy the park's lush greenery.
The fall season, which runs from September to November, provides visitors with stunning views of the changing colors of the leaves.
Weather and Seasons
Winter
Yucca House National Monument is located in Colorado and experiences cold winters. The winter season begins in December and lasts until February.
During this time, the temperatures can drop to as low as 20 degrees and the area can receive up to 15 inches of snowfall. As a result, visitors are advised to dress warmly and wear appropriate footwear if they plan to visit during this time.
The landscape during winter is beautiful, with snow-covered red rock formations and the occasional wildlife sighting. However, some of the trails may be closed due to the snow and ice, so it is recommended to check with the park authorities before planning a visit.
Spring
In Yucca House National Monument, the spring season typically falls between March and May. During this time, temperatures can vary depending on the time of day and elevation but generally range from the mid-40s to the mid-70s.
It is important to note that the monument sits at an elevation of roughly 7,000 feet, so temperatures can be cooler than in other areas at lower elevations.
Springtime in Yucca House National Monument is a beautiful time to visit, with blooming wildflowers and greenery throughout the park. Visitors can enjoy hiking trails and exploring the Puebloan ruins during this time of year.
Fall
The fall season in Yucca House National Monument is typically from September to November. During these months, the temperatures can vary greatly, with average highs ranging from the mid-70s to low 80s Fahrenheit, and average lows ranging from the mid-30s to low 40s Fahrenheit.
The weather during this time can be quite pleasant, with cool mornings and evenings and warm afternoons.
Fall is a beautiful time to visit Yucca House National Monument. The park's rugged landscape is set ablaze with vibrant reds, yellows, and oranges as the leaves of the trees change color. The cooler temperatures also make it an ideal time for hiking and exploring the park's ancient ruins and petroglyphs.
Summer
Yucca House National Monument is located in the southwestern United States, and the summer months here can get quite hot. Generally, the summer season in Yucca House National Monument starts in June and lasts until August. During this period, temperatures can range from the mid to high 90s during the day, with temperatures dropping to around the mid-60s at night.
The climate in Yucca House National Monument during the summer season is generally dry and arid, with very little rainfall. Visitors should come prepared for the heat with plenty of water, sunscreen, and appropriate clothing. Despite the hot temperatures, summer can still be a great time to visit Yucca House National Monument as the park offers many outdoor recreational activities such as hiking and camping. However, visitors should plan their activities in the early morning or late afternoon to avoid the hottest parts of the day.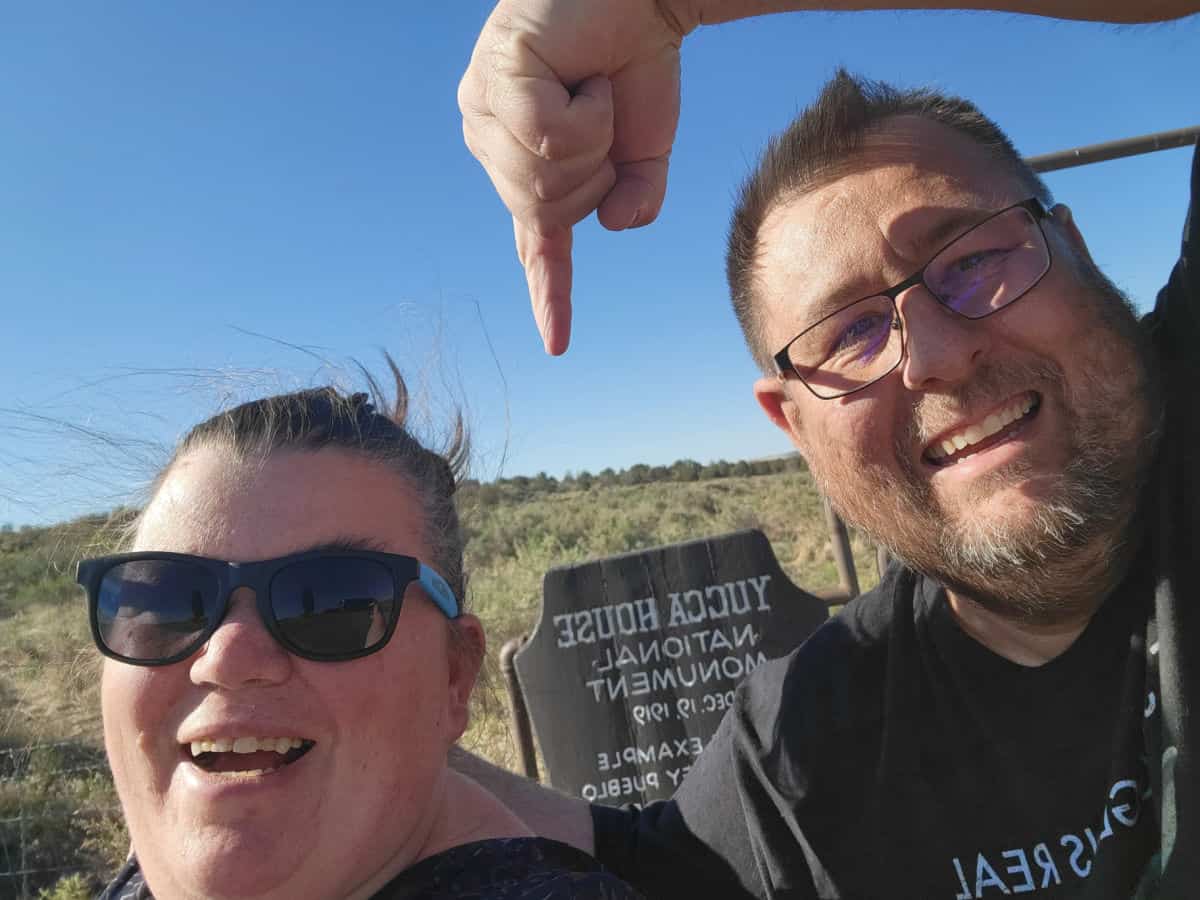 Best Things to do
The unexcavated archeological site may not have any designated trails, but visitors are still welcome to explore the area on foot. While walking around the site, it's important to be respectful of the surrounding environment and avoid disturbing any artifacts or possible excavation sites.
It's also a good idea to stay alert and watch where you step, as there may be uneven terrain or hidden hazards.
Additionally, visitors should refrain from removing any objects from the site and should leave everything as they found it. Walking around the unexcavated archeological site can be a unique and interesting experience, allowing visitors to connect with history in a tangible way.
With proper care and caution, visitors can safely and responsibly explore this fascinating area.
Birdwatching
Yucca House National Monument is home to a variety of bird species. Bring your binoculars and take a stroll around the park to see how many you can spot.
Yucca House National Monument is home to a variety of bird species. The presence of perennial surface water in the form of three highly mineralized, perennial springs and small pockets of wetlands attract animals from the surrounding lands, including birds.
The variety of habitats within the monument, such as desert shrubs, pinyon-juniper woodlands, and sagebrush, also supports a relatively diverse bird population. Thus, visitors are encouraged to bring their binoculars and take a stroll around the park to see how many bird species they can spot.
There is no designated Junior Ranger program that we have seen for the park.
Hiking
There are no trails, however, you're welcome to walk around the unexcavated archeological site.
Always carry the 10 essentials for outdoor survival when exploring.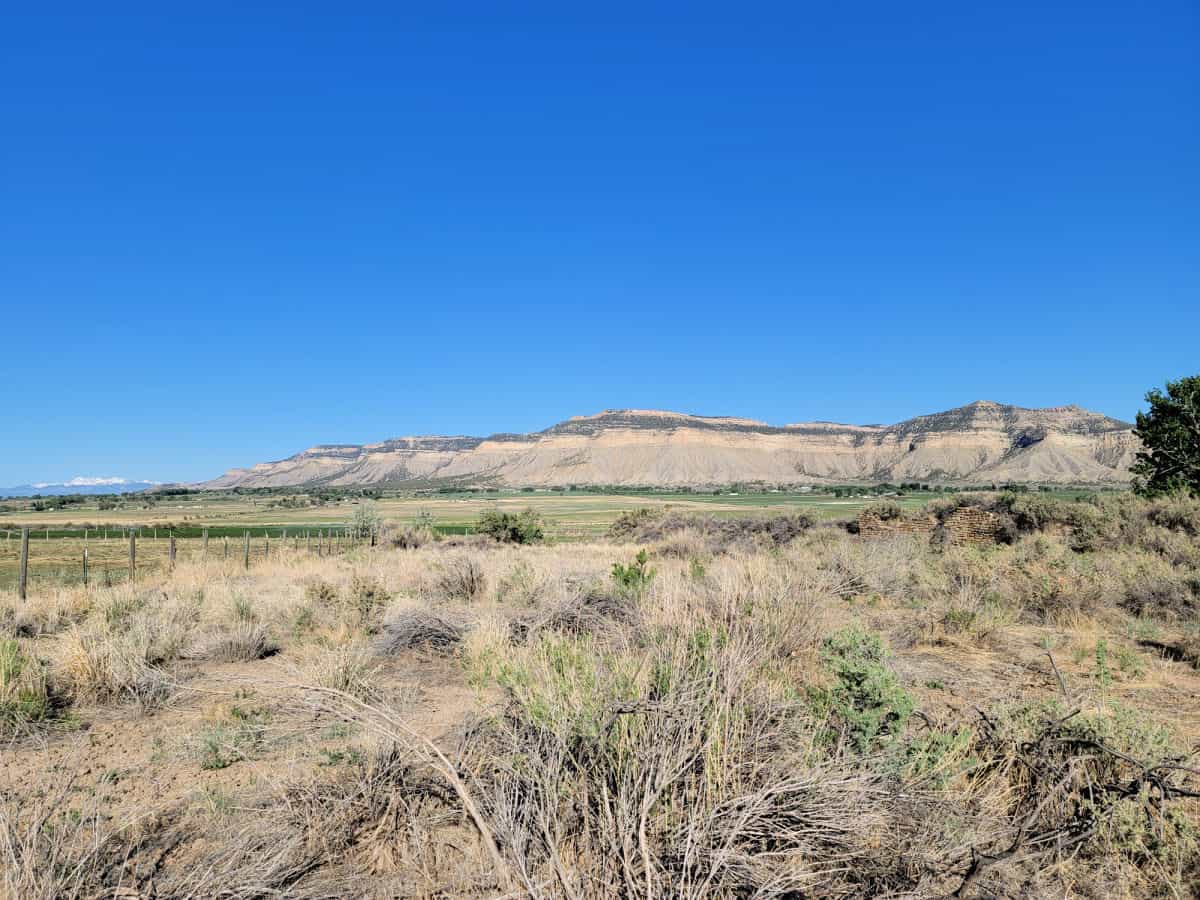 How to beat the crowds?
I would be shocked if you encounter a crowd while visiting the park. It is not highly visited and takes a bit to get there.
Where to stay when visiting
There are no National Park Lodges within the park.
Nearby Lodging includes:
Best Western Turquoise Inn & Suites- As a hotel near the airport, Best Western Turquoise Inn & Suites offers a variety of amenities to its guests. These include a complimentary full breakfast, free airport transportation, and a charming garden area. Guests can also unwind in the hot tub or take advantage of the free Wi-Fi in public areas, laundry facilities, and the business center. Additional benefits include a seasonal outdoor pool, free self-parking express check-out, a front-desk safe, and 24-hour front desk service.
Super 8 by Wyndham Cortez/Mesa Verde Area - If you're looking for a comfortable stay in Cortez, consider Super 8 by Wyndham Cortez/Mesa Verde Area. Guests can enjoy a range of amenities, including free to-go breakfast, laundry facilities, and a business center. Whether you need to stay connected with free in-room Wi-Fi or take advantage of free self-parking, this hotel has got you covered. You'll also appreciate the smoke-free premises, 24-hour front desk, and a computer station. And according to guest reviews, the breakfast is definitely a highlight, along with the overall value and helpful staff.
Aneth Lodge - This pet-friendly accommodation offers a range of amenities including free Wi-Fi and air conditioning in all rooms. Housekeeping is provided daily for guests' convenience. In addition, free uncovered self-parking is available on-site and there are also in-room amenities such as a microwave and refrigerator for added comfort. The limited-hour front desk is available for any guest's needs, and the property is located in the mountains, providing a tranquil setting. Guests can also enjoy free Wi-Fi in some public areas.
Holiday Inn Express Mesa Verde-Cortez, an IHG Hotel - Free full breakfast is available on weekdays from 6:30 AM to 9:30 AM and weekends from 6:30 AM to 10:00 AM.
You can relax and unwind in the pool and hot tub or enjoy the complimentary breakfast, which is included in your stay. Free parking is also available on-site, including wheelchair-accessible parking and off-street options. You can stay connected with free Wi-Fi available in all rooms and some public areas. Other amenities include air conditioning, laundry facilities, and housekeeping services. The hotel has a restaurant and bar/lounge where you can enjoy delicious food and drinks.
Econo Lodge - Start your day with a delicious continental breakfast that is available daily, and enjoy coffee and tea in the common areas. Stay connected with free Wi-Fi available in all rooms and some public areas. Enjoy a refreshing swim in the pool, and start your day off right with a complimentary breakfast. Parking is also included, and the property offers free Wi-Fi throughout and air conditioning in every room. Stay active during your stay with access to the gym and onsite laundry facilities. Additionally, free parking is available for self-parking and RV/bus/truck parking on-site. The property is also wheelchair accessible with parking available.
Baymont by Wyndham Cortez-. Enjoy a refreshing swim in the pool or get a workout in at the gym. For business travelers, there are business services available and free Wi-Fi throughout the hotel. For your convenience, parking is included and there are plenty of off-street options available. Start your day off right with a free continental breakfast available daily. Housekeeping services are provided, as well as laundry facilities for your convenience. Stay cool with air conditioning available in all rooms, and enjoy free Wi-Fi available in both the rooms and some public areas.
Click on the map below to see current vacation rentals and lodges near the park.


Camping
Camping is not allowed in Yucca House NM
For a fun adventure check out Escape Campervans. These campervans have built in beds, kitchen area with refrigerators, and more. You can have them fully set up with kitchen supplies, bedding, and other fun extras. They are painted with epic designs you can't miss!
Escape Campervans has offices in Vancouver, Seattle, Portland, San Francisco, Las Vegas, Los Angeles, Phoenix, Salt Lake City, Denver, Chicago, New York, and Orlando
Parks Near Yucca House National Monument
Natural Bridges National Monument
Canyon De Chelly National Monument
Check out all of the National Parks in Colorado and neighboring Utah National Parks, Wyoming National Parks, Nebraska National Parks, Arizona National Parks, Kansas National Parks, Oklahoma National Parks, and National Parks in New Mexico.