Zion Lodge is located three miles up Zion Canyon Drive and offers the perfect place to stay during your time in the park. There is truly nothing quite like waking up and looking out at the 8,000-foot canyon walls within Zion National Park.
Staying in Zion Lodge is the perfect way to beat the crowds and really maximize your time in the park. You not only get to wake up to epic views but you can jump on one of the early shuttle buses and be up in the canyon before the crowds roll in.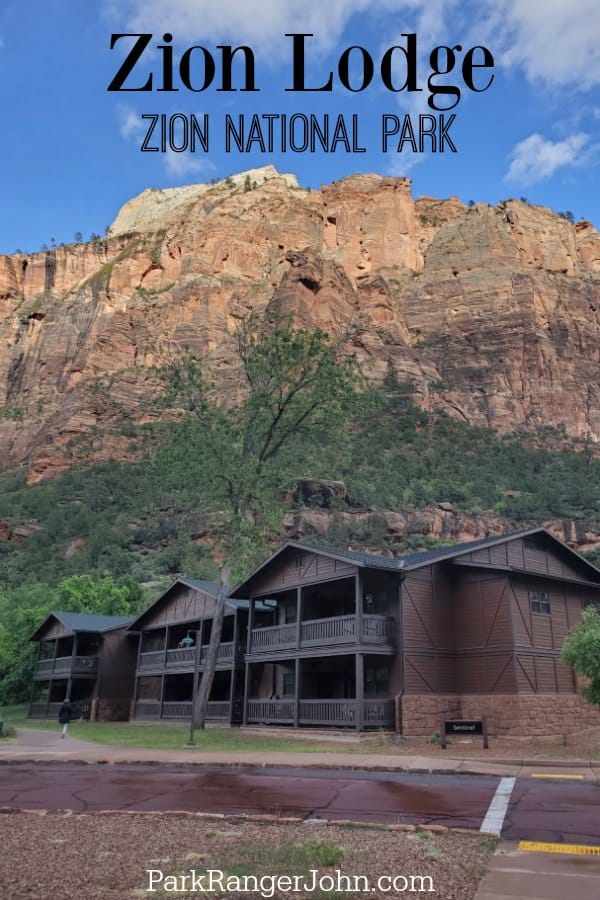 Zion Lodge
Plus you don't have to fight for parking in Springdale or at the visitor center which is starting to fill up earlier and earlier in the day. You will receive a parking permit that allows you to park in the Zion Lodge parking lot.
We truly loved our stay at the Zion Lodge. It is quickly becoming one of our favorite National Park Lodges that we have had the chance to stay in.
The room was super comfortable, the view was epic, and the location was amazing.
The Zion Lodge was designed by Gilbert Stanley Underwood in 1923. The lodge was built with modest scale and detailing in mind. The structures were built with whole logs in a "studs out" style and with less stonework than you might find in other National Park lodges.
The design was in keeping with the character of the Zion valley floor. Which at the time of construction was still inhabited by settlers. In 1966 a fire destroyed the original lodge but it was rebuilt within 100 days.
The original lodge was built in 1924 but it was destroyed by a fire in 1966 and rebuilt soon after. A new lodge was built quickly after the first lodge burned but it did not have the rustic park look.
In 1990 renovations restored the lodge to its original grandeur. It now stands today as the only lodge within Zion National Park.
The lodge features 76 guestrooms, 40 cabins, and 6 suites.
The closest airport is St. George Municipal Airport located 64 miles away. Las Vegas McCarren Airport is 153 miles away.
Check out the Zion National Park cabins that are next to the Zion Lodge.
There is a great Zion Shuttle Stop near the lodge to make it easy to access and explore the Zion Canyon.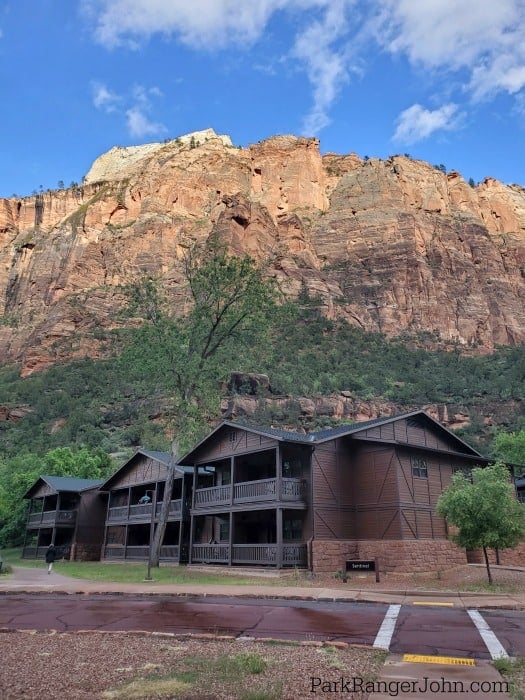 King Hotel Room
We stayed on the 2nd floor of the Sentinel building in room 202. The room was nicely laid out with a king-size bed, 2 comfortable chairs, a desk with chair, TV, and a deck looking out at the park. We are already talking about booking a return trip to Zion Lodge during warmer months to truly get to enjoy the deck.
The rooms are spread out among two buildings located within close walking distance to the main lodge building. Depending on the location of your room you will look out at the grassy field with the giant cottonwood tree and views of the canyon walls along the Virgin River or look towards the canyon walls closer to the lodge rooms.
The room was pretty quiet during our stay. We could hear people a few times walking down the halls but could not hear people in the room next to us. Which has been an issue in a few lodges we have stayed at.
Zion Lodge Room Amenities
All rooms feature the following in-room amenities:
Air conditioning,
Phones
Radio/MP3 compatible alarm clocks
Hairdryers
Iron and ironing boards
Coffeemakers and complimentary wireless Internet access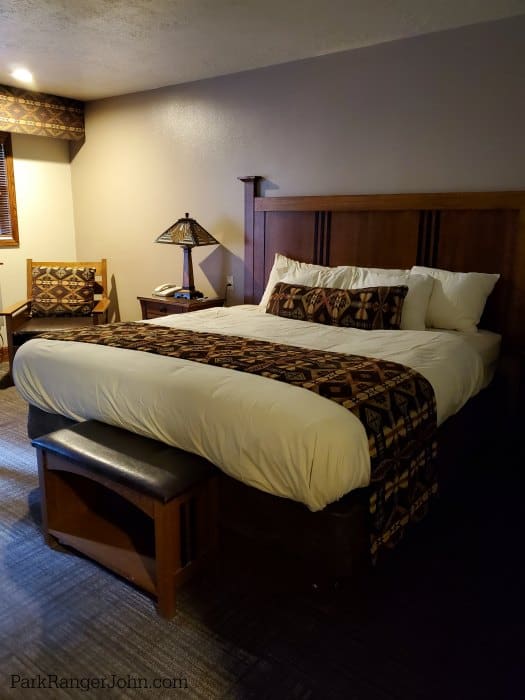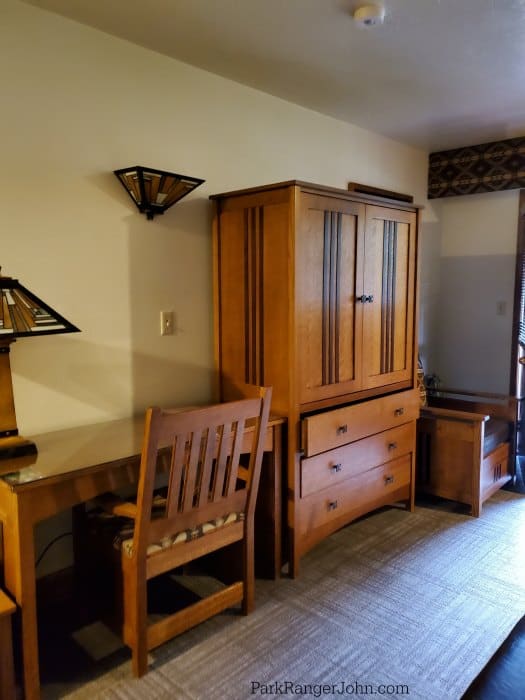 Rooms are also available with a queen bed. The lodge offers suites and other room types depending on how many people are staying with you.
Rollaway beds are available.
The lodge has a 24-hour front desk service in case you need anything.
Wi-Fi: Complimentary Wi-Fi is available for hotel guests staying overnight at Zion Lodge.
Zion Lodge Restaurant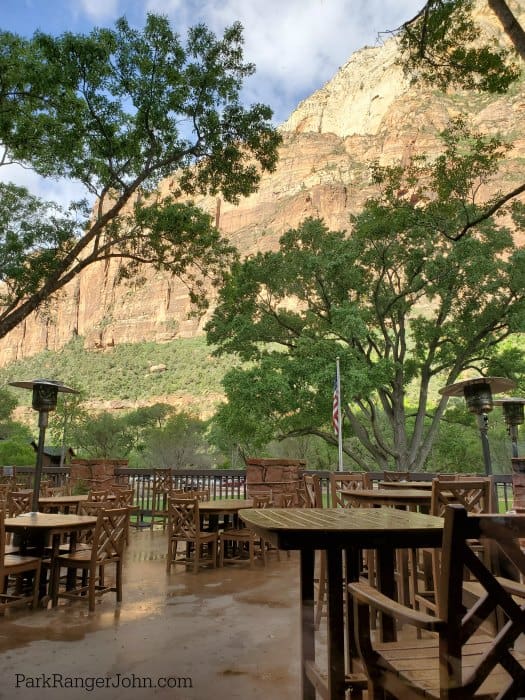 Red Rock Grill
The Red Rock Grill is located in the main lodge building on the 2nd floor. There is an elevator available if you do not want to deal with the steps up to the restaurant.
You will want to make reservations for dinner as soon as you know what time you would like dinner. When we arrived they were not able to seat us until 8 pm and this was before the big summer rush.
Breakfast is either served off an ala carte menu or a breakfast buffet depending on the staff available each day. We enjoyed the breakfast buffet and it was really great. The bacon was fantastic!
If you have kids or don't want to hear the kitchen staff discussing their partying the night before you may want to ask for a table away from the kitchen doors. We could hear the kitchen staff talking about their partying and activities from the night before during our breakfast.
We mentioned it and let them know that we could hear them but they continued and actually got a bit louder after it was brought up. This is just a heads up in case you have young ears that pick up everything you don't want them to hear.
Red Rock Grill restaurant serving breakfast, lunch, and dinner. 6:30 a.m. – 10:00 p.m. (hours vary seasonally) open daily, year-round.
Breakfast: 6:30 a.m. to 10:30 a.m.
Lunch: 11:30 a.m. to 3:00 p.m.
Dinner: 5:00 p.m. to 10:00 p.m.
Lounge: 11:30 a.m. to 10:00 p.m.
Reservations are only required for dinner. Please call 435-772-7760 to make your reservation.
Menus: Breakfast / Lunch / Dinner / Kid's Menu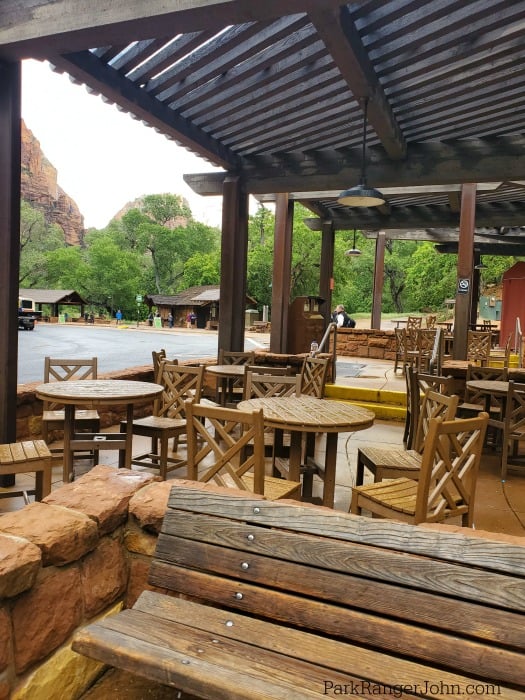 The Castle Dome Cafe
The Castle Dome Cafe is located in the main lodge building and offers quick service meals. There is a beer cart on the deck seasonally that serves local microbrews.
In the morning you can grab a quick cup of coffee, cinnamon rolls, and snacks. During the afternoon they offer sandwiches and snacks along with local beers.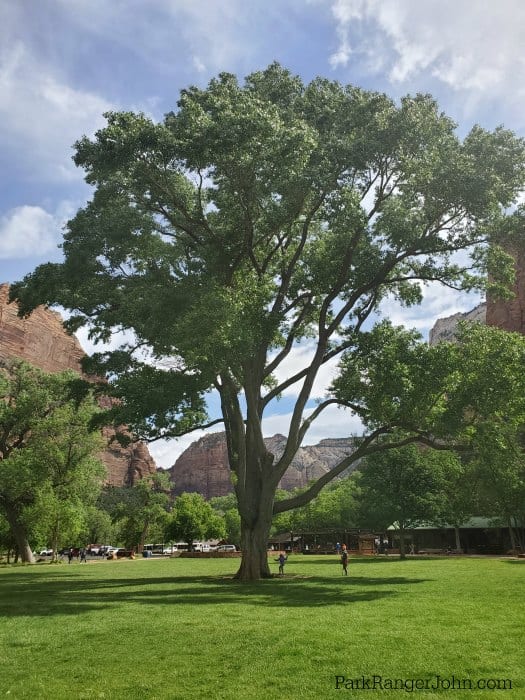 Zion Lodge Reservations
Reservations can be booked for stays up to 13 months in advance.
On the first of each month, the lodge will begin accepting reservations for the entire month of the following year.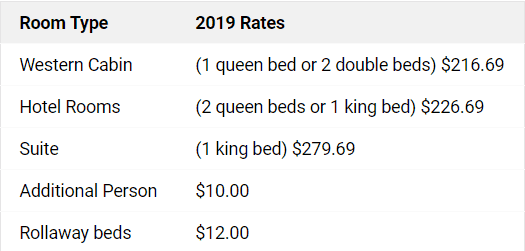 BOOK YOUR STAY ONLINE or reserve by phone 1 (888) 297-2757
Outside the U.S.: 303-297-2757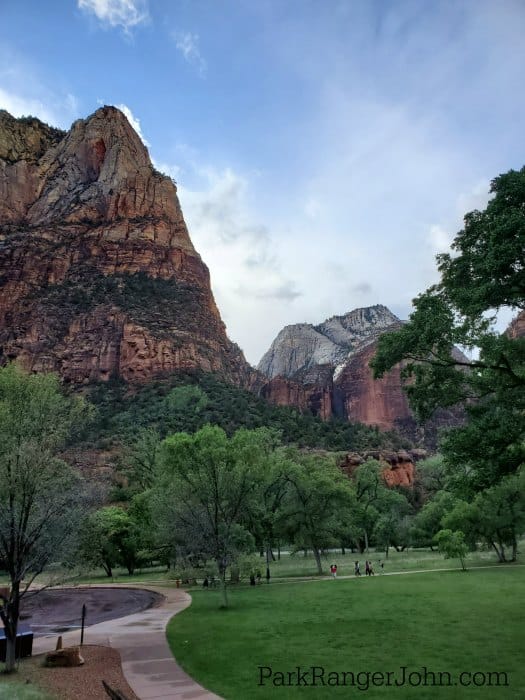 Things to know when planning a stay at the Zion Lodge
Zion Lodge Address:
Zion Lodge
Springdale, UT 84767
United States
GPS Coordinates for Zion Lodge National Park: N37°11.4972, W112°59.64018
Can I drive to Zion Canyon Lodge?
A few weeks before your stay you will receive a guest parking pass that allows you to drive to the Zion Lodge.
You will need to bring the parking pass with you at check-in to have the front desk validate it.
Check-in time: 4:00 pm
Check out time: 11:00 am
Rates do not include 10.62% room tax
Animals or pets are not allowed, with the exception of qualified Service Dogs for guests with disabilities.
Additional Zion NP Resources
Zion National Park Camping – Learn more about each of the campgrounds in the park and what to expect.
Zion Hiking Guide – Check out the top hiking trails you do not want to miss! From easy walks to full adventures of hiking Angels Landing.
Zion National Park Cabins - Check out photos and videos of staying in a cabin in the heart of Zion.
Zion Narrows - Find out all the things you need to know to plan a trip hiking up the Zion Narrows.
Zion in Winter - If you are heading to the park in the winter make sure to plan ahead and know what is open and accessible.