The Zion Shuttle is the only way to get into the Zion Canyon and spend time exploring the heart of Zion National Park during certain times of the year. This free shuttle runs daily but you will want to plan your trip to make the most of your time in this great park.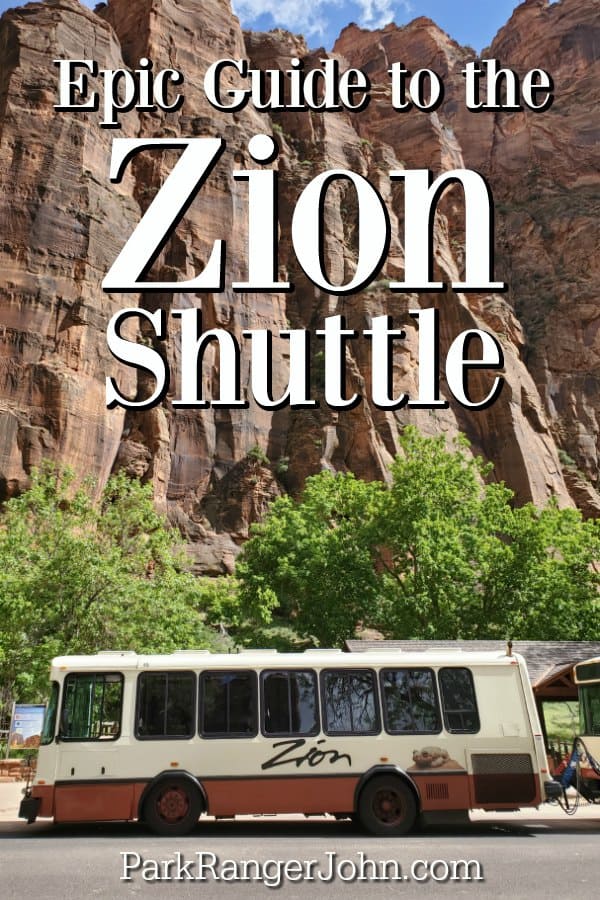 Zion Shuttle
Over six million people a year ride the free Zion Shuttle buses! These propane-powered buses are the only way to get deep in the Zion Canyon and explore all of the top things to do in Zion National Park during the busy season!
The best part of using the shuttle is how easy they are to hop on and off. From early March through mid-November access into Zion Canyon is by shuttle bus only. Zion is becoming one of the most visited National Parks in the United States!
It would not surprise me if the shuttle system is expanded into other months of the year!
Zion Shuttle Tickets
2020 shuttle system - Starting on July 1 the National Park Service has implemented a shuttle ticket system. Currently, the shuttle ticket system will run until December 2020 depending on the health and safety rules that are in place.
The new tickets cost $1 each. There are no discounts available for shuttle tickets.
You must have a shuttle ticket to ride the shuttle. If you are camping in Zion you still need to reserve a shuttle ticket!!!
If you are staying at the Zion Lodge or Cabins in Zion you still need a shuttle ticket if you want to explore farther up the canyon!!!
You will need to have a ticket for each separate day you wish to ride the shuttle.
Tickets can be reserved on Recreation.gov
You may reserve up to 8 tickets per day.
On July 16, tickets will be available for the dates of August 1-31.
Tickets are also available one day in advance at 9 a.m. MT on a rolling daily window. Example: On July 1, tickets will be available for July 2; on July 2 tickets will be available for July 3.
Tickets must be purchased online at Recreation.gov or using the Recreation.gov mobile app. Shuttle Tickets will not be sold at the park.
One thing to know is even though you have a ticket you are not guaranteed a parking spot by the visitor center! You will want to arrive early to make sure you have a parking spot and can be in line within 15 minutes of your designated ticket time.
Check out the summer 2020 planner for more information.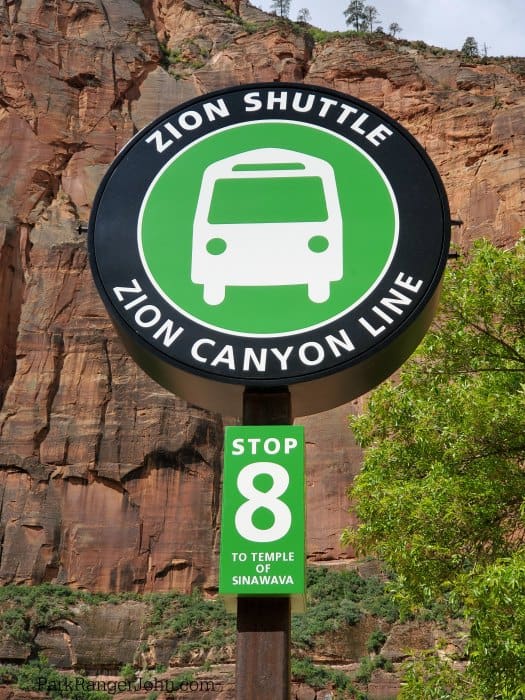 Zion Shuttle Stops
Zion Canyon Visitor Center
The Zion Shuttle starts at the Zion Canyon Visitor Center. This is a great place to use the bathrooms, pick up current park brochures, and check for river levels if you plan to hike the Zion Narrows.
You can also fill your water bottle here. Be prepared for there to be a line at times to hop on a free shuttle bus. The buses run really frequently so the line is normally not to long.
Zion Human History Museum
The Zion Human History Museum is filled with exhibits dedicated to telling the stories of human history in Zion Canyon.
There are restrooms, a bookstore, and a water bottle filling station.
You can enjoy views of the Tower of the Virgin and Bridge Mountain.
From the Zion Human History Museum Shuttle Bus Stop you can access the Pa-Rus Trail.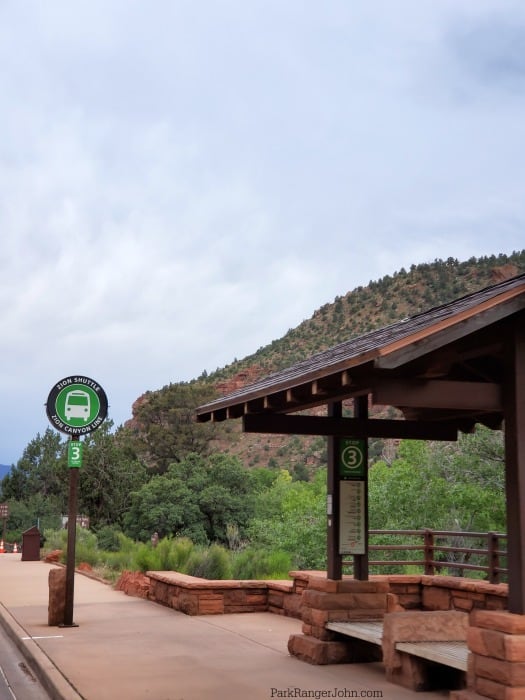 Canyon Junction
The Canyon Junction Shuttle stop provides views of the Virgin River and Zion Canyon.
From this shuttle stop, you can access the Pa-Rus trail.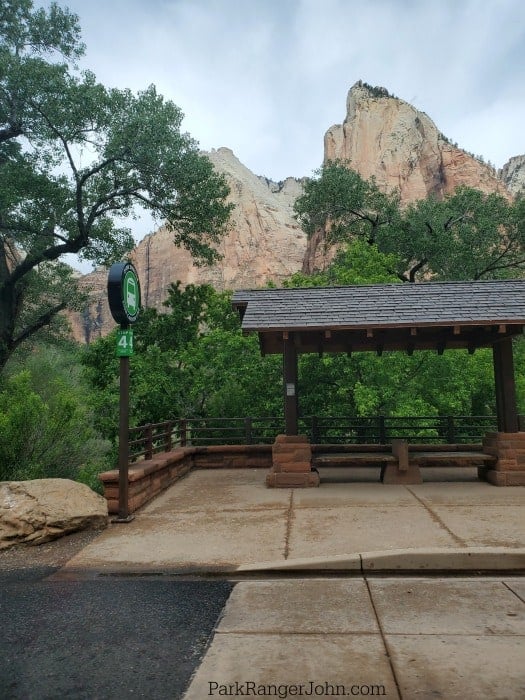 Court of the Patriarchs
The Court of the Patriarchs shuttle stop provides views of Abraham, Isaac and Jacob Peaks, Mount Moroni, and The Sentinel.
There is a short but steep trail to a viewpoint.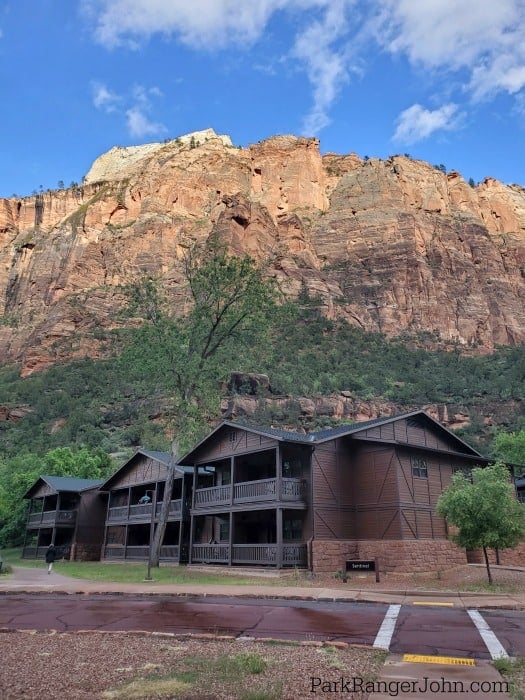 Zion Lodge is nestled in the heart of Zion Cabin. You can pick up lunch or a snack at the outdoor restaurant. This is a great place to stop for lunch and to relax.
From the Zion Lodge Shuttle Stop, you can access the Emerald Pools Trail, The Grotto Trail, and Sand Beach Trail.
The Grotto
The Grotto has a shaded picnic area among cottonwood trees. There is also an easy to reach restroom and water filling station.
From the Grotto Shuttle Stop, you can access the Grotto Trail, Kayenta Trail, and West Rim Trail.
Weeping Rock
Closed due to rock slide - 2020
Weeping Rock is a hanging garden created by dripping springs. There is a restroom, ranger programs, and great views of Angels Landing and the Big Bend.
From Weeping Rock Shuttle Stop you can access the Weeping Rock Trail, East Rim Trail, Hidden Canyon Trail, and Observation Point Trail.
Big Bend
The Big Bed offers epic views of the Virgin River with towering cliffs above it.
You can enjoy views of Angles Landing, the Virgin River, and the Great White Throne.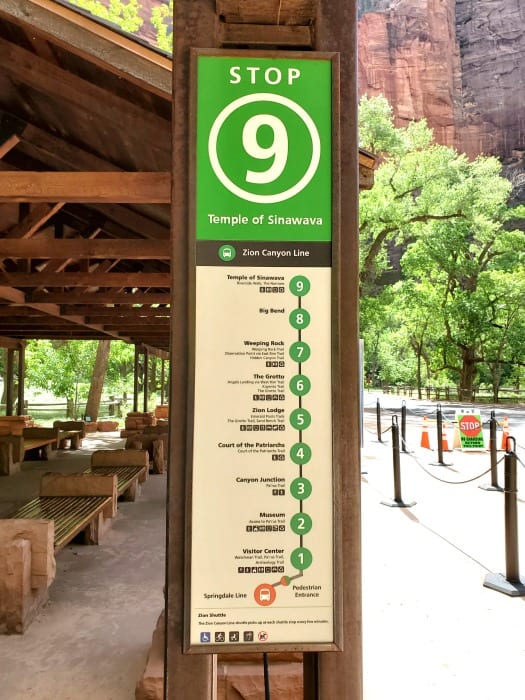 Temple of Sinawava
The Temple of Sinawava is the gateway and shuttle stop for The Narrows.
You will find restrooms and a water bottle filling station.
From the Temple of Sinawava shuttle stop, you can access the Riverside Walk, Virgin River, and The Zion Narrows.
Zion National Park Shuttle Hours
The first shuttle leaves the Zion Canyon Visitor Center at 6 am.
The last shuttle leaves the Temple of Sinawava at 8:15 pm.
The current Zion National Park Shuttle Hours/schedules are posted at each shuttle stop and at park visitor centers.
During the busy season, the free buses run from early morning to late evening, as often as every seven minutes. Times and intervals change with the seasons.
Zion Shuttle Map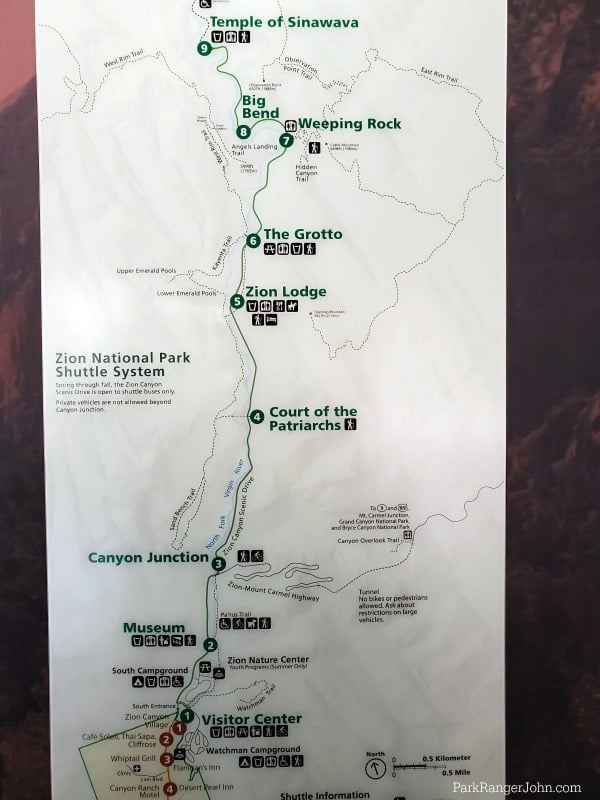 What to pack with you
You will want to be prepared to spend the day in the park! While you can go back to your car via the shuttle I am pretty sure you will not be excited to spend time going back for something.
Water Bottle - There are water bottle filling stations at many of the shuttle stops.
Snacks
Walking Shoes
Weather-appropriate clothing
Map
Camera and extra batteries
Binoculars
Sun Protection like Sunscreen/Hat/Sunglasses
Interagency Pass or Park Entry Receipt for re-entry into the park
If you are planning to explore one of the amazing Zion National Park Hiking Trails please make sure you bring the ten essentials with you.
No pets are allowed on the shuttle buses. Only water can be consumed while riding on a shuttle bus.
ADA Accessibility
All shuttle buses are wheelchair accessible.
The use of personal vehicles is restricted to those individuals requiring additional vehicle supported medical devices or when the shuttle bus cannot accommodate the individual due to weight or size restrictions.
A special permit for personal vehicle use can be obtained from the visitor center or museum information desks by providing documentation of the medical condition.
Springdale Shuttle to Zion
You can take a free shuttle from Springdale to Zion National Park daily. This is a great option if you are staying in Springdale or can not find parking near the Zion Visitor Center.
There are easy to see shuttle bus stop signs in Springdale. When you park in Springdale make sure and check to see if you need to pay for day parking!!!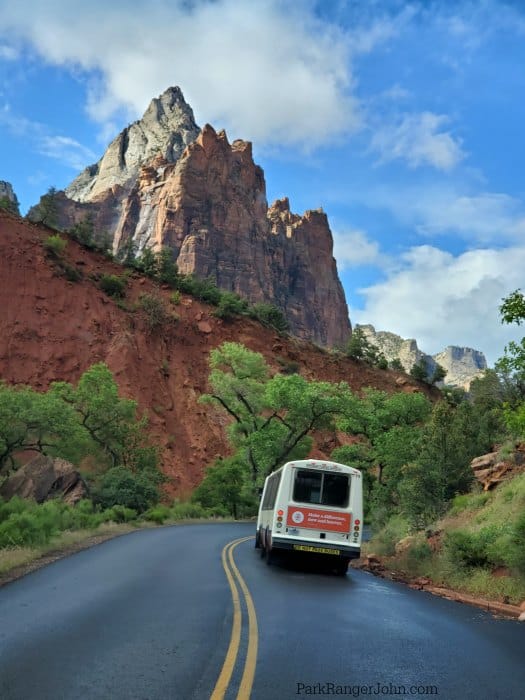 Additional Zion Resources
Zion National Park Camping - Learn more about each of the campgrounds in the park and what to expect.
Hiking the Narrows Guide - What you need to know to plan a trip hiking the Narrows in Zion.
Zion Hiking Guide - Check out the top hiking trails you do not want to miss! From easy walks to full adventures of hiking Angels Landing.
Zion Lodge - Find out what it is like to stay in the Zion Lodge
Zion Cabins - Check out what it is like to stay in the gorgeous Zion National Park Cabins.
National Parks near Las Vegas - If you flew into Vegas you don't want to miss some of these other great parks including Bryce Canyon National Park and the Grand Canyon.
Utah National Parks - check out all of the amazing National Parks in Utah you can visit.