It's no secret that I love Zion! It's the place I fell in love with the national parks, took my wife on a date early on when we were dating, spent many nights at the Watchman and South campgrounds and have traveled many miles on my feet exploring its beauty. I still desire to go back, even after several visits. Why? There is so much to see and explore! Here is my list of best things to do in Zion National Park.
It was honestly hard to pick top things to do in Zion NP because this park has so many ways to spend a day. Every time I visit this park I find something new to enjoy or fall back in love with. Do you have a favorite thing to do in Zion National Park?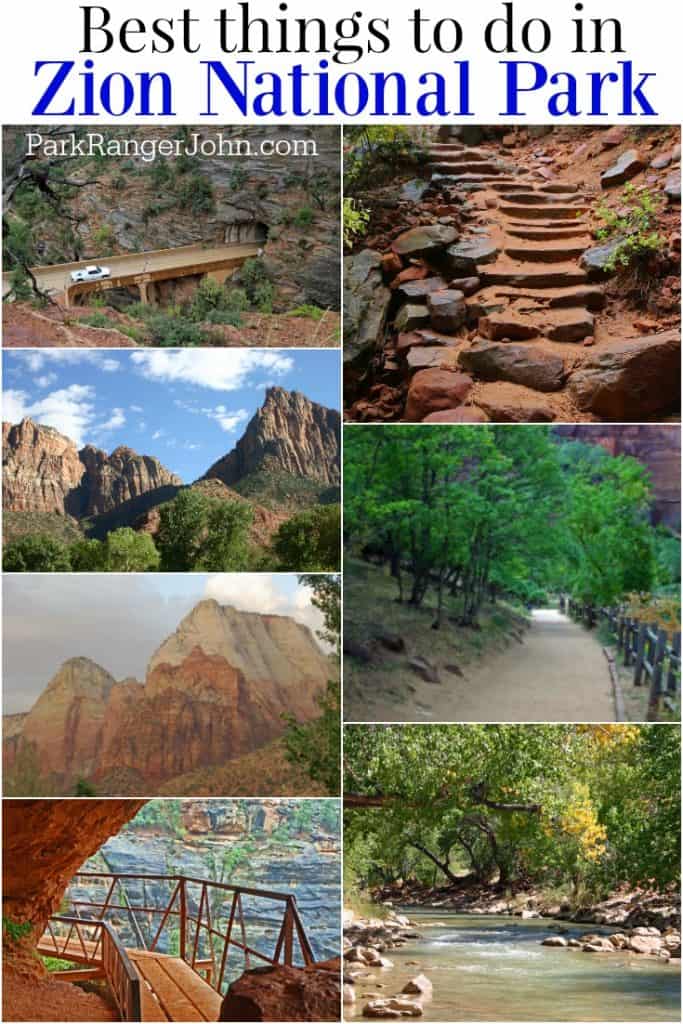 Things to do in Zion National Park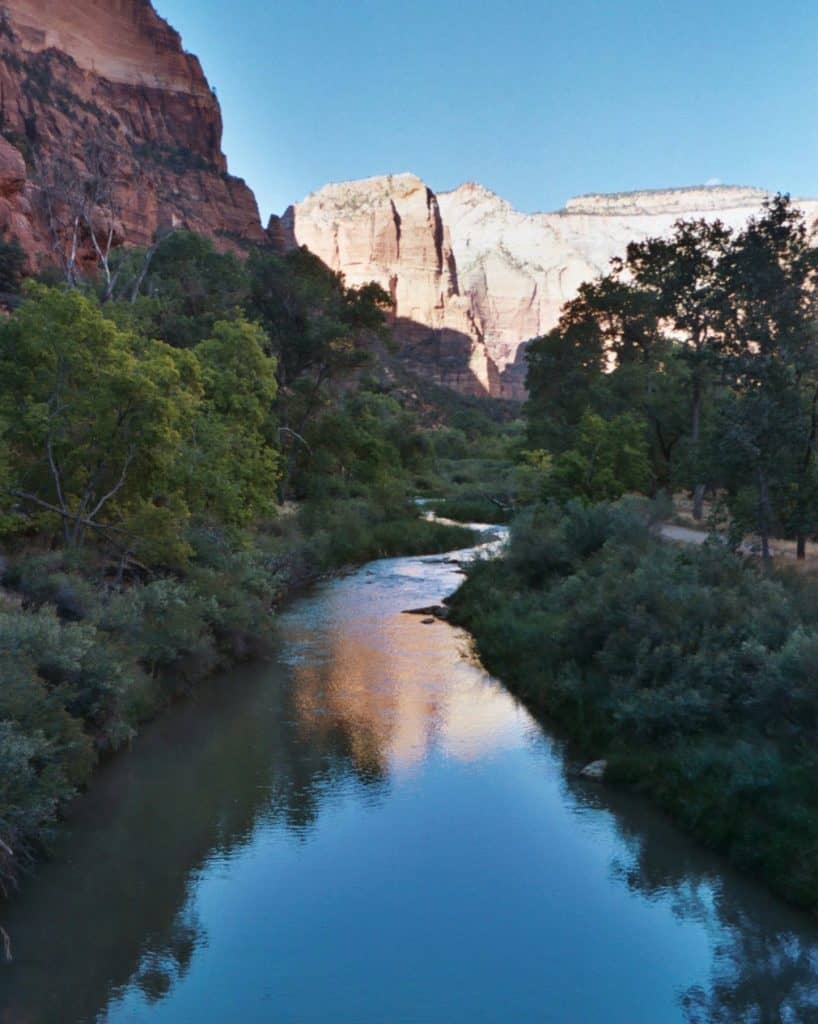 Go Camping
Park Ranger John Pro Tip: Skip the lines and go camping! Camping is by far the easiest way to explore Zion. The Watchman and the South Campground are centrally located next to the visitor center and the shuttle bus which takes you into the Zion Canyon. This means that you simply wake up and get ready to explore Zion.
When you are ready just walk over to the visitor center and check on weather conditions and hop on a bus and you are off exploring! This is so much easier than fighting the 4 million visitors per year for a parking spot.
Many people end up parking in Springdale and taking the Zion Shuttle to the park entrance where you can wait in line for an hour plus just to get into the gate! Make sure to check my article on camping in Zion National Park.

Go for a hike
Zion is home to several Epic Hiking trails that have made the American Southwest and the National Park Service true icons. Names like Angels Landing, The Narrows, and the Subway are sure to bring back memories for those who have hiked them or perhaps fill up Pinterest boards for those who dream of someday going.
I recommend everyone to try a trail less traveled to see that real beauty of Zion. Head over here for my post on 13 hikes in Zion National Park! Make sure to always carry the 10 essentials for outdoor survival as I was thankful to have them with me one day while hiking in Zion!
Attend a Ranger Program
You should take the time to attend a Ranger Program while visiting Zion. Between April to November, Rangers work hard to connect park visitors with the park through informative interpretative programs throughout the day at several locations.
There are several patio talks at the Zion Natural History Museum, ride with a ranger on one of the park's shuttles (Reservations Required), an evening program at the Zion Lodge and the amphitheater at the Watchman Campground.
This is your opportunity to learn about the park while kids get excited and want to explore more.

Check out the Fall Colors
Most visitors arrive in the summer. Personally, I love Zion in the fall! The colors start showing up in September and can be found all over the park. The fall colors start first in the high country and is a fantastic time to explore trails like Cable Mountain.
Later in the year the trees along the river turn bright yellow and are a sight to see with the red rock in the background. If you happen to arrive a little early for fall colors at Zion try going north to Cedar Breaks National Monument. It's a small version of Bryce Canyon with phenomenal sunsets and fall colors!

Have a Beer at the Zion Canyon Brewing Company
There is no better way to relax after a great day of hiking than to sit back with friends and have an ice-cold beer. The Zion Canyon Brewing Company has you covered as it is literally just outside the park gate. Its breathtaking views of red rocks at sunset makes it all the better.
It's even close to the Watchman and South Campground so you don't have to worry about having to drive home after a couple of well-deserved drinks. Head over to see more information on Beers inspired by the U.S. National Parks.

Go Horseback Riding
You can go for a horseback ride between March and October with Canyon Rides. They have two different options to choose from, the first is a one-hour Virgin River Ride and the second is a three-hour Sand Bench Trail Ride that passes the Beehives, The Sentinel and the Court of the Patriarchs.
I have hiked the Sand Bench Trail and loved it. The name sand bench is rather fitting for this trail as there are areas of deep soft sand and would have loved for someone else to be doing the hiking during the summer heat.
Visit Springdale, Utah
The town of Springdale is just outside the park's main entrance with most of the stores centered around tourism.
This shouldn't be a surprise when Zion receives over four million annual visitors. You can expect to find hotel rooms, restaurants, showers, outfitters catering to the Zion Narrows and various other stores selling all the typical touristy stuff.
Ride a Bicycle
Bicycling is permitted on all park roadways and the Pa'rus Trail. The Pa'rus Trail is 3.5 miles roundtrip and follows along the Virgin River.
You can rent bicycles at the Zion Canyon lodge between mid-March through October and come with a lock, helmet, safety lights, cargo basket, safety vest, and a bell.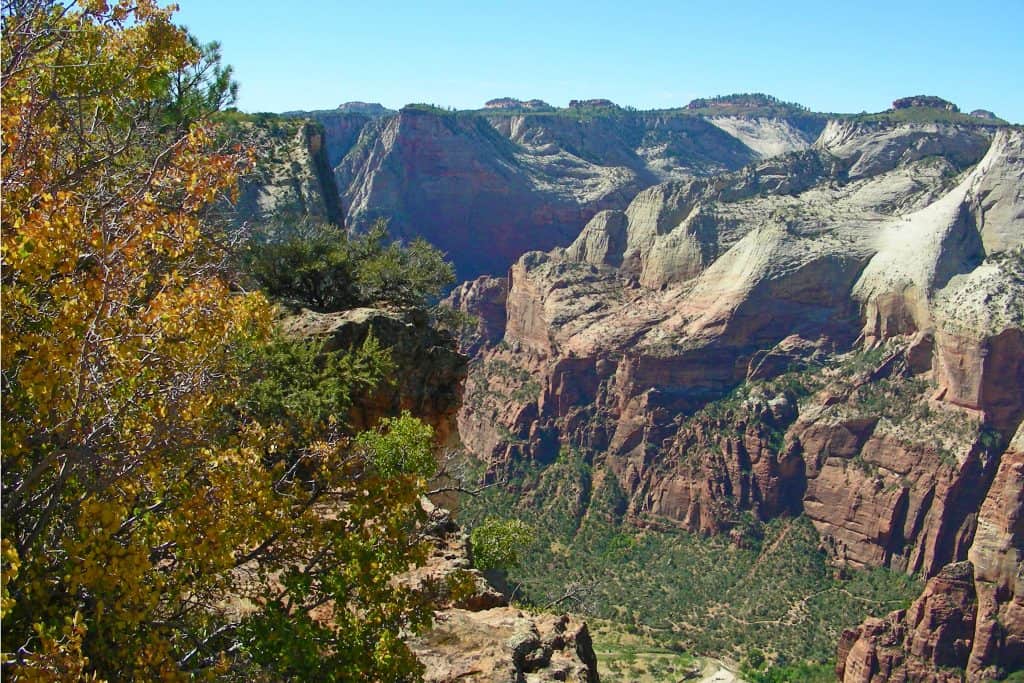 Explore Nearby Parks
There are so many great parks close to Zion National Park! I frequently say trying to explore everything in the Southwest is like trying to find the end of the rainbow, everything seems to be within reach but you can never quite get to see it all.
You can easily spend your entire vacation in Zion alone as there is so much to see and do. You can also opt to spend a day at several great locations! Visitors who spend more than a few hours at Zion will get the opportunity to explore more and to truly enjoy one of the most incredible places on the earth while those who only spend a day get to see the highlights to several great destinations, the choice is all up to you.
Here is a list of other great parks that can easily be reached within a few hour's drive.
Cedar Breaks National Monument
Valley of Fire State Park (Nevada)
There are so many parks to visit in the southwest it is hard to list everything!
Check out this printable list of the US National Parks in Alphabetical Order!
Here is information on all of the Utah National Parks! How many parks are you heading to on your trip?