Zion National Park Cabins are a great way to stay in the heart of Zion Canyon! You can easily walk out of your Zion Canyon and be exploring this epic Utah park in minutes.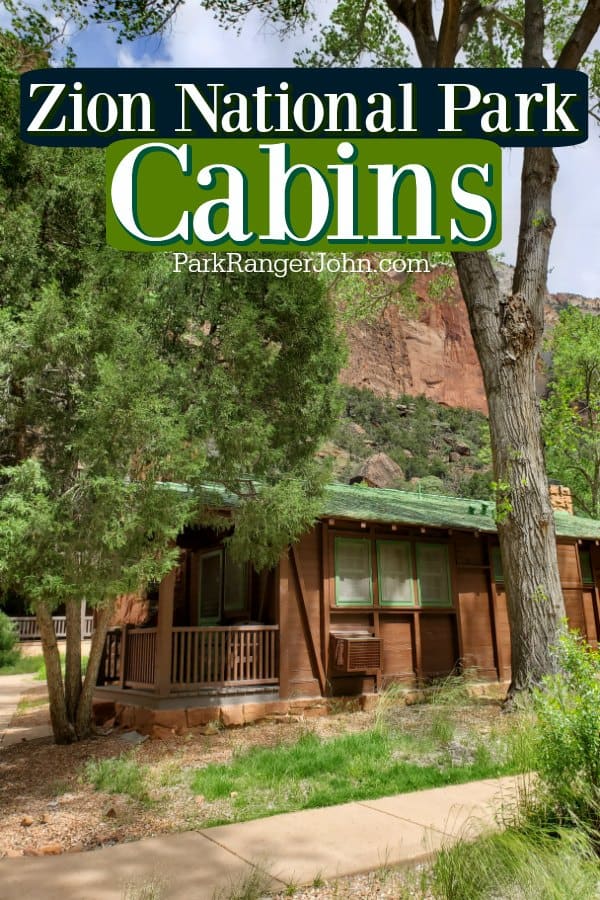 Zion National Park Cabins
Zion Lodge Cabins are located next to the gorgeous
Zion Lodge
in the heart of Zion Canyon.
We truly enjoyed our stay in the cabins at Zion National Park Lodge and loved how easy it was to walk across the street to the Emerald Pools Trail or hop onto the Zion Shuttle Bus.
There are a total of 40 cabins in Zion with 28 of them having two double beds and 12 of them have one queen bed.
One of the nicest features of the cabin was the gas log fireplace. The cabins are not very large so you may have to lounge on the bed to enjoy the fireplace but it was still fantastic.
There was a nice writing desk in the cabin which was great for plotting out all of the things to do in Zion we didn't want to miss.
All cabins have a gas log fireplace, private porch, full bath, microwaves, and mini-refrigerators making them the perfect oasis during a trip to the park.
One thing to know is the cabins were not super quiet. We could hear the people in the adjacent cabin talking at times.
I am not sure if this is because of thin walls or a super crazy loud talker but we always knew when they were there.
If you are a light sleeper you will want to bring earplugs with you just in case. We didn't have a problem sleeping but my wife did wake up in the morning to them talking.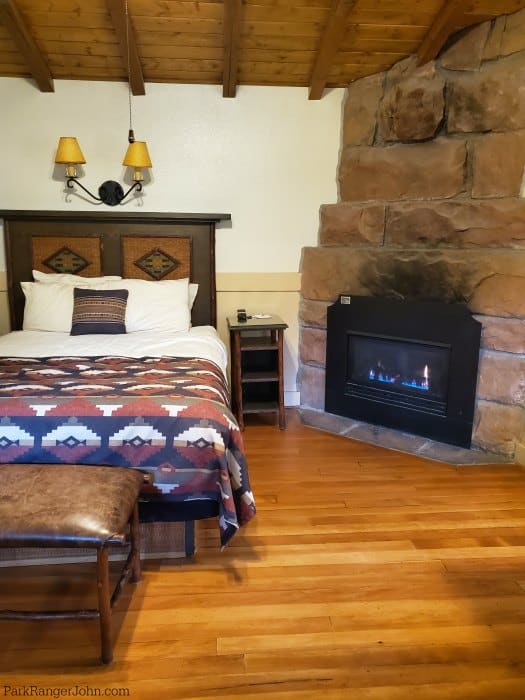 After staying in a Zion Lodge Cabin we now want to plan a winter trip to Zion. It would be amazing to relax in the cabin with the fireplace going and watch the winter weather out the window.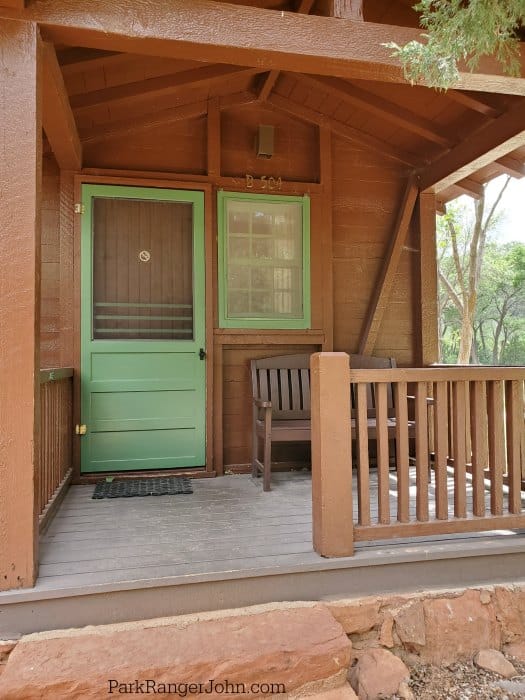 Zion Cabin 1 Queen Bed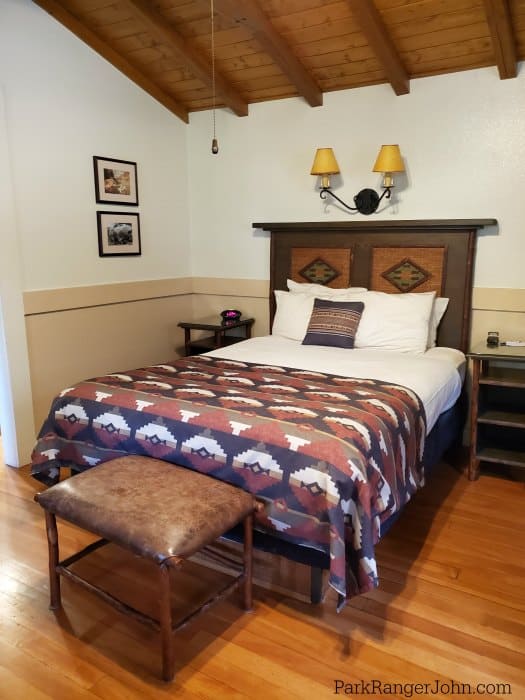 We found the cabin bed to be really comfortable.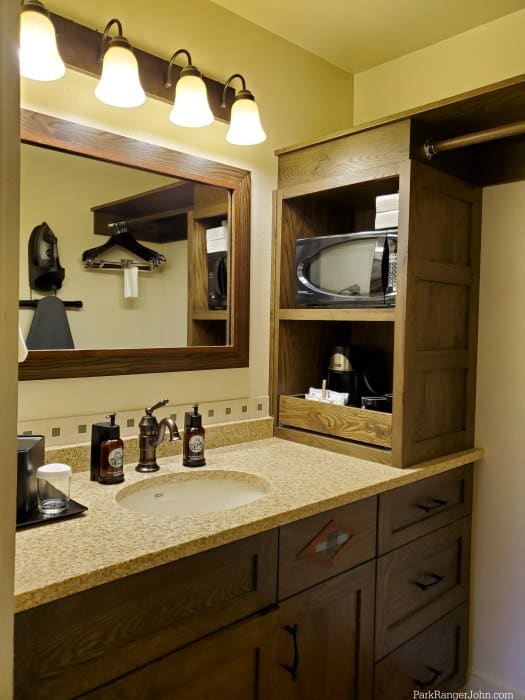 There is a great closet area with a sink, microwave, and coffee maker.
The coffee maker takes coffee pods but not Keurig pods.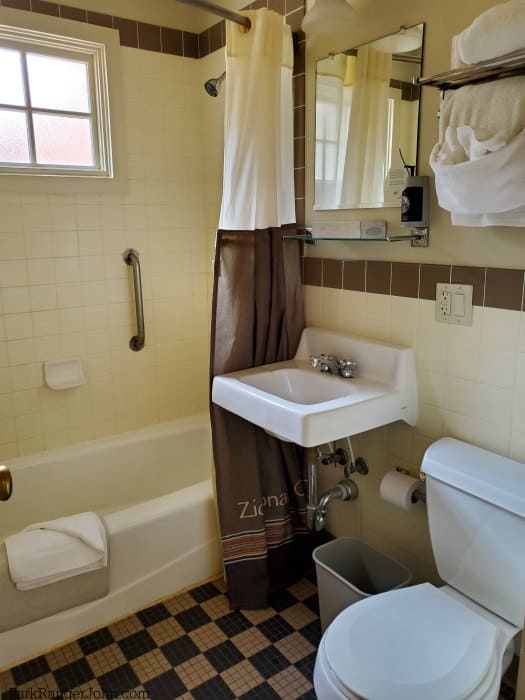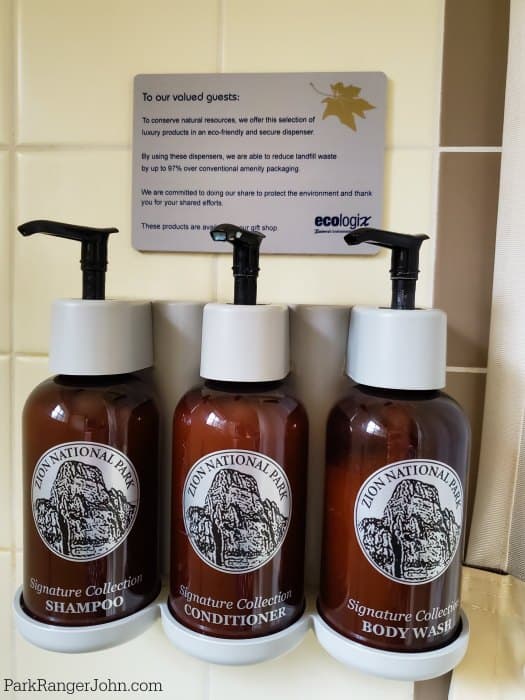 Amenities
Air conditioning,
Phones
Radio/MP3 compatible alarm clocks
Hairdryers
Iron and ironing boards
Pod-style coffee makers
Bathroom toiletries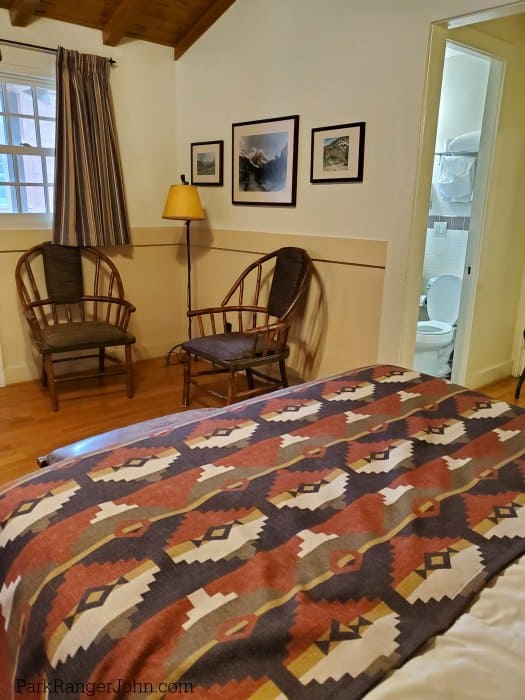 Things to know when planning a trip to the Zion Cabins.
Reservations - BOOK YOUR STAY ONLINE
Reserve by phone:
Toll-free within the U.S. 1-888-29-PARKS (888-297-2757)
Outside the U.S. 303-29-PARKS (303-297-2757)
Reservations by phone are available daily from 7:00 a.m. to 7:00 p.m. Mountain Time.
Reservations can be made up to 13 months in advance.
Park Range John Tip - Make sure to sign up for the Zion Lodge emails so you know when they are running amazing specials and discounts!
Check-in time: 4:00 pm
Check-out time: 11:00 am
Parking - One of the great benefits of staying in a Zion Lodge Cabin is you get to drive up the canyon to the lodge and park for free.
You will need to display the parking pass you are given at all times while parking in the Zion Canyon. Make sure you do not lose it!!!
There is an easy to reach Zion Shuttle stop right by the lodge.
ADA - There is one accessible cabin with roll-in shower
WiFi - There is WiFi sort of near the main lobby but it is spotty at best. If you need to check emails or access social media your best bet is to drive into Springdale.
Smoking - All rooms are non-smoking
TV - There are no televisions in the cabins
Dining - The Red Rock Grill dining room is open daily, year-round. You can enjoy the restaurant serving breakfast, lunch, and dinner. 6:30 a.m. – 10:00 p.m. (hours vary seasonally).
It is recommended you have a reservation for dinner. We were able to make a reservation when we checked into our cabin.
Closest Airport to Zion National Park - McCarran International Airport in Las Vegas, NV is the closest major city/airport and is approximately 3 hours away. 150-miles away.
GPS Coordinates - N37°11.4972, W112°59.64018
Season - Zion Lodge and Cabins are open year-round
What is the elevation of Zion National Park - The elevation of Zion National Park is 4,000 feet above sea level.
You will want to pack for cool mornings and evenings and potentially hot afternoons, especially during the summer.
Cell Phone Service - There is very limited cell phone service and I would not expect to have any. You may be able to get service in Springdale.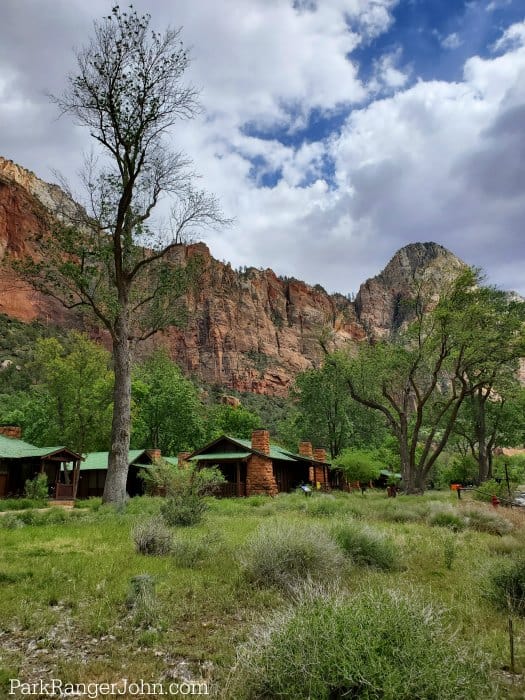 Additional Zion Resources
Zion National Park Camping - Learn more about each of the campgrounds in the park and what to expect.
Hiking the Narrows Guide - What you need to know to plan a trip hiking the Narrows in Zion.
Zion Hiking Guide - Check out the top hiking trails you do not want to miss! From easy walks to full adventures of hiking Angels Landing.
National Parks near Las Vegas - If you flew into Vegas you don't want to miss some of these other great parks including Bryce Canyon National Park and the Grand Canyon.
Utah National Parks - check out all of the amazing National Parks in Utah you can visit.