Jordan Pond House in Acadia National Park is the perfect place to enjoy a popover with a great view. The only restaurant in Acadia National Park. There is a reason this restaurant has been running for over 100 years.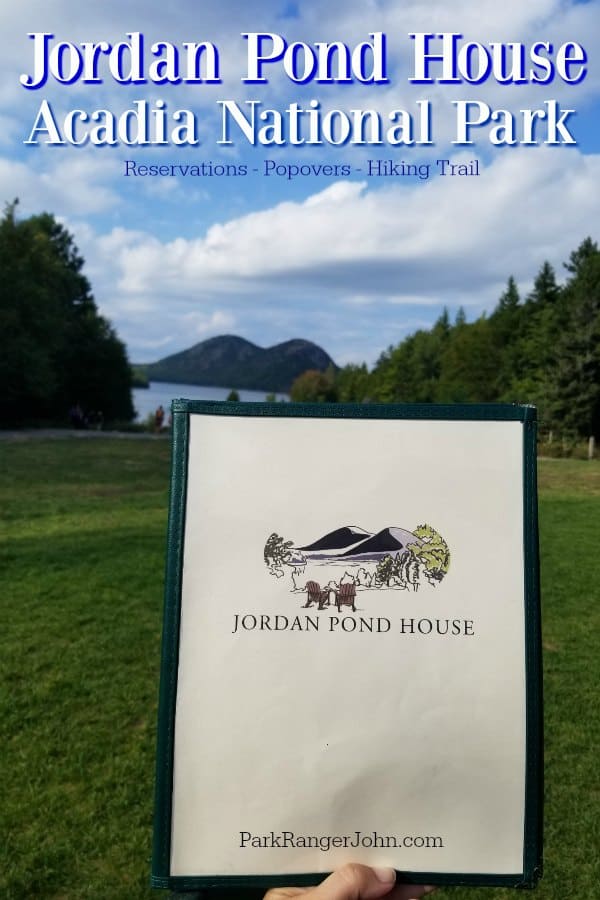 Jordan Pond House
Popovers and tea have been served at Jordan Pond House since 1895 when Nellie McIntire started baking them in this spot. The original farmhouse was built by the Jordan family of Seal Harbor.
The McIntire's ran the restaurant from 1895 to around the 1940s when they retired. John D. Rockefeller Jr. purchased the property and donated it to the National Park Service. The restaurant was a great addition to the park and Rockefeller's Carriage Roads.
The current restaurant and gift shop building was built in 1981. The original building was destroyed by fire in 1979.
We highly recommend taking time to relax with a popover and soak in the view of Jordan Pond. This was one of our favorite things to do in Acadia National Park.
Being able to just take in the gorgeous view and savor a tradition that is over 100 years old is a total National Park Bucket List moment.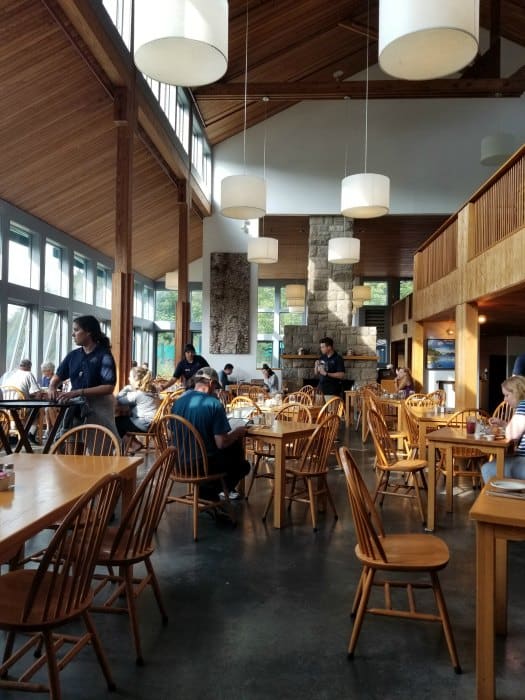 Jordan Pond House Restaurant
Jordan Pond House Restaurant offers indoor seating in the birch bark dining room or outdoor seating on the lawn overlooking Jordan Pond. We highly suggest enjoying the outdoor seating.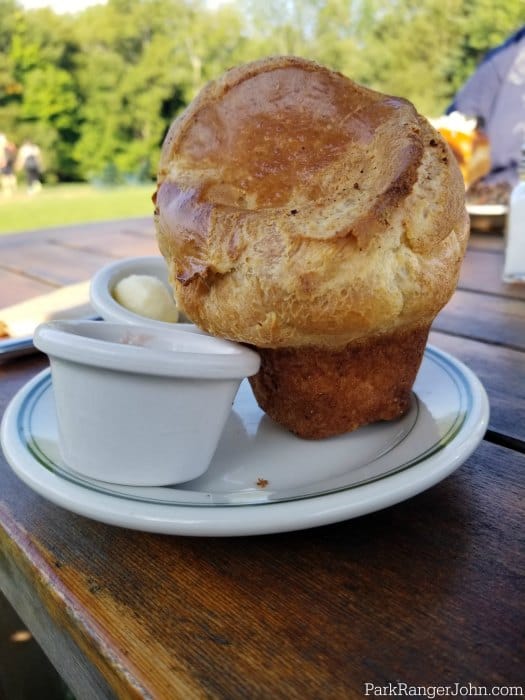 Jordan Pond House Popover!!!
I NEED you to order at least one probably 3 servings of the Jordan Pond House Popovers! They are served warm with butter and strawberry jam. I would think about flying to Maine just to savor a few more of these popovers they are that good.
Seriously! They are warm baked goodness. I need you to trust me on this and make sure you do not miss them during your visit.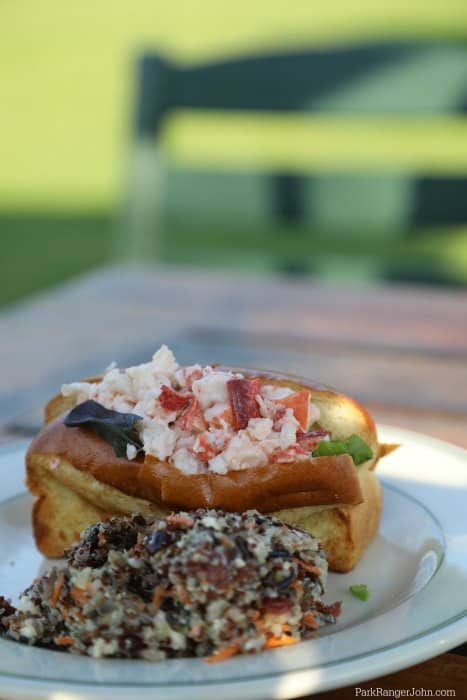 The lobster roll at Jordan Pond House restaurant was everything you hope for! I mean how can you go wrong having a delicious lobster roll on a split brioche bun while in Maine!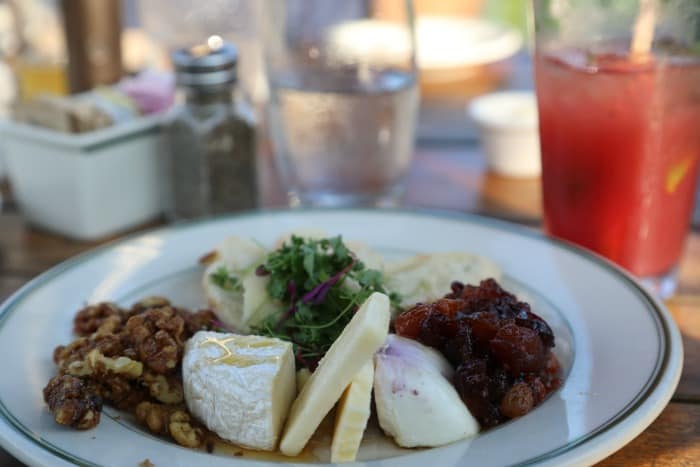 The Artisinal Cheese Plate comes with cranberry-apple chutney, candied spice walnuts, wildflower honey, and fresh baguette slices. It is listed as an appetizer with 2 servings but my wife loved having it for her lunch.
Jordan Pond Path
You can work off a tiny bit of popover goodness by walking along the walking trail by Jordan Pond.
The great thing about the Jordan Pond trail is you can decide how much of it you want to hike. You can easily walk 15 or 20 minutes and then turn around. It is really up to you how much of the trail you explore.
The trail is a well-groomed gravel trail in the beginning and then turns to a rocky area and then ends with an elevated log boardwalk in the last portion. If it has been raining the log boardwalk can get very slippery.
Total length - 3.5 miles
Activity level - easy family stroll
Elevation - mostly level
Time - 1 to 2 hours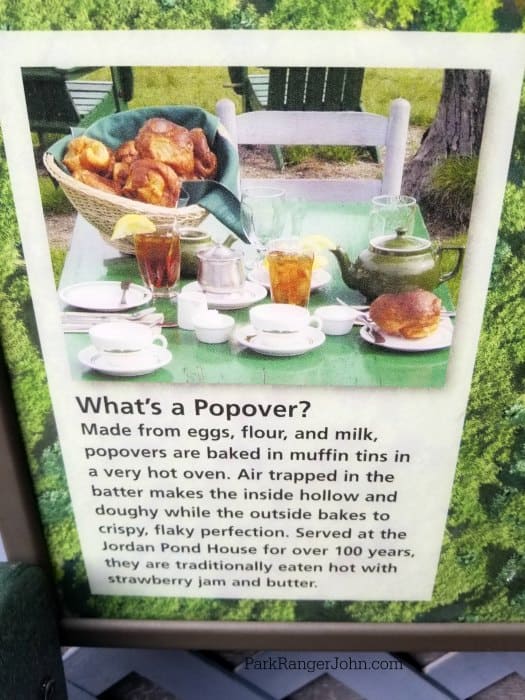 Things to know when planning a visit to Jordan Pond House
Jordan Pond House restaurant is the only restaurant within Acadia National Park!
Busy times - 11:30 am to 3 pm
Call ahead of time to get on an express list and find out how busy the restaurant is.
Jordan Pond House Reservations
You can now make a reservation online! If you know when you want to visit Jordan Pond House we highly suggest making a reservation.
Give yourself 30 to 45 minutes to find a parking spot during the busy hours and summer.
Jordan Pond House Menu
They now serve tea and popovers all-day. Check out the menu online.
11 am on a Sunday the parking lot was full when we arrived. Be prepared for there to be quite a crowd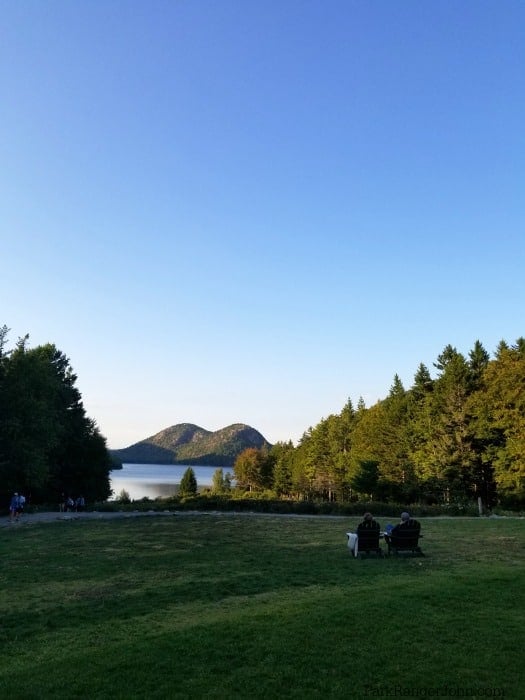 How to get to the Jordan Pond House
The restaurant is about 20 minutes from Bar Harbor, Maine depending on park traffic.
The restaurant is on Park Loop Road in Acadia National Park on Mount Desert Island.
From Bar Harbor, take Route 3 South. Turn Right onto Jordan Pond Rd./Park Loop Rd.
We highly suggest taking the Island Explorer. This will save you a lot of stress in finding a parking space.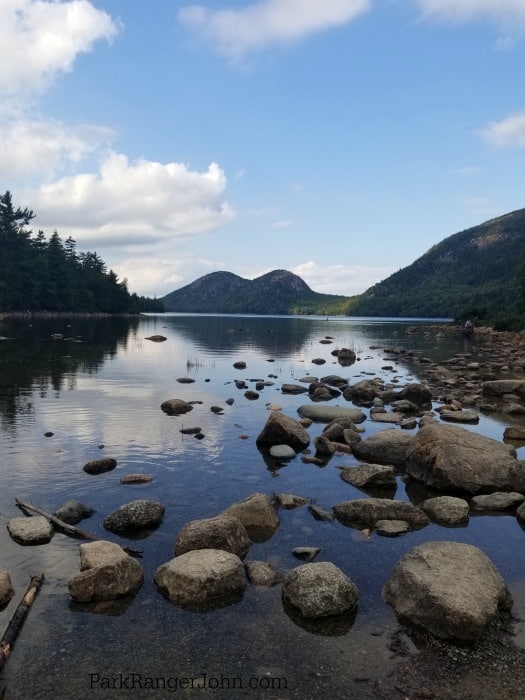 Additional Resources
Acadia National Park Camping - Check out all of the camping options within the park.
Most Visited National Parks - Acadia is one of the most visited National Park sites check out the other parks on the list.
Maine National Parks - Check out all of the National Parks in Maine you can visit during your trip.
Acadia National Park itinerary - Check out this itinerary for an idea of what to see on your trip.
Acadia National Park is managed by the National Park Service