I believe the Notch Trail is the best hike in Badlands National Park, South Dakota.
This epic fun trail has a ladder climb, walking along a cliff edge, a spectacular view of the Badlands Wall, and epic views of the White River Valley!
It is no wonder that the notch trail is the park's most popular hike and a favorite hike amongst us National Park geeks out there!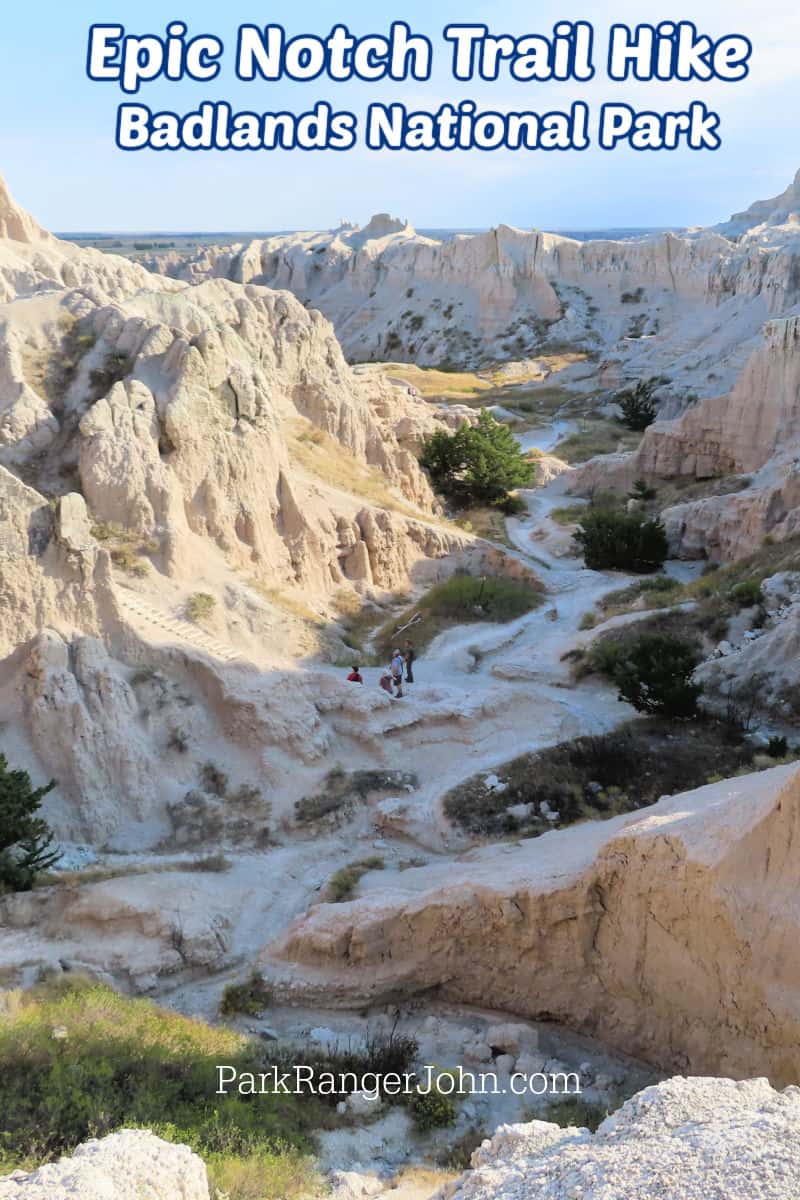 Notch Trail Badlands National Park
Badlands National Park Entrance fee
Private Vehicle: $30
Motorcycle: $25
Per Person: $15
There is an entrance fee to enter Badlands National Park. Fees are listed below or you can choose to purchase your pass in advance through the link below.
The park pass covers everyone in the car for per-vehicle sites and for up to 4 adults for per-person sites.
Buy on REI.com and REI will donate 10% of pass proceeds to the National Forest Foundation, National Park Foundation, and the U.S. Endowment for Forestry & Communities.
Planning a National Park vacation? America the Beautiful/National Park Pass covers entrance fees for an entire year to all US National Park Sites and over 2,000 Federal Recreation Fee Sites.
Free Entrance Days -Mark your calendars with the five free entrance days the National Park Service offers annually.
Distance: 1.5 miles out and back round trip hike.
Elevation Gain/Loss: 125 feet
Time: Approximately 45 minutes to an hour, depending on if there is a line to use the ladder.
Difficulty: Moderate to Difficult, there are steep cliff edges and climbing up a cable wooden ladder
Restrooms: Restrooms are available at the trailhead.
Accessibility: This trail is not ADA Accessible
Pets Allowed: No pets allowed on trails. Backcountry roads are a great place to escape every day with your pet.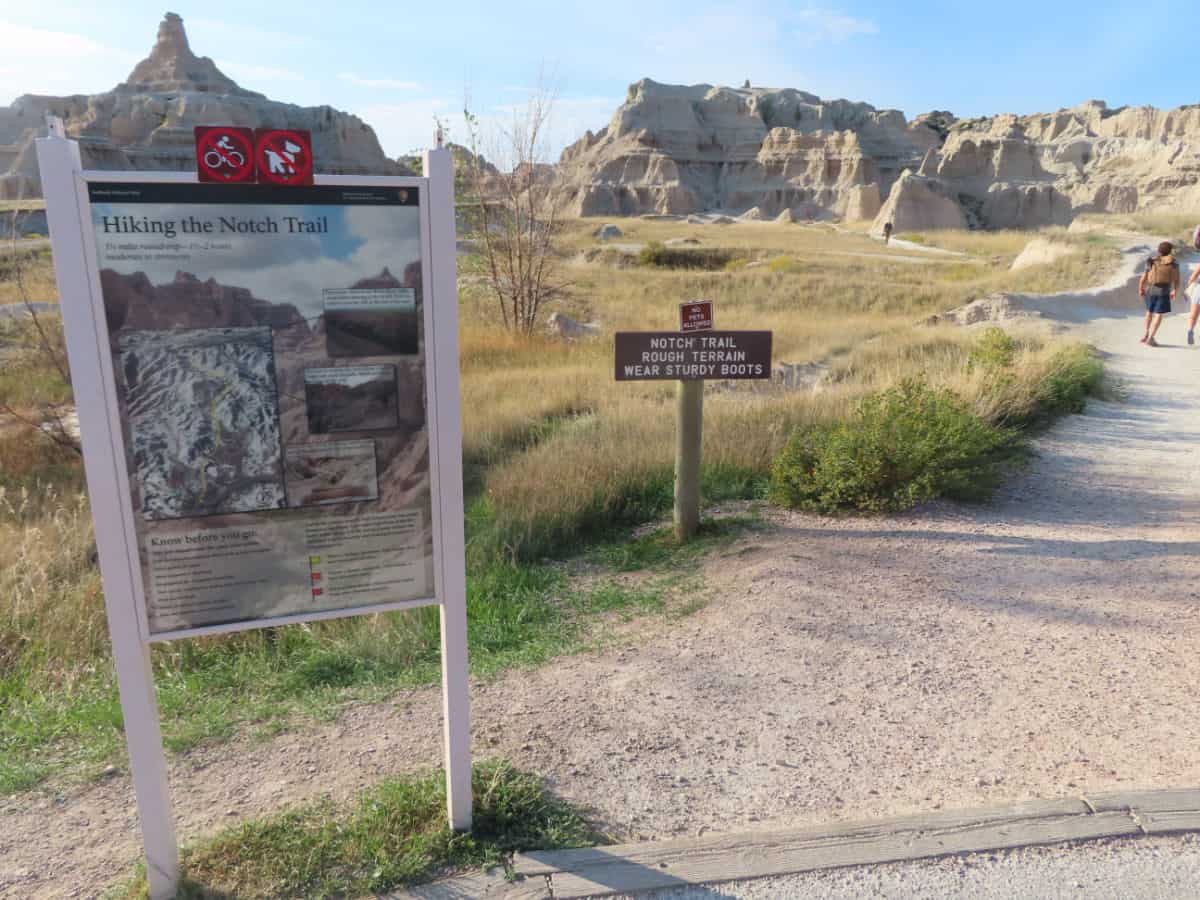 Where is the Notch Trailhead
To get to the Notch Trail parking area, drive 2 miles East of the Ben Reifel Visitor Center on the Badlands Loop Road (Route 240).
The trailhead is on the East side of the road and is a shared parking lot for the Door Trail, Castle Trail, Window Trail, and Notch Trails.
The Door and window trails are on the same side as the parking lot while the Castle Trail is across the road and continues west. The Door Trail is on the north of the parking lot, Window Trail in the middle of the parking lot, and the Notch Trail begins from the south end of the lot.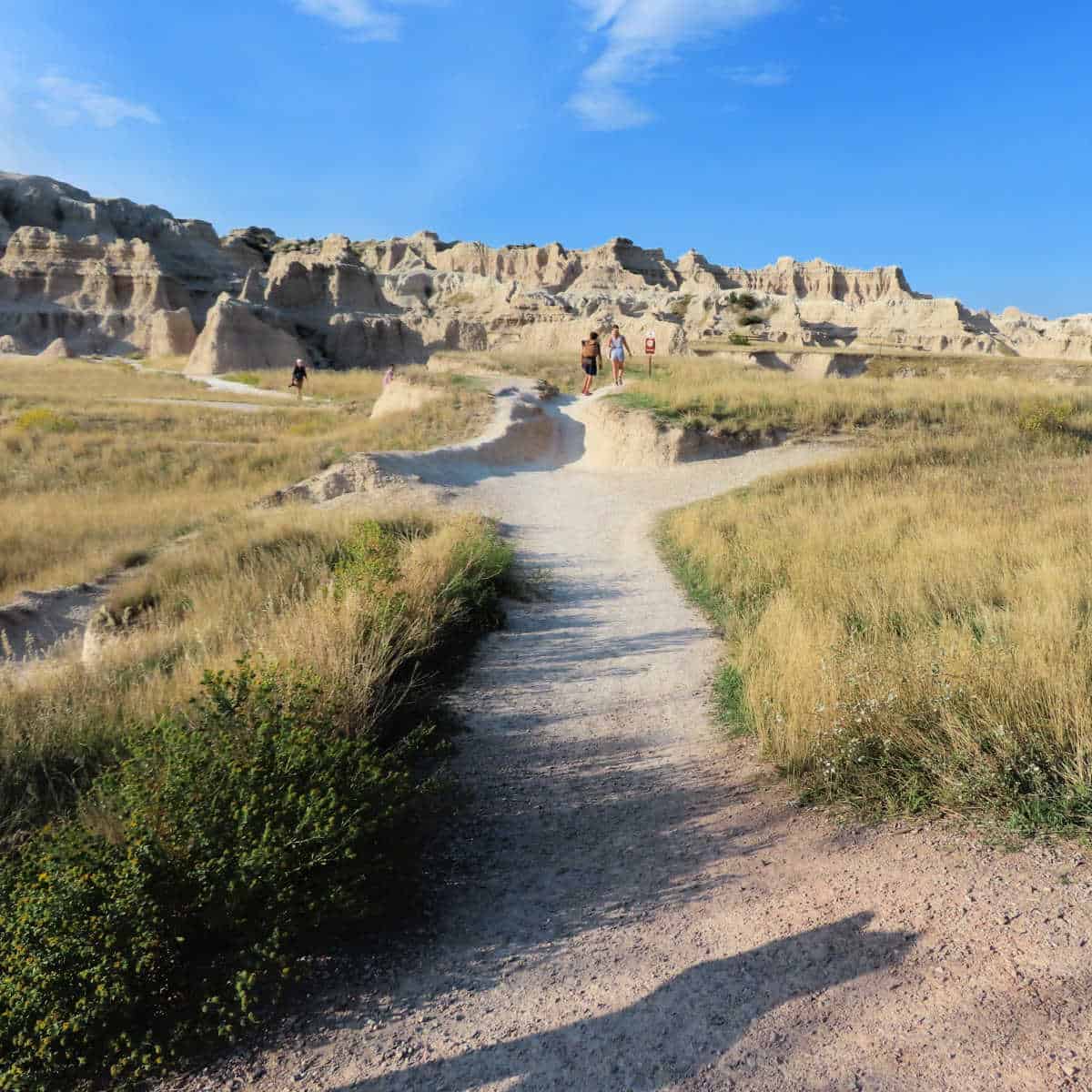 Hiking the Notch Trail
The Notch Trail kind of reminds me of hiking the Narrows at Zion National Park. I say this because they both start off as a nice easy hike starting into a wide canyon and the further you hike, the higher and narrower the cliff walls become. That's where the similarities end and you are quickly reminded that you are in the Badlands!
You hike through a few bends in the canyon up to a point where you see a large wooden ladder. This is the most exciting part of the hike but there can be a line to use the ladder.
Once you hike the ladder, follow the trail to the left to the area of the trail with cliffs to the side. Just remember to keep to the right side of the trail and watch children.
Once you pass through the cliffs, you will hike through the canyon to the Notch where you will be rewarded with exceptional views of the White River Valley and its wonderful rock formations below! Make sure to take some time and soak in this view before heading back the way you took to get here.
Make sure to check out my Badlands National Park Ultimate Hiking Guide for more great trails in Badlands National Park.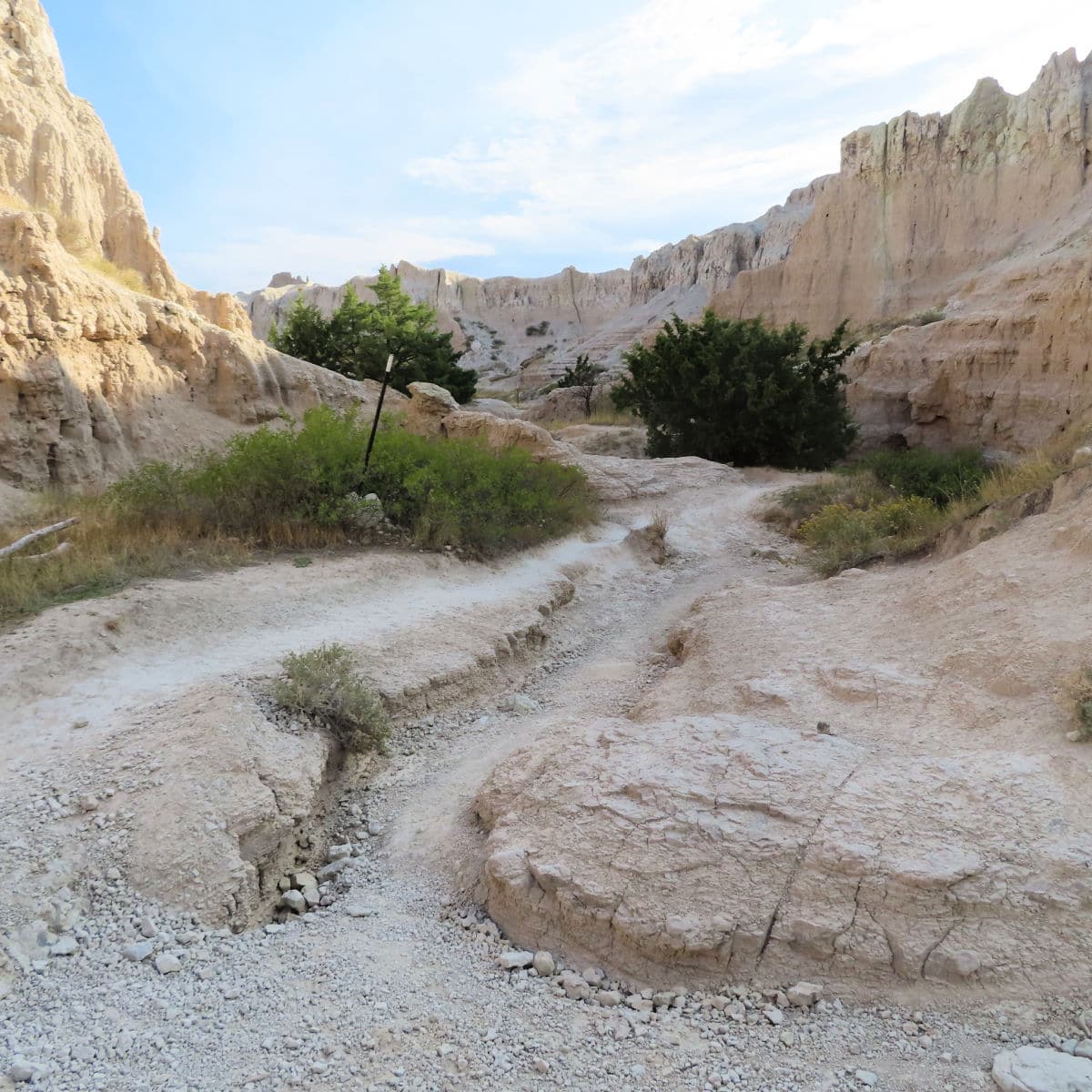 Notch Trail Alternate Route
If you wish to pass hiking both the ladder and the cliff portion of the trail, simply continue hiking up the canyon until the trail meets back up just past the cliff section.
Trail Safety
The Notch Trail has spectacular views and is without a doubt a top attraction of Badlands National Park.
Having said that, this is also very important to watch out for your personal safety.
Badlands is known for having Rattlesnakes so always watch where you step and know what to do when you come across one of these venomous snakes.
Make sure to keep an eye out for Bighorn Sheep while hiking as they are common in the Badlands.
I also recommend sturdy boots. I have been asked for years what pair of hiking boots I use, I have been hiking in Zamberlan's for well over a decade and can't say anything but great things about them!
This trail is not for those with a fear of heights. This hiking trail has a log ladder as the trail climbs over 50 steps at a 45-degree angle. You will then hike the cliff section where you will walk along a narrow ledge and a drop-off.
From the top of the Notch Trail, you can see the Visitor Center, Cabins, campground, and Cliff Shelf Nature Trail below.

Badlands Top Attractions near the Notch Trail
Door Trailhead
Big Badlands Overlook
Ben Reifel Visitor Center
Cedar Pass Lodge
Cedar Pass Campground and amphitheater (Evening Ranger Programs)
Medicine Root Trailhead
Saddle Pass Trailhead
Toadstool Rock
Fossil Exhibit Trailhead
Minuteman Missile National Historic Site
For a fun adventure, check out Escape Campervans. These campervans have built-in beds, kitchen area with refrigerators, and more. You can have them fully set up with kitchen supplies, bedding, and other fun extras. They are painted with epic designs you can't miss!
Escape Campervans has offices in Vancouver, Seattle, Portland, San Francisco, Las Vegas, Los Angeles, Phoenix, Salt Lake City, Denver, Chicago, New York, and Orlando
Interested in a Guided Tour?
There are a couple of really cool guided tours available in Badlands Natl Park.
Badlands NP Private Tour - Enjoy a private tour of the park and stop at famous features including a stop at Wall, South Dakota. Learn about the history of the area and spend the day discovering the rare geology of the Badlands.
Badlands Tour with Minuteman Missile NHS - Travel to Badlands National Park and explore this spectacular terrain on a full-day guided tour. Catch a glimpse of America's nuclear arsenal during the Cold War and learn about its history with your expert guide.
Badlands Bike Tour with Lunch - Join a bike tour of Badlands National Park. Cycle around the park and learn its history from your experienced guide. Admire the spectacular scenery and wildlife as you pedal.
Additional Lodging near the park
Best Western Plains Motel - Free continental breakfast, an arcade/game room, and a gym are just a few of the amenities provided at Best Western Plains Motel. For some rest and relaxation, visit the hot tub. In addition to a business center, guests can connect to free in-room Wi-Fi.
Econo Lodge Wall - free to-go breakfast and more. Guests can connect to free in-room Wi-Fi.
Super 8 by Wyndham Wall - free to-go breakfast and a business center. Guests can connect to free in-room Wi-Fi.
America's Best Value Inn Wall - free continental breakfast, a free daily manager's reception, and laundry facilities. Stay connected with free in-room Wi-Fi, and guests can find other amenities such as a bar and a gym.
Days Inn by Wyndham Wall - free to-go breakfast, laundry facilities, and a gym at Days Inn by Wyndham Wall. Free in-room Wi-Fi and conference space are available to all guests.
Click on the map below to see additional vacation rental and lodging options near the park.
Additional Information about Badlands National Park
Complete Guide to Badlands National Park - Your guide to exploring Badlands National Park
Things to do in Badlands NP - Make sure to see all the park's attractions and highlights
Badlands NP Hiking Guide - Your guide to the park's most popular trails including the Notch Trail, Fossil Exhibit Trail, Castle Trail, and Window Trail
Cedar Pass Cabins - Located right behind the restaurant and gift shop and next to the Ben Reifel Visitor Center
Badlands Inn - Lodge is located just 1 mile outside the park, just a short distance from the park entrance near the Ben Reifel Visitor Center
Badlands National Park Camping Guide Complete the camping guide to Badlands National Park including Sage Creek Campground and Cedar Pass Campground
History of Badlands National Park
National Park Sites near Badlands NP
There are several National Park Sites located in the Black Hills of South Dakota making it one of the best All-American Road Trips in America! Listed below are other parks to visit and camping options:
Wind Cave National Park - America's first National Park set aside specifically for protecting a cave
Custer State Park - Consistently listed as one of America's top 10 State Parks!
Knife River Indian Villages National Historic Site
Devils Tower National Monument
Mount Rushmore National Memorial
Theodore Roosevelt National Park
Check out all of the South Dakota National Parks along with neighboring North Dakota National Parks, Montana National Parks, and National Parks in Minnesota