There are 2 Campgrounds at Badlands National Park; Cedar Pass Campground and Sage Creek Campground. Cedar Pass Campground is centrally located in the main part of the park while the Sage Creek Campground is a little more remote. Let's get the details of the Badlands National Park Campgrounds.
Cedar Pass Campground
The Cedar Pass Campground is located on the parks East side near the Cedar Pass Lodge, restaurant, and the Ben Reifel Visitor Center. This puts you close to numerous activities and the ability to go to the park's amphitheater for an evening ranger program and perhaps even a program on the night sky. I would also highly recommend getting up early and watching the sunrise. Check out my article on Things To Do Badlands National Park for more information.
The campground is open year-round (Reduced fees in the off-season)
As of 1/04/2018: tent campsites are $22.00/night, Electrical hookup sites are $37.00/night and group sites are $4.00/person with a $40.00/minimum per night. Campsites come with 2 people included and an additional $2.00 per person per night.
There are 100 total sites: 23 electrical sites, 4 group sites, and 73 tent sites
There is a 14-day maximum stay limit
Reservations can be made by calling (877)386-4383 or online at least three days in advance. Call (605)433-5460 to make group site reservations.
The Parks physical address is:
20681 SD Highway 240
Interior, SD.57750
GPS: 43.7478N,101.9452W
Elevation: 2400′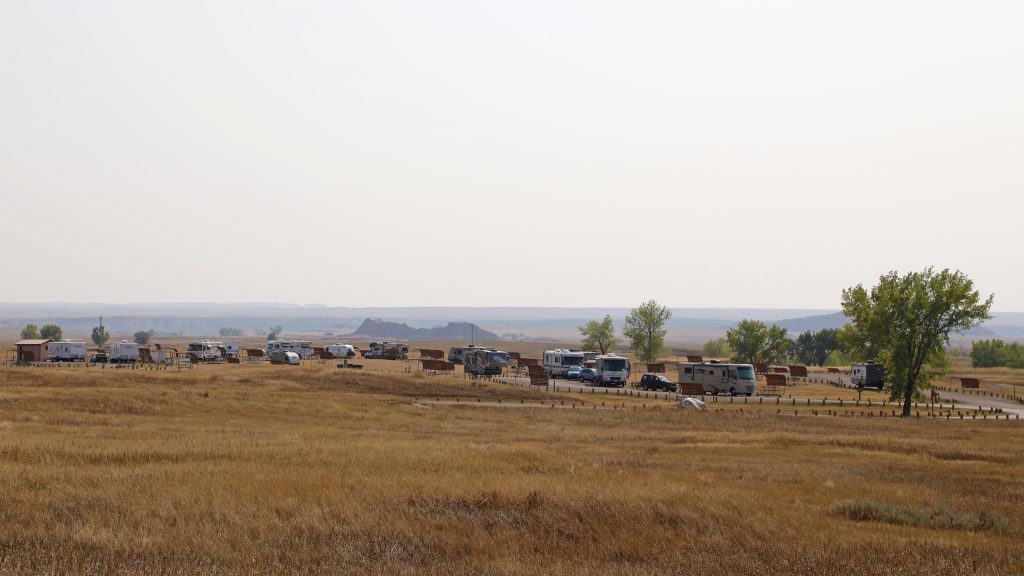 There is very little shade available (Look at the photos) and it gets very hot. Be prepared for the sun and heat.
There are 100 campsites with a paved road through the campground. There are three campground loops; Group Loop, Agate Loop and Butte Loop
Amenities include a covered picnic table, drinking water available and flush toilets.
Fires are not permitted in either of the campgrounds in Badlands National Park but you can use camp stoves and charcoal grills.
Park Ranger John Pro Tip: Charcoal Briquettes are the cause of many dumpster fires in parks. Remember that charcoal briquettes have one purpose, to burn and they are very effective at it. I have responded to several of these in my career and each time I hear the same thing, I put water on the charcoal before putting them into the dumpster. My advice is to use a charcoal disposal station if provided and soak them in water. Come back approximately a half hour later and soak them down again. Even after soaking them down the briquettes will continue to burn from the inside and dry out the briquette and then reignite.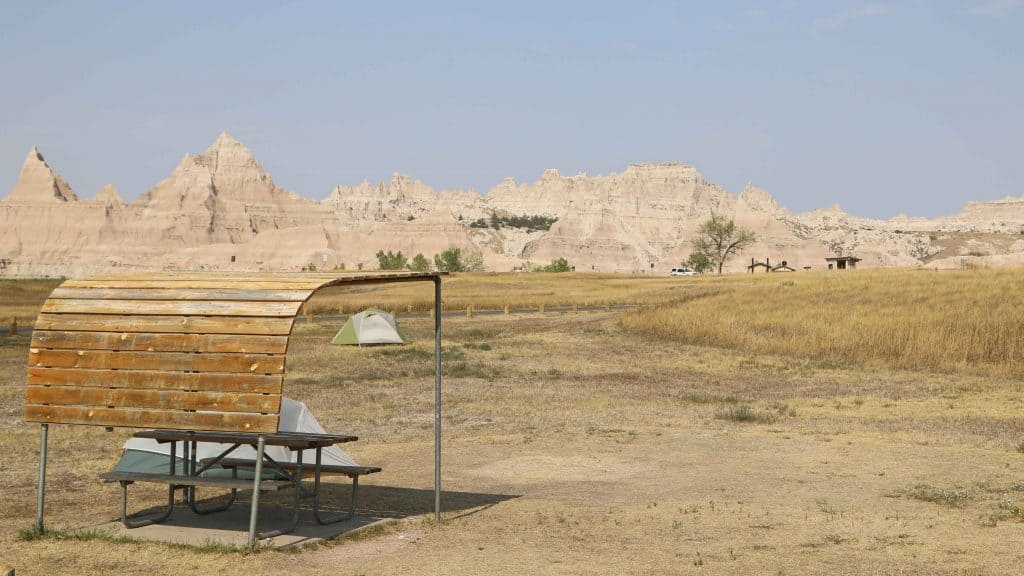 There is no WI-FI available.
There are pay showers available in the campground, There is also an RV Dump Station that is $1.00
You can also rent cabins online
Quiet Hours are 10pm-6am
Generators are allowed except during quiet hours
Pets must be on a leash at all times
Maximum of 6 people, 2 vehicles and 2 tents per campsite
The park's Campground host is located at site #11 of the Agate Loop
Head over to our Cedar Pass Campground Post to see more photos from the campground!
Sage Creek Campground
The Sage Creek Campground is a primitive camping experience. You will not find much for amenities except for a picnic table and a vault toilet. Don't expect WIFI, cell phone reception, there is no water and the 10-mile dirt road (Sage Creek Rim Road) is typically washboard and rough. Spring rains and winter snows can close the road temporarily. The great news is that the campground is free of charge and rarely fills up. We saw lots of prairie dogs in the campground and saw Bison just outside the campground.
GPS: 43.8940N,102.4140W
Quiet Hours are 10pm-6am
Generators are allowed except during quiet hours
Pets must be on a leash at all times
Maximum of 6 people, 2 vehicles and 2 tents per campsite.
Visit our post on Sage Creek Campground to see more photos from this campground.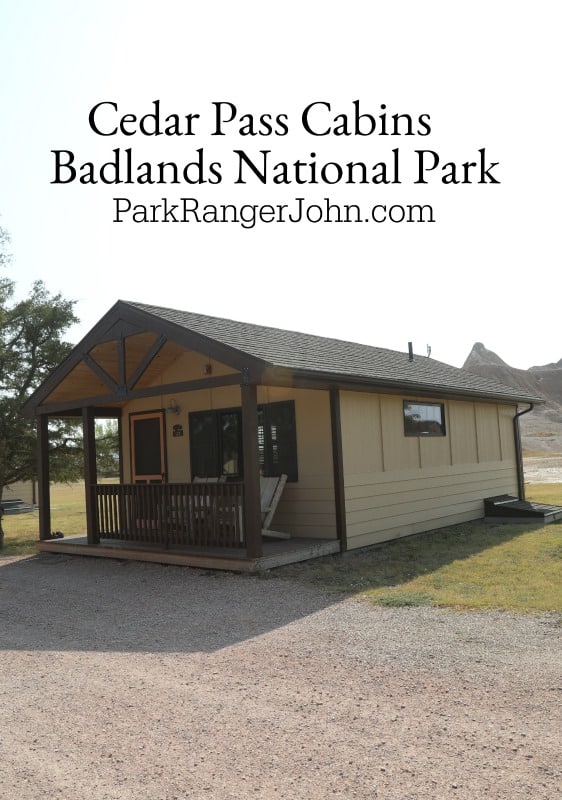 Cedar Pass Lodge has cabins that are another great option for staying in Badlands National Park.
Make sure to check out other great parks near Badlands National Park
Minuteman Missile National Historic Site
Mount Rushmore National Memorial
Mount Rushmore KOA (Additional Camping)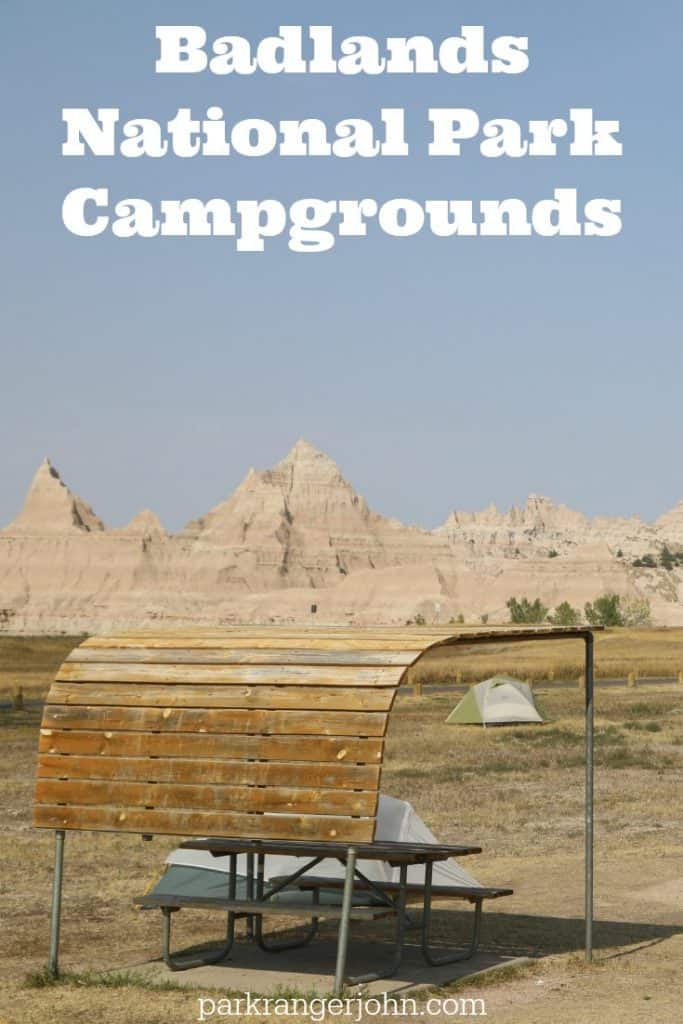 Check out this great video from our friend Kimberly who camped right outside of Badlands National Park