There are only eight developed hiking trails in Badlands National Park but the entire 244,000 acres of the park are open to hikers.
All of the developed trails in Badlands National Park start from parking lots along the Loop Road making it really easy to find them and find parking.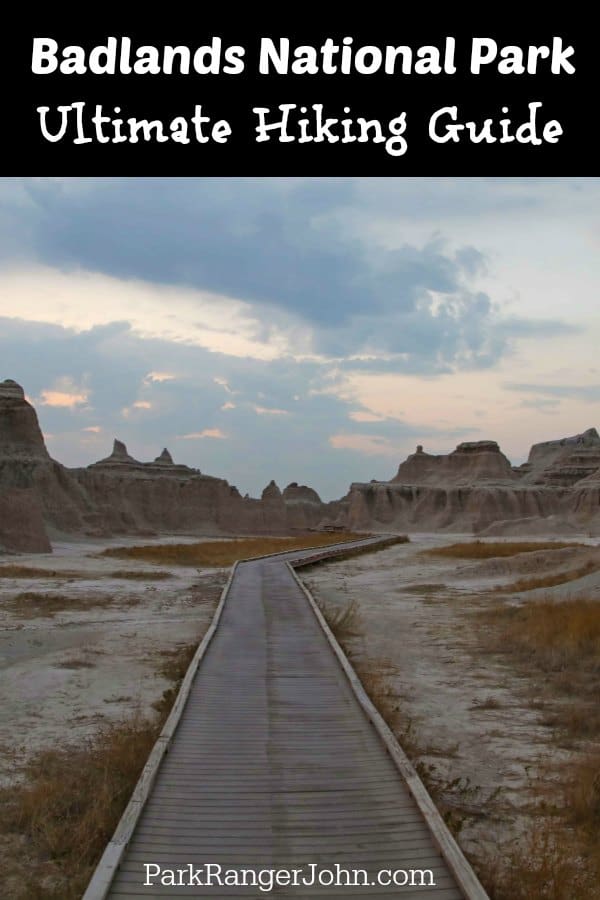 Badlands National Park Hiking Trails
The Ultimate Badlands National Park Hiking Guide will help you choose which trail to explore. Weather you choose to see the fossil beds, sunrises or wildlife like prairie dogs, a black footed ferret, bighorn sheep or Bison. It's time to get out and explore one of South Dakota's treasures!
Door Trail
Trail Length: .75 miles round-trip
Trail Difficulty: Easy
Starting Point: Northern end of large Door and Window parking area
The Door Trail is an easy walk through a natural doorway into the Badlands formations. It also shares a parking lot with the Window Trail and is an ideal spot to watch the sunrise!
Park Ranger John Pro Tip:
Make sure to pay attention to where you are on this trail after getting off the boardwalk. Make sure to look for trail markers and recognizable waypoints as it is easy to get confused and lost in the maze of the Badlands.
This is why I can't stress enough how important it is to carry the 10 Essentials with you including a map & compass.
I also highly recommend people pay attention and know when sunrise and sunset are, especially after the Summer Solstice (the first day of summer).
This is when the days start to get shorter and when I have received most of the lost hiker's calls.
Hikers simply head out too late to go for a hike and is impossible for them to get back before it gets dark. I then get the 911 call of a lost hiker. I call the number and can hear the sheer terror in their voice as they feel lost, its dark outside and the bears are out to eat them!
Window Trail
Trail Length: 150 yards
Trail Difficulty: Easy
Starting Point: Center of Door and Window Parking Lot
The Window Trail is a short easy 150-yard walk along a boardwalk. The trail ends with a nice viewpoint that has a dramatic view of Badlands.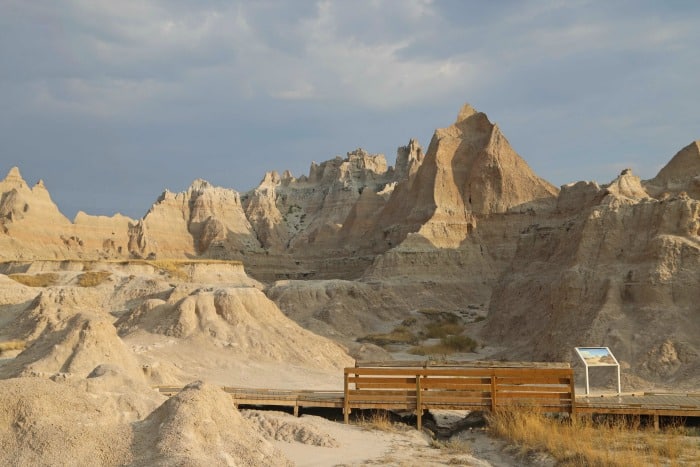 Fossil Exhibit Trail
Trail Length: .25 miles loop
Trail Difficulty: Easy
Starting Point: 5 miles northwest of Ben Reifel Visitor Center
The Fossil Exhibit Trail is a quick loop past replicas of fossils discovered in the Badlands. I really felt this is a great trail and easy access for people to get closeup and personal with the Badlands.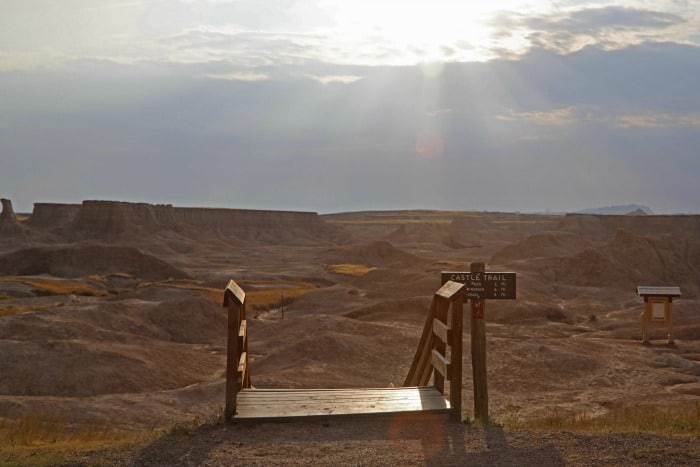 Castle Trail
Trail Length: 5.25 miles one-way
Trail Difficulty: Moderate
Starting Point: Fossil Exhibit Trail and the Door/Window parking area
The Castle Trail is the park's largest maintained trail. It is considered a moderate hike is it is relatively flat but it can feel much worse for those ill-prepared.
There is virtually no shade and the summers get extremely hot so make sure to carry plenty of water, have a good pair of boots, and keep an eye out for rattlesnakes along the trail.
I personally enjoy how this trail shares its time between the prairie and badlands topography.
Trail Length: 1.5 miles round-trip
Trail Difficulty: Difficult
Starting Point: North end of the Door and Window parking lot
The Notch Trail is perhaps one of the most memorable and popular hikes within Badlands National Park.
It is here that you will take a planked rope ladder up a Butte incline. Use caution if the planks are wet or muddy as they become extremely slippery.
Did I mention that this is probably not your hike if you have a fear of heights? The trail travels through a small canyon, then up a ladder, past a dry 20-foot waterfall, and then ends at a natural wall.
Please keep an eye out for sharp drop-offs.
Saddle Pass Trail
Trail Length: .25 miles
Trail Difficulty: Difficult
Starting Point: Loop Road, 2 miles west of Cedar Pass
The Saddle Pass Trail is a short trail that climbs the wall for .25 miles before intersecting with the Castle Trail. This is a short but intense trail.
Cliff Shelf Nature Trail
Trail Length: .5 mile loop trail
Trail Difficulty: Easy, 200 feet in elevation with stairs and boardwalks.
Starting Point: ½ mile north of the Ben Reifel Visitor Center
The Cliff Shelf Nature Trail winds through a wooded prairie oasis surrounded by Badlands. You can wander in and out of small, tree-shaded areas and take advantage of the boardwalks as you wander.
A small pond occasionally exists in the area and draws wildlife, such as deer or bighorn sheep.
Backcountry/ Open Hike Badlands National Park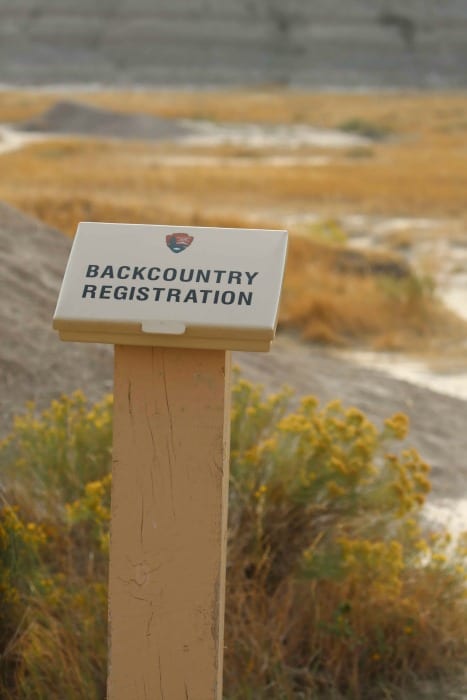 Badlands National Park has an Open Hike Policy. What this means is that in Badlands National Park you are allowed to explore the park off-trail. Just remember there are still rules that apply to hike in the backcountry.
Stay at least 100 feet away from wildlife
No Pets are allowed
Carry plenty of water!
Fossils, plants, animals, artifacts, and rocks are to remain as you find them.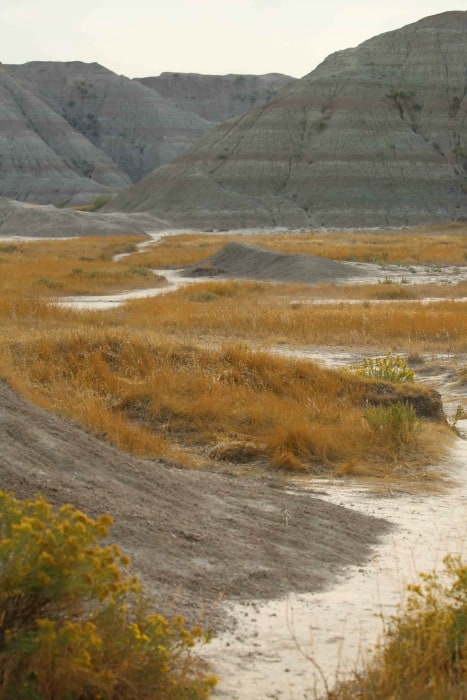 Additional Resources
Things To Do Badlands National Park
Minuteman Missile National Historic Site
Mount Rushmore National Memorial
Things To Do Custer State Park
Devils Tower National Monument