Theodore Roosevelt received its National Park status on November 10, 1978, by President Jimmy Carter. The park has been wonderfully maintained in the spirit of when Theodore Roosevelt first arrived here in 1883. It is here that our future "conservationist President" declared the Badlands "The romance of my life began" and became a strong focus in his life.
Now you to can come experience this park just like Theodore Roosevelt did himself by riding a horse or lying down under a shade tree and see, hear and smell nature at its finest. Here is my list of things to do in Theodore Roosevelt National Park.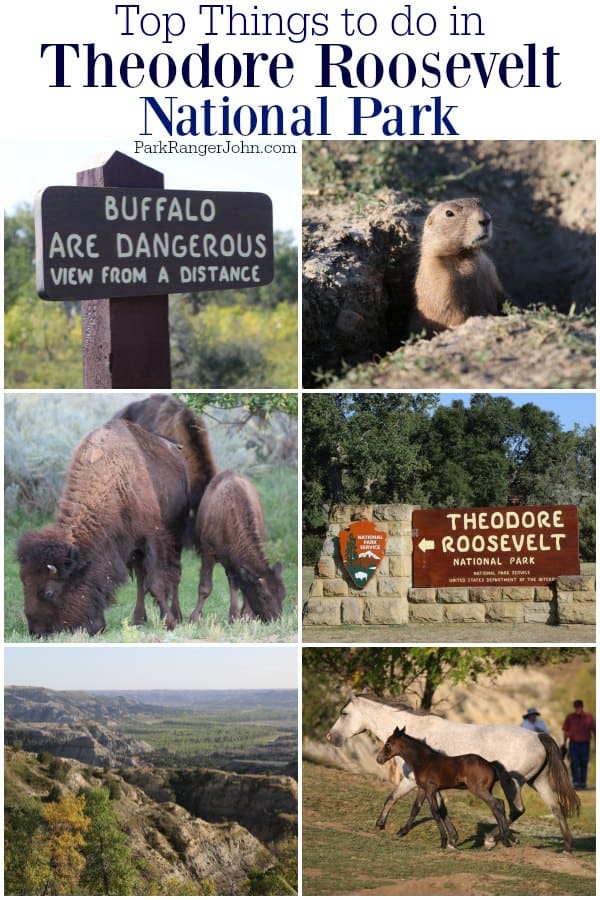 Things to do in Theodore Roosevelt National Park

Painted Canyon Visitor Center
For many visitors, this is their first peek into Theodore Roosevelt National Park. The views here are truly stunning! I instantly found myself giddy and overly excited to explore this park! My wife laughed at me and said I do this every time we go to a park!
Location: Exit 32 on Interstate 94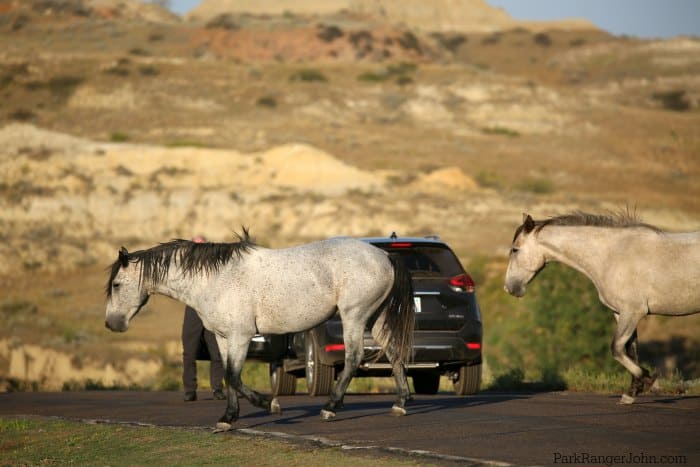 South Unit Scenic Drive
Prepare yourself for 36 miles of incredible scenery, tons of hiking trails, breathtaking lookouts, and some of the best wildlife viewing anywhere. Sunset can be a real treat too but make sure to watch for wildlife when it starts getting dark.
We saw wild horses, prairie dogs, buffalo, coyotes, and a ton of birds as we drove the scenic drive. We loved it so much we ended up driving it a couple of times.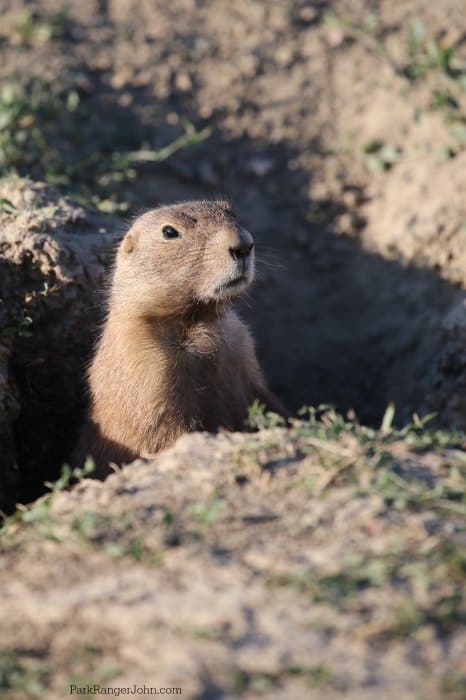 Wildlife Viewing
We saw more wildlife than you could imagine at Theodore Roosevelt National Park! The best place we found was the Prairie Dog Town in the South Unit just after you cross the highway.
We were entertained for hours watching the prairie dogs, wild horses, bison, and even coyotes. I'm also pretty sure we ended up with 1000+ pictures taken here too!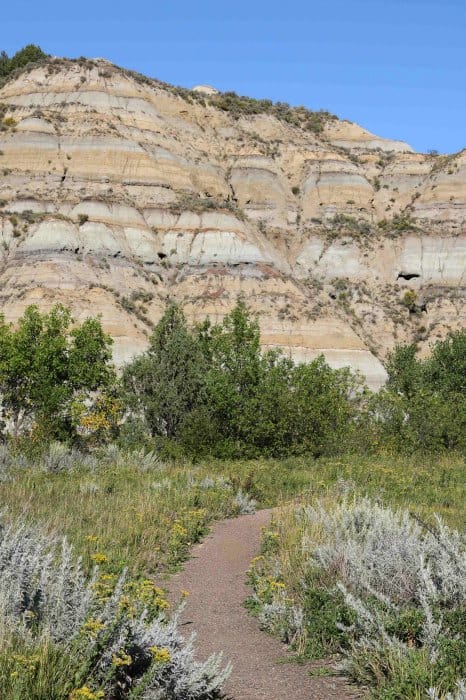 Go for a hike/horseback ride
Theodore Roosevelt National Park is blessed with miles of hiking trails! Both the North and South Units have trails from easy to strenuous. Some of the most popular trails include Wind Canyon, Buck Hill, Petrified Forest, Coal Vein Trail, Caprock Coulee, and Buckhorn trails. Of course, there are several others so make sure to bring your boots.
Theodore Roosevelt loved riding horses in this country and you can too! Horses are allowed on all trails in the park except for the short nature trails.
Cross-country horseback travel is also allowed, they are just not allowed on roadways, in developed campgrounds and picnic areas.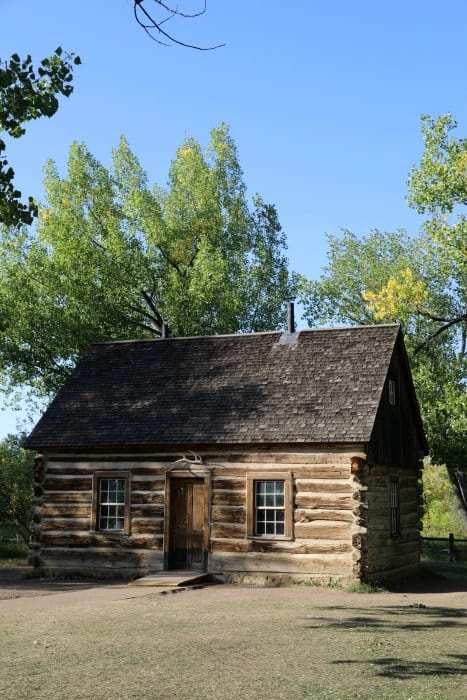 Roosevelt's Maltese Cross Cabin
Theodore Roosevelt came to the Dakotas for a 15-day trip to hunt Bison in 1883. He was also an avid outdoors enthusiast and fell in love with the area. He decided to buy a ranch and pursue becoming a cattle rancher.
He purchased the Chimney Butte Ranch located 7 miles south of the town of Medora.
Ranches were commonly known by their brand and Chimney Butte had an 8 pointed Maltese Cross. Roosevelt requested his ranch managers to build the Maltese Cross Cabin which became a temporary home for Roosevelt as he split his time between New York and the Dakotas.
When Roosevelt returned in 1884, he purchased a second ranch named the Elkhorn. He claimed the Elkhorn as his home ranch.
Roosevelt noticed a change in the land due to misuse and abuse while ranching in the Dakotas. This prompted him to establish a regional stockmen's Association and helped form the Boone and Crockett Club, one of the first fair hunting organizations.
Roosevelt feared that unregulated use would deplete these resources forever.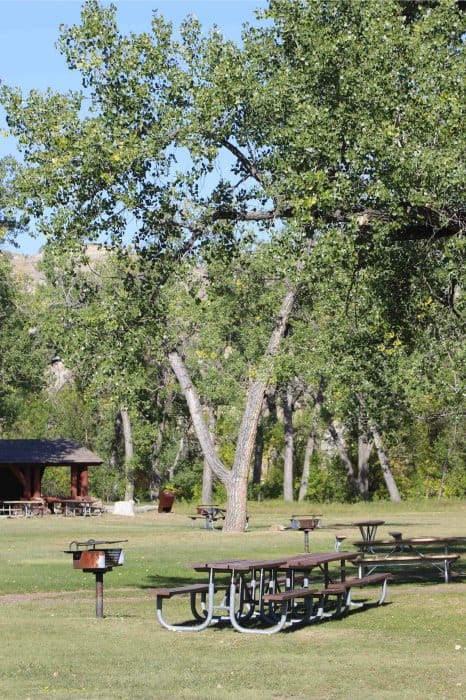 Have a Picnic
The South Unit has a beautiful picnic area near the campground with lots of trees including this pavilion.
The North Unit also has a very nice picnic area making this a great place to sit under a tree and do nothing or spend time with friends and family and having a picnic.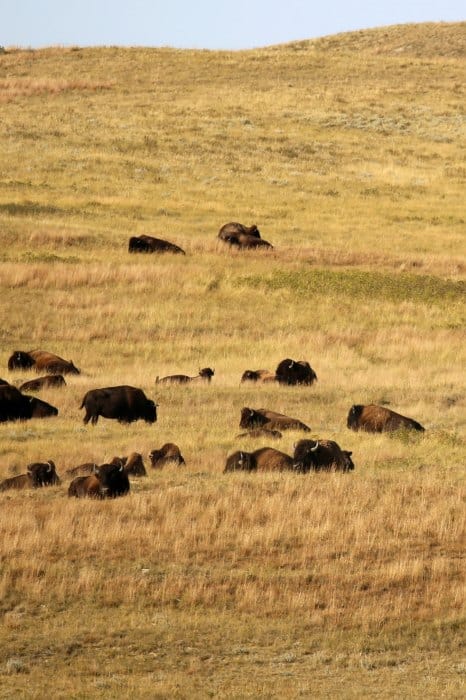 North Unit Scenic Drive
The North Unit has a beautiful 14-mile one-way (28 miles round trip) scenic drive through the grasslands that end with sweeping views of Oxbow Overlook.
There are several pullouts along the way with interpretative panels. Make sure to look out for Bison on the hills.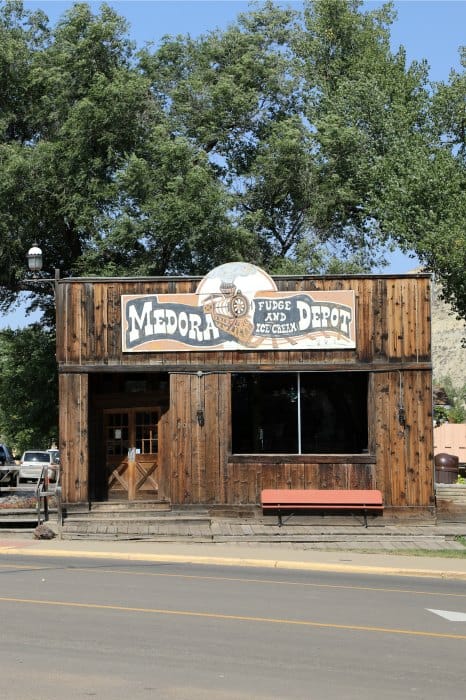 Check out the Town of Medora
The South Entrance of Theodore Roosevelt National Park lies on the outskirts of the City of Medora. The 2016 census shows a population of 132!
Don't let this fool you though, there's plenty to do here with several stores, restaurants, places to sleep, and entertainment like the Gospel Brunch and the Medora Musical.
We really want to plan a return trip to North Dakota so we can spend more time in the town of Medora. We have heard so many great things about the restaurants and things to do in Medora.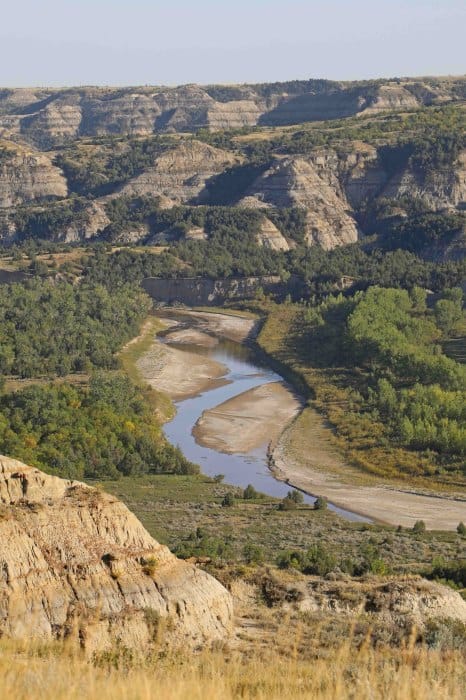 Canoe/Kayak
For the adventurous, try canoeing/kayaking the 107.5 miles of the Little Missouri River between Medora near the park's south entrance to the Long X Bridge on U.S. Highway 85 near the park's North Entrance.
This trip usually takes 5 days and May and June being the best months as river ice does not typically start breaking up until April.
Make sure to check the water's depth before going as the river is too low most of the year requiring you to get out and drag your boat for long distances. The water needs to be at least 2.5' deep at Medora with up to 3.5' deep for more ideal boating.
Also, watch out for summer thunderstorms as this can make this otherwise calm river turn into a raging torrent carrying large logs & debris with it.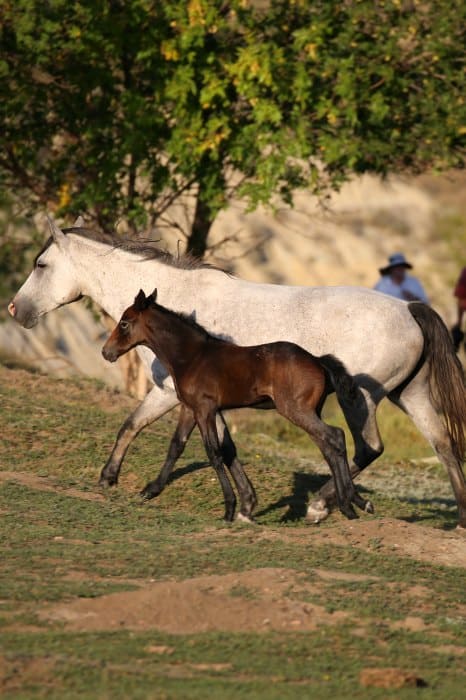 To understand Theodore Roosevelt National Park is to understand the true importance this area played and continues to play in all the conservation efforts of the United States. It was here that the need for conservation was born in Roosevelt's heart & mind.
His love for this area inspired him as president to protect 230 million acres of public lands, 150 million of these acres were designated to the United States Forest Service. Roosevelt established the Forest Service in 1905. Roosevelt also created the Federal Bird Reserve (Later named the United States Fish and Wildlife Service) and created 51 of these sites.
There were also 23 new National Park sites created during his presidency including icons like Crater Lake National Park, Wind Cave National Park, Mesa Verde National Park, and greatly added to Yosemite National Park.
Most importantly he created the Antiquities Act of 1906. This gave the president the power to "declare by public proclamation historic landmarks, historic and prehistoric structures, and other objects of historic and scientific interests as National Monuments.
Since Roosevelt did not need congressional approval, he could establish National Monuments much easier than National Parks. He used this authority at least 19 times establishing several National Monuments including Devils Tower National Monument, Jewel Cave, Muir Woods, and Natural Bridges.
Several of those National Monuments eventually became National Parks including, Olympic, Grand Canyon, Petrified Forest, Pinnacles, and Lassen Volcanic National Parks.
Theodore Roosevelt National Park was created to honor the legacy he left behind.
Imagine the conversations inside Roosevelt's Maltese Cross Cabin! If one man could have such a lasting positive impact on conservation what can we do now to continue his legacy?
Maybe you to can draw from this positive energy and make positive conservation efforts. Perhaps you can begin recycling, search for ways to reduce water usage, work with local city and state agencies or perhaps you could be the next United States President or a scientist who helps alter climate change to the positive!
Make sure to check out our Theodore Roosevelt NP Camping Guide
Explore area Parks
After exploring the top things to do in Theodore Roosevelt National Park, make sure to check out other area parks in North Dakota including:
Fort Union Trading Post National Historic Park
Knife River Indian Villages National Historic Site
National Parks nearby making a great All-American Road Trip include:
Minuteman Missile National Historic Site
Mount Rushmore National Memorial
Additional camping available at Mount Rushmore KOA
Check out all of the National Parks in North Dakota along with neighboring National Parks in Minnesota, National Parks in Montana, and South Dakota National Parks