I have always heard that there are two ways to experience Bryce Canyon; looking from the top down into Bryce Canyon and going into the canyon and looking up. Things to do in Bryce Canyon National Park is going to give you the best ideas for doing both so you have the best experience possible while visiting this beautiful Utah National Park.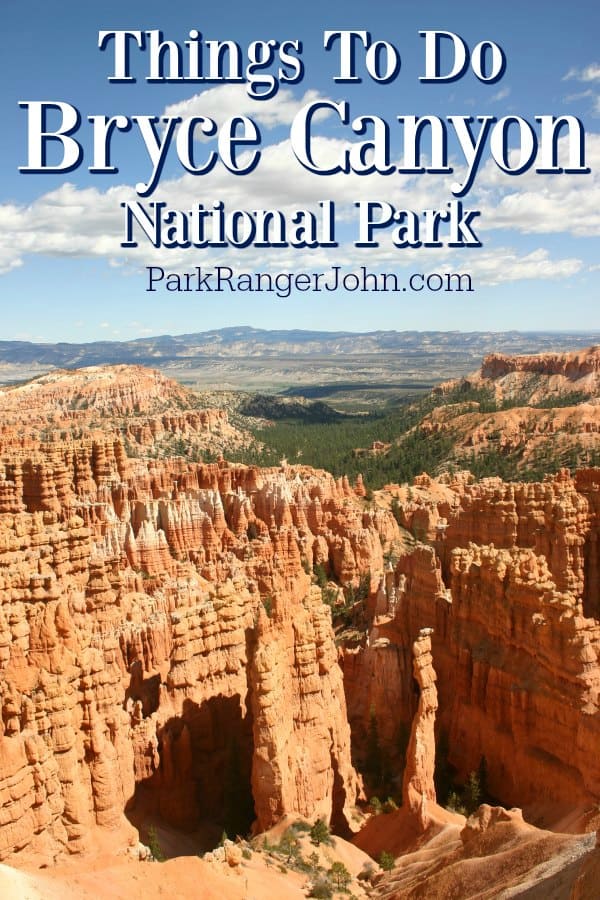 Things to do in Bryce Canyon National Park
Bryce Canyon is one of the true gems of the National Park System. Nothing prepares you for your first step overlooking its vast openness. Colorful hoodoos point towards the bluest skies you have ever seen and fresh air fills your lungs.
Your eyes have a hard time focusing, your brain has a hard time comprehending what it is seeing with all its rich colors. The colors seem surreal and look more like a painting than real life.
Planning a National Park vacation? America the Beautiful/National Park Pass covers entrance fees for an entire year to all US National Park Sites and over 2,000 Federal Recreation Fee Sites.
The park pass covers everyone in the car for per vehicle sites and for up to 4 adults for per-person sites.
Buy on REI.com and REI will donate 10% of pass proceeds to the National Forest Foundation, National Park Foundation and the U.S. Endowment for Forestry & Communities.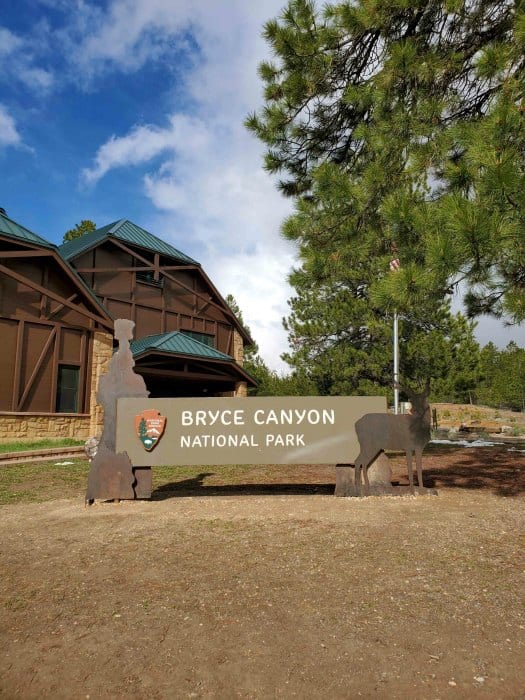 Bryce Canyon Visitor Center
The Bryce Canyon Visitor Center is a great first stop before heading out into the park. Park Staff and volunteers will have brochures, updated weather information, Junior Ranger Booklets, and when Ranger-led programs will be available to attend. Visitors can also watch the park film that is 24 minutes long and is played on the hour and half-hour, look through interpretative displays and wander through the gift store.
Did you know that you can adopt a prairie dog at the Bryce Canyon Visitor Center? Simply pick up a stuffed prairie dog at the display in the visitor center and take it to the cashier. You will get to fill out the application and you will even get a birth certificate. There is a $30 fee and the money goes to the Bryce Canyon Resource Department to help protect our park's Utah Prairie Dogs.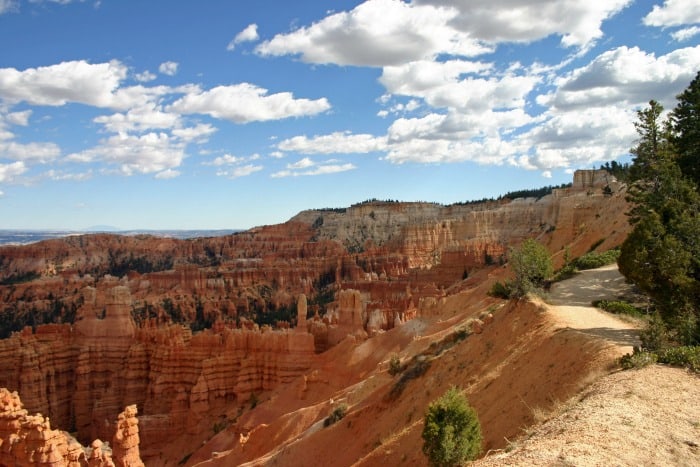 A short walk from a parking lot can have you overlooking one incredible viewpoint to another. Visitors can also hike the Rim Trail leads hikers from one viewpoint to the next up to 11 miles one way.
Here you will get many perspectives of the hoodoos from above. Remember to pace yourself as most of the park over 8000' in elevation. It can quickly cause you to lose your breath from not only its beauty but from the lack of oxygen too.
To get a true feeling of Bryce Canyon and all its incredible beauty, you have to hike down one of its many hiking trails and descend into the canyon and walk within the hoodoos and rock formations. This will take some effort but is well worth it. Remember that the hike down is the easy part and if you go down you also have to come back up.
I personally love the Navajo Loop Trail. This hike will take you into Wall Street and amongst the colorful hoodoos and back around to perhaps the park's most popular hoodoo, Thor's Hammer.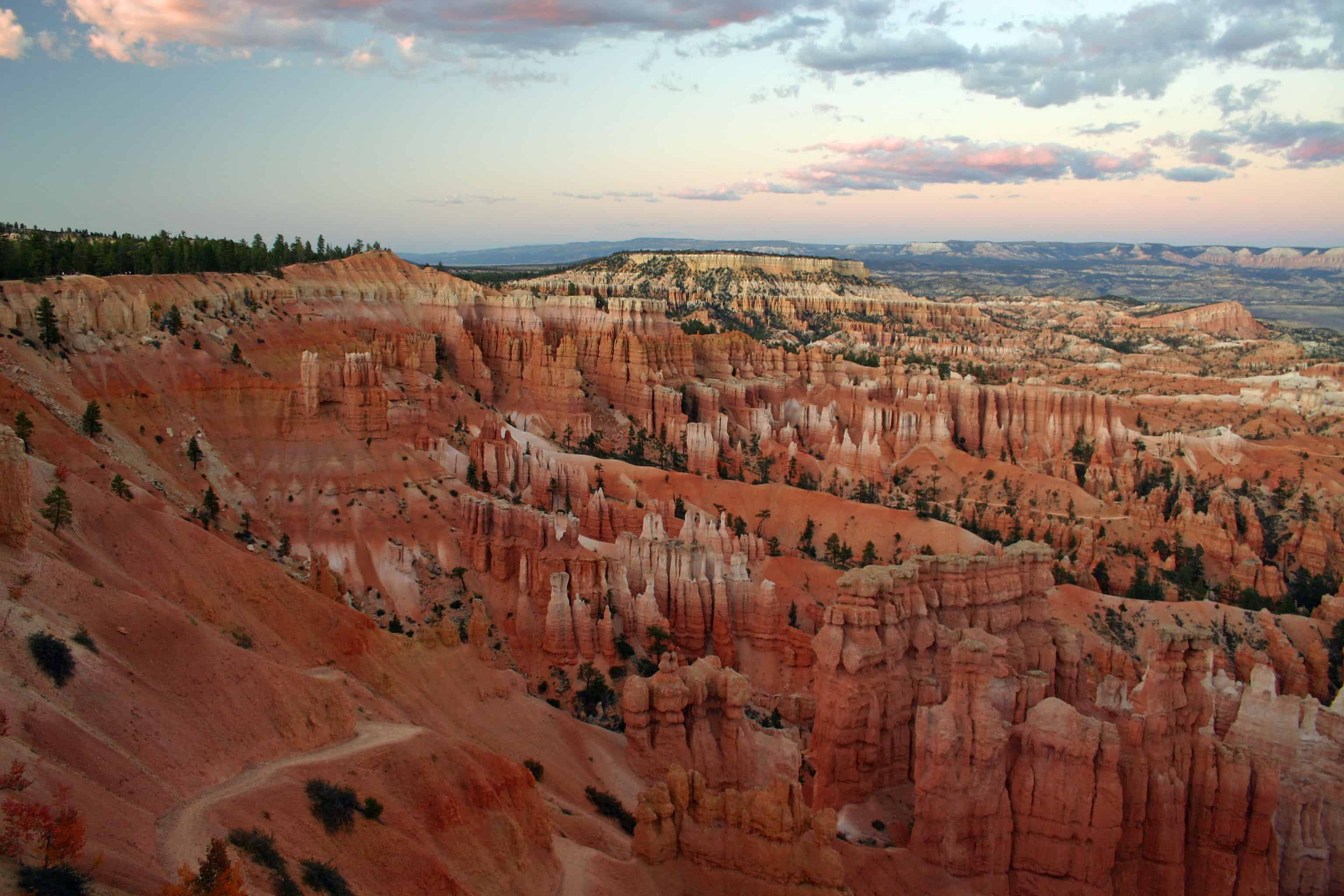 Bryce Canyon Scenic Drive Viewpoints
The Bryce Canyon Scenic Drive is 18 miles one way to Yovimpa point and Rainbow Point. Plan at least 40 minutes each way for the drive plus time to stop, find parking, and actually get out and enjoy some of the 13 viewpoints.
Rainbow Point is also the highest point on the road at 9115 feet in elevation. One thing to know about Bryce Canyon is that it is an extremely high elevation park and snow is always an option. It snowed pretty heavy on my last trip to Bryce Canyon on Memorial Day Weekend! In fact, the Park Rangers had to close a portion of the Scenic Drive for visitor safety.
Park Ranger John Pro Tip:
The average park visitor spends only 3 hours in the park. If you fit this category, I would suggest you make the most of your time and focus your time at Sunrise Point, Sunset Point, Inspiration Point, and Bryce Point. All four viewpoints are spectacular, have great trails, close to the park visitor center and once you find a parking space, you can hike or take the park shuttle between these trailheads.
I personally enjoy each of the viewpoints and would encourage you to visit as many as possible during your visit. Some of the least visited Bryce Canyon Viewpoints definitely worth visiting include Natural Bridge and Farview Point.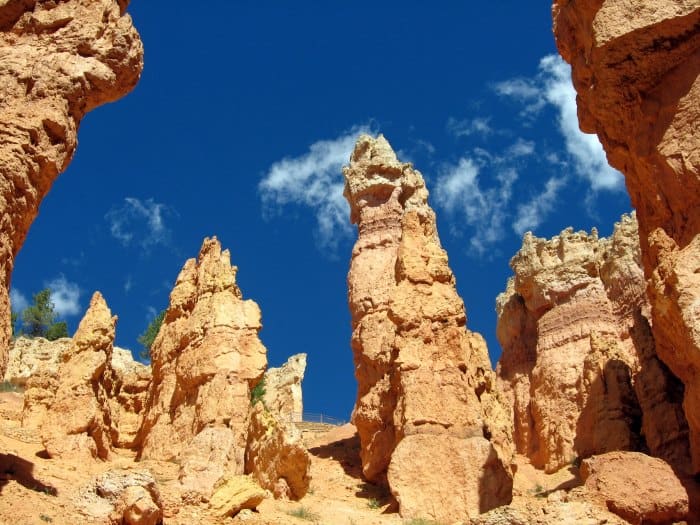 Explore the Dark Sky
Bryce Canyon is certified as an International Dark Sky Park. This means that there is the exceptional quality of the park's night skies and provides added opportunities to enhance visitor experiences through astronomy-based interpretive programming.
Bryce Canyon frequently has ranger-led programs about the night sky and hosts an annual Astronomy Festival typically held at the end of June. Bryce Canyon's Astronomy Rangers, local Astronomical Societies, and attendees enjoy a variety of astronomy-themed activities and programs offered both day and night.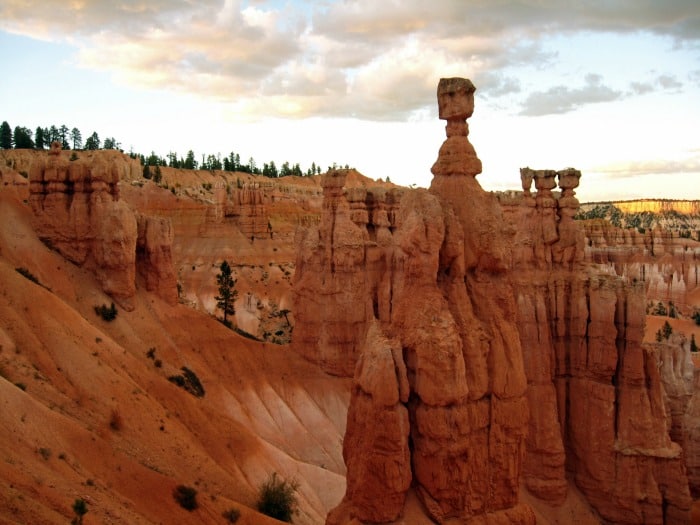 Watch Sunset
Sunrise and sunset is a special time in Bryce Canyon. This is when photographers like me go wild during the golden hour as the color of the hoodoos seems so rich! The dark blue skies add contrast but you are in luck when you get clouds overhead for contrast, or better yet, a fresh dusting of snow really makes the reds pop!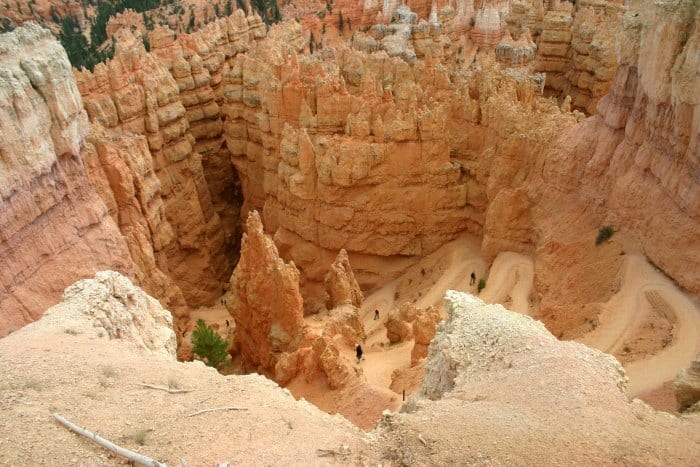 Horseback Rides and Mule Rides into the Bryce Amphitheater
Canyon Trail Rides are available from April through October and dependent upon the weather. It is your opportunity to go into the canyon without hiking! There is a short ride that lasts 1.5-2 hours and a longer ride that lasts 3 hours.
The longer ride will allow visitors to spend more time in the canyon and see some of the well-known rock formations. Make sure to check out Canyon Trail Rides for more information and how to book an upcoming ride.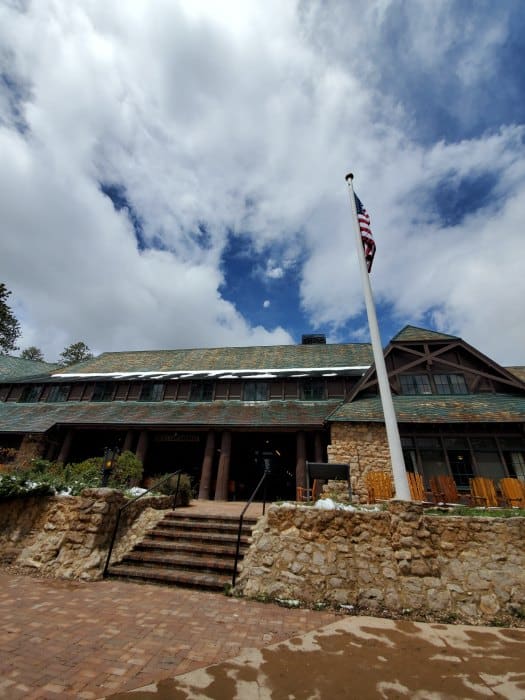 The Bryce Canyon Lodge puts you in the central part of the park with easy access to everything. The Lodge has 114 rooms that include motel rooms, cabins, and suites. The dining room is open for breakfast, lunch, and dinner right off of the main lobby.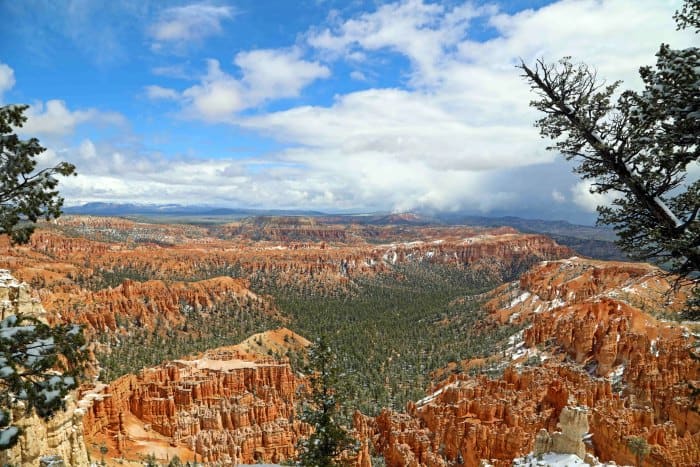 Make sure to check out the Bryce Canyon Campgrounds in the park.
Parks to visit near Bryce Canyon National Park
Cedar Breaks National Monument: Also known as the "mini" Bryce Canyon as the park has many hoodoos. Cedar Breaks faces the west and has incredible sunsets, especially at Sunset Point.
Kodachrome Basin State Park: a place so beautiful that Kodak named their high-quality film "Kodachrome" after this park!
Zion National Park: Utah's oldest National Park
Capitol Reef National Park: Utah's least visited National Park but absolutely breathtaking!
Tule Springs Fossil Beds National Monument: located just outside Las Vegas
Las Vegas: The city that never sleeps is a great option to fly into to visit several parks in Utah, especially Zion & Bryce!
Make sure to check out more great Utah National Parks, Nevada National Parks, and Arizona National Parks.