Lassen Volcanic National Park has tall peaks, sparkling lakes, rugged trails, and steaming hot springs. Located near Redding, on clear days visitors can see Lassen Peak from town. Check out all of the amazing things to do in Lassen Volcanic National Park, California!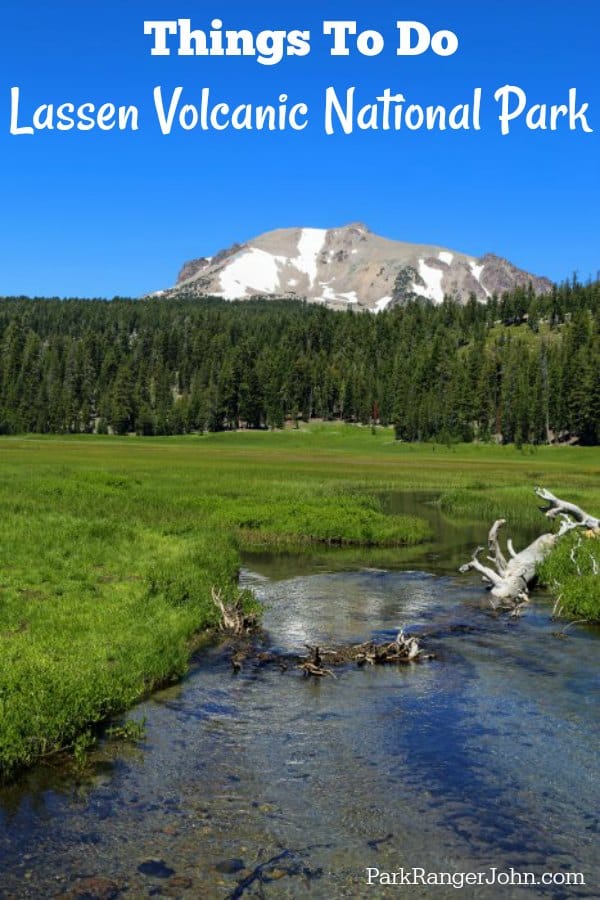 Things to do Lassen Volcanic National Park
From November to early June, Lassen Peak Road, the main road through the park remains closed because of snow. The southwestern portion of the park remains open, and many winter activities take place.
Lassen Volcanic National Park has plenty to keep someone busy. There are miles of hiking trails, beautiful lakes to explore, and one of the prettiest drives in the United States!
Lassen Volcanic National Park Highway
The Lassen Volcanic National Park Highway is on the most breathtaking scenic drives in the National Park system! At 30 miles long, it is the only park road that passes through the main section of the park passing by many of the parks highlights like the hydrothermal areas at Sulphur works, Emerald Lake, and Lake Helen.
The road also connects you to many of the park's famous hiking trails including Bumpass Hell Trail, Lassen Peak, King's Creek Falls, and Devastated area interpretative trail. The highway is open seasonally as the road's high point is 8512 feet just past the Lassen Peak Trailhead.

Kohn-Yah-Mah-Nee Visitor Center
You will run into the Kohn-Yah-Mah-Nee Visitor Center at the park's south entrance on the Lassen Volcanic National Park Highway. The visitor center has a park video playing about the park, interpretative displays, staff available to answer questions, a small cafe, and a gift shop. Basically it has everything you will need to plan your trip.
Just outside the visitor center is the Southwest Walk-In Campground. You can also hit the 1.8 miles each way hike to Mill Creek Falls.
Park Ranger John Pro Tip:
Don't forget to pick up the "Lassen Volcanic National Park Auto Tours, Trips & Trails guide at the visitor center store. This guide will be a huge help in understanding this park and its highlights as you are driving along the Lassen Volcanic National Park Highway.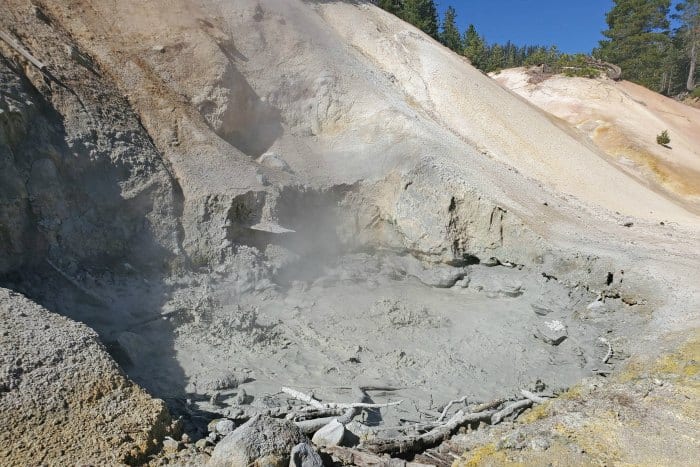 Sulphur Works
The Sulphur Works is the most accessible area in the park where you can experience the park's volcanic activity with steam vents, mud pots, and the pungent aroma of sulphur. Be careful here and always stay on the trail as the boiling water easily hides the danger to humans!
Hike the Bumpass Hell Trail
Bumpass Hell is the largest hydrothermal area west of Yellowstone and easily one of the park's most popular features. Make sure to take your time and enjoy this hike as it can easily be strenuous for those not acclimated to high elevations. The trailhead itself starts off at 8,200 feet in elevation and climbs 500 feet before going down another 250 feet into the Bumpass Hell basin.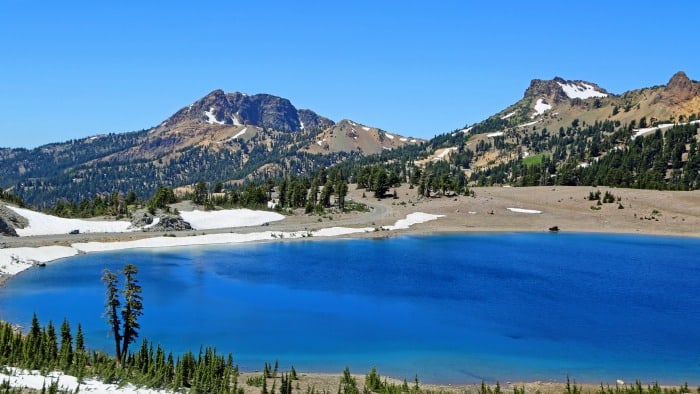 Picnic at breathtaking Lake Helen
The deep blue waters of Lake Helen easily make the trip to Lassen Volcanic worth a visit! its jaw-dropping beauty commands your attention and is easily one of those places you will talk about for years to come.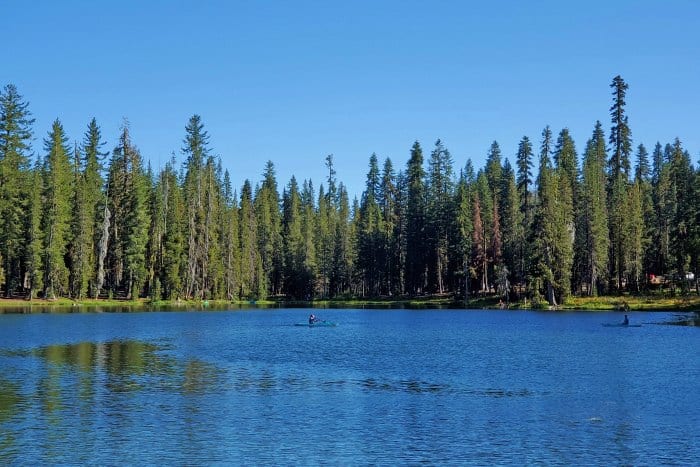 Summit Lake
I love this area of the park! You can camp at Summit Lake North Campground or Summit Lake South Campground, and go kayaking or swimming. There are several trails close by including Echo lake, Upper and Lower Twin Lake, and King's Creek Falls.
Manzanita Lake
Located in the Northwest section of the park Manzanita Lake offers amazing views of Lassen Peak and tons of lake activities. You can spend the day enjoying lake swimming, kayaking, and fishing.
Kayak, canoe, stand-up paddleboard, and cataraft rentals are available in the Manzanita Lake Camper Store. There is also camping available in the Manzanita Lake Campground.

Loomis Museum
Located near Manzanita Lake the Loomis Museum has great displays focusing on B.F Loomis who documented Lassen Peak's most recent eruption cycle along with the park movie. You can ask a park ranger questions about the park and visit the park store.
Things to do in Warner Valley
In the south-central portion of Lassen Volcanic National Park lies the Warner Valley. This area is best known for the Drakesbad Guest Ranch, the Pacific Crest Trail (PCT), and hikes to Devil's Kitchen, Boiling Springs Lake, and Terminal Geyser.
The Warner Valley Campground has 17 primitive sites available for tent camping.
Drakesbad Guest Ranch
An alternative to camping is Drakesbad Guest Ranch the only lodging in Lassen Volcanic National Park. It is a great place to stay for those wanting more than a tent. You can also find a pretty good meal, go hiking, horseback riding, swimming, fishing, and even a massage at the spa!
Things to do in Butte Lake
Butte Lake is located on the northeast portion of Lassen Volcanic National Park. There is a nice Butte Lake campground, a boat launch (only non-motorized boating is allowed in Lassen Volcanic National Park), and several nice hikes.
The Cinder Cone and painted dunes make a great hike, there is a short 4/10 mile one-way hike to bathtub lake where I hear the water is warmer than Butte Lake for swimming. You can always just take a nice leisurely stroll along the lake trail around Butte Lake and head back whenever you like.

Junior Ranger
You can pick up a Junior Ranger Activity Booklet at the Loomis Museum or Kohm Yah-mah-nee Visitor Center or download here before your trip if you want to start working on it.
Stargazing
Lassen Volcanic NP is one of the best places to enjoy the night sky. Far away from city lights, you can enjoy experiencing the night sky without light pollution. The park holds astronomy programs during the summer. Check with the visitor center or online to find out if there is a night sky program during your visit.
There is even a Lassen's Dark Sky Festival held each year to celebrate the night sky.
National Parks near Lassen Volcanic National Park
Whiskeytown National Recreation Area
Oregon Caves National Monument and Preserve
Make sure to check out my National Parks in California and National Parks in Oregon posts and plan an epic road trip to Northern California and Southern Oregon.
There are so many epic things to do in Northern California you can plan an amazing vacation getaway.