Sylvan Lake Lodge in Custer State Park has 67 rooms some of which overlook Sylvan Lake and offers great cabins. Sylvan Lake Lodge was built in 1937 with a new wing of rooms added in 1991. There are 31 cabins in the hillside surrounding the historic lodge.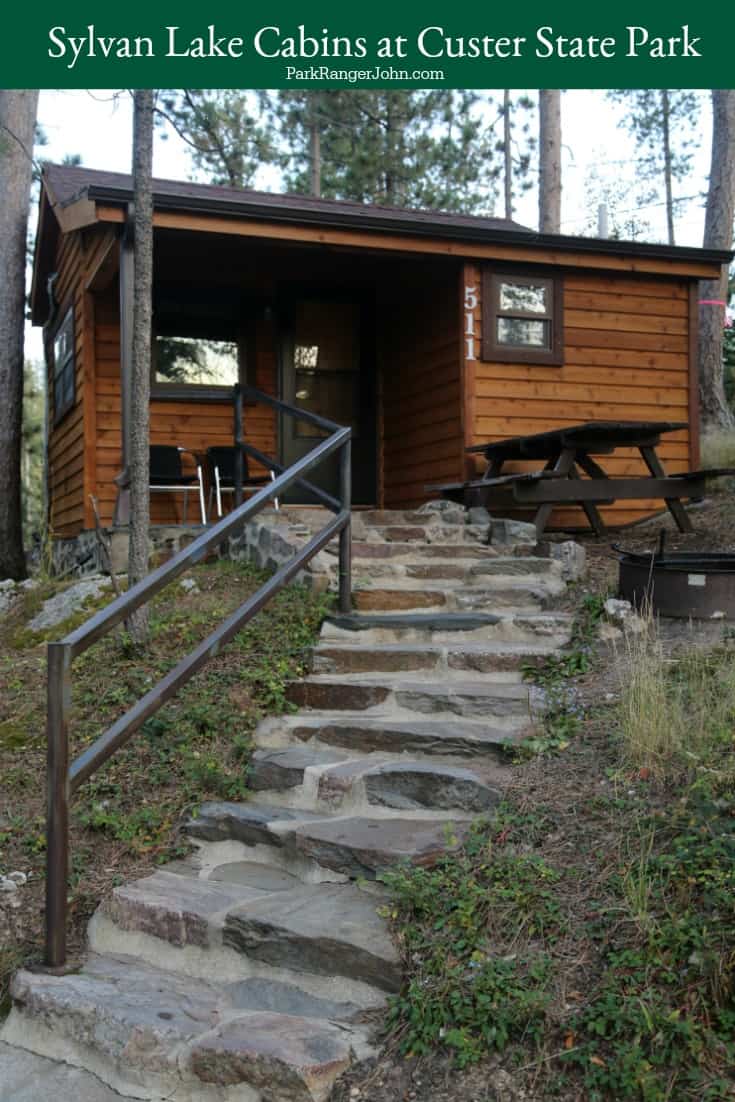 Sylvan Lake Lodge and Cabins at Custer State Park
Sylvan Lake Cabin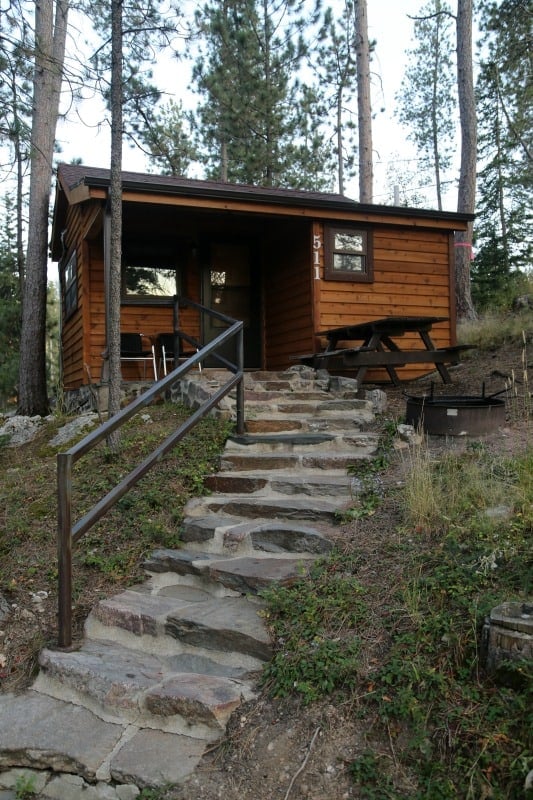 We stayed in Cabin #511 during our stay and really enjoyed it. The cabin was up a small set of stairs! If you have any knee or mobility restrictions make sure you let them know when you call for a reservation.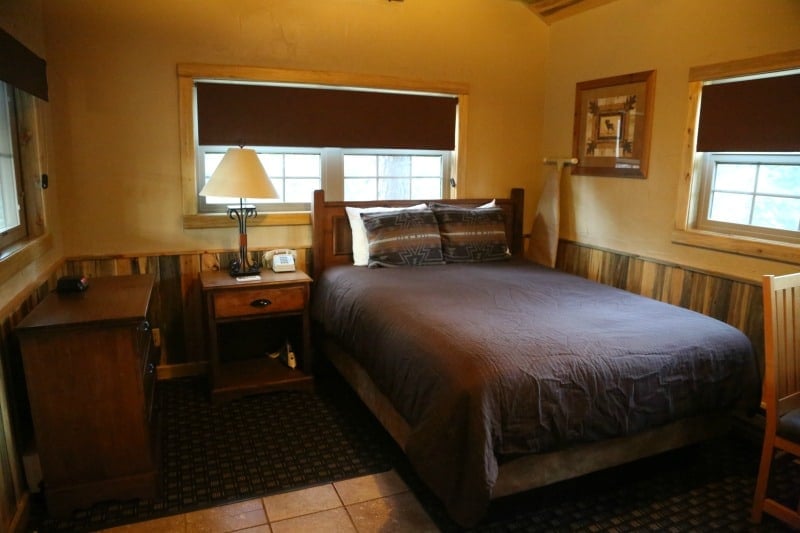 The cabin was nicely furnished but not large. With two people sleeping in the bed one of us had to crawl over the other person to get in and out of bed. The bed was super comfortable.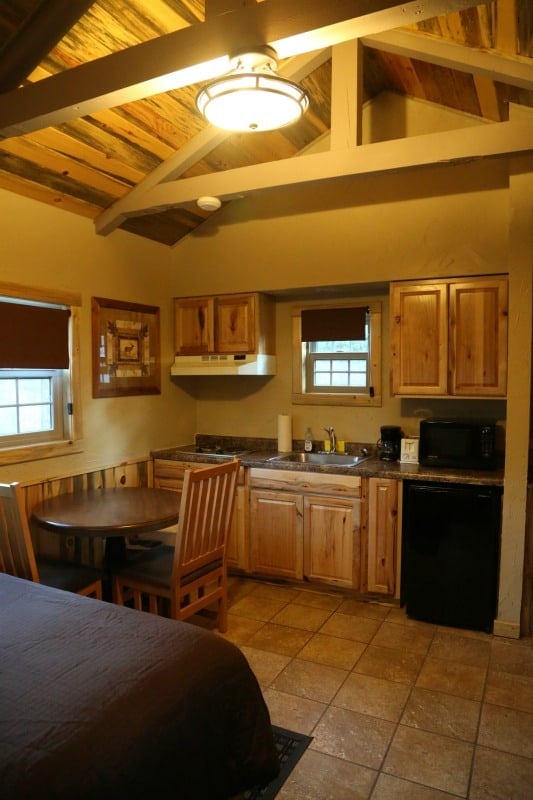 The cabin does have a small kitchenette with a mini-fridge, microwave, small stove top. This worked out so great for us. We had been driving for hours to reach the park and all we wanted to do was relax. We picked up snacks at the store and made microwave mac and cheese and sandwiches for dinner.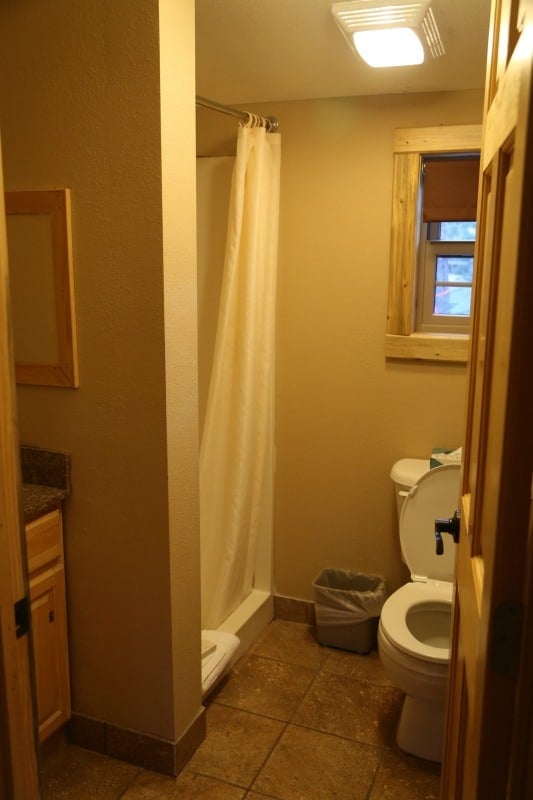 There was a bathroom in the cabin with a small walk-in shower and toilet. The sink was outside the bathroom.
Outside the cabin, we had a picnic table and fire ring which would be great for making smores and relaxing.
Sylvan Lake Lodge Accommodation options
35 Lodge Rooms sleep one to six people. There is an elevator available in the lodge
There are 32 cabins near Sylvan Lake Lodge.
Sleeping Cabins
2 room cabins with 1 queen bed and a sofa sleeper sleep one to three people
1 room cabins with two queen beds sleep one to four people
Honeymoon Cabin
The honeymoon cabin is a one-room cabin with a king bed and can sleep one to two people
Housekeeping Cabins
1 room cabins with a variety of bed sizes
3 room cabins with 4 double beds and a sleeper sofa sleep one to ten people
3 rooms cabins with 2 bathrooms, 2 queen beds and a sofa sleeper sleep one to six people
Senator's Cabin
The Senator's Cabin is five rooms with three queen beds, 2 sofa sleepers and can sleep one to ten people.
Cathedral Spires Cabin
The Cathedral Spires Cabin is 4 bedrooms and 5 bathrooms. The cabin has 1 king bed, 5 queen beds, 2 sets of twin bunks, and two sofa sleepers that can sleep one to twenty-two people.
This cabin has a stone gas fireplace and deck overlooking Sylvan Lake.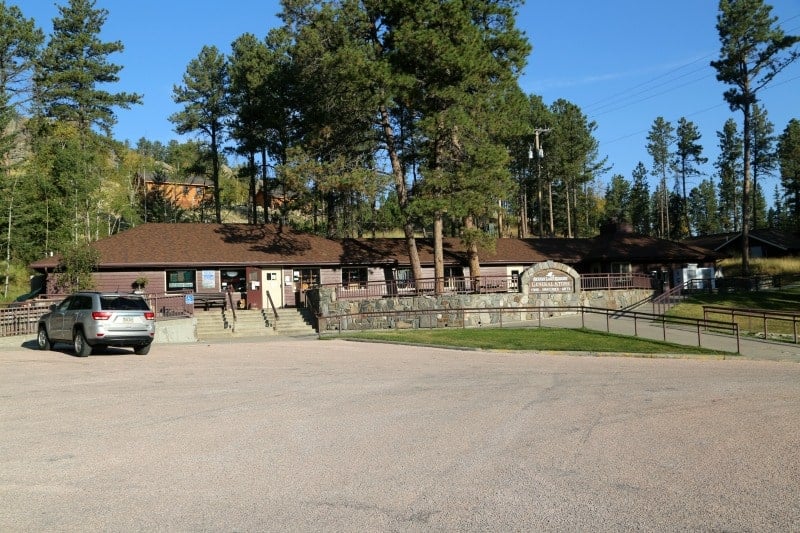 Sylvan Lake General Store
The general store has souvenirs, grab and go food, snacks, and books.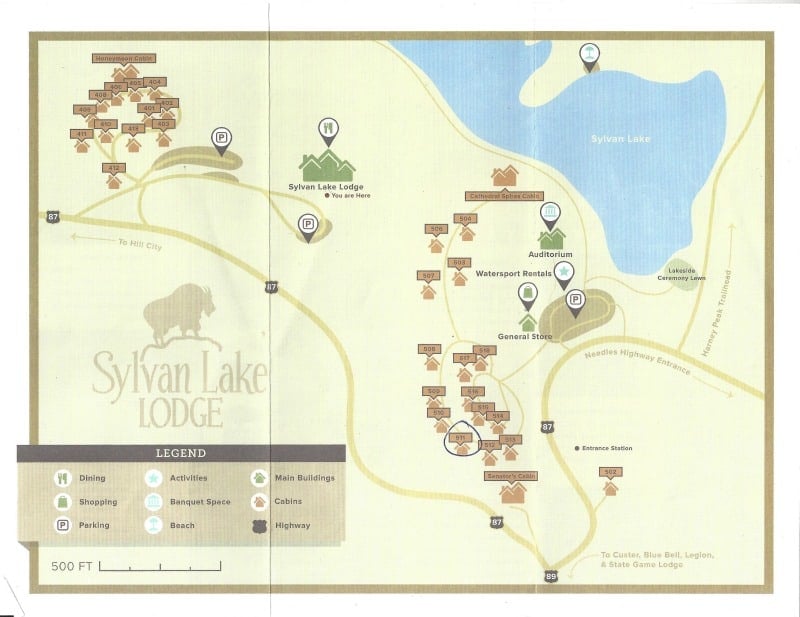 Things to know when booking a room at Sylvan Lodge
Reservation phone number - 888-875-001
Sylvan Lodge phone number - 605-574-2561
We definitely suggest calling for reservations. The online system can get confusing and a bit overwhelming.
When you book a room the cost of your room for the first and last night including tax is required as a deposit.
The park will refund your deposit if you cancel at least 15 days prior to your arrival date. There is a $25 cancellation fee
If you plan to visit during the Sturgis Motorcycle Rally the entire stay must be paid in full when you make your reservation. You can cancel thirty days before the rally rates for a $25 cancellation fee.
Sleeping cabins do not have a kitchen. Housekeeping cabins have kitchen or kitchenettes and are furnished with limited eating/cooking utensils. All units have coffee pots, microwaves, small refrigerators, TV's, Heat and A/C, towels and linens.
$10 for a rollaway/crib per night - available in select units
$10 for extra person
$10 per pet per day, only allowed in certain cabins.
Check out is at 10 am
Ice machines are available on the first floor of the lodge or may be picked up at the bar
You have to display a parking pass!!!
Sylvan Lake Dining Room is open 7 am to 9 pm
Breakfast - 7 am to 11 am
Lunch - 11 am to 5 pm
Dinner - 5 pm to 9 pm
Reservations are recommended! The bar closes at 10 pm.
Sylvan Lake General store is open from 8 am to 8 pm
The general store has grab and go food including pizza, sandwiches, sides and ice cream.
Additional Custer State Park Articles
Custer State Park Lodging Guide
Things to do in Custer State Park
Other attractions in the area.
Crazy Horse
Devils Tower National Monument
Staying in a Custer State Park resort lodge is the perfect way to explore the Black Hills including Jewel Cave, Mount Rushmore, and Wind Cave National Park sites in the area!