Death Valley National Park is a park of extremes! There are extreme heat and temperature changes. It is the Harshest, lowest, hottest and driest of the National Parks yet it is a land that has drawn people here for years. Even Hollywood has been attracted to the area making blockbuster hits like Star Wars. So what makes this park so appealing? Here is my list of things to do in Death Valley National Park.
If ever a place has earned a reputation for brutal superlatives, surely it is Death Valley: the lowest, hottest, driest place in the United States. Still, the valley, which sprawls across more than 3.3 million acres in California and Nevada, is also a place of surprising tranquility and beauty.
Death Valley itself is nearly 140 miles long, framed to the west by the Panamint Mountains, their peaks more than 11,000 feet high, and to the east by the somewhat lower Black and Amargosa ranges. More than 80 miles of the valley's basin lies below sea level; aptly named Badwater, where bitter, saline pools simmer beneath the sun, has an altitude of -282 feet, the lowest point in the Western Hemisphere.
As for temperatures, Death Valley in summer is a natural oven. Daytime highs in July average more than 115°F, in the shade. The highest air temperature ever recorded in the United States, 134°F, occurred at Furnace Creek in 1913. Now surprisingly, most visitors come to the park in winter, when days stay in the comfortable 70s. Rain is rarely a concern; on average, only an inch and a half falls here annually, and in some years there is none at all.
Sculpted and rawboned, this rugged landscape traces its beginnings back to a time, more than 500 million years ago, when a shallow sea covered the region. Overtime, its silty bottom was transformed into layers of rock that buckled into mountains as the earth's vast crustal plates ground against each other. When the plates began to pull apart some 3 million years ago, great blocks of land shifted along fault lines, rising in some places, subsiding in others, lifting mountains like the Panamints higher, but also creating the trough that is Death Valley.
Moreover, volcanoes have boiled over many times in the past, painting the region with thick blankets of ash (the riotously colored badlands of Artist's Palette owe their hues to such deposits). Nor have such cataclysms ended. At Ubehebe in northern Death Valley, several clusters of craters, some half a mile across and 500 feet deep, mark the site of eruptions that took place just 3,000 years ago.
Things to do in Death Valley National Park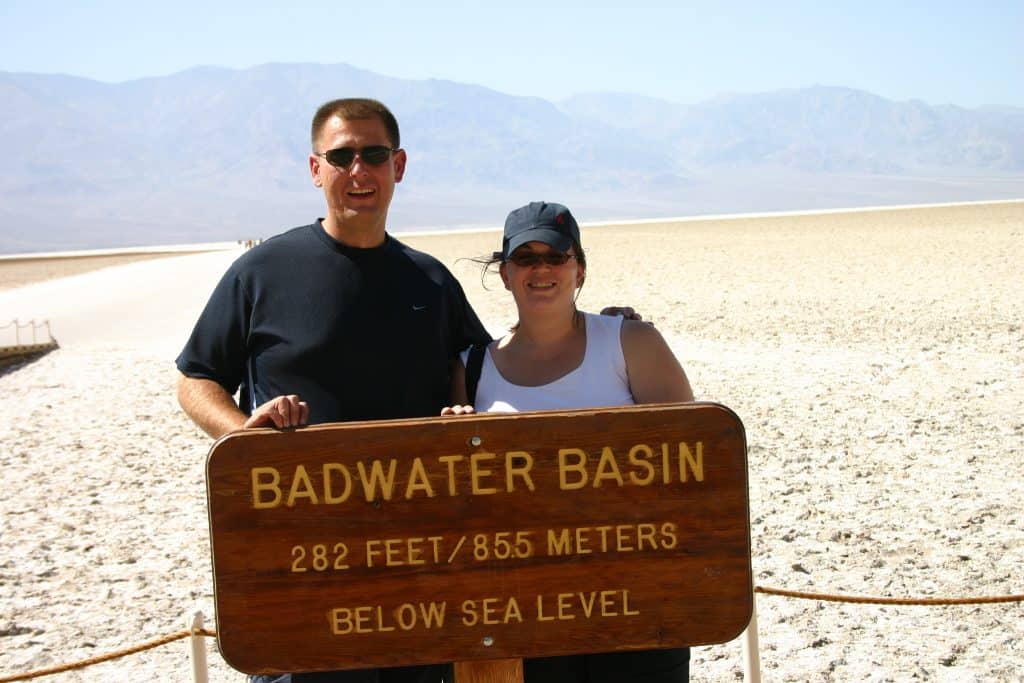 Visit Badwater Basin
Badwater Basin is the lowest point in North America at 282 feet below sea level. It would not be right to visit Death Valley and not drive here and get a photo of you with the sign. This picture was taken from one of my first trips with my now wife Tammilee in 2007! We looked so young! I don't think either of us could have imagined both of us having our own website ParkRangerJohn and Tammilee Tips and both of us sharing our passion with everyone online. Life is crazy some days!
Park Ranger Pro Tip: You will see several signs on the road to Badwater Basin telling you the elevation for where you are at. Now stand behind this sign for the classic Death Valley photo and look up on the wall across the street. You will see a small blue sign showing you where sea level is, talk about perspective!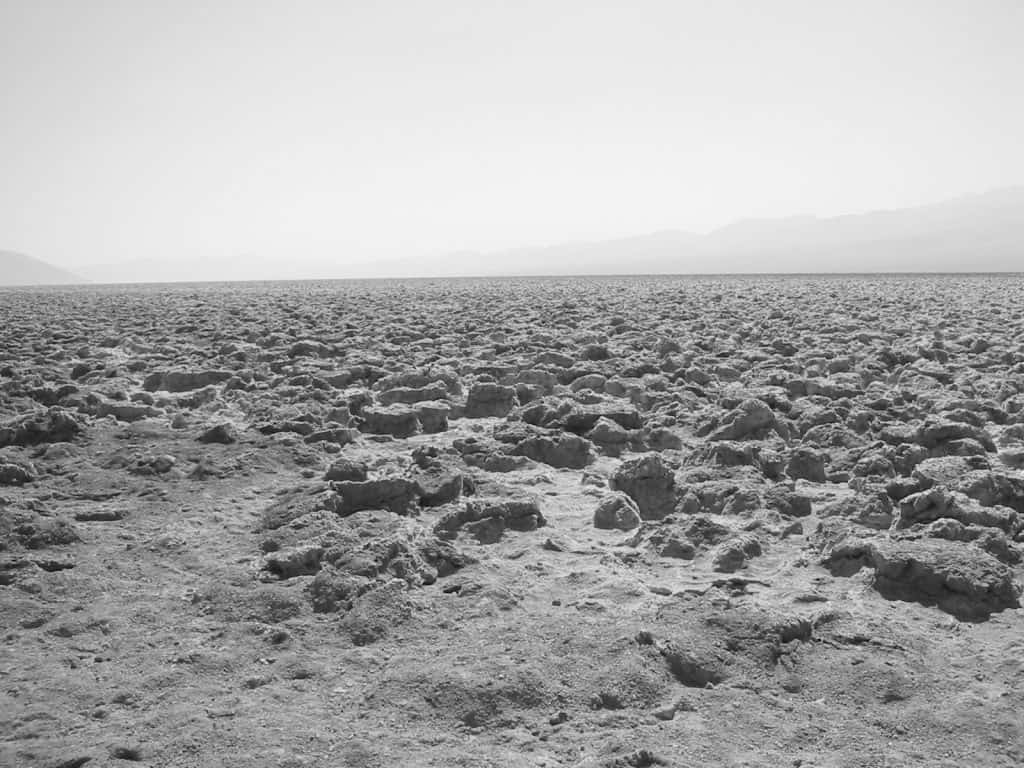 Play a round at Devil's Golf Course
It's hard to imagine that the climate 2000-4000 years ago was considerably different and water filled the valley to almost thirty feet in depth! Eventually, the climate warmed, the rainfall declined and lakes began to dry up leaving behind their salty surface. Today Devils Golf Course is filled with lumpy salt residue and is the only part remaining from Death Valley's last significant lake that evaporated 2000 years ago. This is a great place to take photos. Take your time and let your creative juices flow. It truly feels like you are walking on another planet or landscape. I personally liked the black and white image in this harsh environment.
Be warned, this is not the place to bring your clubs. A good drive into this area would leave you searching for your ball all day and most likely a few twisted ankles too. There is, however, a course near the Furnace Creek visitor center that is located 214 feet below sea level!
Furnace Creek Inn and Ranch Resort Golf Course
The lowest golf course in the world is found at Furnace Creek Inn and Ranch Resort in Death Valley, California.
Within the boundary of Death Valley National Park lies a beautiful oasis consisting of running water from an underground spring, tropical palm trees, green grass, flowering shrubs, and a golf course. This surprise in the barren wasteland of the desert provides a unique opportunity for golfers at the Furnace Creek Inn and Ranch Resort Golf Course.
Believe it or not, the 18-hole course built in 1927 has ten water holes in play. The surface is grass, there are large shade trees all around, and the ponds and creeks fit right in. Surrounding the course are high mountains and the desert floor with the salt flats that is more the expected sight in a place called "Death Valley."
Golf Course Amenities
At the Furnace Creek Inn and Ranch Resort, there is a small golf shop, a snack bar and electric carts are available for rental. Walkers are also welcome on the course, which has a par of 70. The terrain is flat with the total yardage marked at 6,215 yards using the longest tees.
The course is public and tee times can be arranged usually within the day. Death Valley National Park has many attractions but certainly high among them is the golf course.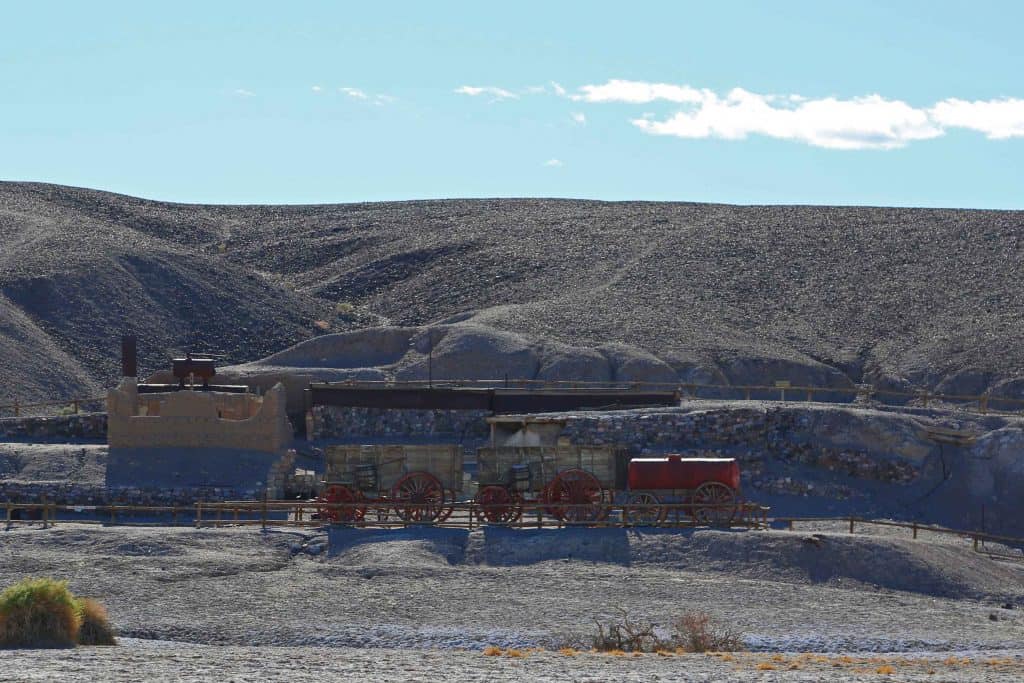 Visit the Harmony Borax Works
Harmony Borax Works was the paramount reason for the opening of Death Valley. The companies short life of approximately five years brought this area onto the map. Even today, many people instantly recognize the companies 20 Mule Team from the box of borax sold in stores. Harmony Borax Works was placed on the National Register of Historic Places on December 31, 1974.
Death Valley offered chances for wealth as well. Its most famous resource, borax, set off a mining boom in the 1880s, which created an indelible image: the famous 20-mule team. Actually made up of 18 mules and two horses, the teams dragged massive wagons, each one laden with more than 36 tons of borax, on the arduous 165-mile trek from Furnace Creek to Mojave, a one-way journey of 10 to 12 days.
Take a drive along Artist's Drive
Give yourself time to stop and take photos as this is one of the most scenic drives in the National Park system! The 9-mile drive is a one-way loop that is filled with incredible views of the Funeral Mountains, volcanic and sedimentary hills, and the incredible Artist's Palette. The afternoon light is great for photography and then drops you off next to Desolation Canyon.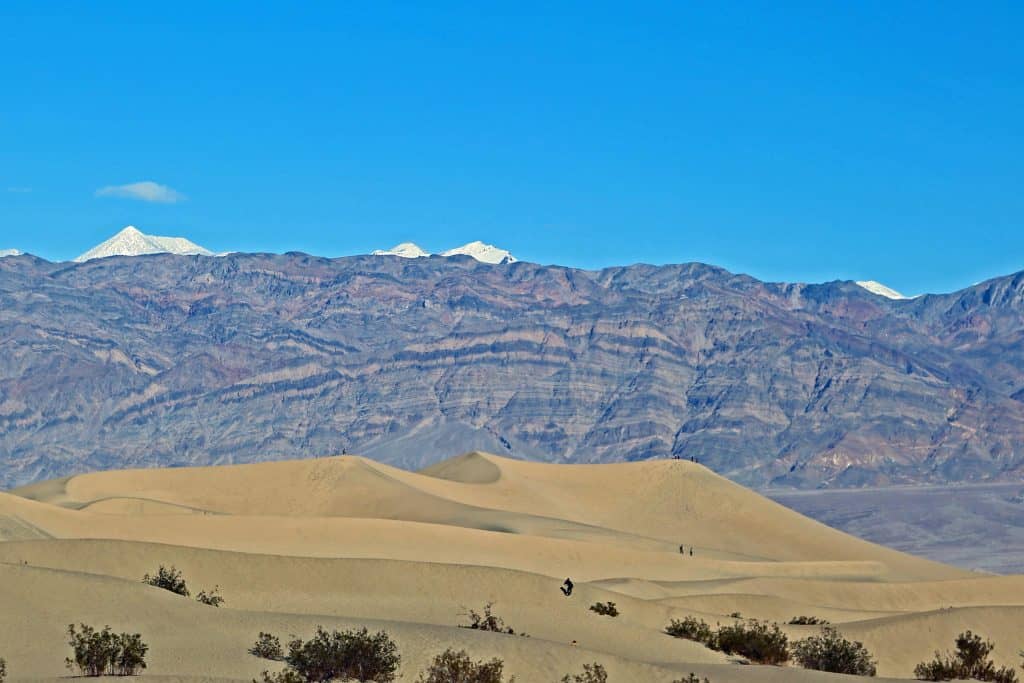 Visit the Mesquite Flat Sand Dunes
The Mesquite Flat Sand Dunes is one of my favorite all-time hikes. I made sure to get up early so that I could be one of the first people out and had a perfect surface after a windstorm had passed. This magically erased all traces of man and left beautiful ripple marks in the sand that photographed beautifully. The best part of going early is that you beat the extreme heat as you hike in the sand that seems to radiate heat as each step becomes more taxing from the previous. Don't feel that you have to go to the end of the dunes to have fun just go enough to enjoy them without placing yourself in danger.
It's time for me to take a minute and put on my flat hat and discuss the importance of staying hydrated, especially in the heat of the desert. These areas are magnificent but can turn deadly in a hurry. We personally found this out first hand when visiting this area on one of our first trips to Death Valley as a tourist, unfortunately, passed away in the sand dunes. It is recommended that you drink at least a gallon of water a day and this number dramatically increases depending on the person when temperatures soar up above 85 degrees Farenheight.
It is not recommended to be hiking after 10:00 am during the summer as temperatures often exceed 110, even 120 degrees Fahrenheit! It is also recommended that you have a gallon of water in your car so you have plenty when you get back. Please make sure you have water with you when you walk the sand dunes!
Also, head out early in the morning before the heat gets unbearable. You want to make sure you can always see your car and exit point. The sand dunes can feel never-ending once you are walking and you can go a lot farther than you realize.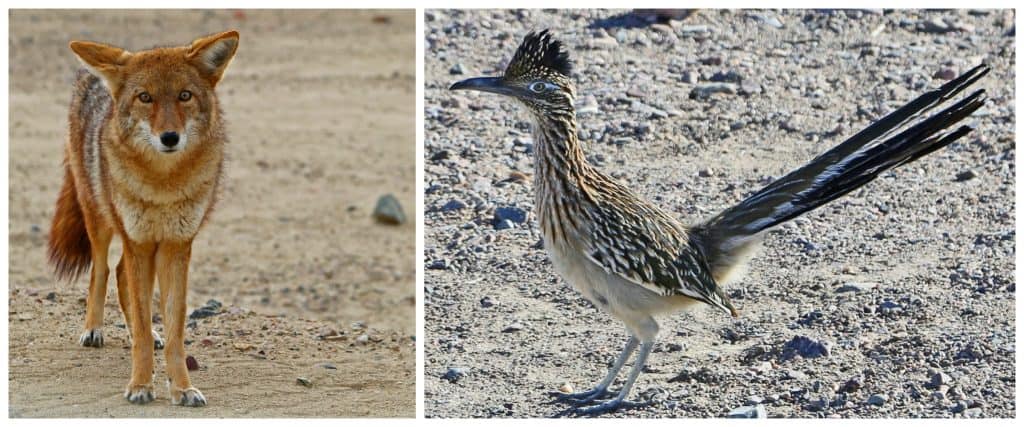 See a Coyote and Roadrunner in the park!
Tammilee is a huge bird nerd and had been on a mission to see a roadrunner for years. We pulled into the Furnace Creek Visitor Center and this roadrunner was so close I was able to take this picture with my cell phone! Coyotes are also a common sighting within Death Valley. If you see both in close quarters then make sure you keep an eye out for any anvils or Acme Boxes along the roadway.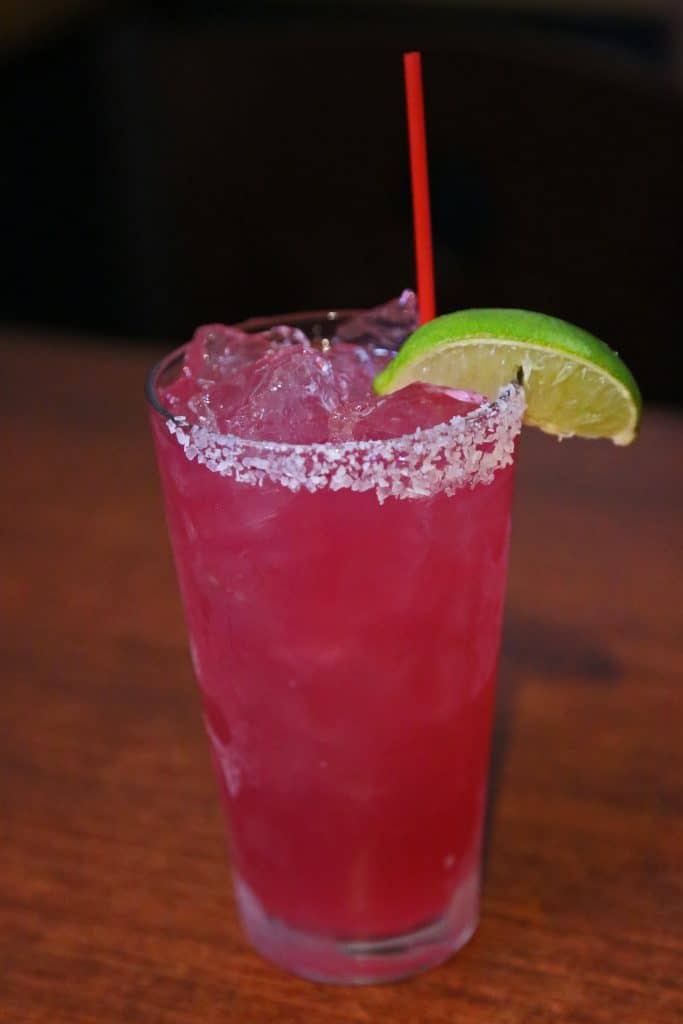 Try a Prickly Pear Cactus Margarita at Corkscrew Saloon
There is nothing quite as refreshing as a good drink after a day of exploring a park. I personally love trying the local brew or concoction when visiting a park so needless to say I had to have the Prickly Pear Cactus at the Corkscrew Saloon. They also have a few other margarita and cocktails that are based on the park and surrounding area. A great way to end an amazing day in the park.
If you love trying great beers, check out these beers inspired by National Parks!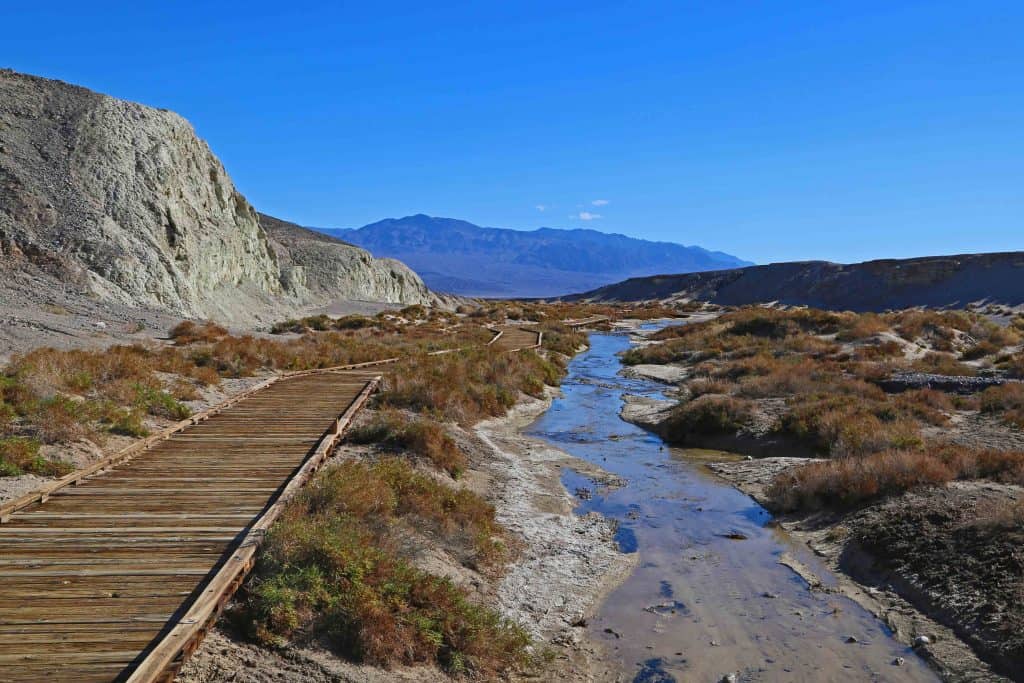 Salt Creek Interpretative Trail
The Salt Creek Interpretative Trail is a half-mile boardwalk hike with fantastic views. The boardwalks travel along and cross over Salt Creek which is home to the Death Valley Pupfish, also known as the Salt Creek Pupfish. This remarkable fish is endangered and is believed to be a survivor from a large ecosystem of fish species that lived in Lake Manly that dried up at the end of the last Ice Age.
They are remarkable for the fact they live in such harsh conditions, ones that no other fish can survive in including extreme salt level, extreme heat, and all the way to freezing temperatures! The best time to visit this trail is in February-April as the temperatures are nicer and the Pupfish are spawning and the males turn bright blue during the mating season between April-October.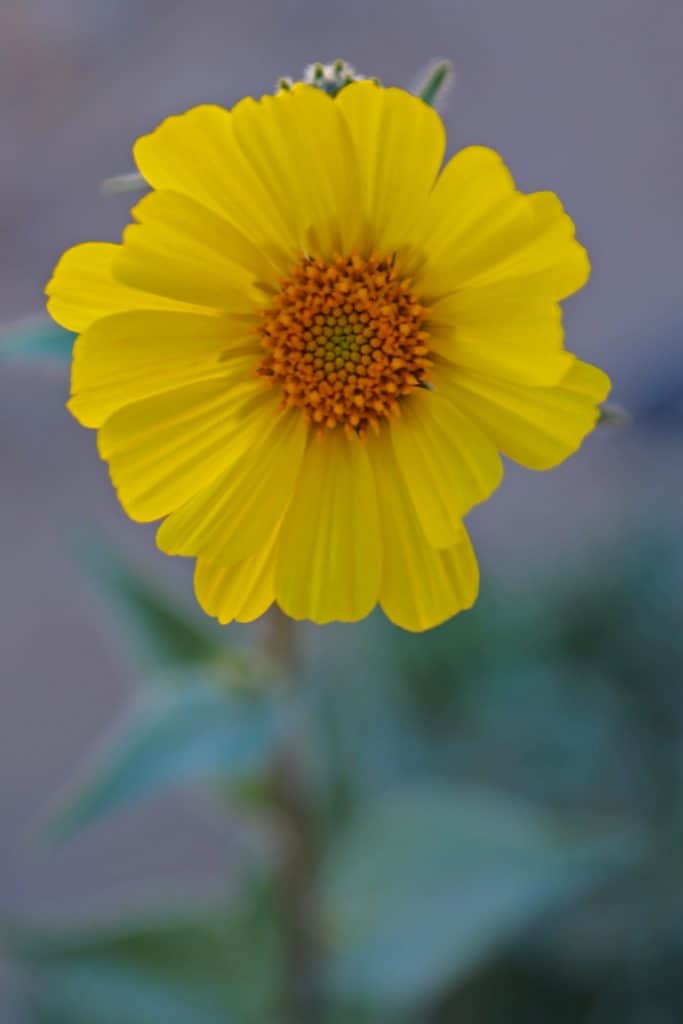 See wildflowers in bloom
There is something special about seeing wildflowers bloom in the desert floor of Death Valley. Perhaps it the promise of life or the start of a new day. Whatever it may be, there are always wildflowers in season from mid-February through mid-April.
Most years there will be a few flowers here and there but there are the rare years when the conditions are perfect, a super bloom that fills the valley with fields of white, yellow, orange, and purple! This event happened in 2016 and people rushed from everywhere to witness this incredible event.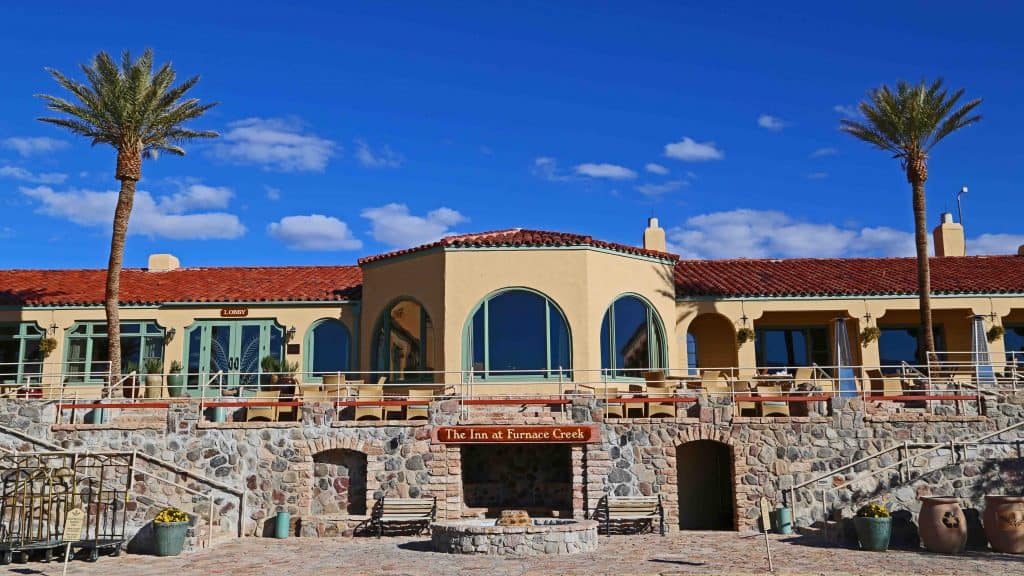 Formerly The Inn at Furnace Creek, The Oasis in Death Valley provides a bit of luxury while visiting Death Valley. This hotel has comfortable rooms, incredible views of the park, good food at the restaurant and a swimming pool too! Check out my article on The Oasis at Death Valley as it is a great National Park Lodge.
Scotty's Castle
The park's most famous landmark, though, is still standing. Scotty's Castle, a Moorish-inspired fantasy of turrets, battlements, and red-tile roofs in northern Death Valley, is a monument to the unlikely friendship between Albert Johnson, a Chicago millionaire, and a flamboyant miner named Walter Scott, "Death Valley Scotty", whose mine Johnson was underwriting. Although Johnson built the estate as a vacation home in the 1920s, Scott frequently passed it off as his own, supposedly built with riches culled from a secret mine. Today the castle is preserved in all its glory, silent but for the desert wind, moving across the land like a ghost.
See the Night Sky
Death Valley is a Gold Tier Dark Sky National Park which is the highest level awarded! The Oasis at Death Valley has worked alongside the National Park Service to greatly reduce light pollution in the area which offers an amazing opportunity to see the Milky Way and thousands of stars so don't forget to look up at night and see the amazing night sky.
Watch fighter jets from Father Crowly Vista Point
You can watch fighter jets performing maneuvers from this vista point. Be prepared there is not a lot of shade so bring a hat and sun cover.
Additional Death Valley Articles
Now you have my list of things to do at Death Valley National Park. There is so much more to see and do but will require visiting more than a couple of days.
Check out our Death Valley Camping Guide for information on all the campgrounds.
Check out the Wild Rose Campground and super popular Furnace Creek Campground.