Furnace Creek Campground-Death Valley National Park is the park's main campground centrally located within the park and its numerous activities. You will be camped next to the Visitor Center and the World's Lowest-Elevation Golf Course at 214 feet below sea level! You can get RV Hookup sites, Tent Only Sites, and group sites. Here you will find the most amenities in a campground and all sites come with a picnic table and fire ring.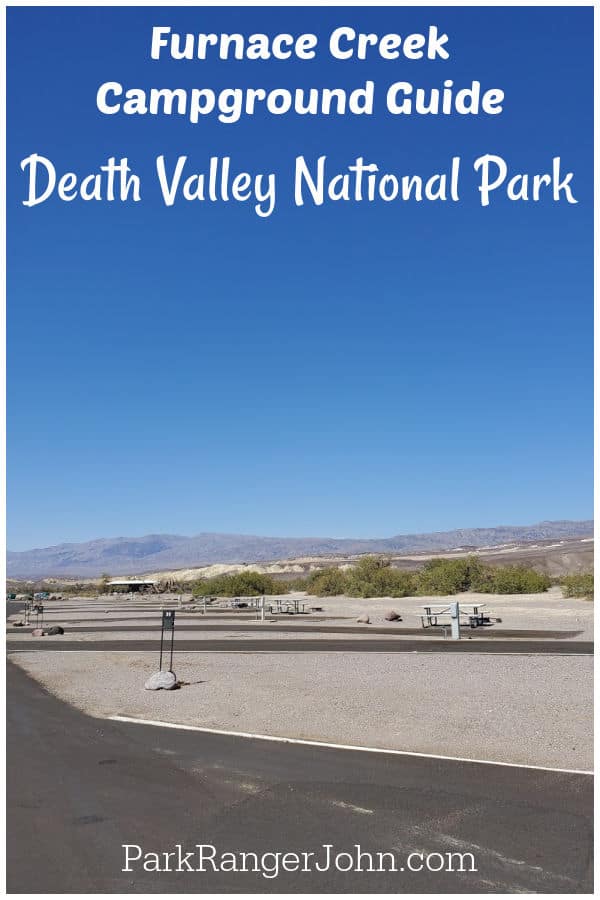 Furnace Creek Campground - Death Valley National Park
The Furnace Creek Campground is centrally located to many of the park's activities and is in the heart of Death Valley National Park! You are minutes from the visitor center, golf course, and the breathtaking Inn at Death Valley!
You are within an hour's drive to Zabriskie Point, Artist's Drive, Devils Golf Course, Natural Bridge, Badwater Basin, Harmont Borax Works, Mustard Creek, Salt Creek Interpretative Trail, and Mesquite Flat Sand Dunes!
Those who spend more than a day in Death Valley can reach further out and see Dante's View, military jets training at Father Crowley's vista point over Rainbow Canyon, Scotty's Castle (Currently closed due to flood damage), and for the adventurous, the Racetrack.
The Racetrack is a mysterious place in the desert where unidentified sources have dragged large rocks across the desert floor. Going to the Racetrack is something that only someone prepared for should attempt as it is in a very remote part of the park that requires four-wheel drive and strong off-road driving skills.
Elevation - -190 feet
Summer - HOT! 111 degrees at 3 pm
Number of Sites: 136
Campsite cost: $22.00/night for a standard tent camping campsite. Full Hookup Sites $36.00/Night (half-price with Lifetime Pass) plus $12 Utility Fee (not discounted)
Group Sites #3, 4, 5 $35.00/Night (9-15) people, up to 4 vehicles. No discount for Lifetime Pass.
Group Sites #1 and #2 $60/night (9-40) people, up to 10 vehicles. No discount for Lifetime Pass.
The camping fee does NOT cover the entrance fee to the park.
Reservations: Yes, reservations are taken from October 15 to April 15
Accessible Sites: Site #'s 22 and 147 are ADA sites with modified fire grates and picnic tables.
Site #'s 77 & 49 are ADA sites with RV hookup including water, sewer, and electrical connections, as well as a modified firegrate and picnic table at the site.
Site #'s 84, 115, and 149 are ADA accessible sites with modified fire grates and picnic tables.
Site # 74 is an ADA-accessible site with RV hookup including water, sewer, and electrical connections, as well as a modified firegrate and picnic table at the site.
Pets Allowed: Yes, It is worth noting that coyotes and ravens frequent the area so pets should not be left unattended.
There is a maximum limit of 4 pets per campsite and pets must be kept on a leash no longer than 6 feet at all times.
Check out all of the top things to do in Death Valley
Campground Reservations
Are campground Reservations Available? Yes,
Phone Number? 1-877-444-6777
Online? Yes, recreation.gov
How Far Ahead can you make a reservation? Reservations open on a 6-month rolling basis.
First Come, First Served? Yes, first-come, first-served basis from mid-April through mid-October (summer).
Don't miss all of the Death Valley Camping options.
Campground Amenities
Dump Station: Yes
Bear Boxes: No
Flush Toilets: Yes
Is wifi available? No
Is cellular Phone Service Available? Yes, depending upon your carrier
Is camp host available on site? Yes, during busy times there is a camp host.
Is firewood available for purchase? Firewood is available at Furnace Creek and Stovepipe Wells General Stores
Amenities at each campsite:
Fire pits in the site? Yes, each site has a fire ring or fire grill.
Picnic Table in the campsite? Yes
Bear Box in site/area? No
(Potable) Drinking-Water? Yes
RV Camping at Furnace Creek Campground
RV Length: The total length is the vehicle plus trailer or rv plus tow vehicle. Only one RV unit is allowed per site.
If you choose a site that does not fit your total length, the Park reserves the right to cancel your reservation upon arrival.
Generators: Yes from 7 am to 7 pm
Hookups:
Full Hook-up Pull-through Sites: 67, 68, 69, 72, 73, 74, 75, 76, 77
Full Hook-up Back-in Sites: 39, 41, 43, 45, 47, 49, 50, 51, 52
Dump station: Yes
How to get to Campground
Death Valley and Furnace Creek Campground is extremely easy to get to from Las Vegas, NV. Drive east on Highway 160 to Pahrump, NV. then turn left on Bell Vista Road. Bell Vista Road turns into State Line Road then it dead-ends at Death Valley Junction. Turn Right onto Death Valley Junction then a quick left on California 190. Drive on California 190 into Death Valley National Park. Continue straight until you see the Furnace Creek Campground on the left directly past the visitor center.
Address
Furnace Creek Campground
Death Valley, CA
92328
Latitude/Longitude:
Latitude
36° 27' 47.0002" N
Longitude
116° 52' 4.0001" W
Campground Regulations
The maximum number of people in a campsite: no more than eight people
The number of cars per campsite: two vehicles or one recreational vehicle plus secondary vehicle per site.
Checkout time: 12 pm
Quiet Hours: 10 p.m. - 7:00 a.m.
Stay Limit: 14 day stay limit
Check out Wildrose Campground for free camping in the park.
National Park Sites near Death Valley
Manzanar National Historic Site
Devils Postpile National Monument
Castle Mountains National Monument
Tule Springs Fossil Beds National Monument
Lake Mead National Recreation Area
Check out all of the California National Parks and neighboring National Parks in Oregon, Nevada National Parks, and Utah National Parks.
Additional Photos of Campground