When it comes to visiting the Great Smoky Mountains National Park a trip is not complete without experiencing the Cades Cove Loop.
This loop is filled with not only bears and wildlife but history and scenic views. You will want to plan time to explore this gorgeous area.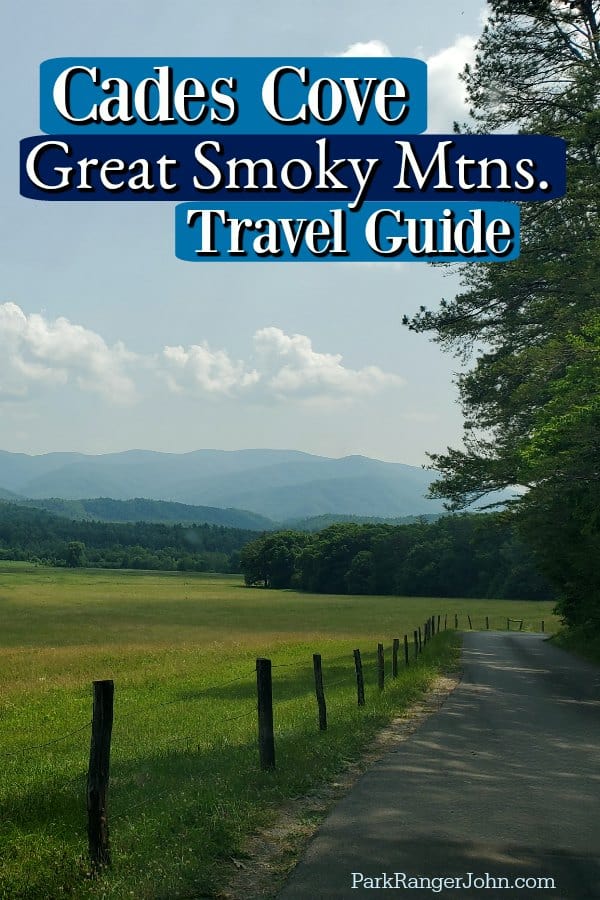 Cades Cove Loop
Cades Cove is the most popular destination in the Great Smoky Mountains National Park! The Cades Cove area can be incredibly busy!
The Cades Cove Loop is an 11-mile paved loop that runs one way. Along the loop, visitors can expect to see historic buildings, wildlife, hiking trails, and more.
One thing to know is why this area is called a cove. In Smoky Mountain terminology a Cove is a relatively flat valley between mountains or ridges.
There is only one entrance to the Cades Cove Loop Road. This entrance road, Laurel Creek Road, was built after Great Smoky Mountain National Park was established in 1934.
Historically this was a two-lane road used by the 125 cove families who lived here in the 1900s. Along the loop, you can expect to see a variety of historic buildings, wildlife and more.
Quick History Lesson
Europeans settled this area beginning in the early 1800s. At its peak, the cove was home to 700 people.
When the National Park Service took over the area in the 1930s they had to decide if they wanted to keep the human history or let nature reclaim the area. Thankfully they kept the human history and historic buildings.
Head over to this article to learn more about the history of the Great Smoky Mountains National Park.
Cades Cove Hours
For 2020 the National Park Service has initiated vehicle-free access along the Cades Cove Loop Road each Wednesday, from June 17 through September 30.
Cades Cove Visitor Center
Open every day except Christmas Day.
| | |
| --- | --- |
| January | 9:00 a.m. - 4:30 p.m. |
| February | 9:00 a.m. - 5:00 p.m. |
| March | 9:00 a.m. - 6:30 p.m. |
| April - August | 9:00 a.m. - 5:00 p.m. |
| September - October | 9:00 a.m. - 6:30 p.m. |
| November | 9:00 a.m. - 5:30 p.m. |
| December | 9:00 a.m. - 4:30 p.m. |
Cable Mill in Cades Cove
Open daily March 11 through October, and on weekends (Friday-Sunday) in November
Hours: 9:00-5:00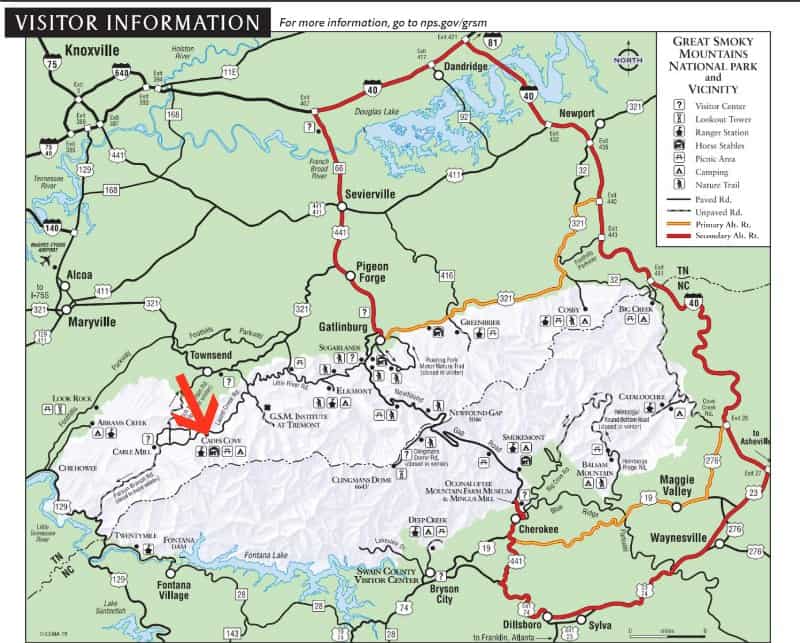 Cades Cove Directions
How far is Cades Cove from Gatlinburg?
27 miles
How far is Cades Cove from Pigeon Forge?
31 miles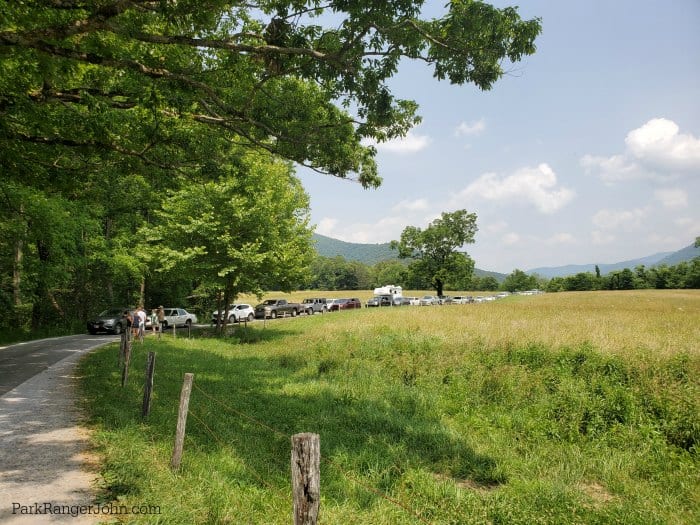 How long does it take to do the Cades Cove Auto Tour?
You will want to plan between two to four hours minimum to explore the auto tour loop. A lot depends on traffic but also the wildlife that is seen.
Deer Jams and Bear Jams are a thing! You may find yourself parked on a one-lane road for a while due to wildlife. During our first trip to the Smoky Mountains, we ended up in a 20-minute wildlife jam for a couple of deer.
On our last trip to the park, we were able to cruise through Cades Cove semi-quickly but then we ended up going back through another three times because we were having so much fun and loved seeing all of the wildlife.
It feels like every time you drive the loop you see a whole new version of Cades Cove.
Cades Cove Auto Tour Sites
John Oliver Place
John Oliver Place is one of 80 historic buildings in the park. It is one of the first ones you can see when you enter into Cades Cove.
John Oliver's Cabin was built in the early 1820s. It is the oldest log home in Cades Cove.
One cool thing is the stone chimney was built with mud mortar to hold it together.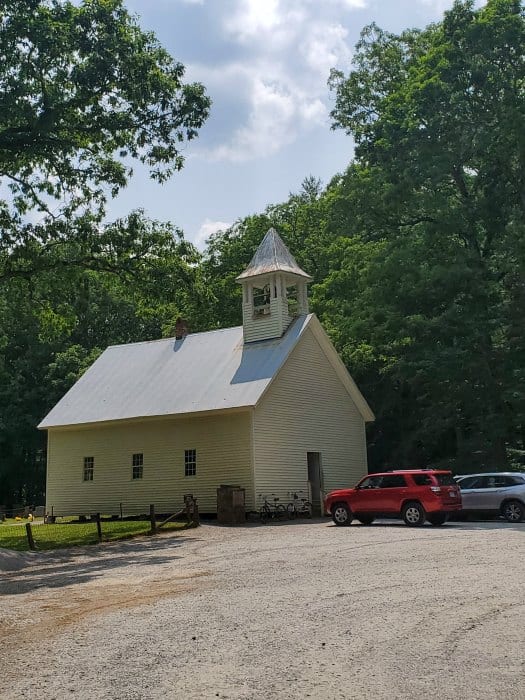 Primitive Baptist Church
There is a nice parking lot next to the Primitive Baptist Church. This is a great place to get out and stretch your legs while parking safely.
This church was established in 1827. This building replaced the original log building in 1887.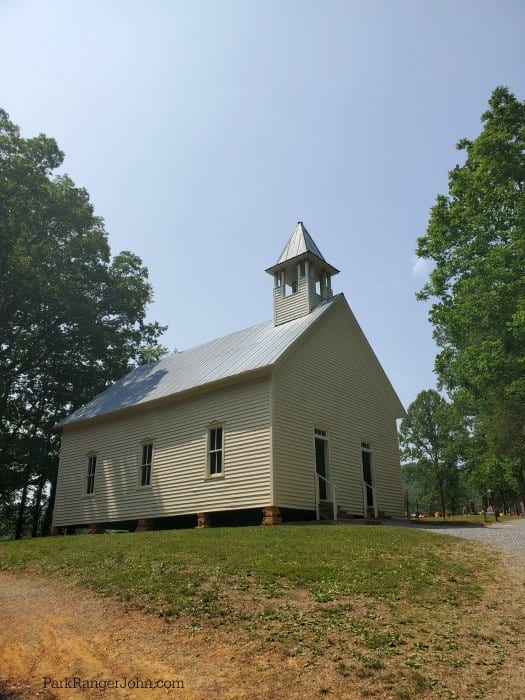 Methodist Church
The Methodist Church was built in 115 days by a blacksmith and carpenter J.D. McCampbell. Mr. McCampbell would also serve as the minister for the church.
The church was established in the 1820s and ran in a log building until this building was built in 1902.
One interesting thing is the church has two front doors. Normally this indicates the church may have had men sit on one side and women sit on the other side of the church. This Methodist Church did not follow this plan but did borrow building plans from a church who did divide their congregation.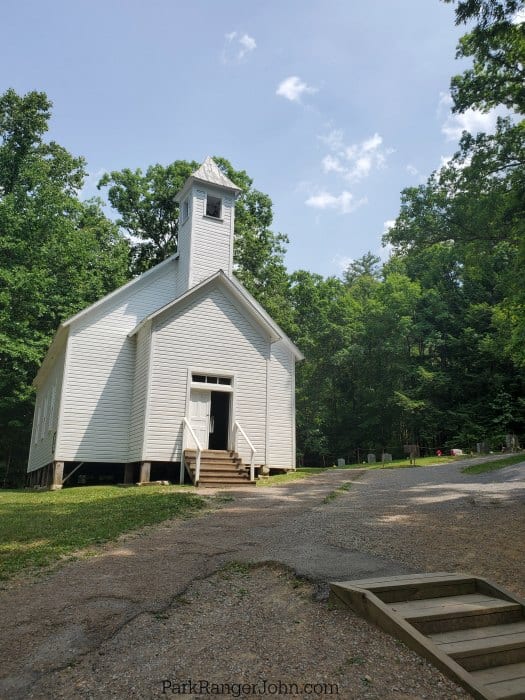 Missionary Baptist Church
This church was formed in 1839 by a group of Baptists expelled from Primitive Baptist Church. The current building dates from 1915.
One cool thing to look for during March and April is the daffodils on the right of the church. They were planted in the 1930s by members of the Civilian Conservation Corps (CCC).
Elijah Oliver Place
Elijah Oliver was the son of John Oliver whose cabin is one of the first stops on the auto tour.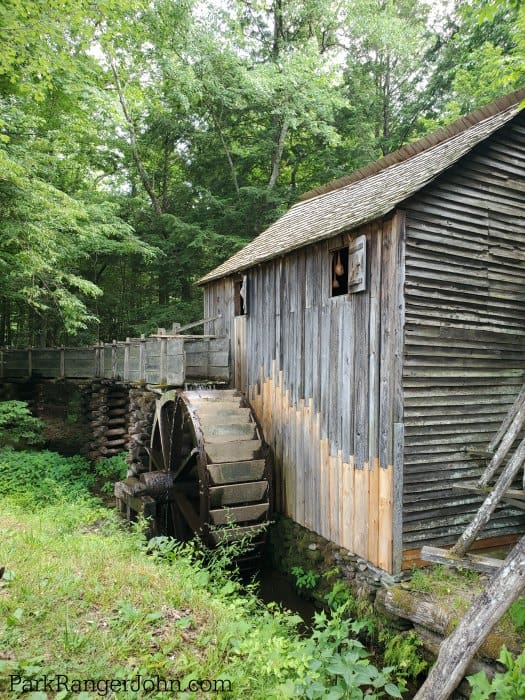 John P. Cable Grist Mill and Visitors Center
The Cable Mill area includes the Cades Cove Visitor Center, a Blacksmith Shop, LeQuire Cantilever Barn, Millrace and Dam, Gregg-Cable House, and the John P. Cable Grist Mill.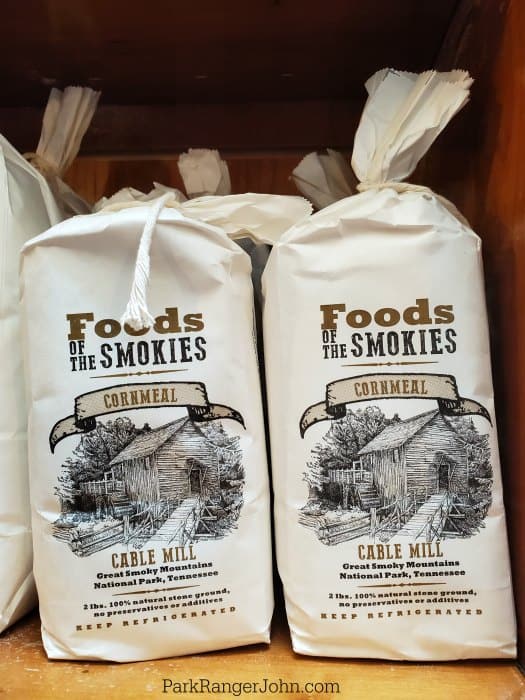 You can purchase cornmeal and Whole Wheat Flour that was processed in the Cable Mill at the Visitor Center and within the Cable Mill.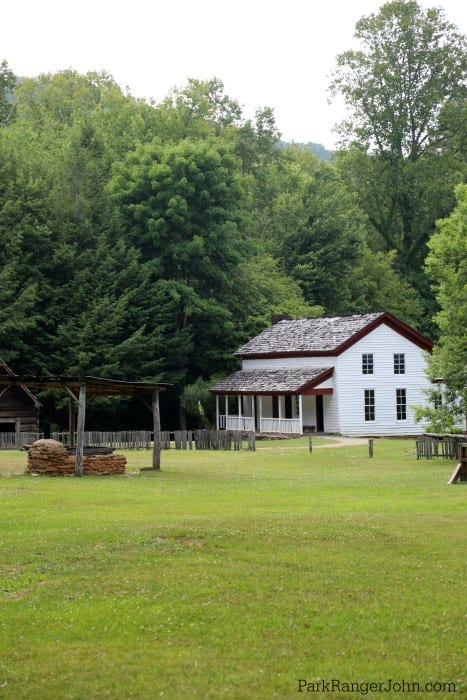 Gregg-Cable House
The Gregg-Cable House is near the visitor center on the Mill Area Walking Tour.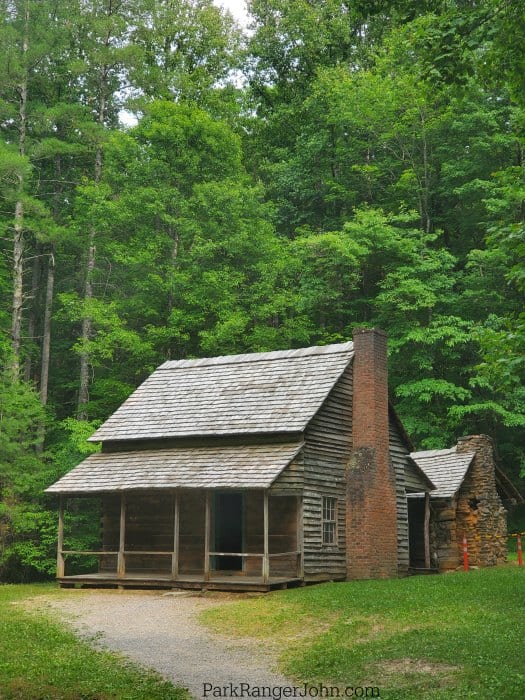 Henry Whitehead Place
Back on the auto tour the first building you will encounter is the Henry Whitehead Place.
This pair of buildings represents the roughest and finest of log construction in the Smoky Mountains. This is one of three houses that were called transition houses that were originally found in Cades Cove. This is the only one left in the park.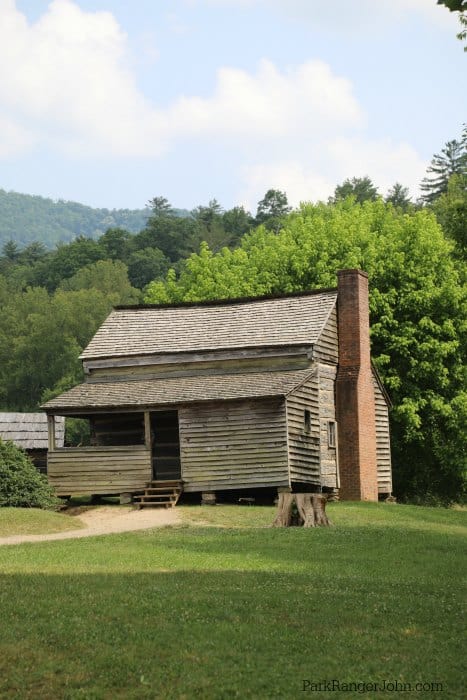 Dan Lawson Place
This house was built by Dan Lawson in 1856. One cool thing to know is the brick chimney was built with bricks that were made onsite.
Next to the house, you can see a granary and smokehouse.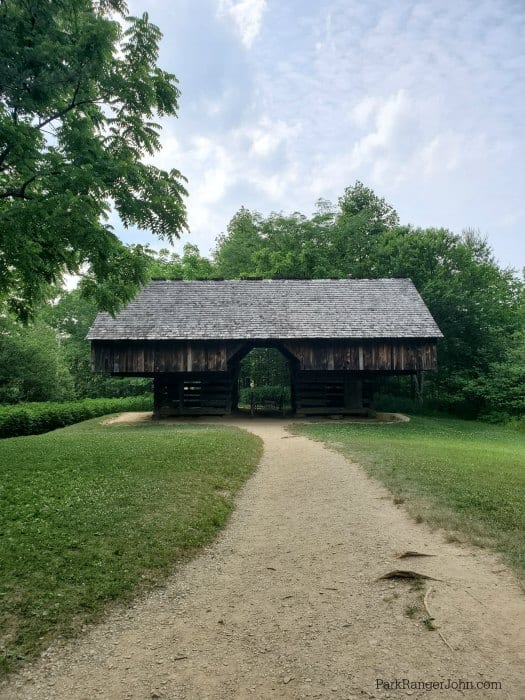 Tipton Place
The cantilever barn across the street from the Tipton Place is one of the most unique historic buildings you will encounter on the auto tour.
This house was built in the early 1870s.
Nature Trail
The short Cades Cove Nature Trail is a great .8 mile loop that lets you stretch your legs and see more of the beauty in this area.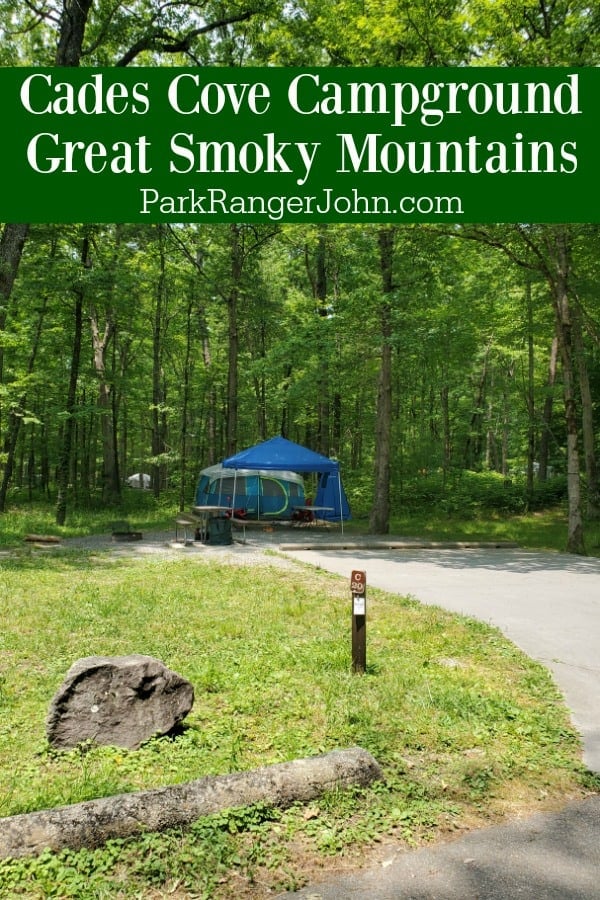 The Cades Cove Campground is open year-round with 159 campsites. The campground can handle Tents and RVs up to 35 feet. Check out our Cades Cove Campground post for more information on how to make reservations, site photos, and more.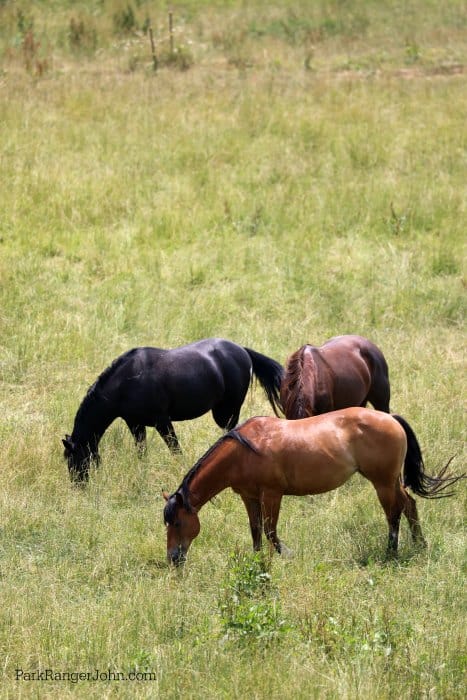 Cades Cove Horseback Riding
The Cades Cove Riding Stable is the only authorized concessionaire in the park. They offer guided horseback rides, carriage tours, hayrides,
Check out the Cades Cove Riding Stables.
Cades Cove Visitor Center
There is a welcome area when you get close to the entrance to the auto tour. You can purchase guide books, check out the maps, and ask volunteers questions.
The main visitor center is halfway around the auto tour loop in the Cable Mill historic area.
When is Cades Cove closed for bikers and foot traffic?
For 2020 the National Park Service has initiated vehicle-free access along the Cades Cove Loop Road each Wednesday, from June 17 through September 30.
From early May through late September, only bicycle and foot traffic are allowed on the Cades Cove Loop until 10 a.m. on Saturdays. Vehicles can enter on Saturdays after 10 a.m.
Cades Cove Wildlife
The auto loop is an amazing way to see Smoky Mountain wildlife! You can see White-Tailed Deer, Black Bear, Coyotes, Wild Turkey, and more!
You may want to bring binoculars with you to view black bears that are off in the distance. We were really happy to have a pair during our last trip to get a safe closer look at wildlife.
Please always keep a safe distance from wildlife. I can guarantee you will see people getting WAY TO CLOSE to wildlife during your visit. Please do not join them.
I had to actually mention to a few people during our last visit that walking up to a momma bear with cubs is not going to go well for them. They wanted to get a close-up photo with their cell phones.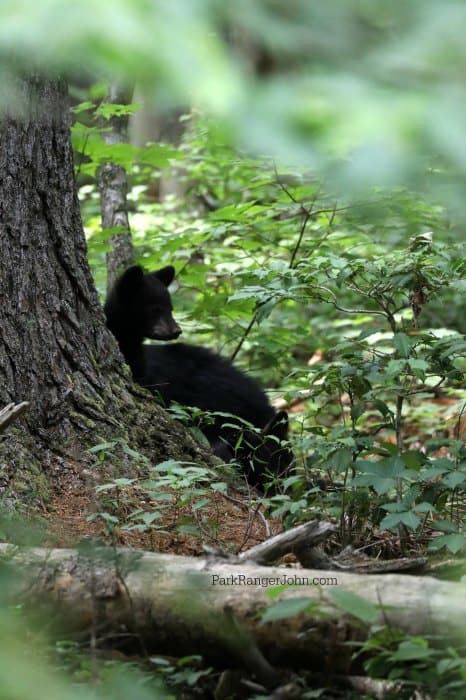 Travel Tips
All passengers in your vehicle must be in seatbelts.
If passengers are sitting in the bed of a truck they have to be seated on the truck bed, not in chairs.
There are no gas stations or restaurants in Cades Cove. No food or drink is available on the loop road. Please plan accordingly with snacks and water.
Additional Resources
Great Smoky Mountains Camping Guide - Learn about each of the park campgrounds, reservations, and site photos.
Top things to do in Great Smoky Mountains National Park - All of the epic things to see and do in the park.
Smoky Mountain Wildlife - Learn more about the wildlife you can see in the park.
Tennessee National Parks - Check out all of the parks you can visit during a trip to Tennessee.
Most Visited National Park Sites - Great Smoky Mountains National Park is the most visited US National Park check out all the other parks that made the list.