Charles Pinckney is best known as a signer of the United States Constitution in 1787. He was known as Constitution Charlie for his work in shaping the Constitution. Charles Pinckney National Historic Site encompasses part of the original 715-acre Snee Farm outside Charleston, South Carolina that Charles Pinckney inherited from his father.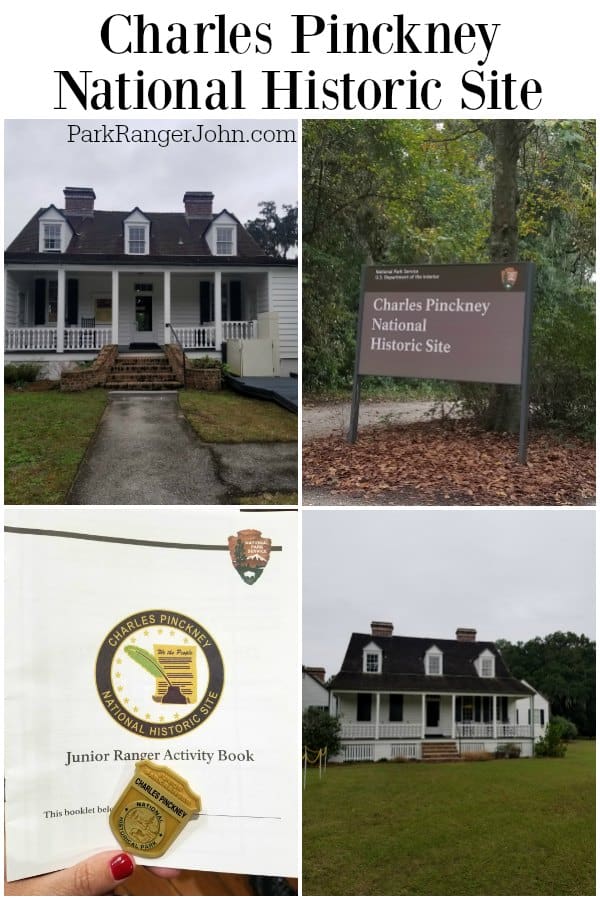 Charles Pinckney National Historic Site
Charles Pinckney was one of 39 signers of the Constitution. One thing we really enjoyed at the park was the focus on how the Constitution was created and the work that went into it.
This site is a reminder of all of the signers and how they spent months without pay working together to create a document that continues to be used.
Snee Farm is noted for hosting George Washington for breakfast in 1791. Charles Pinckney was forced to sell the farm to pay debts. His original house was demolished.
Today the Charles Pinckney NHS managed by the National Park Service occupies a 28-acre section of the original Snee Farms.
The visitor center is in a house that was built in 1828 after Charles Pinckney's death. This is a great opportunity to visit a South Carolina Lowcountry plantations.
When planning a visit to the park I would plan for an hour or two at most unless you plan on having a picnic or participating in a ranger-guided program.
The park is pretty small and can easily be visited with an hour or two.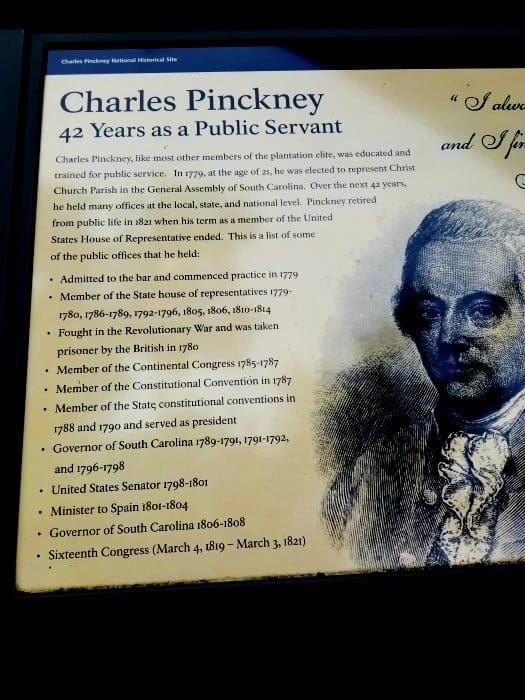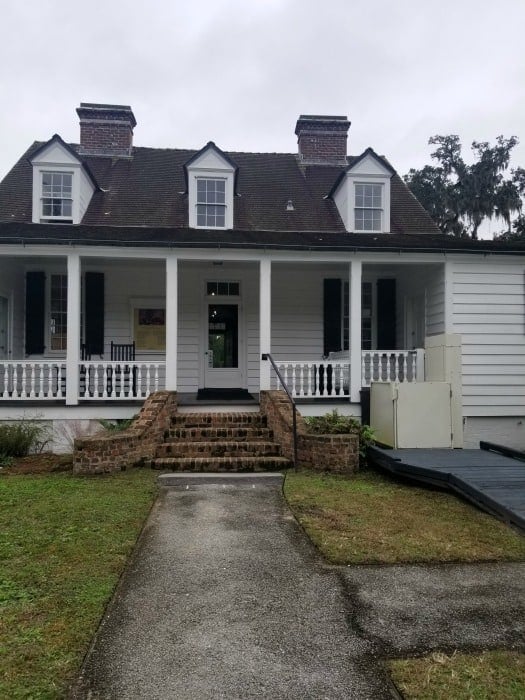 Visit the Visitor Center
An 1828 historic Low-country cottage house serves as the park's visitor center. The visitor center is truly the heart of Charles Pinckney NHS!
There is a small store, park movie, and museum filled with photos and great info on the Gullah - Geechee National Heritage Corridor.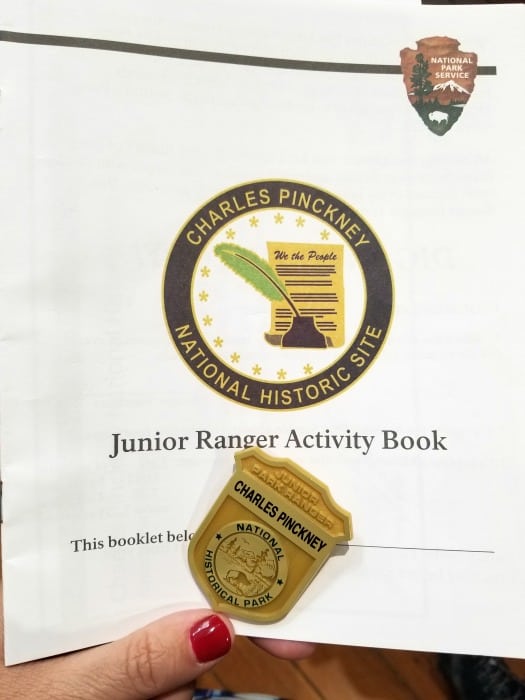 Become a Junior Ranger
The Junior Ranger program for Charles Pinckney NHS can be completed while visiting the visitor center. The program will take between 30 minutes to 60 minutes depending on the age of the visitor.
The program has different requirements by age to help young visitors participate in the program.
Download your own copy of the Charles Pinckney Junior Ranger program to start working on it before your visit.
Watch one of the park films
The park hosts three park films that give you the chance to learn more about Charles Pinckney and South Carolina.
"Forgotten Founder"- 17-minutes long orientation film on Charles Pinckney and his impacts to South Carolina and the United States History
"Founding Brothers: Sides of Slavery"- 11-minutes episode on the ambiguities of the U.S. Constitution and the discussion of slavery.
"The Birth of the Constitution"- 24-minutes episode of Charlie Brown and Friends help the Founding Fathers at the convention in the summer of 1787
Enjoy a Ranger Program
Ranger-led programs offered Saturdays and Sundays at 11:00 a.m. Visitors should expect programs to last approximately 1 hour with a maximum walking distance of a ½ mile.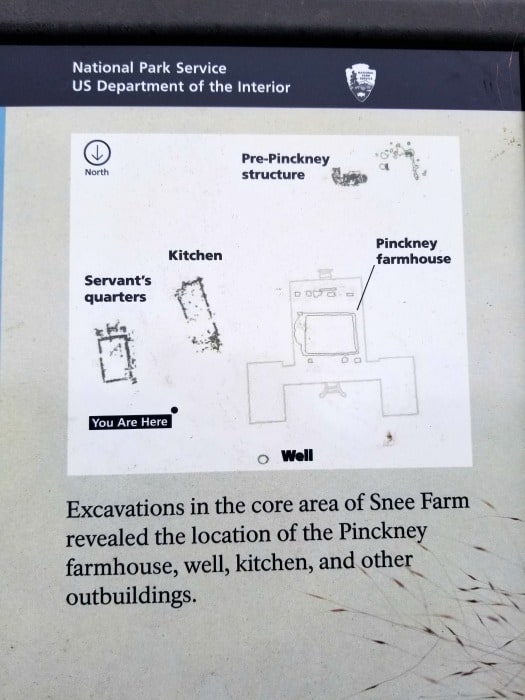 Explore the ½ mile nature trail
The ½ mile nature trail is a great way to explore more of the park outside of the visitor center.
BE PREPARED FOR BUGS!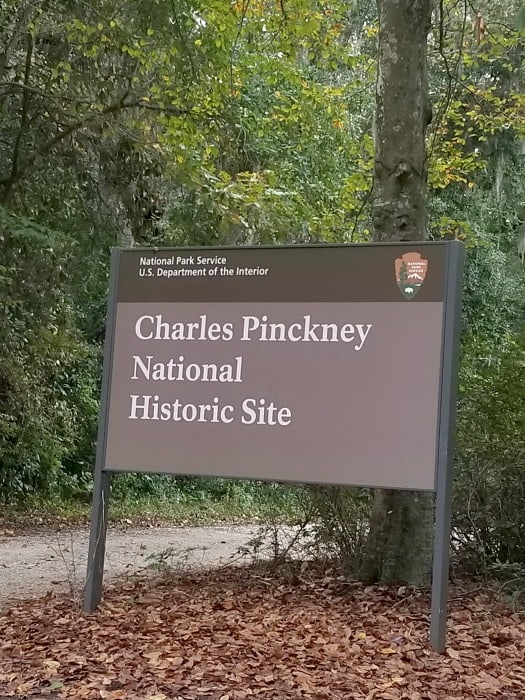 Things to know when planning a trip to Charles Pinckney NHS
Bugs are present and you will want to make sure you have bug spray of some kind with you. We have been treating our clothes ahead of our trips with this permethrin spray. It is good up to 6 washes and has really helped with bug bites.
There are snakes on the property so be careful where you are stepping.
Address
1254 Long Point Road
Mount Pleasant, SC 29464
Charles Pinckney National Historic Site is located on the south side of Long Point Road .7 miles from US Highway 17, or 3 miles if coming from I-526.
Park Hours
The visitor center is open 5 days a week (Wednesday - Sunday), 9 a.m. to 5 p.m. except for New Year's Day, Thanksgiving Day, and Christmas Day.
The Park is closed on Mondays and Tuesdays!
Park Entrance Fee - There is no cost to visit this park
National Parks near Charles Pinckney National Historic Site
Fort Sumter and Fort Moultrie National Historical Park
Reconstruction Era National Historical Park
Fort Pulaski National Monument
Fort Frederica National Monument
Check out all of the great National Parks in South Carolina and neighboring Georgia National Parks, North Carolina National Parks, and National Parks in Alabama
We keep hearing amazing things about Jekyll Island, Georgia, and why it is a great place to visit.