The epic guide to Haleakala Camping is perfect for anyone wanting to plan a camping trip. below is a complete list of campgrounds and cabins and everything you need to know about them.

Epic Guide to Haleakala Camping
Camping in both front country campgrounds is available on a first-come, first-served basis. No permits or reservations are required or accepted.
A person may spend up to three nights per month in Haleakalā National Park between all of the campgrounds and cabins.
Kipahulu Campground
Kipahulu Campground is located in the parks coastal district near the town of Hana. Getting here is half the fun as visitors have a 2.5+ hour drive from the Maui International Airport through the Islands famous 64 miles long Hana Highway.
For those unfamiliar, the Hana Highway (also known as the Divorce Highway) as it has 617 hairpin curves and 59 unforgiving one-lane bridges, not to mention an incredible number of blind spots along the way.
You may ask yourself is it really worth it? Yes! The campground is close to the ocean and the sound of the waves put me to sleep in no time. Sunset was beautiful and we had a great time hiking the Pīpīwai Trail. You will be a short walk to the ʻOheʻo Gulch and Kīpahulu Visitor Center.
The campground does not provide much space between sites and is in a lawn area with a picnic table, barbecue brazier, and vault toilet nearby. Rain is also common here but the views of the ocean are worth it.
One thing I would tell you is to make plans to spend the day exploring the park not relaxing in your tent. We attempted to take an afternoon nap and woke up miserable. The humidity inside the tent along with the warm temperature was not our best camping memory.
There are also mongoose frequently seen around the area so make sure you secure your food in a closed container.
Hosmer Grove Campground
The Hosmer Grove Campground is located in the fog belt of the summit area of Haleakala National Park. It is much cooler than the Kipahulu campground as you are at 7000'elevation. The campground has picnic tables, barbecue braziers, drinking water, and vault toilets.
I love this location for the short trails that start from the campgrounds parking lot. Morning time is best to head out as there are tons of native Hawaiian birds like the 'Apapane and the 'I'iwi. It is also common to see rainbows here! This location also puts you relatively close to the summit for sunrise. Just remember that camping in Hosmer Grove (Or any of the park's campgrounds) does not void the need for a sunrise reservation.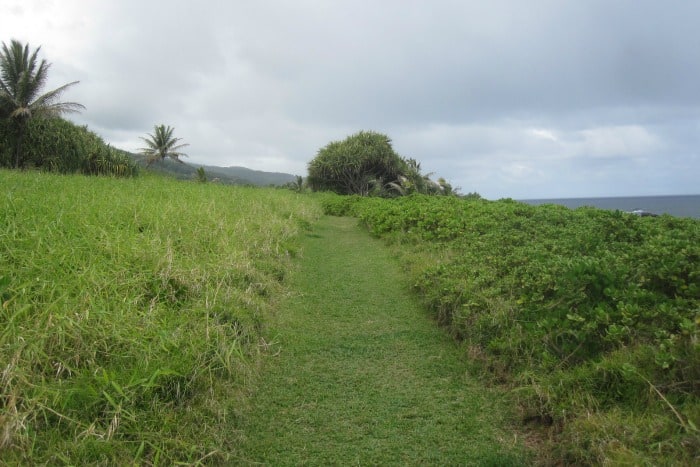 Wilderness Camping
There are two designated wilderness campsites; Hōlua Campsite (6940' elevation) and Palikū Campsite (9380' elevation). Both sites are only accessible by trail and are available on a first-come-first-serve basis. Each person can camp up to 3 nights per 30 day period and only 2 nights at one campsite.
Camping permits can be obtained at the park headquarters visitor center between 8:00 AM and 3:00 PM up to one day in advance and require you to watch a 10-minute orientation video. The permits are free and require a photo ID.
Both campsites have pit toilets and water nearby. Water is not potable and must be treated first. Water is also not a guarantee and can dry up during periods of drought.
It is important to stress the importance of coming prepared. You are entering a true wilderness area where cell phones don't work and help could be days out. Weather is often unpredictable and you need to come prepared.
Hōlua Campsite is 3.7 miles one way down the Halemau`u Trail or 7.4 miles one way on the Sliding Sands Trail.
Palikū Campsite is reached by a strenuous 9.3-mile one-way hike on the Sliding Sands Trail or 10.4-mile one-way hike on Halemauʻu Trail.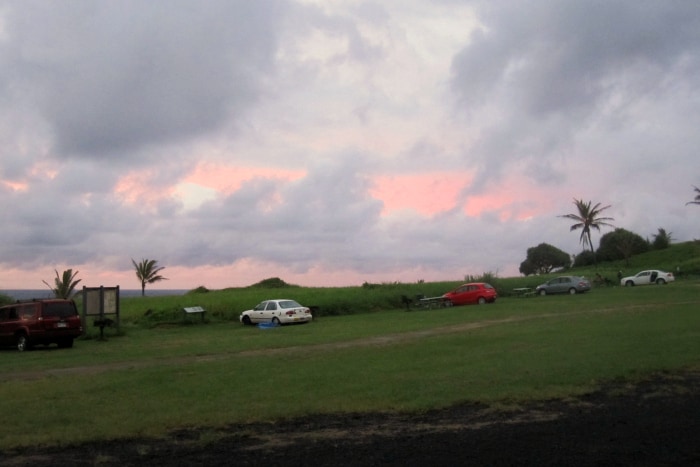 Wilderness Cabins
Like the wilderness campsites, visitors need to come prepared as they are entering the wilderness area of Haleakalā National Park. Temperatures are between 30F-70F and the winds can reach 80mph! This can make for bone-chilling cold at night! Not coming prepared can lead to dangerous situations like hypothermia and dehydration.
There are three rustic wilderness cabins for rent and can be rented online. The fee is $75/night as of 2020 with a $10 non-refundable booking fee. Each cabin has a wood-burning stove, non-potable water (Make sure to treat water before drinking), and pit toilets. You will also get a combination to a locker with 3 pieces of wood per night. If you want more wood, you will have to pack it with you.
There is no electricity in the cabins but they do have cooking utensils, dishes, and 12 padded bunks. In times of drought, the cookware will be removed and you must pack in all your water.
Once you get to Haleakala National Park, you must obtain your cabin permit at the headquarters visitor center between 8:00 AM and 3:00 PM on the day of your reservation.
All three wilderness cabins are accessible only by trail. You must hike a minimum of 3.7 miles to reach the Hōlua cabin, 5.5 miles to reach the Kapalaoa cabin, and 9.3 miles to reach the Palikū cabin.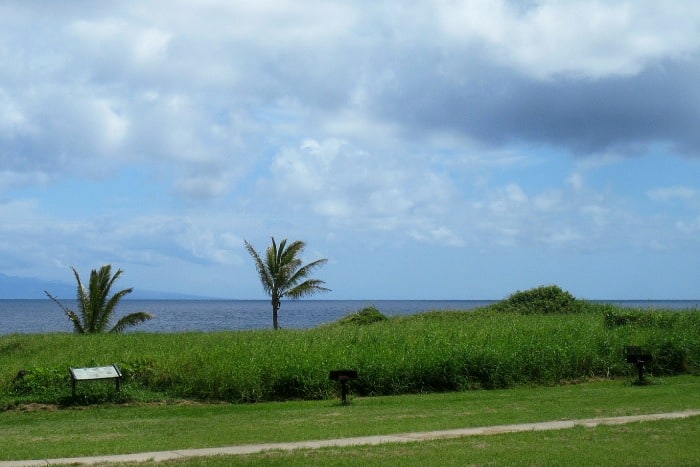 I hope this Haleakala Camping guide helps you plan an amazing camping trip on the island of Maui
Hawaii Volcanoes National Park
City Of Refuge Hawaii - Pu'uhonua o Hönaunau National Historical Park
Kaloko Honokohau National Historical Park
Pu`ukoholā Heiau National Historic Site - Hawaii
Don't miss all of the epic things to do in Maui with kids!