The Lewis Mountain Cabins offer the opportunity to stay next to Skyline Drive in Shenandoah National Park.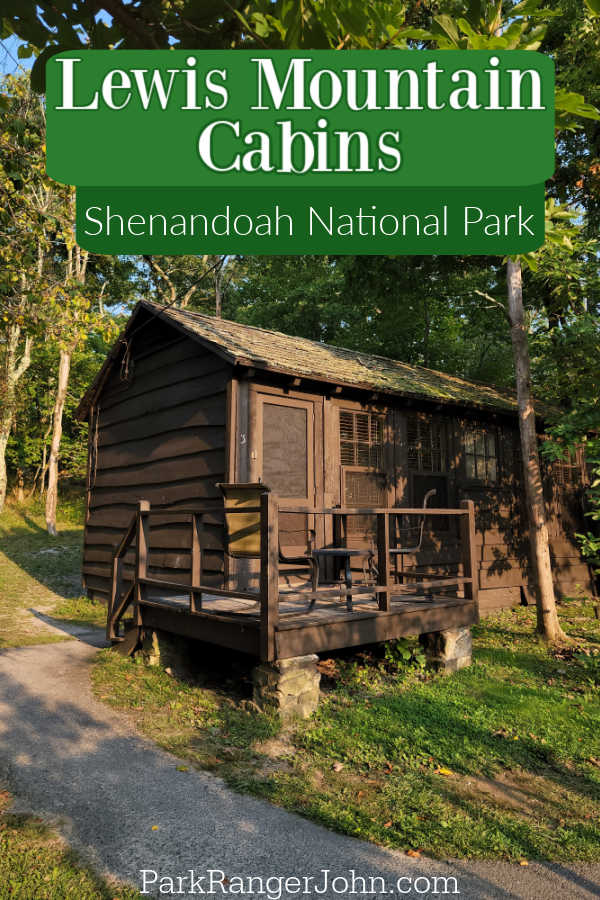 Lewis Mountain Cabins - Shenandoah National Park
The cabins at Lewis Mountain are located next to the campground and small store.
We stayed in a cabin with two double beds, a private bathroom, and a picnic table outside the cabin.
This was one of the most interesting cabins we have stayed in during our National Park travels. the beds are in 2 rooms with a bathroom in the middle of them.
The cabin had a plastic tub for any food to keep mice and squirrels out. I will say that the cabin we stayed in was incredibly dusty.
We woke up feeling like our allergies were very unhappy. There was a lot of wind during our stay and the cabin was a bit loud. You can hear some of the people near you but it quieted down quickly.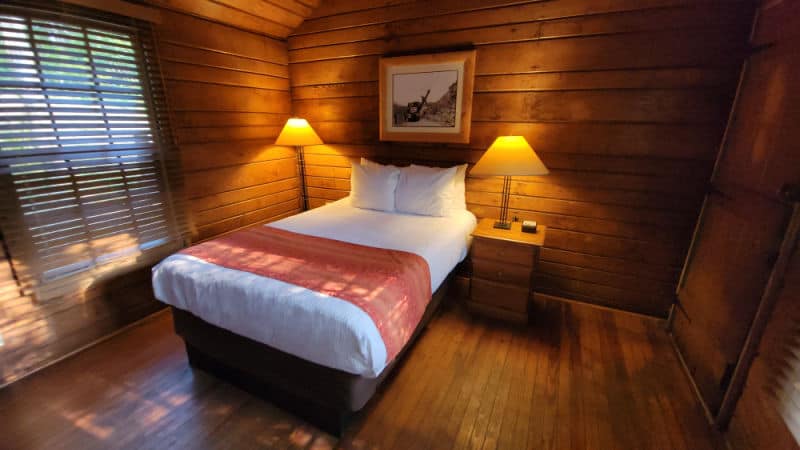 Cabin - Two Double Beds
The two double bed cabin included a private bathroom with a shower, sink, and toilet. There was also a dresser, Keurig coffee maker, chair, and lamps.
The historic furnished cabins are a popular overnight destination. Lewis Mountain Cabins offer comfortable accommodations.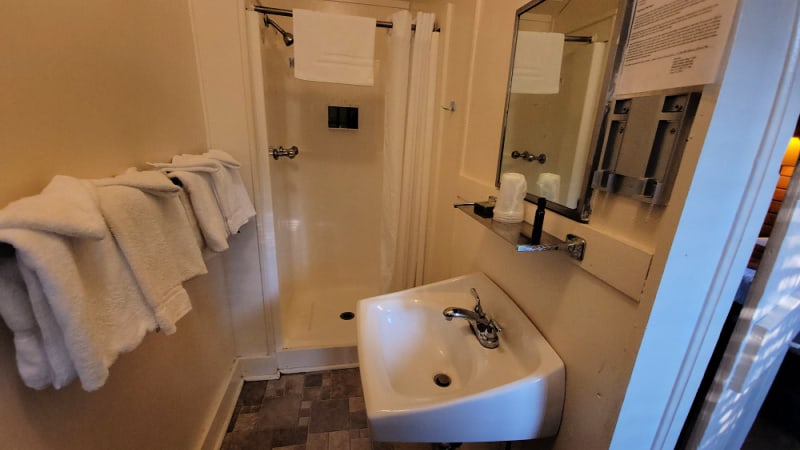 Cabin Amenities
Comfortable two-bedroom cabin with one double bed per room.
Heat, ceiling fan, no air conditioning.
Electric lighting
Shared bathroom
Towels and linens
Sheltered outdoor grill pit and picnic table.
You provide your own cooking utensils, food, and coolers for food, as there is no refrigeration.
Firewood is not included with your stay but is available for purchase at the gift store and other locations throughout the park.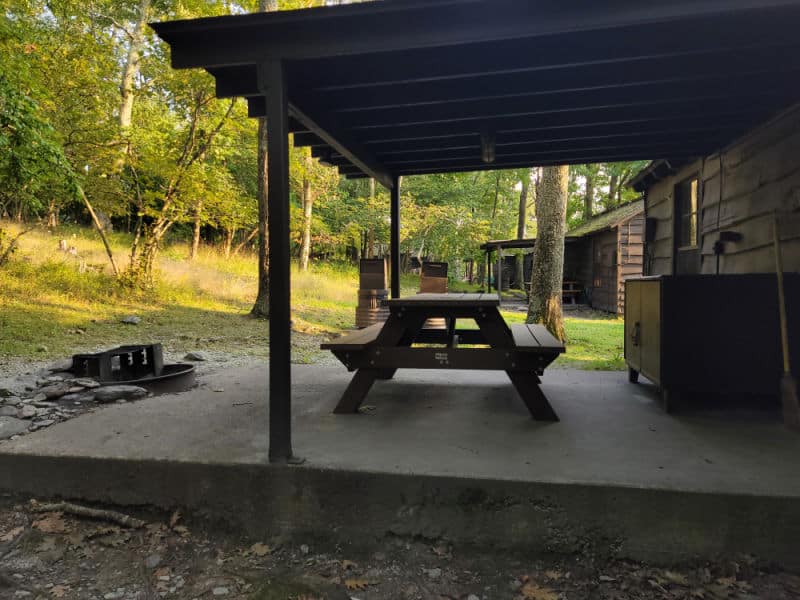 Hikers Cabin
Rustic cabin with two bunk beds.
Potbelly stove for heat, no air conditioning.
Electric lighting
No bathroom or running water.
You must provide your own linens.
Outdoor picnic table with ramp to cooking space.
You provide your own cooking utensils, food, and coolers for food, as there is no refrigeration.
Firewood is provided for the duration of your stay.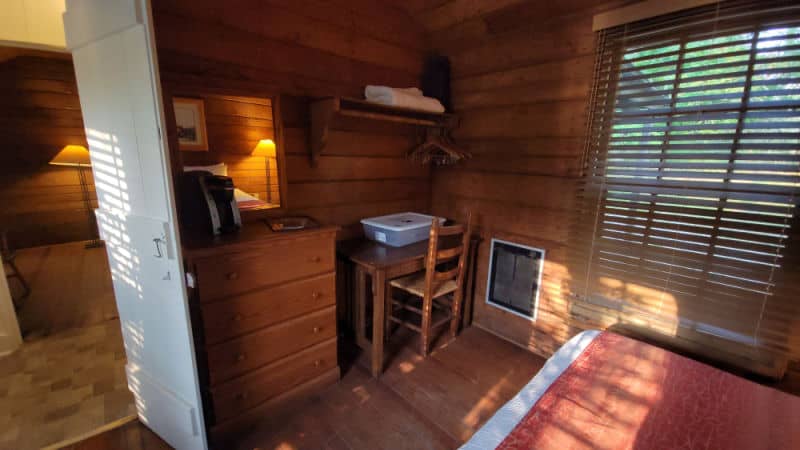 Things to know when planning a stay at Lewis Mountain Cabins
Check-in: 4:00 PM
Check-out: 11:00 AM
All guestrooms are non-smoking
A $5.00 utility add-on fee will be added to the room rate - per room, per night.
A voluntary $1.00 Shenandoah National Park Trust donation will be added to your bill. You may opt-out at any time during your stay.
Cancellations and Modifications -You may cancel or modify your reservation up to 48 hours prior to the 4:00 PM check-in time on the day of your arrival to avoid forfeiture of your full deposit. Changes or cancellations of your reservation within the 48 Hours period will result in a forfeit of your deposit.
Deposit Policy: A deposit equal to the first night room rate plus tax will be charged at the time of booking. Additional Add-On items do not include tax or gratuity and will not be charged in advance.
Pet Policy: We offer pet-friendly rooms and there is a $30 per pet, per night fee. Pets must be noted on your reservation or declared at check-in. If a pet is found in an Allergen-Free room, the guest will be charged a $250 cleaning fee.
Gift Store/snacks: Lewis Mountain Gift Store, open daily from 9:00 a.m. to 5:00 p.m.
The property is managed by Delaware North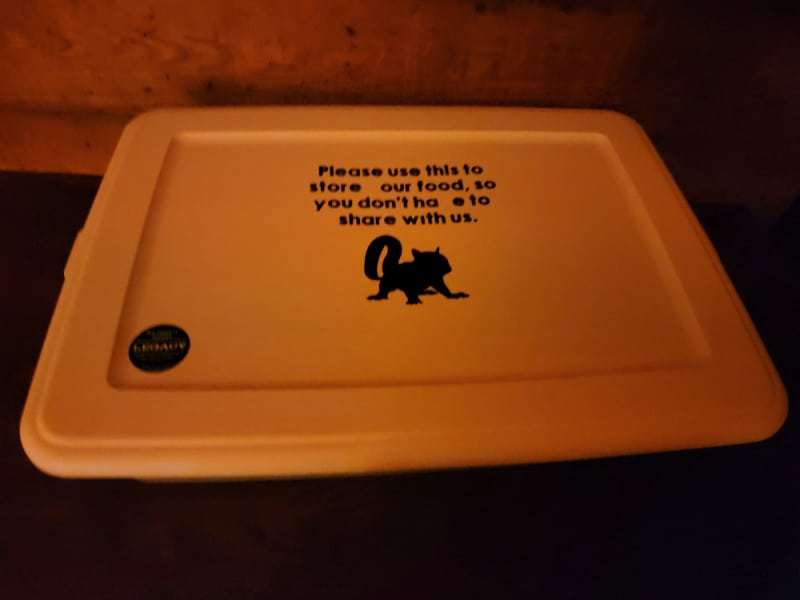 Additional Shenandoah NP Resources
Shenandoah Lodging Guide
Check out all of the National Parks in Virginia along with neighboring National Parks in Washington DC, National Parks in North Carolina, National Parks in Kentucky, National Parks in West Virginia, and National Parks in Maryland