The Moro Rock Trail in Sequoia National Park is perhaps one of my favorite hikes in the National Parks System! This marvelous granite dome can be seen as you drive up into the park. The views are more spectacular from the top! Just be prepared for an adventure that you will never forget.
Moro Rock Trail - Sequoia National Park
Distance: approximate .5 mile round trip, out and back hike
Elevation Gain/loss: 300 Feet
Steps: 350+
Time: 45 minutes-hour
Difficulty: Moderate to Difficult. Park visitors with disabilities, knee and back issues, prone to elevation sickness, will find this trail difficult
Restrooms: There are vault toilets at the trailhead.
Accessibility: This Trail has 350+ steps and is not ADA Accessible.
Pets: Pets are prohibited on all trails within Sequoia National Park.
Parking: Small parking lot near the trailhead. You may have to take the free shuttle from the Forest Museum that runs every 15 minutes.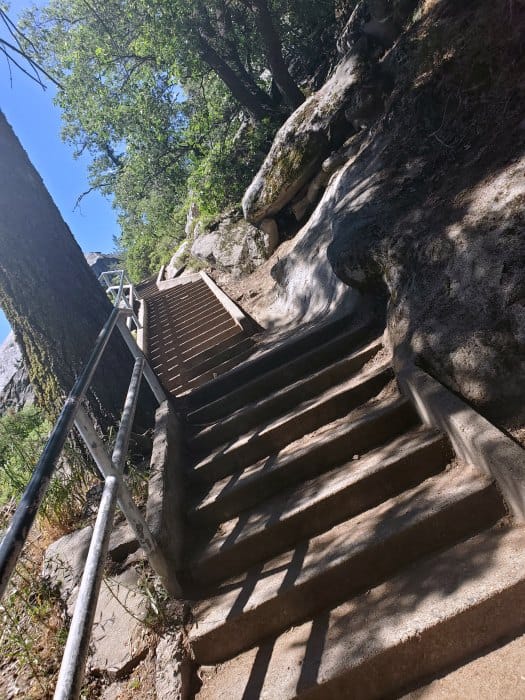 Where is Moro Rock Trailhead
From the South, enter Sequoia National Park through the Ash Mountain entrance and continue on the Generals Highway to the Giant Forest Museum. Turn right just before the museum on Moro Rock/Crescent Meadow Road and follow the signs straight up to the Moro Rock parking lot.
There is a "Y" in the road approximately one mile up. The right takes you to Moro Rock and the left takes you to Tunnel Log and Crescent Meadow. When you get to the trailhead parking area, you will most likely have to exercise patience as there is limited parking at the trailhead.
You can opt to park at the Giant Forest Museum and take a 4.6 mile hike that includes the Soldiers Loop Trail but you will also need 3-4 hours to complete this hike.
From the North, enter Sequoia and Kings Canyon National Parks through the Big Stump Entrance at Kings Canyon National Park. You will then take a right onto the Generals Highway and continue south to the Giant Forest Museum. Take a left onto Moro Rock/Crescent Meadows road and follow the signs to the trailhead.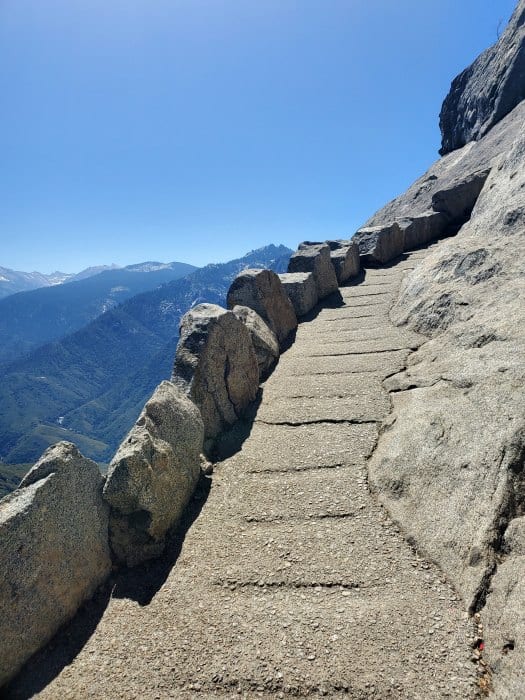 Hiking Moro Rock Trail
Moro Rock trail climbs 300 feet in just a 1/4 mile! Be prepared as you accent 350+ steps, look over steep drop-offs and have unperilled views of Sequoia.
This is definitely not a place to let children run free! The hike itself has spectacular views, excitement around each corner all the way to the top. From here you can look out to the west and see the foothills of Sequoia National Park, the communities of Three Rivers and the San Joaquin Valley.
Views to the east include the Great Western Divide as well as the headwaters of the Middle Fork of the Kaweah River.
There are picnic benches near the bottom to rest but nothing on the way up or down.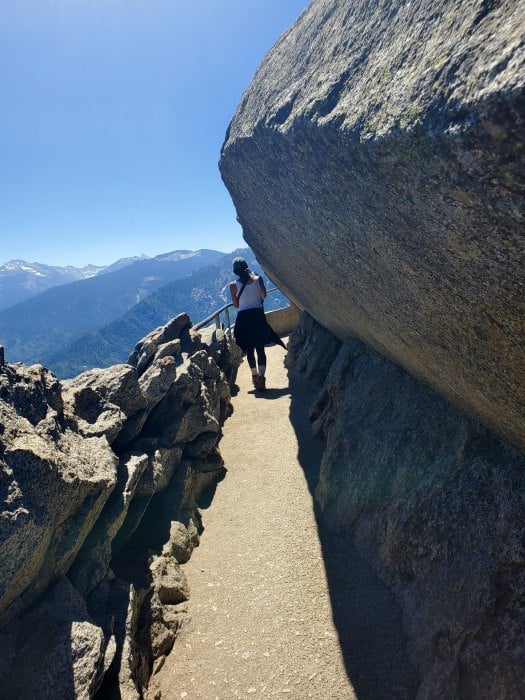 Moro Rock + Soldiers Trail Loop
Distance: 4.6 mile loop trail
Time: 3-4 hours
Difficulty: Difficult
Parking: Giant Forest Museum
The Soldiers Trail Loop starts off the western edge of the Giant Forest Museum. What I love about taking this trail is that you get to hike through the Giant Sequoias on your way up to Moro Rock. When you get close to the Moro Rock area, there is a short trail that takes you to Hanging Rock. This is a great place to get a view of Moro Rock!
You may think you are finished after hiking to the summit and simply following the trail back but you are not. You get to continue on to the Roosevelt Tree. This tree was names after Theodore Roosevelt after his visit here in 1903. You will then run into the jaw-dropping triple tree. This is where three Giant Sequoias grew together!
Continue hiking and when you cross the road, you can see Tunnel Log. This tunnel made through a fallen sequoia is easily big enough to fit a full size SUV through.
From here you continue hiking through the least visited portion of the giant forest as you make your way to the site of Soldiers Camp. It is here where the U.S. Calvary Troops who patrolled the park lived prior to 1913.
The trail ends as you connect to the Alta Trail that leads you back to the Giant Forest Museum.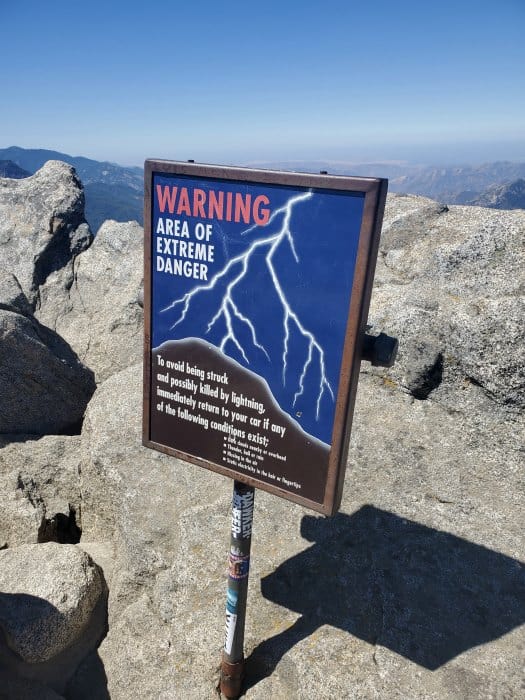 Trail Safety
Moro Rock has great views and is definitely a top attraction when visiting Sequoia National Park. This does not mean that you should go and forget about your personal safety. Sequoia is a remote and rugged landscape and it could be hours before getting to a hospital, especially if you have to be taken out. Here are a few things to think about before making the trip to the top of Moro Rock
Consider your overall health. I tell people that this a difficult hike because it is more like exercising on a stair stepper than going for a stroll in the woods. There is 350-400 steps up plus additional elevation gain on this short hike.
The trail also starts at over 6,000 feet in elevation to make this hike a little more challenging, especially to those who live closer to sea level. This also is very difficult for those who have bad knees, bad backs, ankles, etc. I'm not saying you won't be able to do it but you might want to be prepared with pain relievers.
You also need to look at weather conditions before heading out. The trail is closed if there is snow/ice on the trail. This is for good reason as there are steep drop-offs all along this trail and some places there is no guard rail to grab ahold of.
Make sure to check the weather forecast for the chance of lightning. Remember that you don't want to be on top of the tallest point and well you are hiking to the tallest point. Where else are you going to get those spectacular views of the Great Western Divide and the San Joaquin Valley?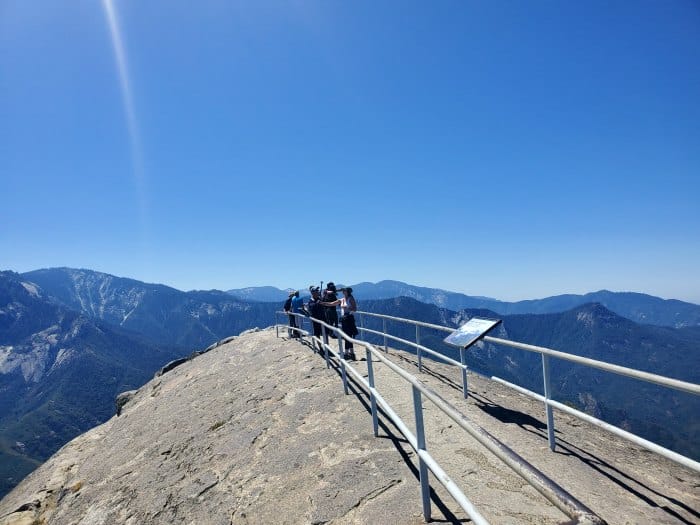 What to Bring
Sunscreen: There is no shade or cover! This is a hot hike when the sun is out. Don't forget to bring a hat and sunglasses too.
Water: Water is the best thing to fight elevation sickness and you are in high elevation. This is also a strenuous exercise getting to the top so make sure to drink plenty of water.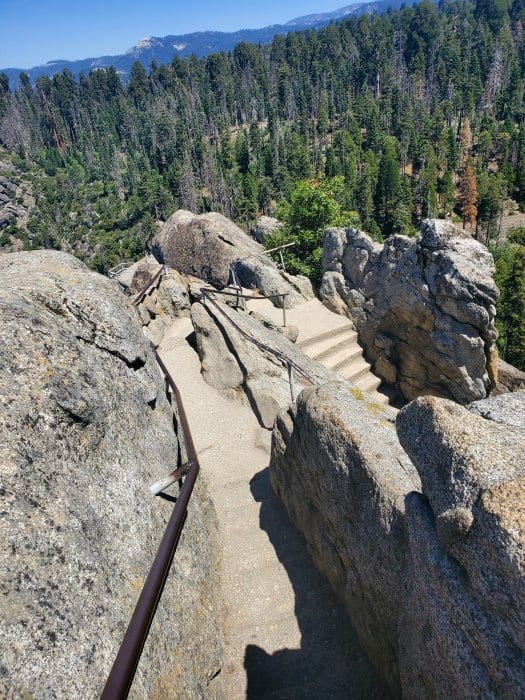 Things to do at Kings Canyon National Park
See the General Sherman tree (The biggest Tree in the world by volume)
See the General Grant Tree (The second biggest tree in the world by volume, the nations Christmas Tree)
See the Legacy Tree in Visalia California (This tree was a gift from the National Park Service in joint cooperation with the USPS)
Visit Yosemite National Park and The Mariposa Grove of Giant Sequoias
Make a Big Trees Road trip and see both Sequoia Trees (Biggest Trees in the World by Volume) and Redwood Trees (Tallest Trees in the World)
National Parks in California - Check out all of the 28 national park sites you can visit while in California