Mather Campground is located on the South Rim of Grand Canyon National Park. This large campground offers easy access to the South Rim of the Grand Canyon and great wildlife watching with elk in the campground.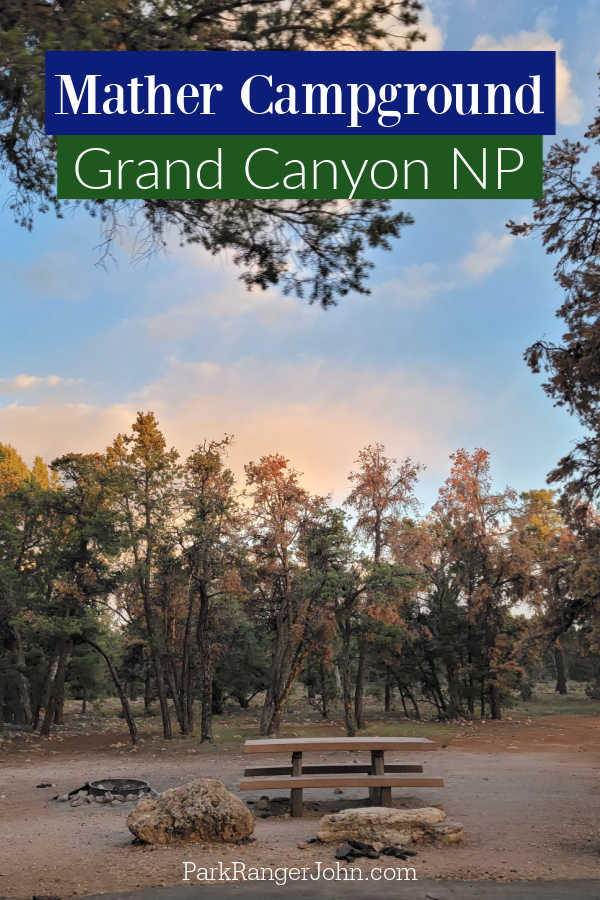 Mather Campground - Grand Canyon National Park
Mather Campground is the largest campground within Grand Canyon NP. The campground provides easy access to the scenic overlooks the south rim of Grand Canyon is knowns for. The campground is managed by the National Park Service.
If you are camping with an RV make sure to also check out Trailer Village RV Park just down from this campground.
This campground offers easy access to the visitor center, general store, Grand Canyon Shuttle Buses, and the south entrance.
Number of Sites: 327
Location in the park:
Campsite Cost: $18
Senior/Access Camping Fee: $9, Golden Age or Access passport holders pay only ½ price year-round (passport number is needed when making reservation and passport holder must be camping at the site).
Payments accepted:
Reservations: Yes, see below for info on how to make a reservation.
Campground Address: 1 Mather Campground Rd, Grand Canyon Village, AZ 86023
Latitude/Longitude: 36.04972, -112.12047 -- 36°2'59"N, 112°7'14"W
Accessible Sites: Fourteen ADA accessible sites are available as needed to our visitors with disabilities. Sites feature larger parking areas and raised fire rings. Sites are located in close proximity to restrooms.
Pets Allowed: Yes, must be on a leash.
Check out Desert View Campground for another great Grand Canyon Camping opportunity.
Campground Reservations
Are campground Reservations Available? From March 1- November 30 (Peak Season) all campsites are by reservation only
Phone Number? 1-877-444-6777
Online? https://www.recreation.gov/
How Far Ahead can you make a reservation?
First Come, First Served? This campground does not offer first-come, first-served sites during Peak Season.
During the winter months (December 1- February 28), the campground office is closed and online reservations are not available. Campground registration is by ''first-come, first-served'', using the self-pay machine located at the campground kiosk at the entrance to the campground.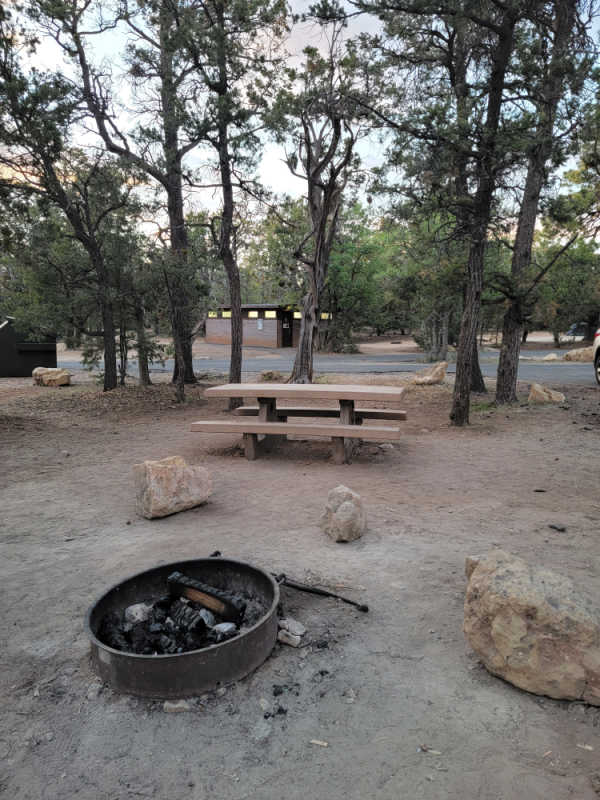 Campground Amenities
Dump Station: Yes
Bear Boxes: No
Flush Toilets: Yes
Payphone: Yes
Is Wi-Fi available? The closest free Public Wi-Fi is at the general store (Canyon Village Market) and in the lobby of Yavapai Lodge. Both are located in Market Plaza, 0.4 mile (.64 km) from the Mather Campground entrance.
Is cellular Phone Service Available? Maybe but most likely you will get better service in Grand Canyon Village or along Desert View Drive.
Is camp host available on site? Yes
Is firewood available for purchase? Wood may be purchased at the Canyon Village Market general store
Amenities at each campsite:
Fire pit in the site? Yes
Picnic Table in the site? Yes
Potable Water? Drinking water is very easy to find in the campground.
RV Camping at Mather Campground
RV Length: RV Max Length in Feet - 30
Trailer Max Length in Feet - 27
Generators: 7–9 am and 6–8 pm. Generators may not be used in Pine Loop.
Hook-Ups: There are no RV hook-ups at Mather Campground.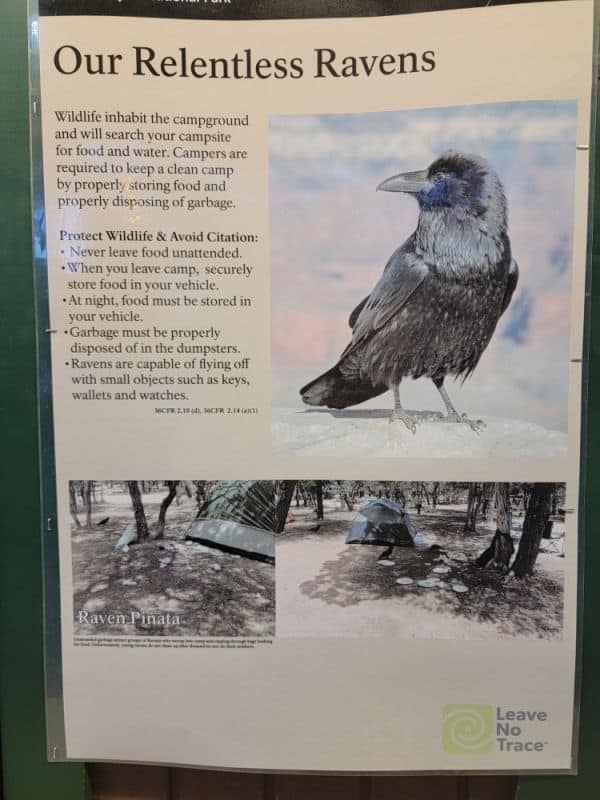 How to get to Campground
Make sure to follow the signs to the campgrounds as you drive through Grand Canyon Village. They will lead you to Mather Campground.
The maximum number of people in a campsite: 6 people
The number of cars per campsite: 2
Check-in time: 12 pm
Checkout time: 11 am
Quiet Hours: 10 pm to 6 am
Stays limited to 7 consecutive days and 30 days per calendar year.
Campground Map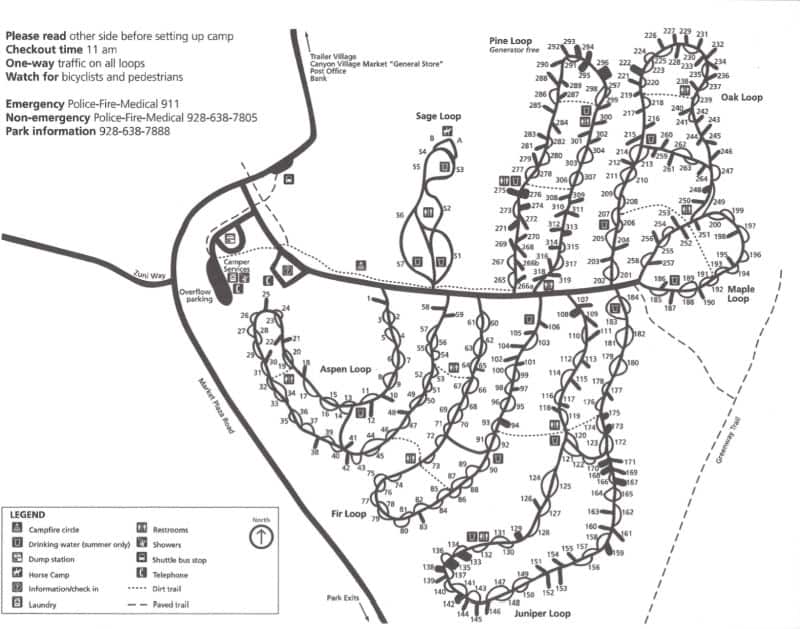 Photos of Mather Campground
Additional Grand Canyon Resources
Things to do Grand Canyon - The top things to do in Grand Canyon that you don't want to miss during your trip!
Grand Canyon Restaurants - South Rim - Check out all the delicious places to enjoy a meal during your trip.
Grand Canyon Shuttle Bus - Find out what you need to know to plan your trip.
Grand Canyon Winter - If you are heading to the park in the winter make sure to plan ahead.
Arizona National Park - Check out all of the amazing National Parks in Arizona you can visit. So many are close to the Grand Canyon!
Grand Canyon National Park Lodges - Check out all of the lodges you can stay in within the park including Bright Angel Lodge, Phantom Ranch, and the El Tovar.
National Park Lodges - The El Tovar is just one of the amazing National Park Lodges in the United States.
Check out all of our Grand Canyon National Park articles for additional information and great tips on planning an epic vacation to this beautiful Arizona National Park!