Yavapai Lodge is located near the south rim of the Grand Canyon in Arizona. The lodge offers comfortable rooms with easy access to the South Rim and amazing Grand Canyon Viewpoints.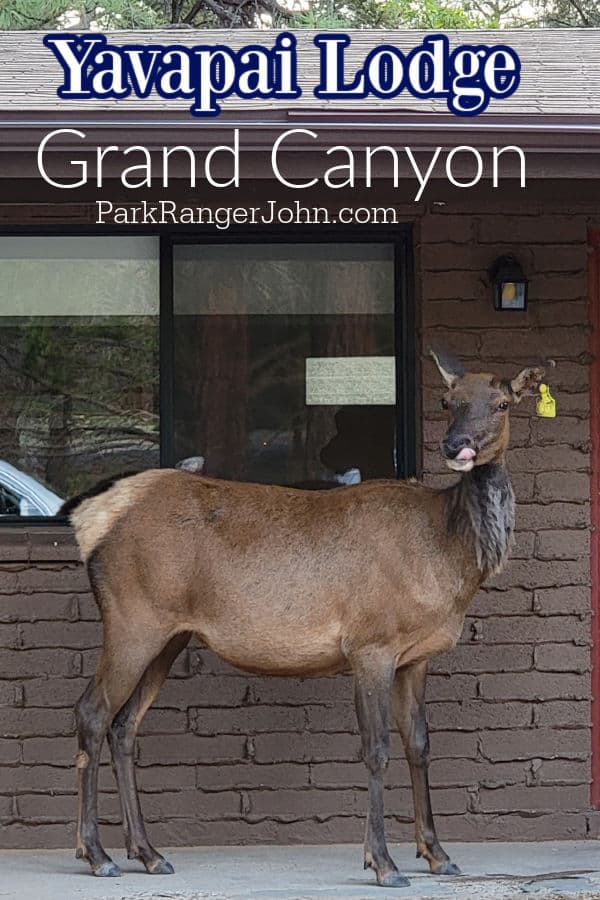 Yavapai - Grand Canyon National Park
This National Park Lodge is one you don't want to judge just by driving by. You know the old saying of don't just a book by its cover well that is exactly what we did with this lodge.
I hate to admit it but during one of our trips to the Grand Canyon, we drove by Yavapai Lodge and thought it looked a bit run down. We honestly put off staying at the lodge until it was the last Grand Canyon Lodging that we hadn't stayed at.
We stayed in every other hotel and lodge in the Grand Canyon before booking a stay at Yavapai Lodge and now I can't believe what we were missing out on.
Honestly, the hotel may be one of our new favorite places to stay while visiting the park. The customer service from the staff is truly amazing. From the front desk to the restaurant the customer service truly impressed us.
Then you pull up to the lodge and realize you can back your car right up to the door and unload all of your stuff without much of a hassle. I will say the Yavapai Lodge West rooms are in a single story building making it super easy to unload and get in and out of your room.
The Yavapai Lodge East rooms are a 2 story building so you may have to deal with a few stairs.
We stayed in the lodge during our 16 day Southwest National Park road trip and wished we had booked an additional night. It was so nice being able to unload the car after 10 days and get everything organized easily.
Another bonus is the ice maker located by each building. We were able to fill the cooler with ice and save the $6.99 a bag that we saw in the Mather Campground.
If you are looking to see Grand Canyon Wildlife you may not have to look farther than the hotel parking lot. We headed out to Mather Point for sunset and as we were leaving the room we realized a female elk was hanging out on the sidewalk next to a room just down from us.
I have to tell you the guests who wanted to get into their room were not sure what to do. They were so tired and there was a big elk standing next to the door not wanting to move.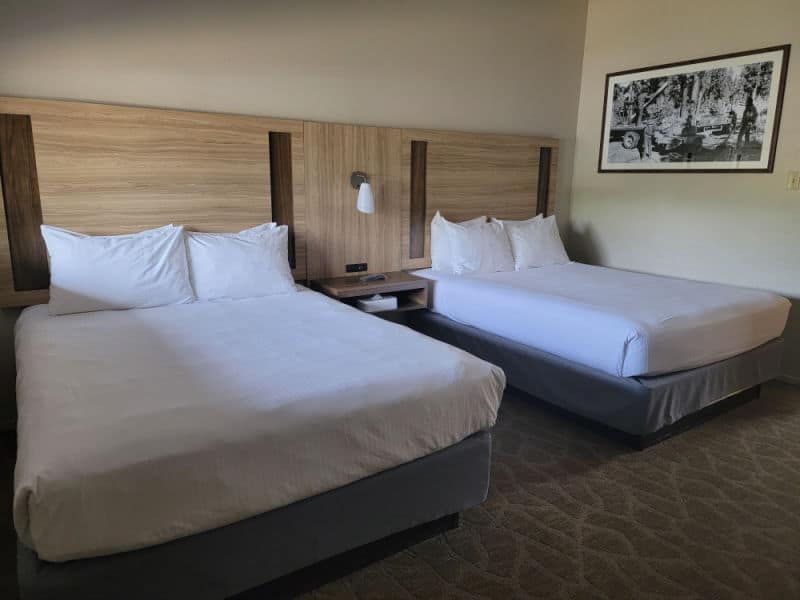 2 Queen Bed – Yavapai Lodge West
The 2 queen bedrooms had really comfortable beds with great linens. There is a nightstand between the beds with a charging area for USB plugs or regular electrical plugs. The room also has a great flat-screen TV, dresser with a few drawers, bench for luggage, and an amazing coffee bar area.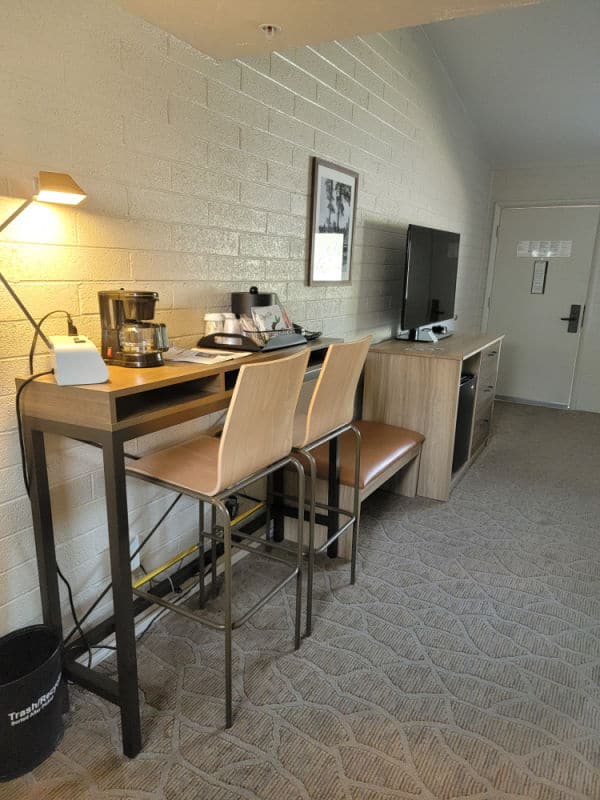 The coffee bar is on a small elevated table with 2 bar stools and a small coffee maker. It was so nice being able to make a small pot of coffee and not just a single glass at a time.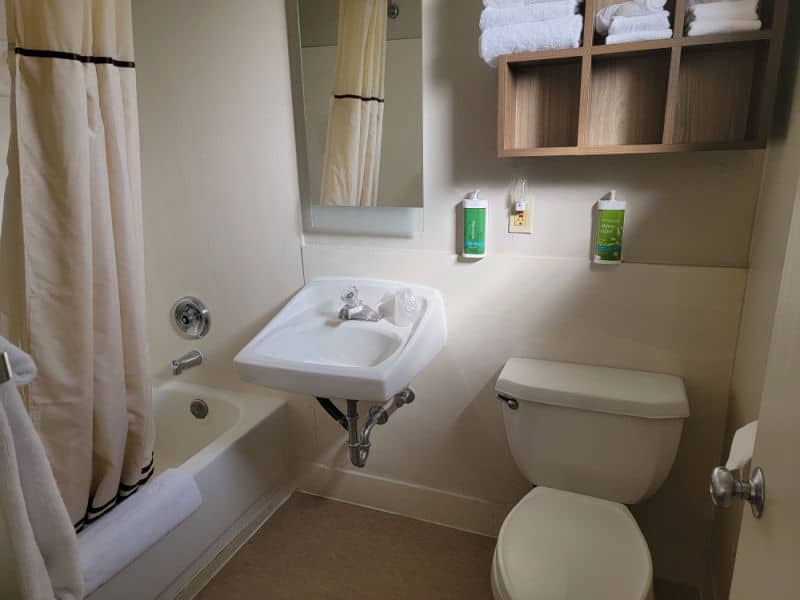 The bathroom has a shower/tub combination with pretty good water pressure considering you are next to the Grand Canyon. There are Bath and Body Works products including shampoo, conditioner, and body wash in the shower and hand soap and lotion near the sink.
We found the room to be really quiet considering it is in the middle of one of the most visited National Parks in the United States.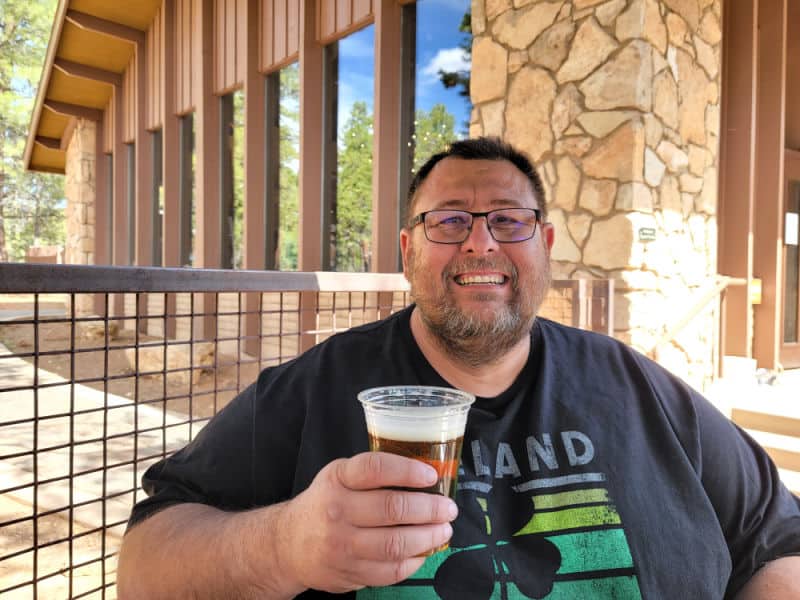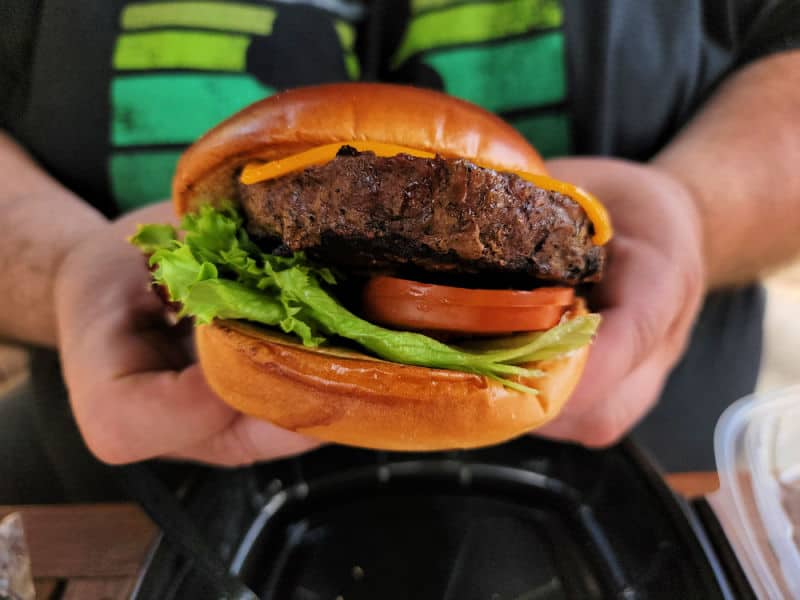 Restaurants at Yavapai Lodge
Coffee Shop - The coffee shop has a great variety of breakfast pastries and burritos along with pre-made options that can easily be grabbed on the go. One thing I will say is the coffee shop was not fast when we were there. The food and coffee drinks were great but it took longer than we thought it would.
Yavapai Tavern - We had an amazing lunch at Yavapai Tavern! This may be our new favorite place to eat in the Grand Canyon! The outdoor dining is epic! The staff was incredibly friendly and we were able to enjoy a craft beer and great food while watching elk walk by.
Yavapai Lodge's Dining Hall - serves Southwest-inspired American comfort food and other chef-inspired items. They are open for breakfast, lunch and dinner.
There is also a great gift shop located in the lobby with amazing Grand Canyon souvenirs.
From the main lobby, you are right across the parking lot from the General Store, Post Office, Chase Bank, and other market plaza amenities.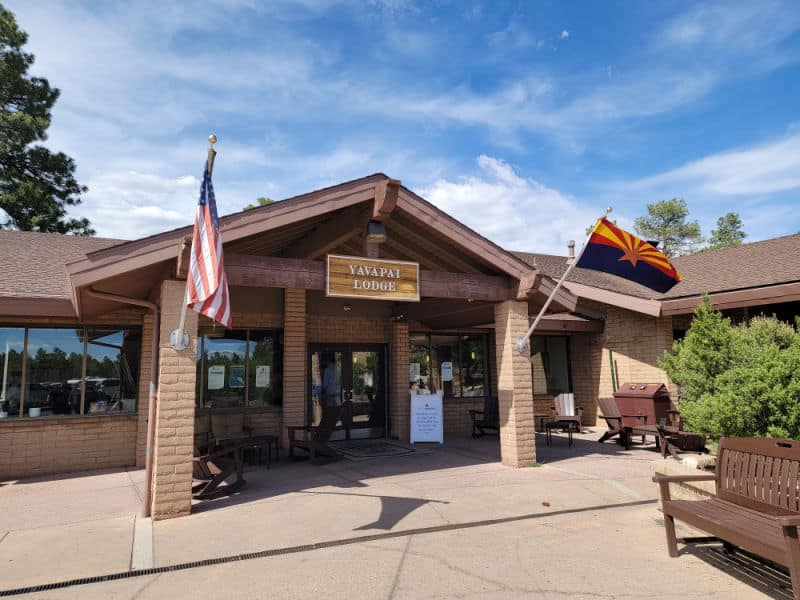 Things you need to know
Check-In Time - 3 pm
Check out Time - 11 am
Smoking - all of the Lodges have non-smoking accommodations.
Wi-Fi - Wi-Fi is available at the Yavapai Lodge main building (Wi-Fi is not available in Yavapai Lodge guestrooms).
Pets - Yes. Yavapai Lodge is the only pet-friendly hotel in Grand Canyon, with a number of rooms available for guests traveling with their dog or dogs (up to 2 per room). A number of pet-friendly rooms are available in Yavapai West, and there is an additional $25 pet fee per day.
Address - 11 Yavapai Lodge Rd, Grand Canyon Village, AZ 86023
Phone Number - Contact Yavapai Lodge directly at 928-638-4001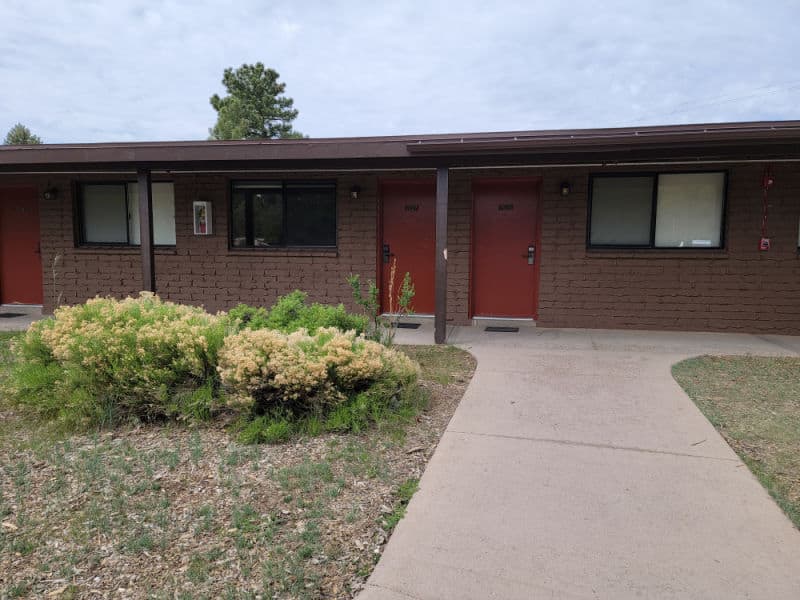 Where is Yavapai Lodge located?
The lodge is conveniently located on the South Rim of the Grand Canyon. You can easily access the Grand Canyon Shuttle Buses from the lodge.
GPS coordinates: 36.0542° N, 112.1199° W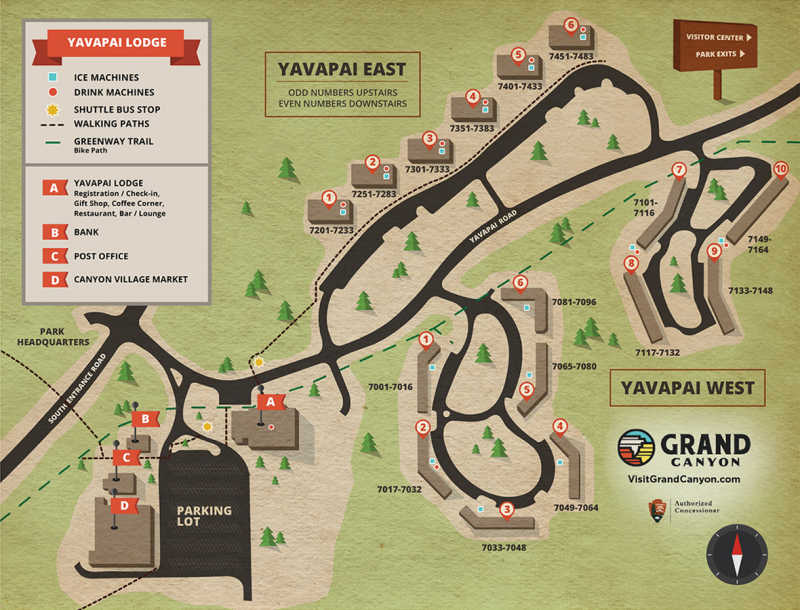 Additional Grand Canyon Resources
Things to do Grand Canyon - The top things to do in Grand Canyon that you don't want to miss during your trip!
Grand Canyon Restaurants - South Rim - Check out all the delicious places to enjoy a meal during your trip.
Grand Canyon Shuttle Bus - Find out what you need to know to plan your trip.
Grand Canyon Winter - If you are heading to the park in the winter make sure to plan ahead.
Arizona National Park - Check out all of the amazing National Parks in Arizona you can visit. So many are close to the Grand Canyon!
National Park Lodges - The El Tovar is just one of the amazing National Park Lodges in the United States.
Check out all of our Grand Canyon National Park articles for additional information and great tips on planning an epic vacation to this beautiful Arizona National Park!
National Parks Near the South Rim of the Grand Canyon to visit
Sunset Crater Volcano National Monument
Walnut Canyon National Monument
Montezuma Castle National Monument
Petrified Forest National Park
Make sure to check out all the great Arizona National Parks, Utah National Parks, New Mexico National Parks, and Nevada National Parks.