Mathew Arm Campground in Shenandoah National Park is located in the northern portion of the park near the Front Royal entrance. This front country campground is close to famous Skyline Drive, has great hiking trails, and attractions within the park.

Mathew Arm Campground - Shenandoah National Park
There is a ton of tree cover and shade on most of the campsites.
Campers can explore Traces Trail a 1.7-mile loop hike that circles the campground.
Number of Sites: 165
Location in the park: Northern portion of the park. The nearest campground for those entering Shenandoah National Park from Front Royal
Campsite Cost: $15
Senior/Access Camping Fee: Holders of Interagency Senior and Access passes are eligible for a 50% discount on their camping fee.
Reservations: Yes, there are also first come first served sites in the campground.
Campground Address: 801 Mathews Arm Entrance Road, Luray, VA, 22835
Latitude
38° 45' 36.1800" N
Longitude
78° 17' 52.3298" W
Accessible Sites: Four ADA accessible sites are available, however, accessible shower and laundry facilities are not available at Mathews Arm Campground.
Pets Allowed: Yes, Pets must be on a leash no longer than 6 feet at all times.
Campground Reservations
Are campground Reservations Available? Yes, there are also first come first served sites
Phone Number? 877-446-6777
Online? Recreation.gov
How Far Ahead can you make a reservation? 6 months
First Come, First Served? Yes
Campground Amenities
Dump Station: There is a dump station a 1/4 mile from the campground.
Bear Boxes: Yes, not all sites have food boxes. Make sure to properly store your food. Black bears are common in the park.
Flush Toilets: Yes
Payphone: No
Is wifi available? No
Is cellular Phone Service Available? We had a couple of bars of 4G with T-mobile in the campground.
Is camp host available on site? Yes
Is firewood available for purchase? To help slow the spread of the emerald ash borer, visitors must only use USDA-certified firewood (signified by the USDA stamp on packaging), which can be purchased in the Park.
Amenities at each campsite:
Fire ring in the site? Yes
Picnic Table in the site? Yes
Potable Water? Yes
Check out our full Shenandoah National Park Camping Guide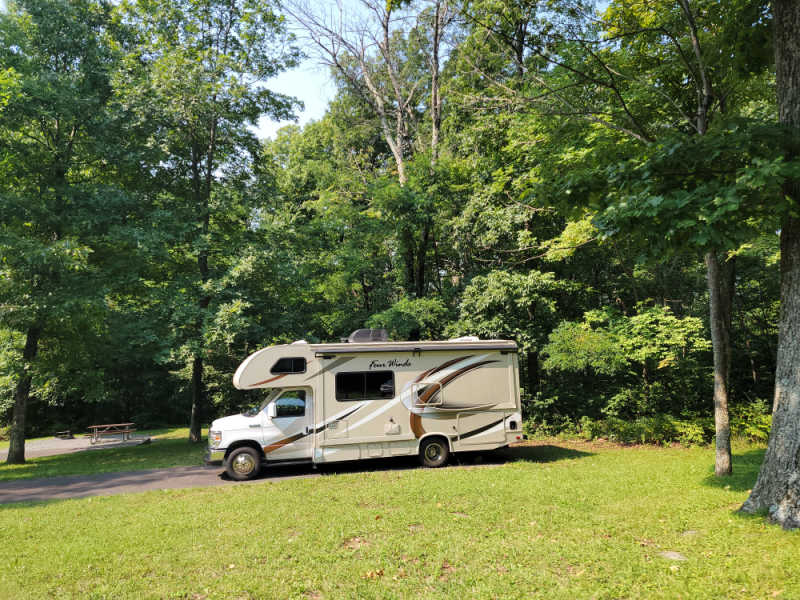 RV Camping at Mathews Arm Campground
Generators: Generators may be used from 8 a.m. to 10 a.m. and from 4 p.m. to 7 p.m.
From October 15 through the end of the season, generator hours are extended to 9 p.m. for the purpose of generating heat.
Generator use is prohibited in sites designated as "generator-free" and in group sites.
How to get to Campground
From Washington D.C., travel west on Interstate 66 to Front Royal, Virginia (62 miles). Take the exit onto Route 340 South, and follow signs for Shenandoah National Park and Skyline Drive.
Upon entering Skyline Drive, make your way south to mile 22.1 (mile markers can be seen on the side of Skyline Drive), where you will find Mathews Arm Campground.

Campground Regulations
The maximum number of people in a campsite: 6
The number of cars per campsite: 1 RV or motorhome
Checkout time: 12 pm
Quiet Hours: 10 pm to 6 am
Stay Limit: 30 days
use of charcoal grills is prohibited.
National Park Service Website: https://www.nps.gov/shen
Campground Map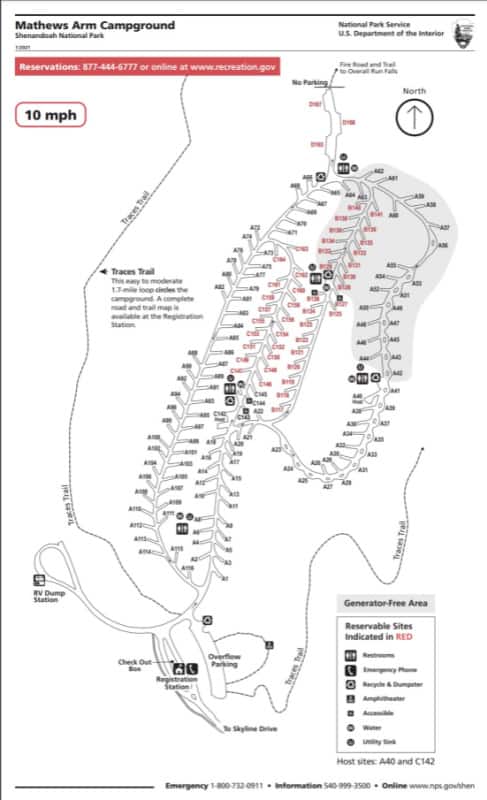 Photos of Campground
Additional Shenandoah NP Resources
Shenandoah Lodging Guide
Things to do in Shenandoah NP
Appalachian Trail
Check out all of the National Parks in Virginia along with neighboring National Parks in Washington DC , National Parks in North Carolina, National Parks in Kentucky, National Parks in West Virginia, and National Parks in Maryland