We are so excited to share our Voyageurs National Park Trip Report! We spent multiple days exploring the park including taking a ranger-led boat tour of Little American Island. We also saw the Northern Lights and tried a ton of local restaurants.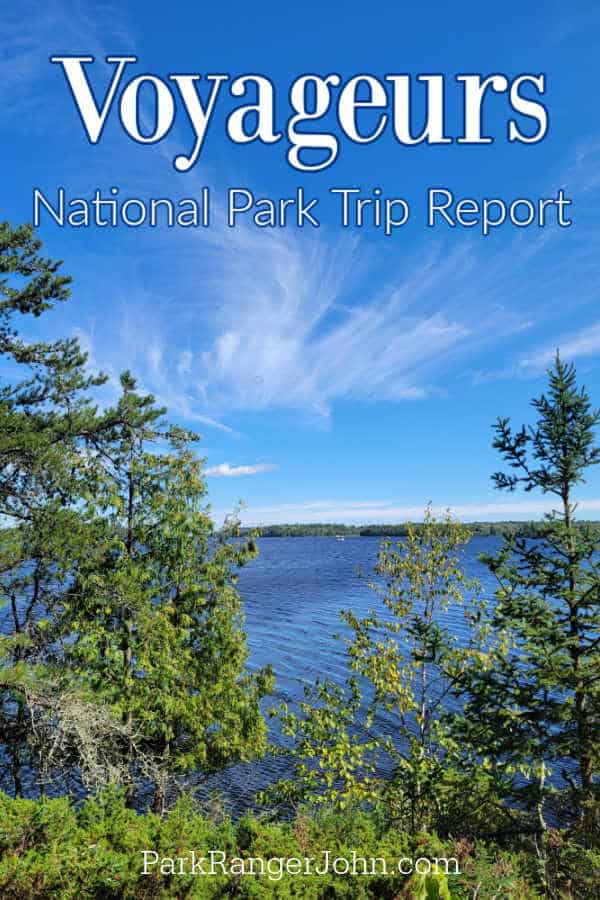 Voyageurs National Park Trip Report
Day 1 – Spokane to Minneapolis, MN
We flew from Spokane to Seattle and then to Minneapolis with Alaska Airlines.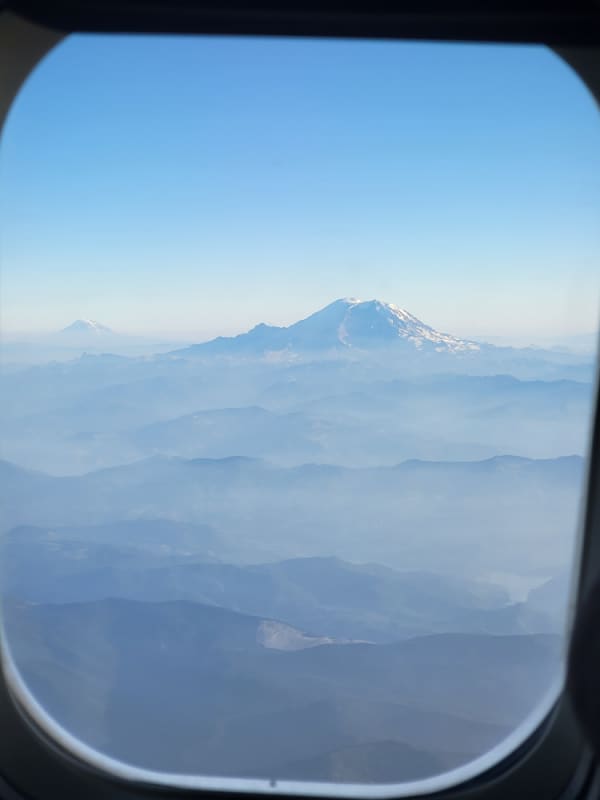 We had epic views of Mount Rainier National Park as we flew out of Sea-Tac.
Our flight didn't get into Minneapolis until late at night so we booked the Fairfield Marriott near the Mall of America for the night.
It was quick and easy to pick up our rental car at the airport and head 5 minutes down the road to reach the hotel.
We stayed at the Fairfield Inn near the Mall of America. It was quick and easy to reach from the airport.
Day 2 – Minneapolis to Voyageurs National Park
We dragged ourselves out of the hotel early and headed north to Voyageurs National Park. It is around a five-hour drive to the park from Minneapolis.
We booked the Little American Island boat tour to kick off our time in the park. The boat tour departs from the Rainy Lake Visitor Center near International Falls, MN.
The drive up to the visitor center was gorgeous. This is our first time exploring northern Minnesota, and it is absolutely gorgeous.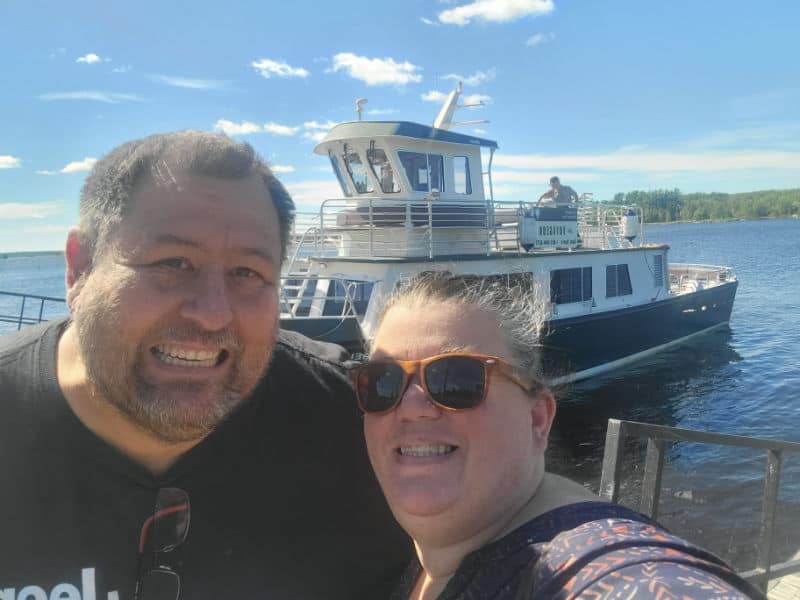 We are so excited to visit #56 of 63 National Parks together. The parks are getting a bit harder to visit with the majority of remaining parks in remote Alaska and American Samoa, but we will make them happen.
We arrived at the Rainy Lake visitor center in time to explore for a few minutes, grab our National Park passport stamp, and head out to meet the boat.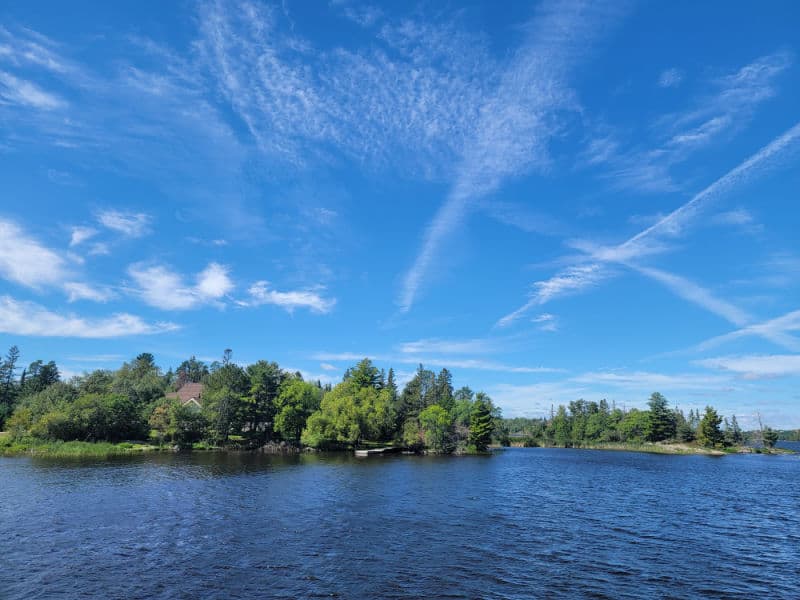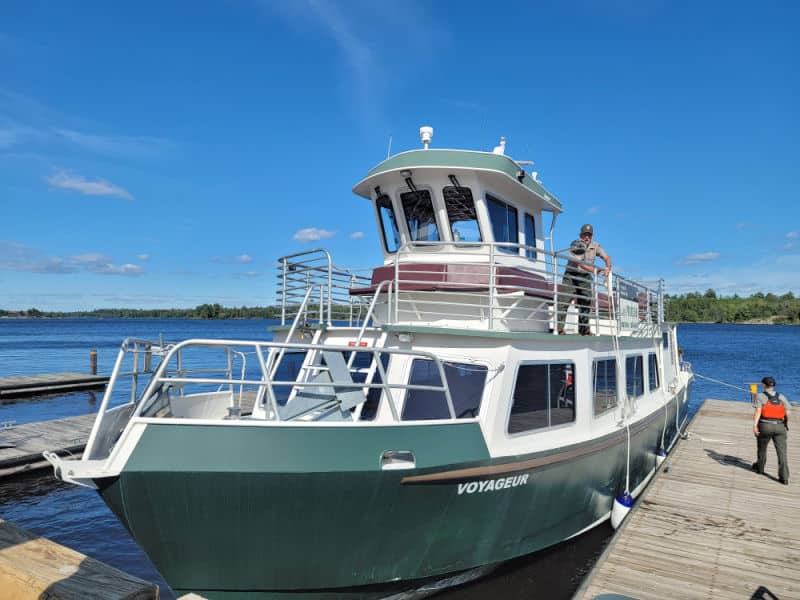 The boat tour ended up only having four people on it which was amazing. The four of us sat on the top deck of the boat with an interpretive park ranger and the captain and had an amazing time.
The two hour boat tour takes you to Little American Island where there is a ranger-led hike detailing the gold mining history of the island.
After the boat tour we headed to Rainier, Minnesota to stay at the Cantilever Hotel and Distillery. The hotel looked amazing online so we were really excited to check it out.
Our first goal was to get something to eat and I have to say Cantilever restaurant was amazing! We never made it past the appetizer menu they all looked so good.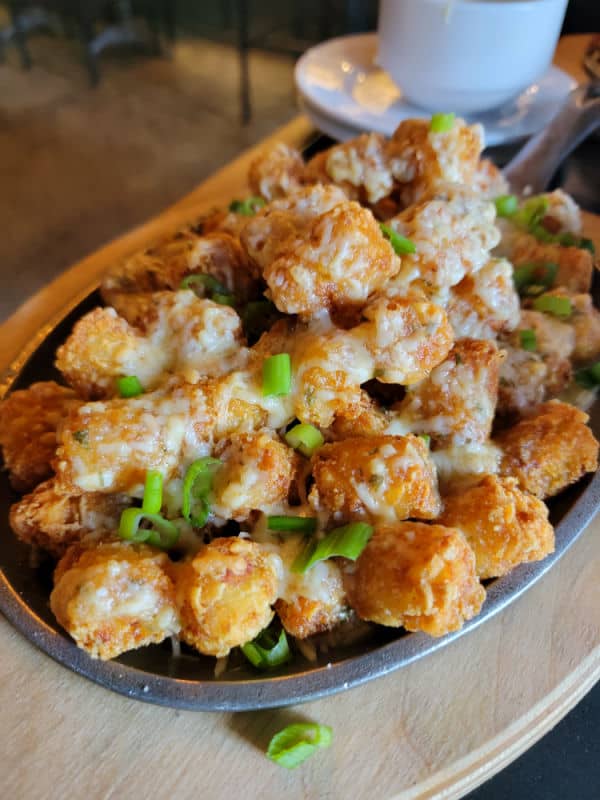 We enjoyed epic pretzels and cheese dip, parmesan garlic tater tots, street corn dip, and Short Rib nachos that were amazing. We were definitely a bit hangry and starving when we arrived and ordered way to much food which worked out great for leftovers.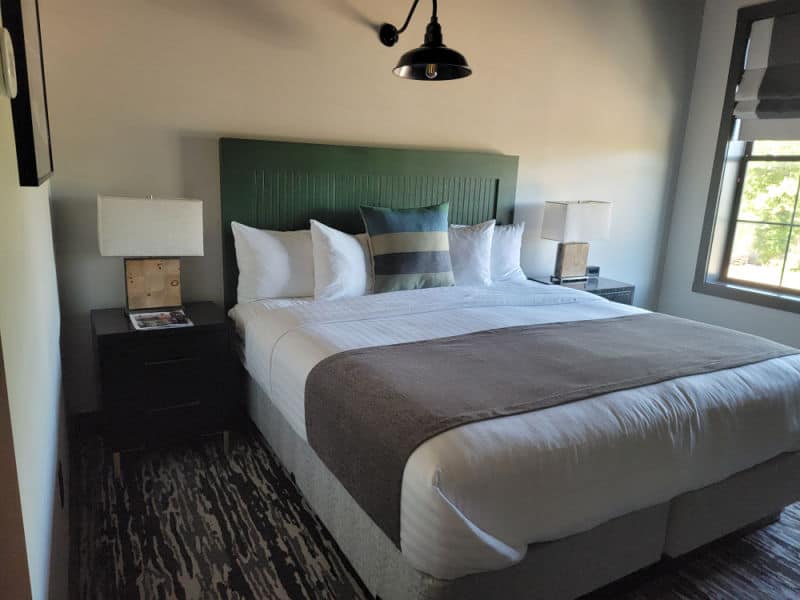 Our goal was to enjoy a nice afternoon nap and then head out to explore International Falls and the local area. What actually happened is the bed was so comfortable we woke up at midnight and realized we had napped the entire afternoon.
Oops! Thankfully we planned time into this trip to Voyageurs National Park for rest and chill time.
Day 2 – Rainier, MN to Kettle Falls Hotel
I am going to admit we slept more than 12 hours at the Cantilever Hotel. The bed was so comfy and we were wiped out from weeks of on the go life that we slept hard.
The first thing on our agenda for the morning was finding Smokey the Bear Park! We had seen pics of the giant Smokey the Bear statue in International Falls, Minnesota and had to see it for ourselves.
One thing we quickly learned during this trip is Minnesota loves giant statues. It is so much fun seeing all of the random statues along the roadside.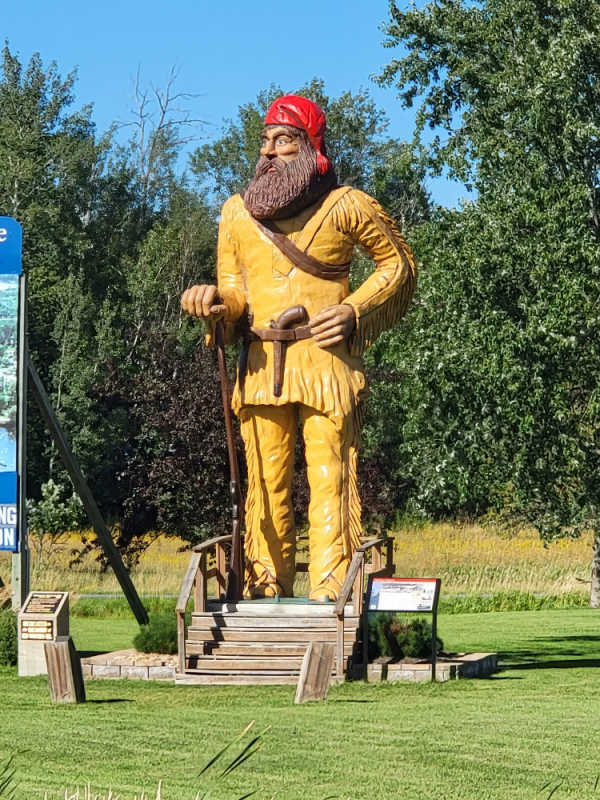 On our way to Smokey the Bear Park we turned at the Vic the Voyager statue and had to stop for pictures. LOL!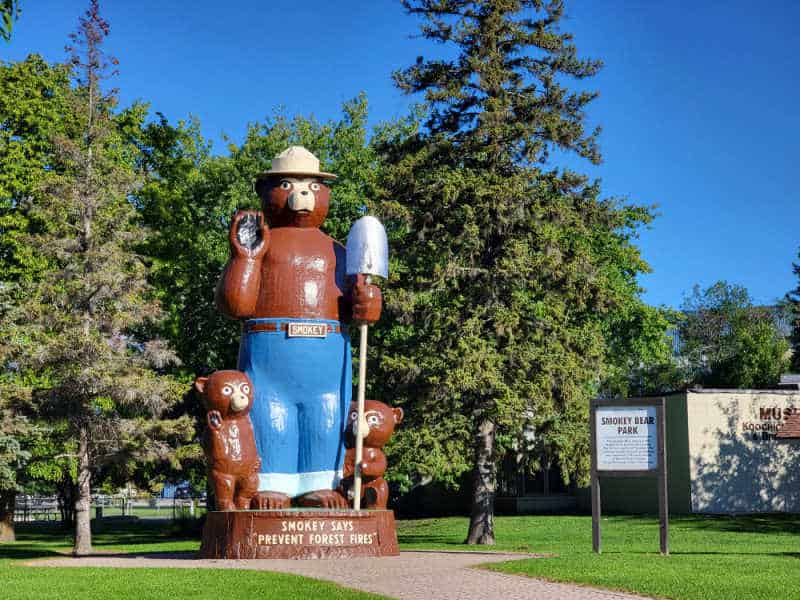 I have to admit the giant Smokey the Bear statue did not disappoint. It is massive! We saw online that at different times of the year they will dress Smokey in a fishing vest or flannel with ice skates.
After the statue it was time to find some breakfast. We ended up at the Chocolate Moose on the outside of International Falls.
Breakfast was good with everything you expect for breakfast on the menu. The food was good not amazing or epic but it definitely filled us up for the day.
They had an Angler Special with biscuits and gravy, chicken fried steak, and corned beef hash with two eggs that was definitely filling.
After breakfast we headed down to the Ash River visitor center to catch our shuttle boat to the Kettle Falls Hotel.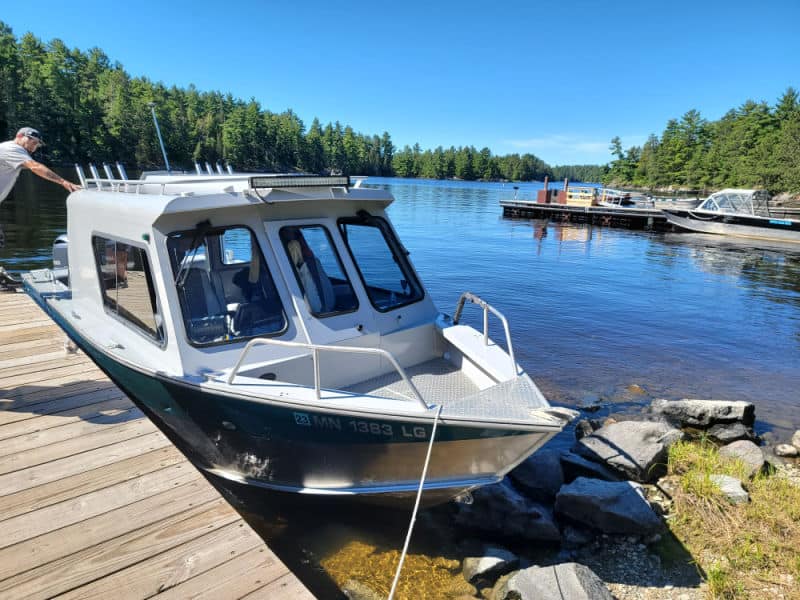 We were not sure what to expect for a shuttle boat to the hotel but the small boat we were picked up with was definitely smaller than we expected.
It was a 25ish minute ride to the Kettle Falls Hotel. When we arrived they loaded our suitcases behind a golf cart and drove us up to the hotel.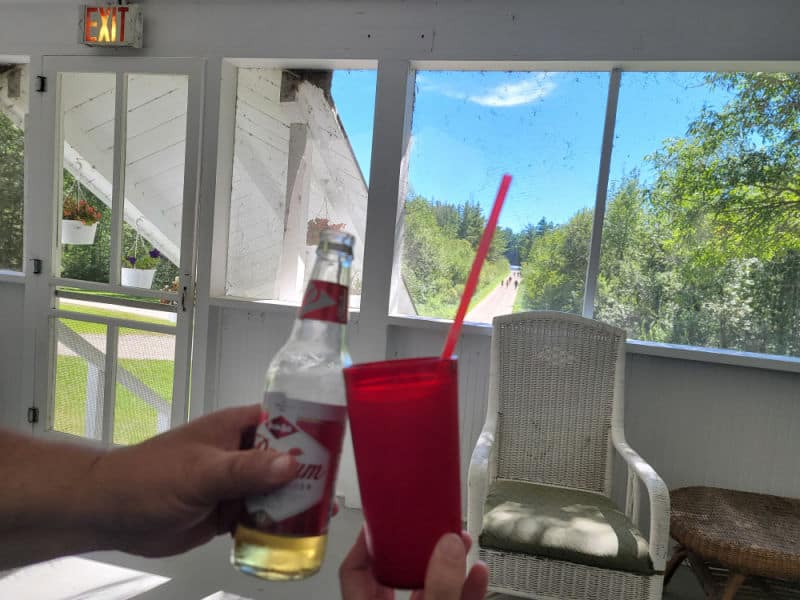 The rest of the afternoon was spent relaxing on the covered porch talking with people who sat near us. This is our first time in Northern Minnesota and we are in awe of how friendly everyone is
We had multiple people message us on social after spending time talking letting us know if we needed anything all we needed to do was reach out to them.
It is absolutely amazing how friendly and excited everyone is to spend time in Voyageurs NP.
We had dinner at the hotel and it was great. They have a nice menu with quite a few options available. The slanted bar also serves pizza and pretzels.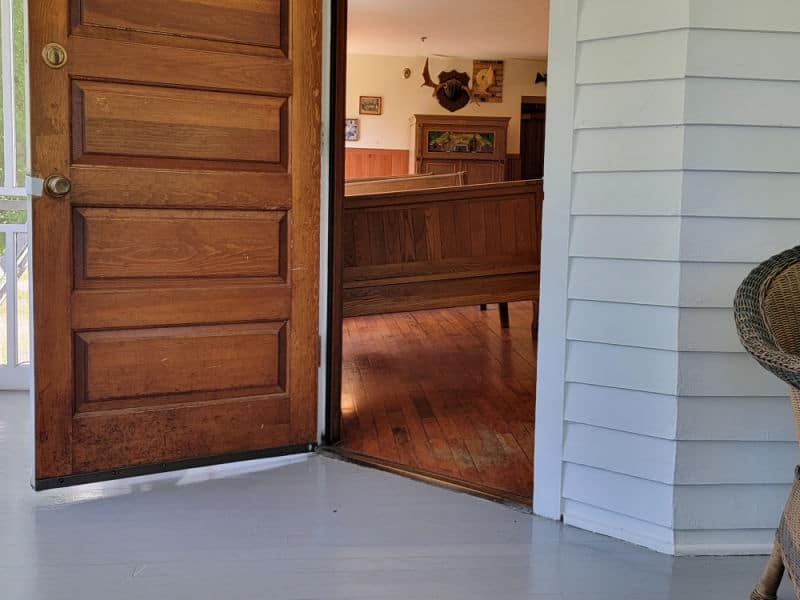 The slanted bar is amazing and the place to be while visiting Kettle Falls. They serve a pink slushie with vodka that is popular with guests of the hotel and day visitors.
Our entire afternoon was spent relaxing on the porch and talking with people. It was amazing and such a great experience.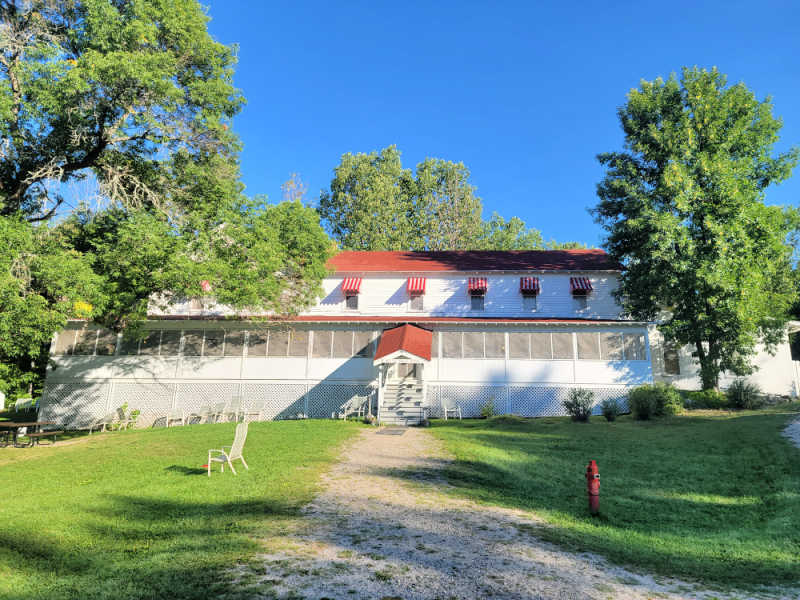 Day 3 – Kettle Falls Hotel to Lake Kabetogama
We had an incredibly relaxing morning at the Kettle Falls Hotel. They offer a complimentary continental breakfast with cereal, toast, Eggo waffles, and assorted sweet treats.
After breakfast we relaxed until it was time for our boat shuttle back to the Ash River Visitor Center. The boat ride back was fantastic. We sadly didn't see any Loons but we are hopeful we will see them at some point during our visit.
After loading our gear in our rental truck we headed out to explore some of the hiking trails in Voyageurs National Park. There is a variety of trails at each of the visitor centers.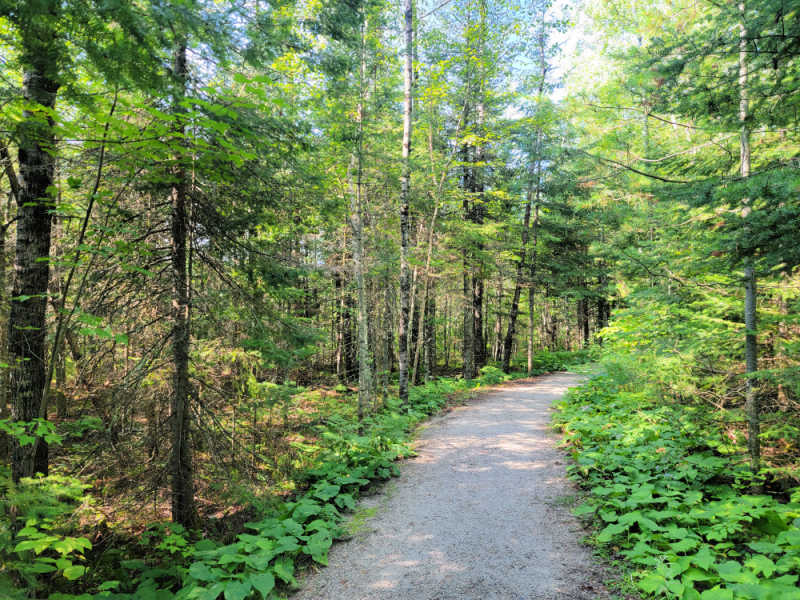 The Beaver Pond Trail is a short walk into the woods with amazing views. We also explore a few of the overlook trails.
For lunch we headed to the Thunderbird Lodge near the Rainy Lake Visitor Center. We had multiple recommendations from new friends we met while at Kettle Falls Hotel.
Lunch was amazing with an epic view over Rainy Lake. Do not miss the creamy wild rice and chicken soup! I wish I would have ordered a giant container of it.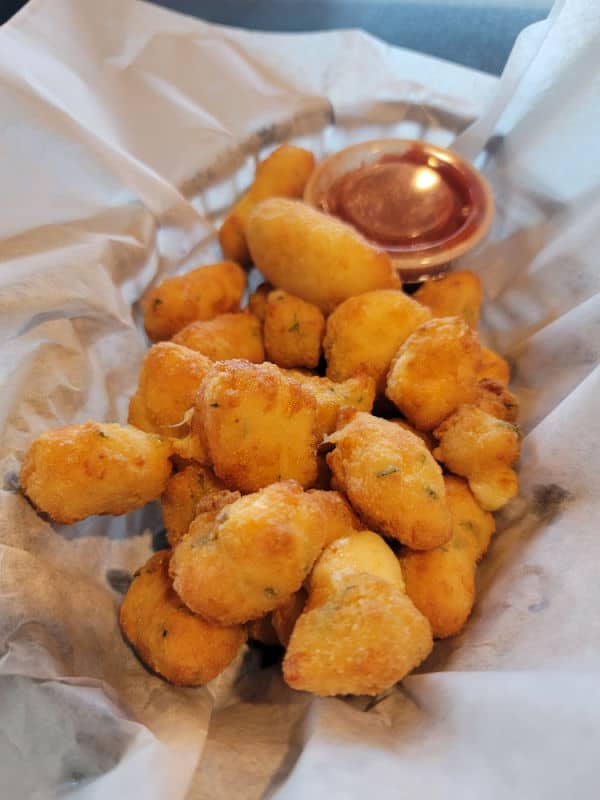 The poutine burger came with cheese curds and brisket on top of the burger. We also enjoyed garlic cheese curds and spinach artichoke dip that was fantastic.
I have to pause and mention how amazing the cheese curds are in Northern Minnesota. They are on almost every menu and so far every time they have been delicious.
I have really been enjoying Grain Belt a local Minnesota beer that I was introduced to while at the National Park Lodge. It is light and so easy to drink.
We stopped by the Rainy Lake Visitor Center to turn in our Junior Ranger program and pick up our badge and patch. We decided to spend a bit more time in International Falls checking out a few stores and picking up groceries for our cabin.
Ronning's Store in International Falls has all the souvenirs you could want while visiting the park. It was so much fun wandering through this large store.
There are a few grocery stores in International Falls. We ended up stopping at a couple of them since we didn't realize beer is only sold in a liquor store.
The County Market has a liquor store attached to it so we picked up some Grain Belt Beer for the cabin we are staying at the next few nights.
Our goal is to have a campfire and relax while waiting for the northern lights.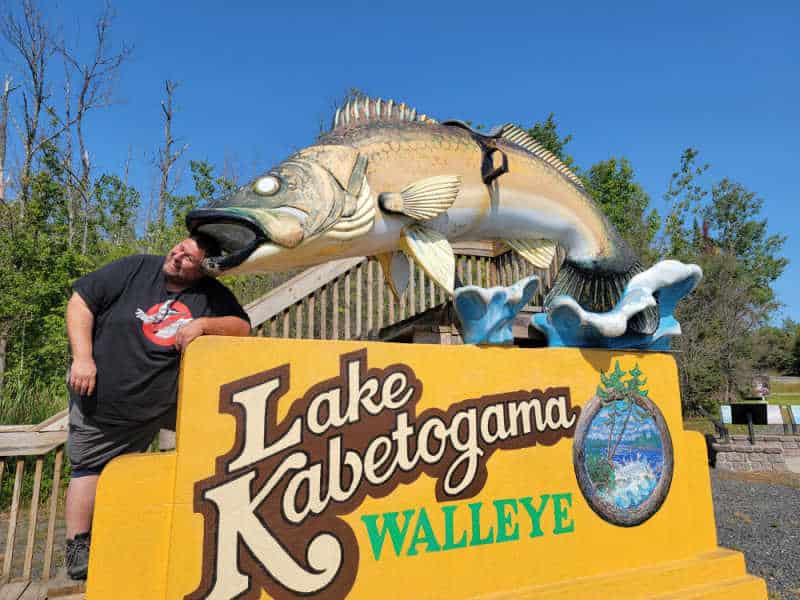 For the next two nights we are staying at the Northern Lights Resort on Lake Kabetogama. On the way to the cabins we had to stop at the giant Wall-Eye statue welcoming visitors to Lake Kabetogama.
We booked two nights in the Northern Cabin at the Northern Lakes Resort. Check in was quick and easy and I have to tell you the views from the cabin are amazing.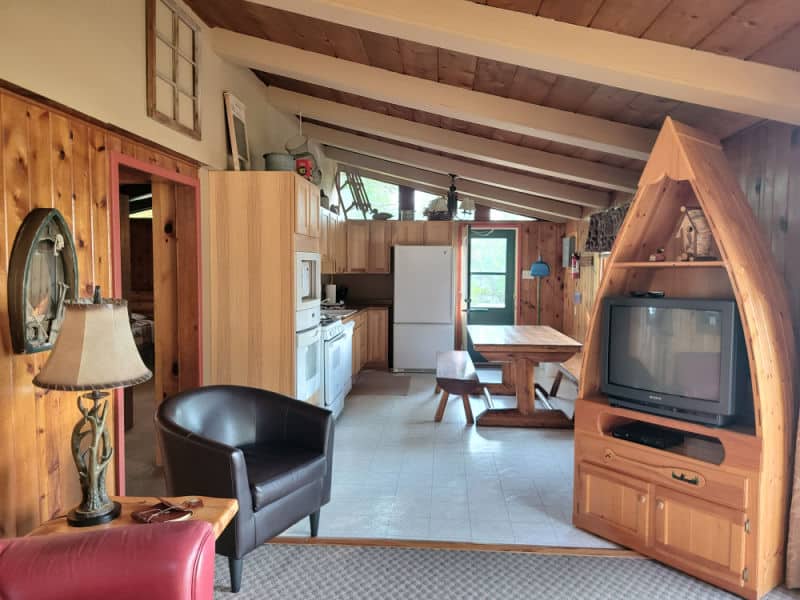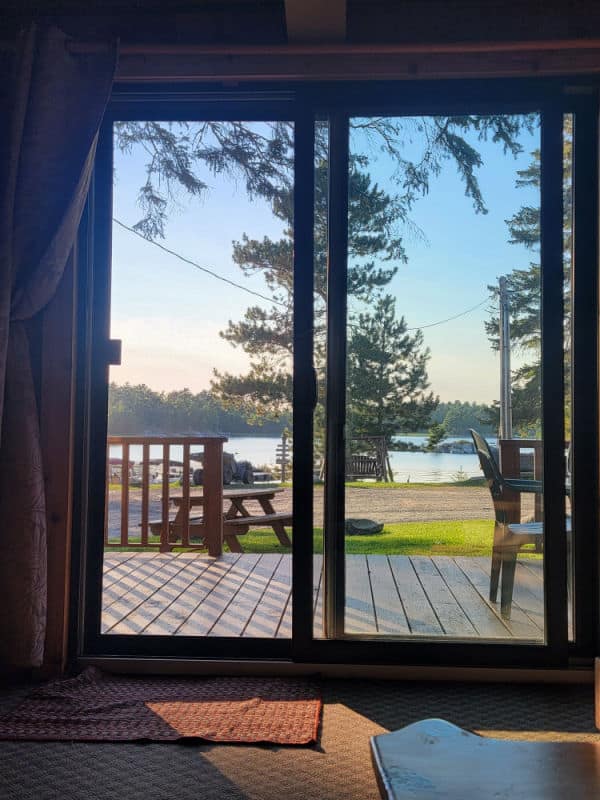 There is a comfy couch that look right out to the lake shore. The cabin has two bedrooms and one bathroom perfect for families.
After dinner we set up a campfire and had an epic Facebook live Campfire Chat on the Park Ranger John FB Page. It was so much fun talking with everyone from around the country and sharing the campfire.
Once the sun went down it was time to start hoping and praying for the Northern Lights. The owners of the Northern Lights Resort were honestly amazing and turned off all of the deck lights so we would have an easier time seeing the northern lights.
They also texted their neighbors across the bay and asked if they would turn off their bright lights for a few hours. The customer service has been truly amazing at the resort.
We were able to set up our camera gear right next to the water with comfy chairs to relax in. It didn't take long before we started to see the glow from the northern lights form on the horizon.
The owners of the resorts pointed out a great tip for knowing where the northern lights are. They pointed out how bright some of the stars were but then there was a band of cloudy light that blocked all of the stars on the horizon that band was the northern lights.
They look a lot different with your naked eye compared to what the camera is able to pick up. We shot photos with both our Canon 5D set up with a 16-35mm wide angle lens and our Samsung cell phones both set up on tripods.
The tripods were needed to keep the cameras steady with longer exposures.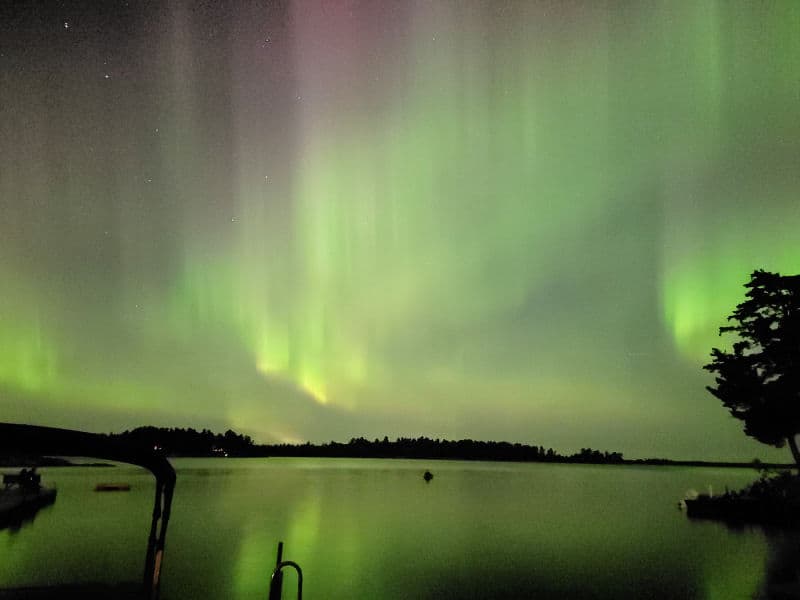 I can't put into words how amazing it was to see the aurora dancing in the sky. I have heard about dancing northern lights for years but this was our first time experiencing it.
I am going to admit that we are falling in love with Northern Minnesota every day we are here! We are already talking about needed to book a couple of return trips. The first one in the winter to drive on an ice road through Voyageurs NP! Talk about a new National Park Bucket List item.
The 2nd trip in the summer to rent a houseboat and spend the night in the middle of the park looking for the northern lights. How cool would it be to sit in a hot tub on top of a house boat with the northern lights dancing above you!
We finally headed back inside close to 11 or midnight and crashed into bed. So excited to have seen the northern lights and so wiped out from all of the epic things we have done.
Day 4 – Lake Kabetogama
Waking up with a view of the lake was blissful. We curled up on the couch with hot coffee and chai tea while looking for loons. It was the perfect quiet morning while on a park vacation.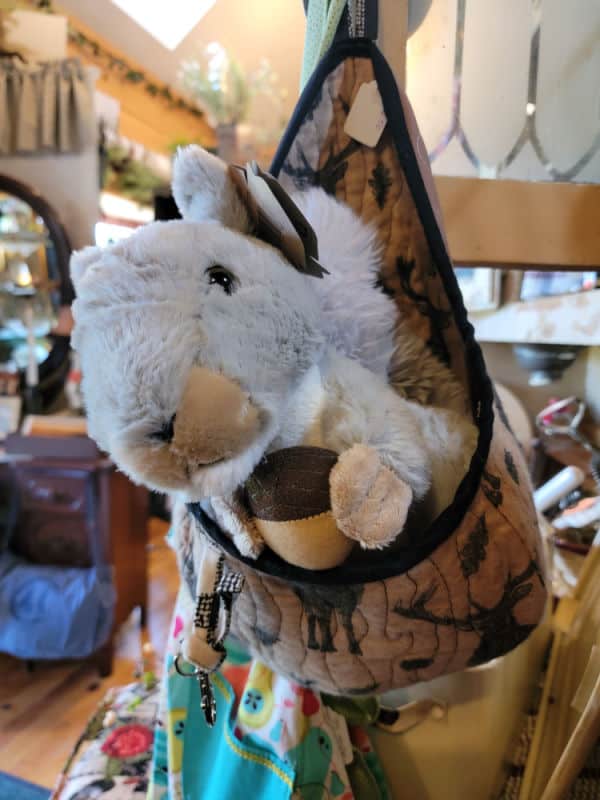 We kept hearing that we had to stop at Pine River coffee shop and gift store. This gift store is filled with epic souvenirs and amazing pastries. We ended up picking up a fun sweatshirt blanket with Voyageurs NP on it.
One of my wives friends grew up near the Ash River Visitor Center and was up visiting her family for the weekend. She was amazing and offered to take us out on their boat to explore more of Voyageurs NP.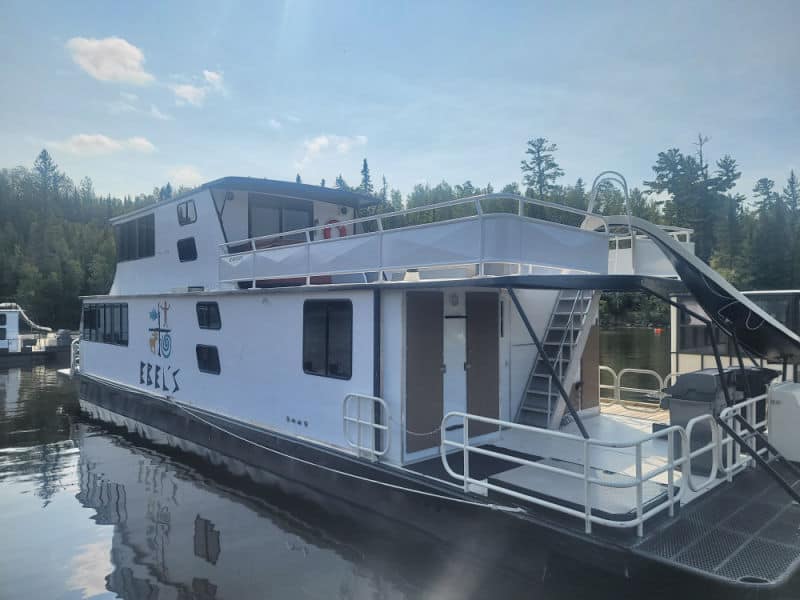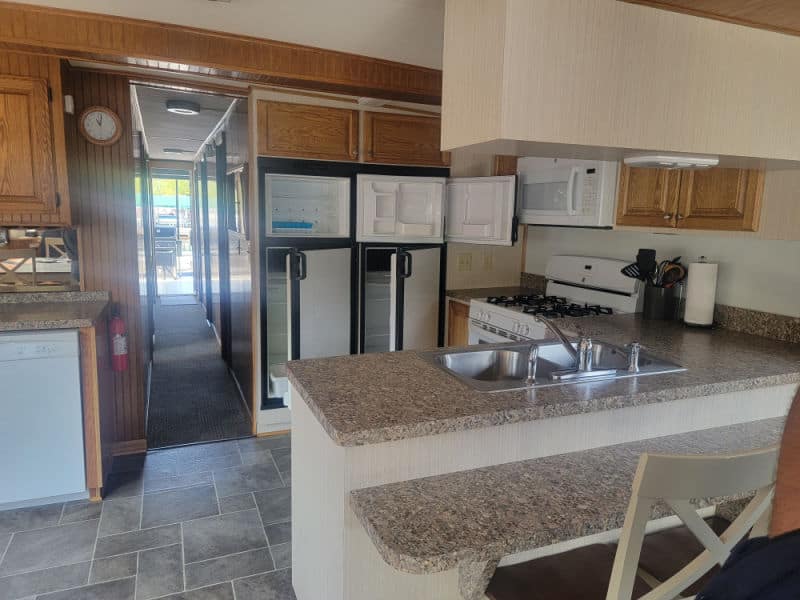 Her family owns Ebel's Houseboats so we had the opportunity to explore a few of their houseboats and they were amazing. I have a new National Park Bucket List item….houseboating in Voyageurs NP watching the Northern Lights.
After spending a few hours on the water checking out the Voyageurs Campsites and sandy beaches we headed back towards the Ash River.
On our way back in we finally saw a Common Loon!
This was high on our park goal list so it was super exciting to finally see one.
We headed back up to International Falls to grab some firewood for another campfire and some lunch.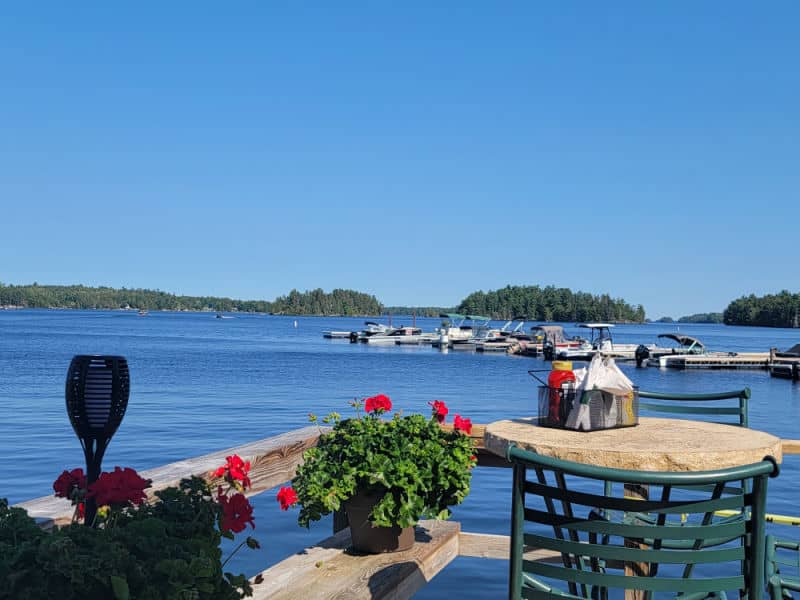 We ended up back at the Thunderbird Lodge for lunch. We realized their back deck was open so we could enjoy lunch with an amazing view.
Their chicken and wild rice soup is honestly amazing. I would happily visit again just to enjoy a giant bowl of soup.
After a late lunch/dinner and grocery shopping we headed back to the Northern Lights Resort.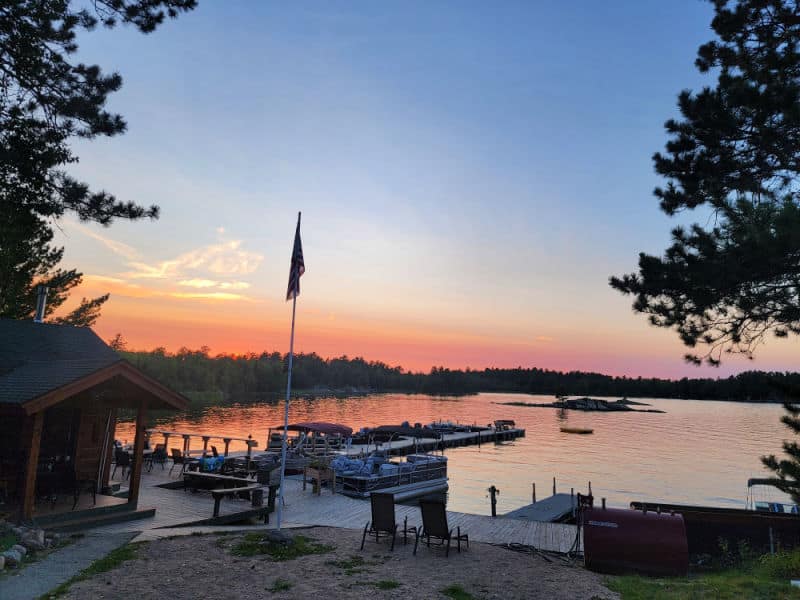 Our evening was spent with another amazing campfire while watching the lake. The owner of the resort came by and chatted with us. We have been so impressed with the customer service and care that the resort offers.
They truly want you to have the best experience possible while staying at the resort and visiting the park.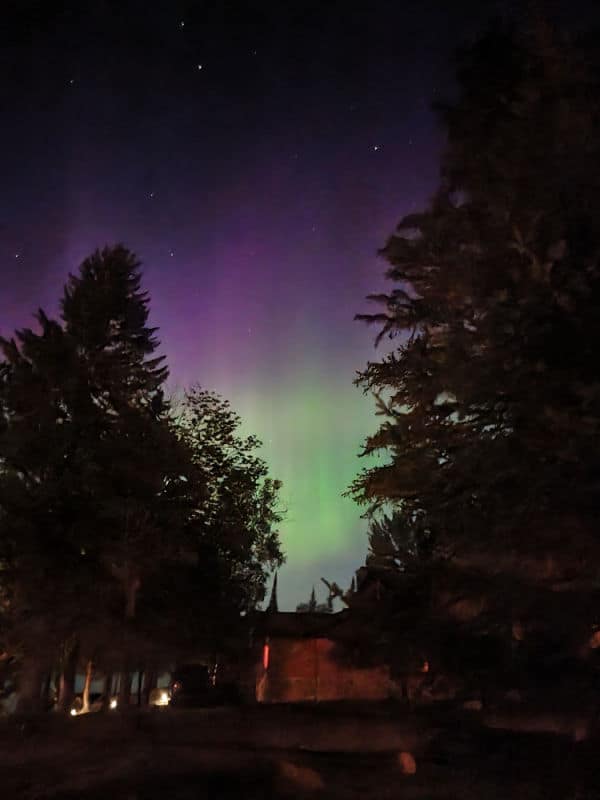 Right when we were putting the fire out we realized that the northern lights were dancing in the sky again.
We grabbed our camera gear and tried to get a few more pictures of the Northern Lights. My wife was able to grab an amazing photo on her cell phone while the lights danced between the trees.
Such a great way to end another amazing day in Northern Minnesota.
Day 5 – Voyageurs NP to Minneapolis and Home
We woke up early to pack and spend some time soaking in the views of the lake. We realized that we could visit both the St. Croix National Scenic Riverway and Mississippi River NRA on our way to the airport in Minneapolis.
It was a 4.5 hour drive to the St. Croix NSR in Wisconsin. The visitor center is truly amazing.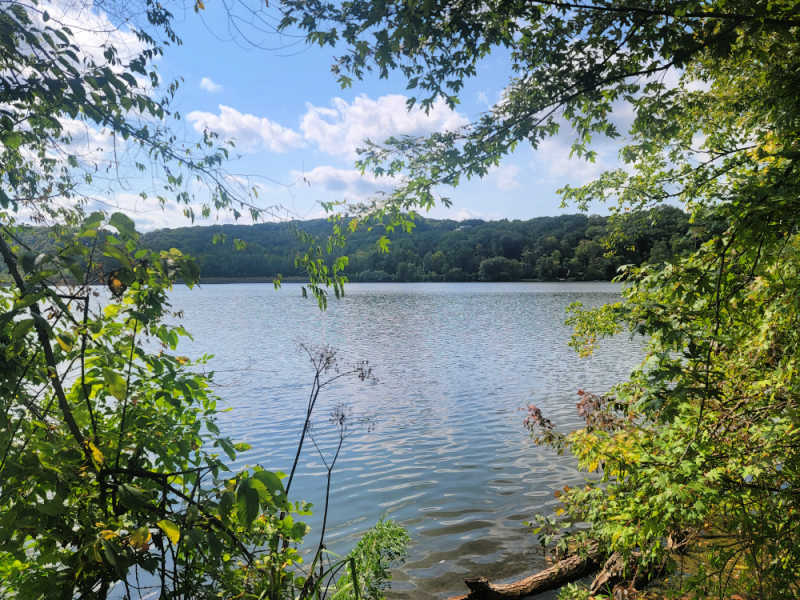 Epic views of the river and great information on why it was one of the 1st eight rivers protected.
After leaving the St. Croix NSR we headed towards Minneapolis to try and visit the Mississippi River and NRA visitor center at Anthony Falls. We found parking and walked all over the place and never found the visitor center.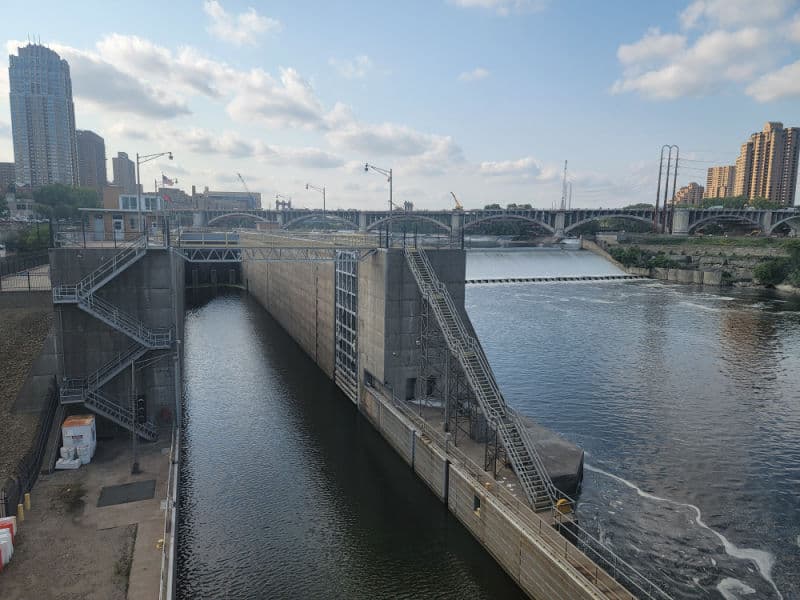 We were able to get great pictures of the Mississippi River and the locks but never found the visitor center. We decided to see if we could get to the visitor center at the Minnesota Museum of Science.
Sadly there were a few accidents on the freeway and we got to the museum 2 minutes before they were due to close. There was no time to park and run in to grab a brochure or National Park Passport stamp.
I think this means we are going to have to plan another trip to Minnesota. We found out there are 66 Minnesota State Parks including a few near the airport.
Our next trip is definitely going to include stopping at a few Minnesota State Parks and exploring more of this great area. We also need to visit Grand Portage National Monument which is the final Minnesota National Park Site we need to visit.
Sadly our time in Minnesota has come to an end and it is time to head home. Thankfully we have another great adventure coming up to Great Basin National Park in Nevada soon!