Alibates Flint Quarries National Monument is located in the Canadian River Valley of the Texas panhandle near Lake Meredith NRA.
13,000 years ago this area was used by mammoth hunters as a source of flint for tools and arrowheads.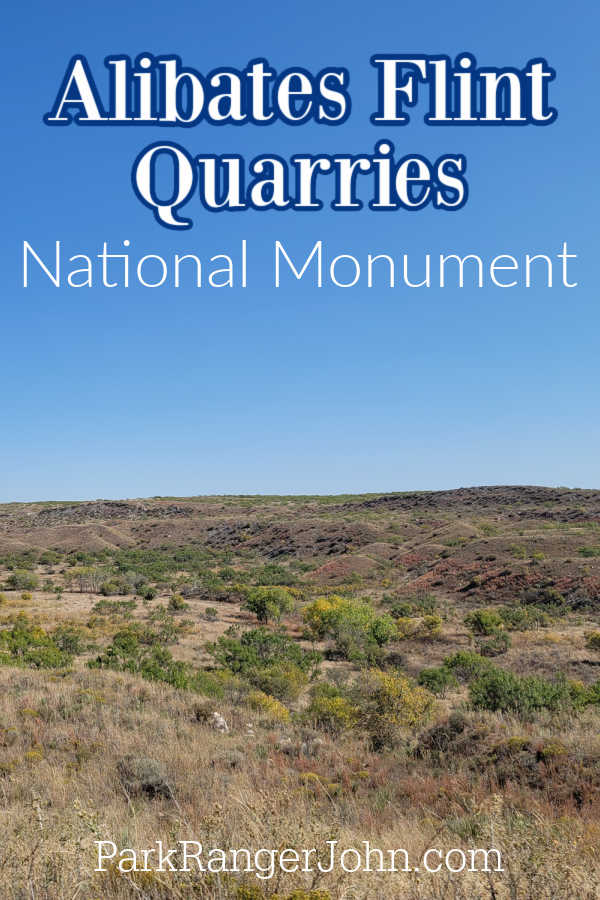 Alibates Flint Quarries National Monument
Prehistoric peoples used the flint for arrowheads, tools, and for trading. Alibates Flint is more correctly called agatized dolomite, or silicified dolomite.
It is also called Alibates Chert by geologists because of its striking colors.
Quarry Pits were created when prehistoric people started to dig down into the red bluffs to find more flint.
The flint was carved into projectile points for hunting, used to scrape the hair off of animal hides to make leather, and traded across the High Plains.
Alibates Flint Quarries NM is one of the least visited National Park Service sites in the United States. In 2020 the park had less than 5,000 visitors.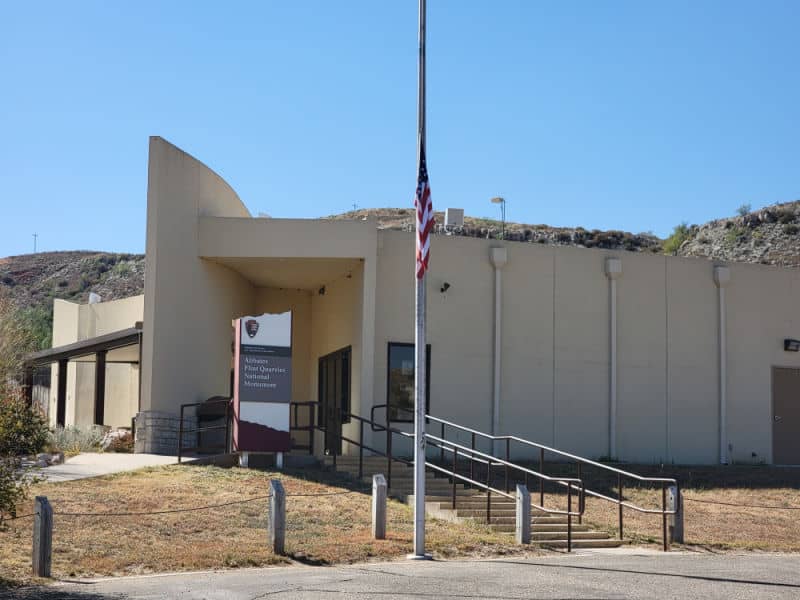 Visitor Center
The visitor center is the best place to start your visit to the park. There is a great small interpretive area that explains the importance of the Alibates Flint Quarries.
Make sure to watch the 10-minute park movie. It does a great job of explaining the historical importance of this area.
Outside of the visitor center, there is a garden walking trail.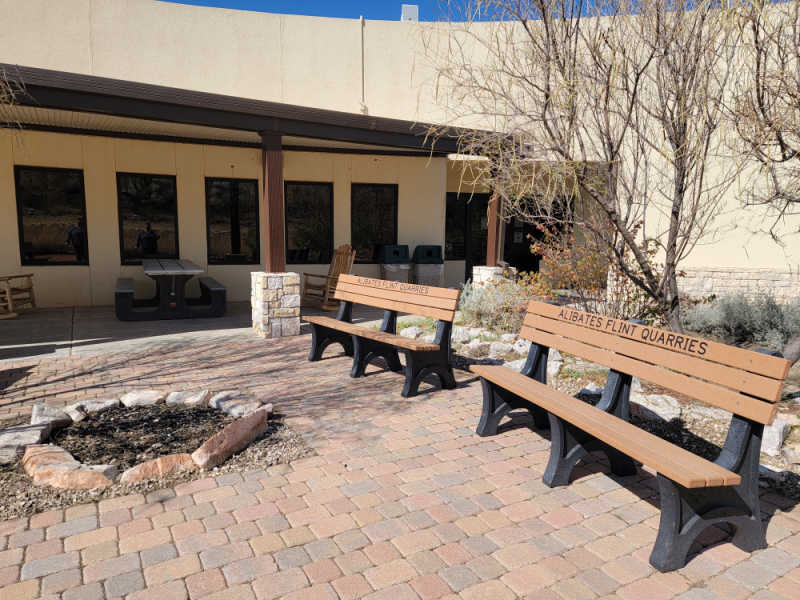 Alibates Quarries Tours
The only way to see the Alibates Quarries is on a guided Ranger Led Tour. They are offered twice a day at 10 am and 1 pm.
The road is blocked to the quarries unless you are on a tour.
The tours include a one-mile hike that has a 170-foot elevation change.
Reservations are strongly encouraged. Call 806-857-6680 for reservations.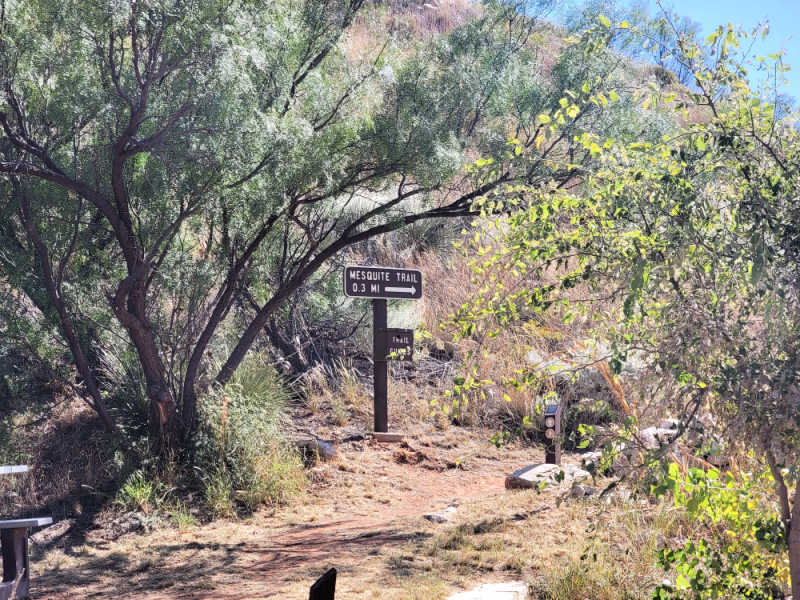 Mesquite Trail
The Mesquite Trail leaves next to the Visitor Center and takes approximately 10 minutes to walk.
This .3 mile hike takes you back in time to the early ranching days of Texas.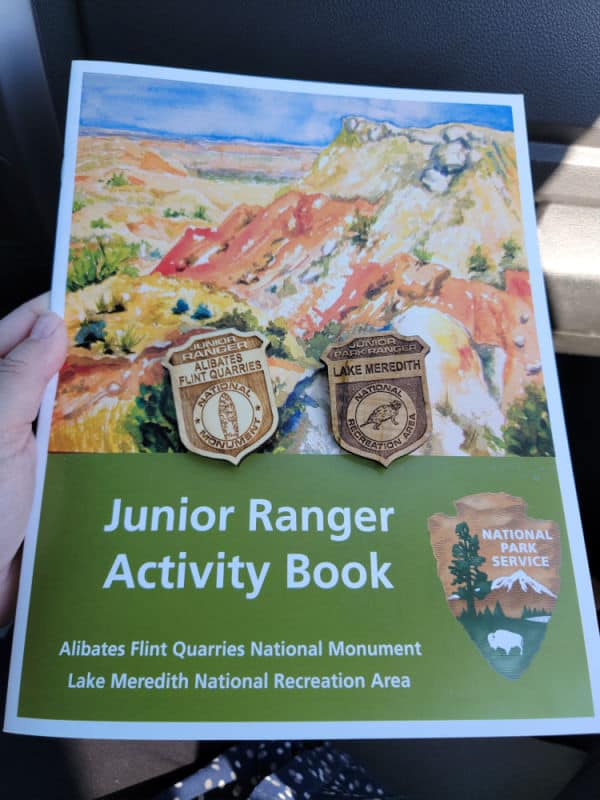 Become a Junior Ranger
The Junior Ranger booklet for Alibates Flint Quarries NM is combined with Lake Meredith NRA.
You can download the Junior Ranger Book before your visit to start working on it.
When you complete the Junior Ranger booklet you get a Junior Ranger badge for both parks.

Things to know when planning a trip to Alibates Flint Quarries NM
Park Address: 37084 Alibates Rd.
Potter County, Texas 79036
Park Hours: The Visitor Center is open 7 days a week, 9:00 a.m. through 4:00 p.m.
Closed Thanksgiving, Christmas, and New Years Day.
Entrance Fee: $0.00, there is no fee to visit this site
Camping: Camping is available nearby at Lake Meredith National Recreation Area.
National Park Service Website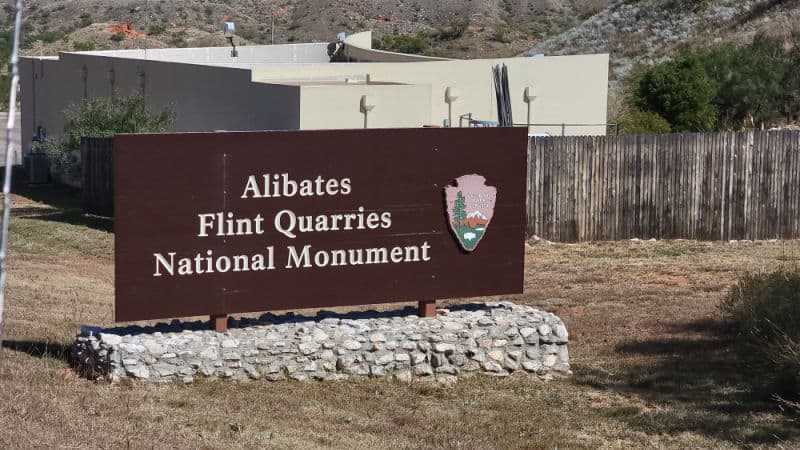 National Park Sites near Alibates Flint Quarries
Lake Meredith National Recreation Area
Washita Battlefield National Historic Site
Capulin Volcano National Monument
Fort Larned National Historic Site
Valles Caldera National Preserve
Check out all the other great Texas National Parks and neighboring New Mexico National Parks, Louisiana National Parks, Arkansas National Parks, and National Parks in Oklahoma.