Big Meadows Lodge is located right off of Skyline Drive in the heart of Shenandoah National Park. The lodge offers the opportunity to wake up in the park and start your day with gorgeous views after a great night's sleep.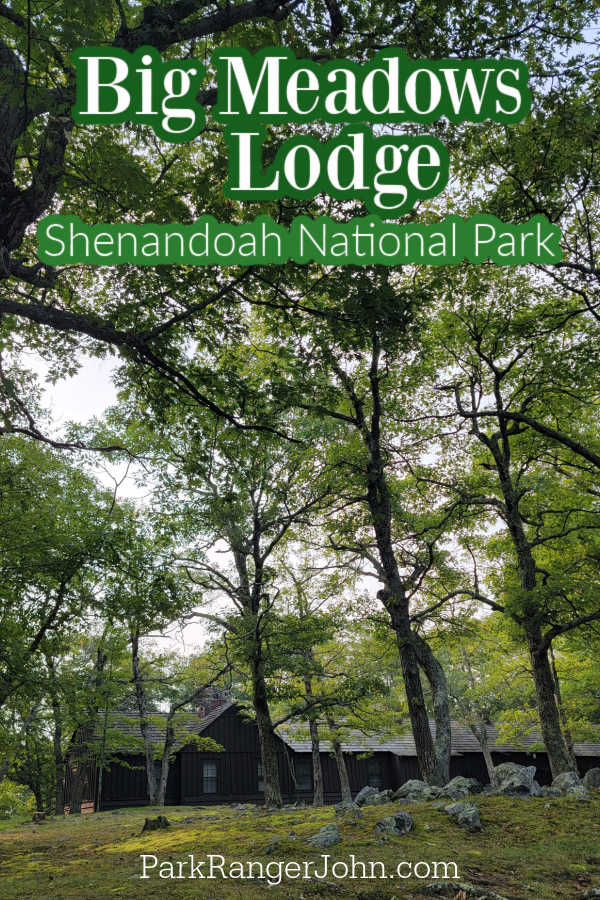 Big Meadows Lodge - Shenandoah National Park
We stayed in a 1 Bedroom Fireplace Suite and did not want to leave. I would happily book a week in this suite and relax with gorgeous views. The suite had everything we needed and more for enjoying our time in Shenandoah National Park.
Lodging accommodations range from main lodge rooms to detached small cabins, preferred and traditional rooms, suites, and pet-friendly rooms. An ATM, the Spottswood Dining Room, New Market Taproom, and Craft Shop are located in the main lodge building.
The main lodge has the front desk for check-in along with a great room with comfy chairs and a great view of the Shenandoah Valley. Spottswood Dining Room offers breakfast, lunch, and dinner daily. Make sure to check out the signature blackberry ice cream pie.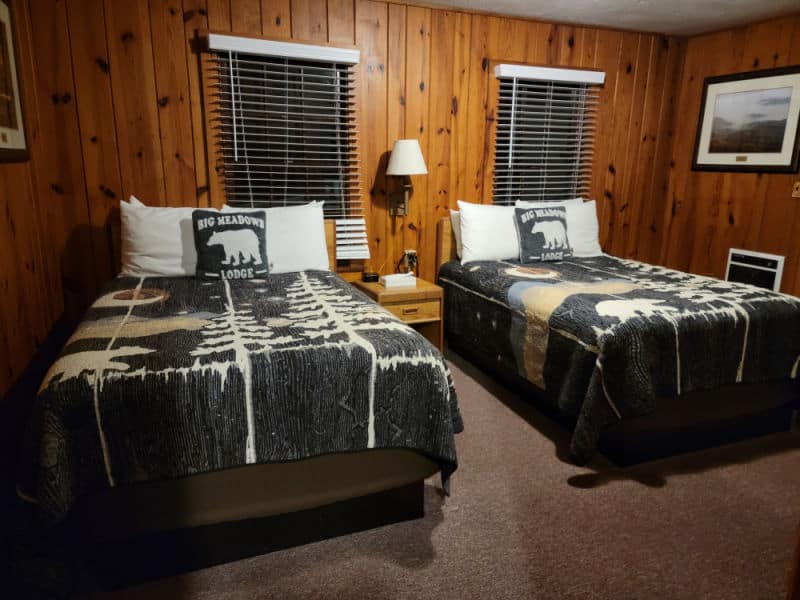 1 Bedroom Fireplace Suite- 2 Doubles
We really enjoyed having a seating area with the couch and rocking chairs. The couch is not the comfiest couch we have ever relaxed on but it did its job. The couch does pull out to a bed so you are sitting on the bed mechanisms which are not soft.
We had a nice outdoor seating area with two chairs by the door to the room. You can also enjoy outdoor terrace seating at the main lodge.
One piece of advice I would like to offer is to check in to the room before it is dark. We checked in late at night after spending the day exploring Skyline Drive and watching the sunset. When we went to find the room we had to use our phone flashlights to find the room.
It was a bit unnerving walking in the dark trying to find the right room. The lodge is tucked back in the woods and it is amazingly quiet but also really dark.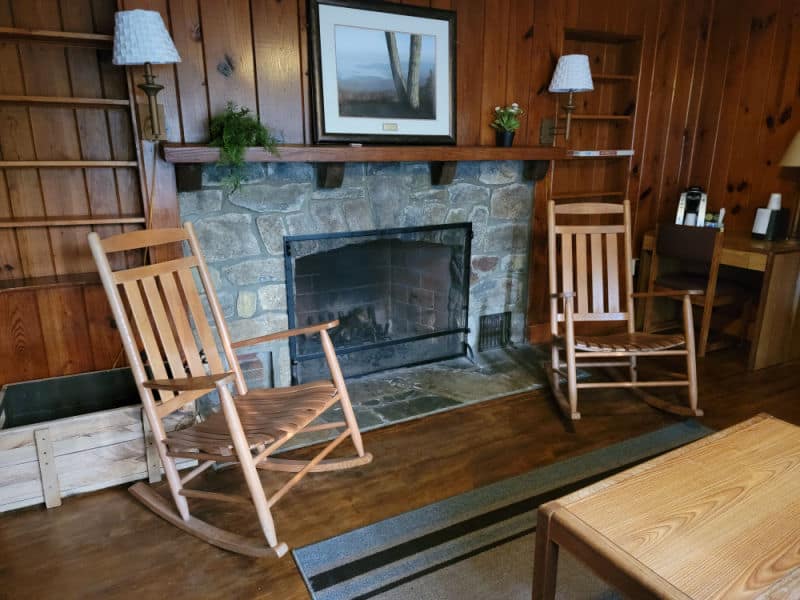 Amenities
One bedroom suite with either two doubles or one king bed.
Wood burning fireplace in the living room. Fireplace to be used with NPS approved firewood (first bundle provided; additional bundles available for purchase at the Craft Shop).
Keurig Coffee maker with a mix of tea and coffee available (4 pods)
Hairdryer
Pull-out sofa
No air conditioning.
One-story building with exterior access; no elevators.
Rooms are within walking distance of the main lodge building.
No in-room phones. Cell service accessibility depends on the carrier.
Pet-friendly rooms available at an additional cost of $30 per pet per night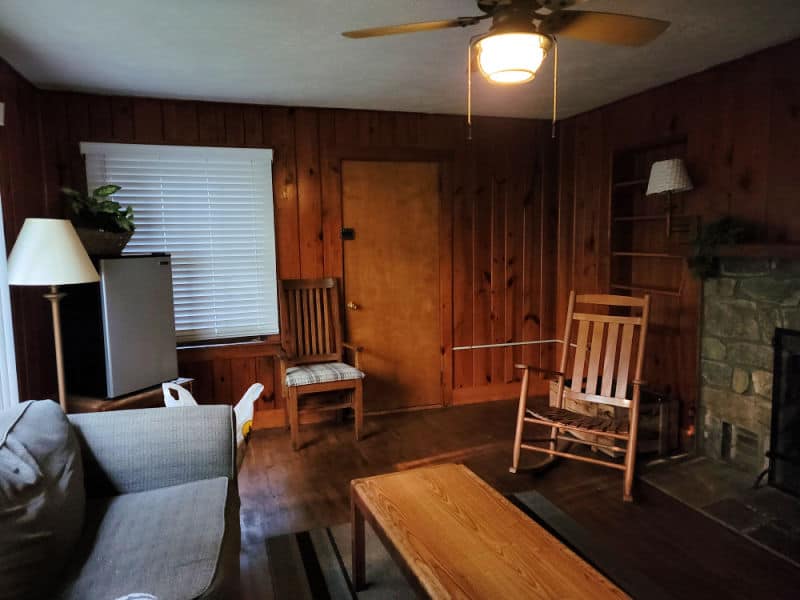 Things to know when planning a trip to Big Meadows Lodge
Big Meadows Lodge is located one mile from the large, grassy meadow at mile 51 on Skyline Drive.
Check-in: 4:00 PM
Check-out: 11:00 AM
All guestrooms are non-smoking.
$5.00 utility add-on fee will be added to the room rate - per room, per night.
You can book your arrival date a maximum of one year and one month in advance of arrival.
Cancellations and Modifications: You may cancel or modify your reservation up to 48 hours prior to the 4:00 PM check-in time on the day of your arrival to avoid forfeiture of your full deposit. Changes or cancellations of your reservation within the 48 Hours period will result in a forfeit of your deposit.
Deposit Policy- A deposit equal to the first night room rate plus tax will be charged at the time of booking. Additional Add-On items do not include tax or gratuity and will not be charged in advance.
Pet Policy- We offer pet-friendly rooms and there is a $30 per pet, per night fee. Pets must be noted on your reservation or declared at check-in. If a pet is found in an Allergen-Free room, the guest will be charged a $250 cleaning fee.
The lodge is run by Delaware North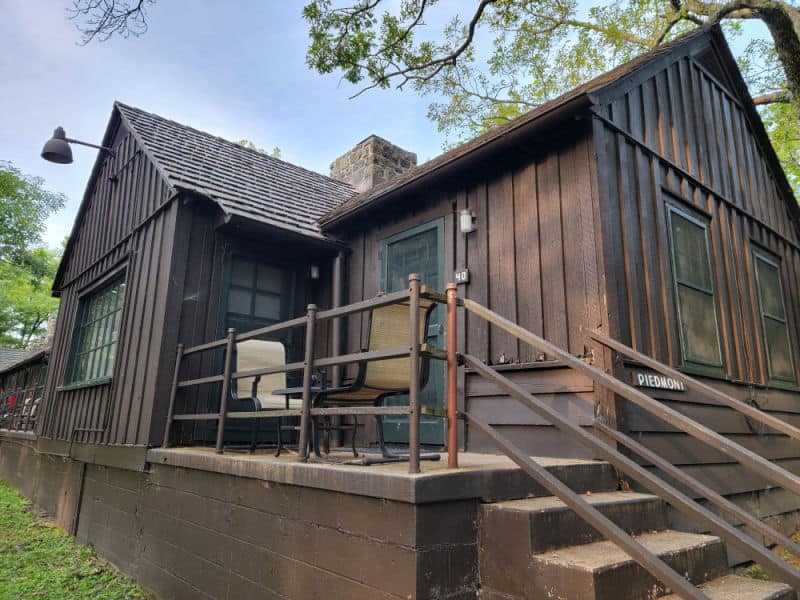 Additional Shenandoah NP Resources
Shenandoah Lodging Guide
Cedar Creek and Belle Grove National Historical Park
Check out all of the National Parks in Virginia along with National Parks in Kentucky, National Parks in Maryland, National Parks in North Carolina, Tennessee National Parks, and West Virginia National Parks