Northern Quest RV Resort is located in Airway Heights, Washington approximately 15 minutes west of downtown Spokane. This luxury resort opened on June 1, 2019, and is a part of Northern Quest Resort Casino.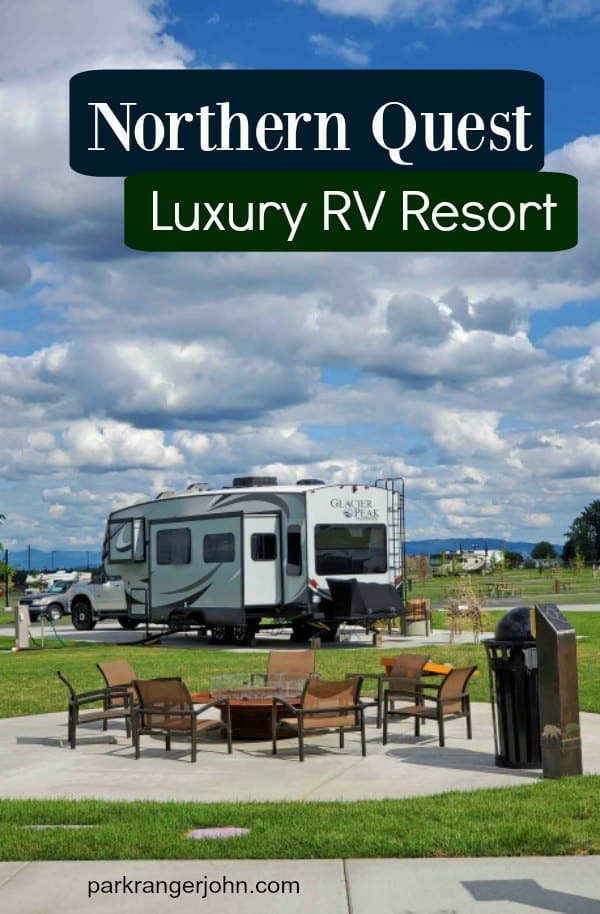 Complete Guide to Northern Quest RV Resort
You may be wondering why I would be interested in visiting a private luxury RV Resort when I mainly talk about our U.S. National Parks.
There were a couple of great reasons why I wanted to see this resort; the first is that there is a real lack of camping in the greater Spokane Washington area, especially RV Campgrounds and cabins, the second is that the designer of this resort was Bud Surles, a retired U.S. Park Ranger that after he retired became very successful at designing high-end luxury campgrounds.
Unfortunately, this was one of Surles's last projects as he passed away never seeing the resort completed. Northern Quest ensured that his legacy was carried out with this project and didn't stop until it was completed in its full grandeur. I thoroughly enjoyed my stay here.
Here is the breakdown of everything you will want and need to know about the Northern Quest RV Resort.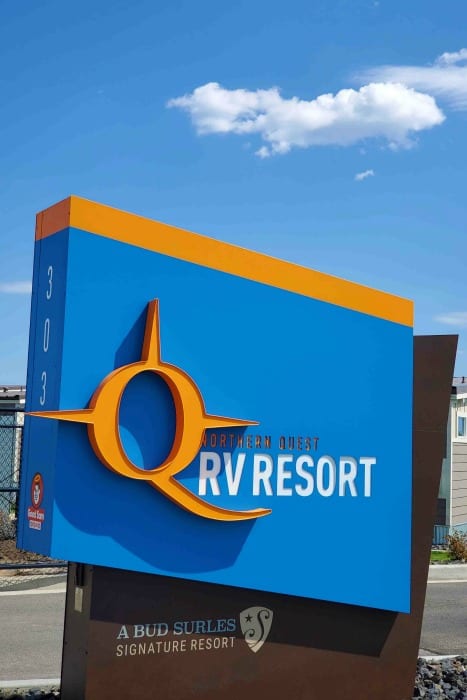 Northern Quest RV Resort Review
Northern Quest RV Resort Cottages
I spent two nights in one of the 18 luxury rental cottages available to rent. They are actually small trailers but were decorated beautifully and were stocked with everything you can need or want!
You are greeted with beautiful flowers, BBQ Grills and sitting area on the front porch. You can tell right away that this is not your average park cabin with not much more than a table and chair with a couple of bunk beds with virtually no padding.
This cabin was fully equipped! You have a comfortable bed with linens, a large T.V. coffee maker with coffee, refrigerator, and much more. Make sure to watch the video as we did a complete walkthrough of the cabin.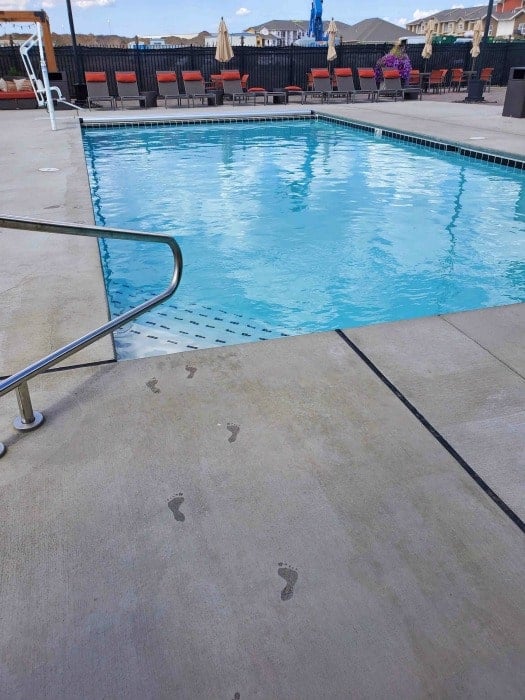 Campground Amenities
ADA friendly sites and cottages available
RV Park Sites Include:
Gated Community
Concierge Service
Outdoor Pool with family patio area
Clubhouse with a fitness center, lounge, event spaces, and catering kitchen
Outdoor grassy event center
Pavilions with picnic tables
Pet off Leash Dog Park within the campground
Picnic Table
Private and community fire pits
Complimentary Wi-Fi
Bathhouse and laundry facility
Golf Cart, cabana, and fire pit rentals.
If this is not enough to keep you busy, you can take the shuttle service or a short walk over to the Northern Quest Entertainment Center where you can find casino gaming, dining, shopping, movies, concerts, spa services and more!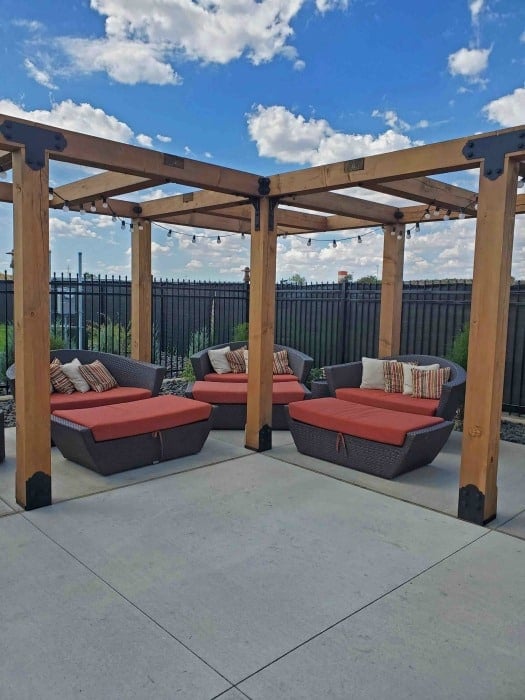 RV Site Amenities
8 Luxury RV Sites with fire pit tables - Perfect for showing off any RV Upgrades you have done.
30 premium back-in sites with picnic tables
28 deluxe pull-through sites with picnic tables
Ample room for slide-outs
full hookups with 50/50/20 and 50/30/20 service
Northern Quest Dinner and a Movie
Just a short walk from the campground is the newest movie theater in town. We decided to go to a movie during our visit and loved the way this movie theater is set up.
Northern Quest's M&D does things a little differently as you can eat dinner while watching a movie in one of eight theaters with reservable lounge-style seating.
There is a complete menu that you can enjoy before or after the show with a special dark menu for food service that is available during the show as well. You can also stop by the bar and lounge after your movie and enjoy drinks, dessert, and coffee. Make sure to check out movie times.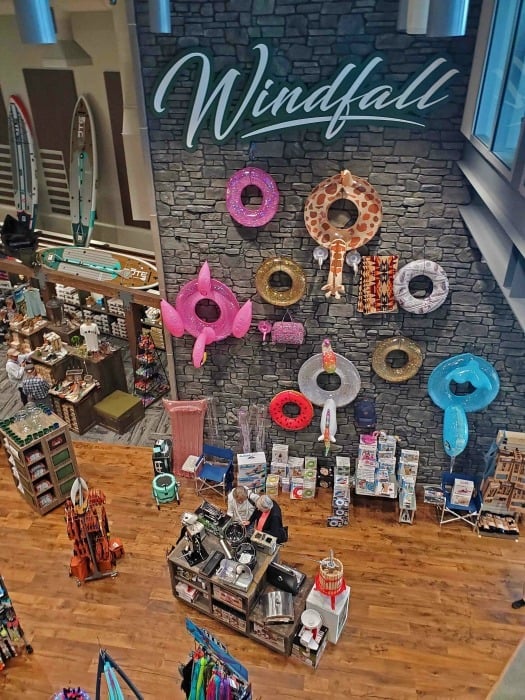 Windfall Northern Quest
If you're interested in camping and the outdoors then you will love Windfall. This store located in the Northern Quest Casino has all the name brands that you have come to love and trust. They have everything from paddleboards to otter boxes.
You can find products from local artists, Dandle's Candles that my wife covets, shirts, Pendleton Blankets and so much more. I could have spent a lot of money in this store as there is so much to desire.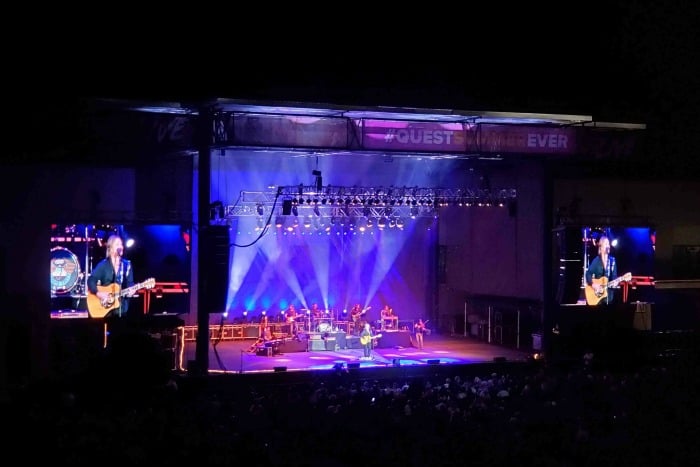 Northern Quest Summer Concerts
Northern Quest has a 5,000 seat outdoor concert venue that hosts several concerts every summer. 2019 concerts included artists like Travis Tritt and the Charlie Daniels Band, Train and the Goo Goo Dolls, Snoop Dogg, ZZ Top, and Pitbull to name a few.
Who knows, there could be a concert you would like to see when staying at the Northern Quest RV Resort.
Don't worry about the noise if you are not interested in attending a concert, I made sure to get back to the campground before the concert was over to see if you could hear the concert from the campground. We could barely hear any noise and that was with actively trying to hear it.
Make sure to check for upcoming concerts when making your reservation to the campground.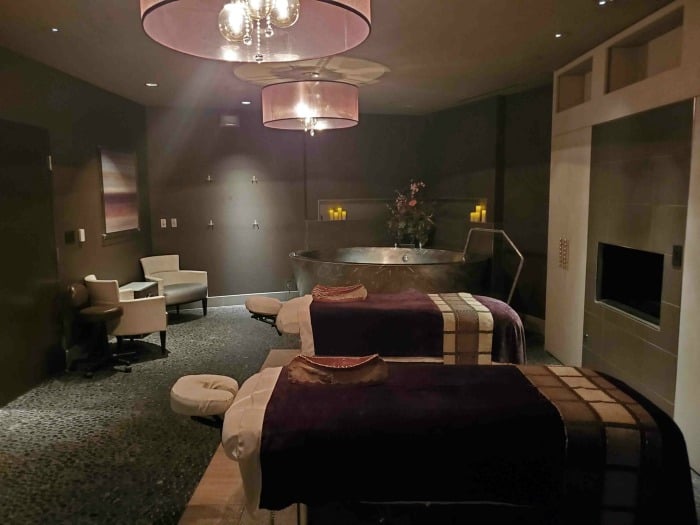 Northern Quest Spa
Have you been on the road for a while and in need of pampering? Perhaps you have done extensive hiking and exploring? Does a massage sound like pure bliss?
I can honestly say that I love the La Rive Spa at Northern Quest! There is an amazing couples massage area and you get all-day access to the spa area with a massage including a beautiful spa area and the experiential showers. We have been here several times as we live in close proximity to the spa and love it.
Make sure to follow this link for more information about this spa.
Northern Quest Casino Campground General Information
Campground Address: 303 S. Kalispel Way, Airway Heights, Wa. 99001
Clubhouse/Office hours: 8:00am-10:00pm
Clubhouse/office phone number: (833)702-2082
Quiet Hours: 10 pm-8 am
Swimming Pool hours: 9:00am-9:00pm
Trash Pickup: Place trash securely in a garbage bag on the roadside at the end of the guest's site by 10:00 am each day.
Kalispell Tribal Police: (509)477-1980
Non-emergency security: (509)939-7247
RV Check-in time is after 1:00pm
Check-out time is by 12:00pm.
A $20.00 late check-out fee applies if you check-out between 12:00 pm-2:00 pm and accessed another full day rental if you check-out after 2:00 pm.
Cottage check-in time is after 4:00 pm.
Check-out time is by 11:00 am.
A $20.00 late check-out fee applies if you check-out between 11:00 am-2:00 pm and accessed another full day rental if you check out after 2:00 pm.
Anyone who has attempted to camp in Spokane in the past can attest that there is a lack of camping spaces in the area, especially nice camping spots! Local parks have very limited RV Camping in Spokane, Washington and the sites available tend to cost a premium not for their amenities but for the fact that you actually got a space.
Campsites and cottages come with 2 guests included. Additional guests are allowed with an additional fee of $5 per RV campsite guest and $10 per cottage guest. Additional guests for the day are subject to an additional $10 per day fee.