Malaquite Campground in Padre Island National Seashore is one of the most beautifully located campgrounds in the National Park Service! After all, it is located right on the Gulf of Mexico, home to some of the best shoreline in all of Texas.
This campground has so much to offer for anyone wanting to camp here. It's a short walk to the beach, in fact, you can hear the waves crashing at your campsite.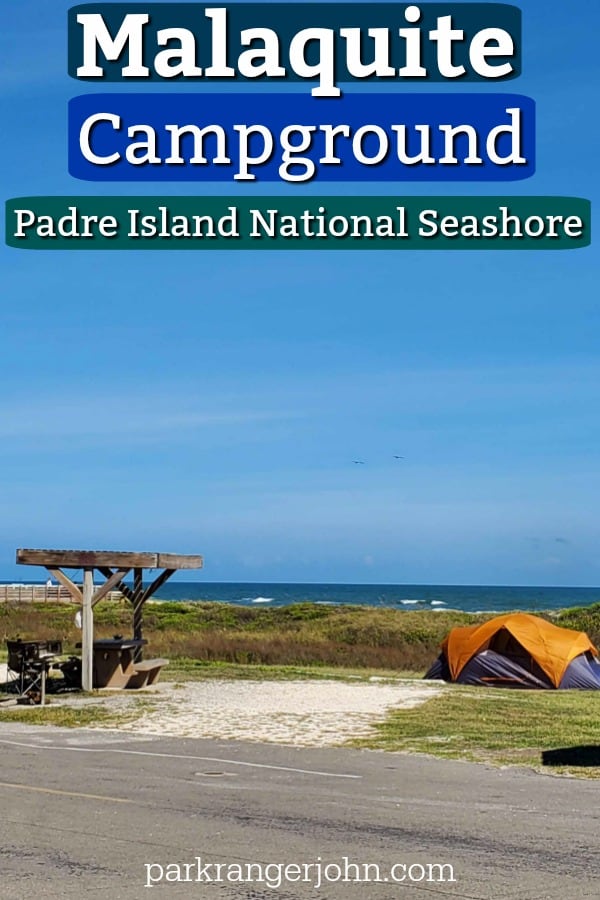 Malaquite Campground - Padre Island National Seashore
The Malaquite beach is free of vehicle traffic and is a place of solitude. What you may not know is that this is perhaps one of the best places in the U.S. to go bird watching. Nearby Corpus Christi, Texas has for ten years running, won the title of America's Birdiest City.
Padre Island National Seashore is also easy to navigate and the Malaquite Campground is centrally located to do pretty much everything this park has to offer. The campground has epic sunrises to start your day off right.
The campground is easy to find. All you have to do is enter the park, pay the park entrance fee then drive straight to the campground that is located on the right-hand side.
The park's visitor center has a huge parking lot and is only a half-mile further down the road from the campground and has great information and displays.
Make sure to go visit Bird Island Basin Campground area. I saw tons of birds and it has a windsurfing area that is ranked by Windsurfing Magazine as the best flat water sailing site in the continental US.
I think that perhaps the most memorable part for me was driving the beach just past the parks visitor center. The first 4 miles are pretty solid and plenty good for most visitors.
You can, however, drive 60 miles of beach. This requires skill, a high clearance 4X4 vehicle and coming prepared for any situation without any help. Remember that cell phones don't work here.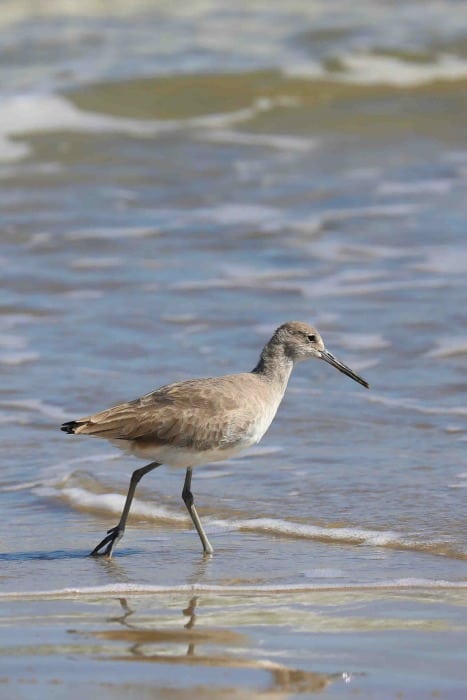 Malaquite Campground General Information
Malaquite Campground is a semi-primitive campground and is beautifully located right off Malaquite beach.
If you want to have modern amenities like full hookups like Sewer, water and electricity for your R.V. and bathrooms and showers, then I would suggest one of many great Texas State Parks like Mustang Island State Park just north of the park.
Season: Open year-round
Number of Sites: 48
Location in the park:
Campsite Cost: $14.00/night,$7.00/night for people with a senior or access pass.
Payments accepted: U.S. Currency, checks, credit cards. Correct change only
Reservations: No
Campground Address: 20420 Park Rd 22, Corpus Christi, TX 78418
Latitude/Longitude: 27.4299° N, 97.2962° W
Elevation: Sea Level
Accessible Sites:
Pets Allowed: Pets must be on a leash at all times.
Malaquite Campground Map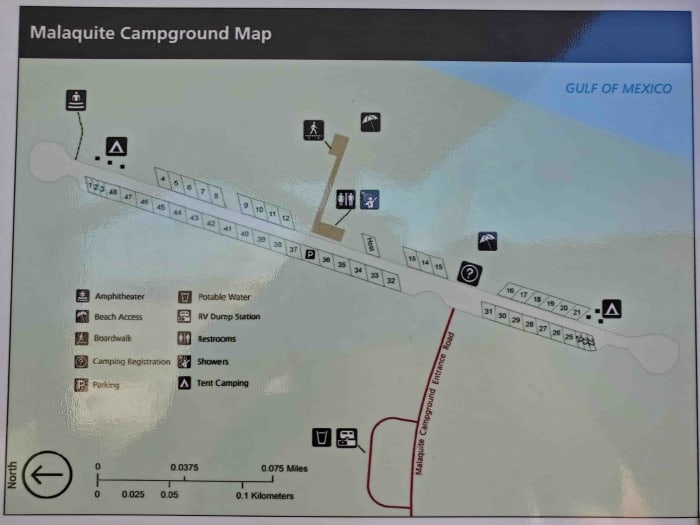 Malaquite Campground Reservations
Are campground Reservations Available? No
First Come, First Served? Yes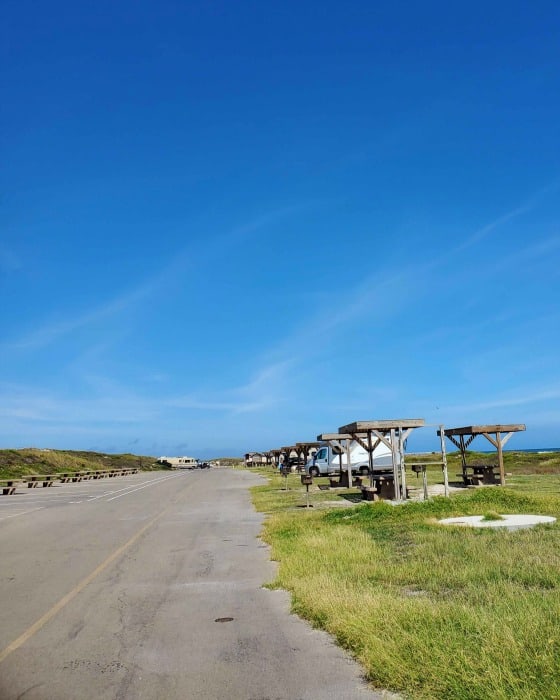 Malaquite Campground Amenities
Flush Toilets: Yes
Cold Water showers (rinse showers): Yes
Fire Pits in campsite: No
BBQ Braziers (Grills) in campsite: All campsites on the gulf side of the road have BBQ Braziers
Shade Structures: All campsites on the gulf side have shade structures
Is WiFi Available? No
Is cellular Phone Service Available? Generally, cellular service is not available in the park.
Is camp host available on site? Yes
Is firewood available for purchase? No
Gas available in the park: No
Fishing licenses available for purchase in the park: No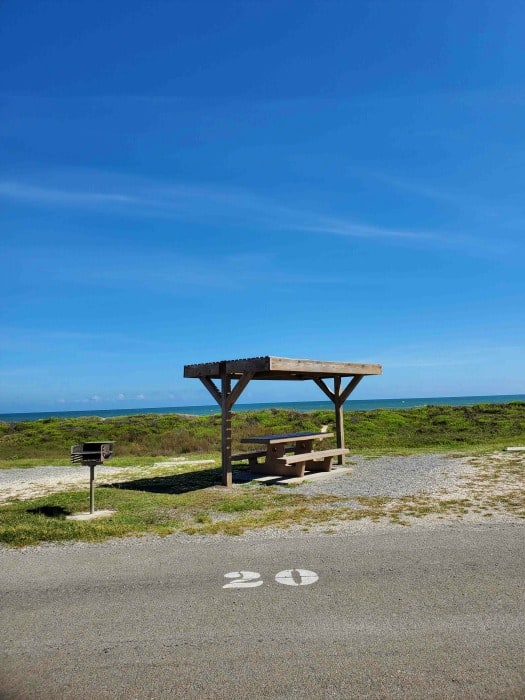 Picnic Table in the site? Yes
Bear Box in site/area? No
Potable Water? Yes, a potable water filling station is off of the entry road to the campground.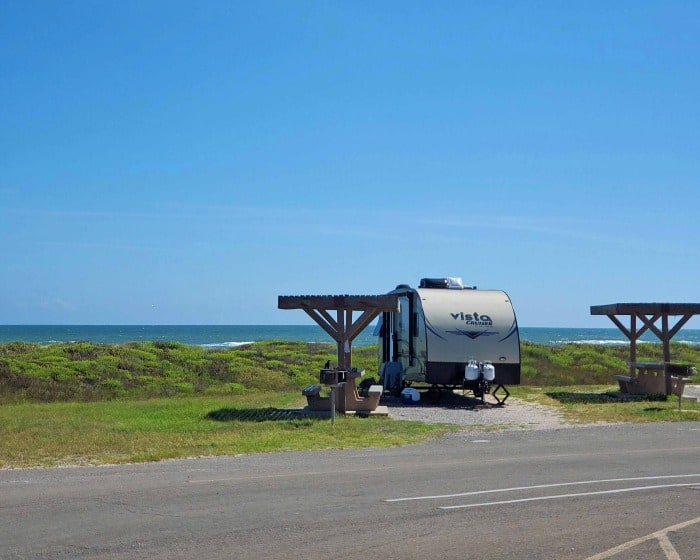 RV Camping at Campground
Dump Station: Yes
Generators: Yes, do not use during quiet hours (10:00 pm-6:00 am)
Hookups: No
How to get to Campground
Drive east through Corpus Christi, Texas on Highway 358. After crossing the JFK Causeway onto Padre Island, Highway 358 changes into Park Road 22. Continue about 12 miles south on Park Road 22 to reach the campground on the left-hand side of the road.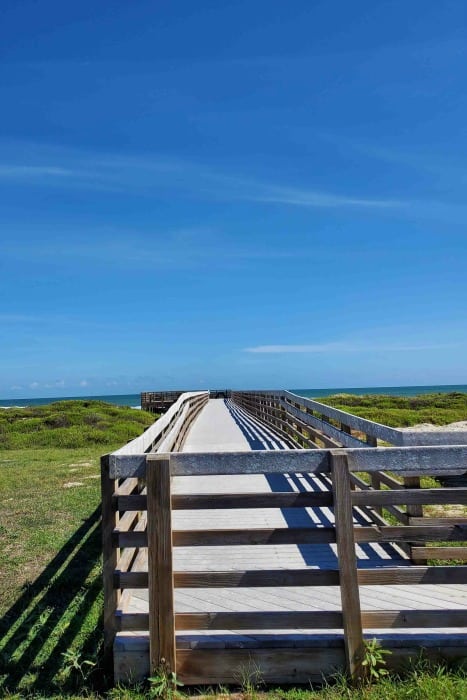 Campground Regulations
The maximum number of people in a campsite: 8
The number of cars per campsite: 2
Checkout time: 12:00 PM
Quiet Hours: 10:00 PM- 6:00 AM
Maximum Stay: 14-day stay limit, after 14 nights, must vacate for 14. Maximum of 28 nights per year.
The use of Metal Detectors is prohibited.
Public nudity is prohibited.
Personal watercraft and kiteboarding are prohibited anywhere within the park.
Do not feed the wildlife - Watch for snakes - Jellyfish sting! Be Cautious!
Report nesting turtles immediately by calling (361)949-8173 ext. 226.
No Ground Fires and no fires left unattended.
Please be prepared for the weather while visiting Texas beaches.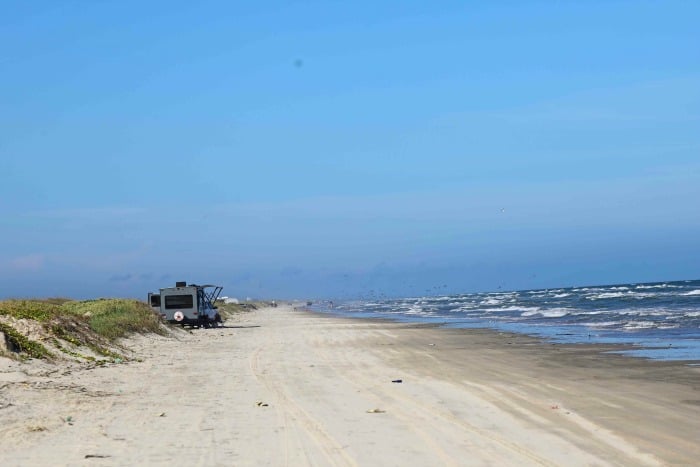 Bird Island Basin Campground
Bird Island Basin Campground is just a short drive back towards the park entrance. This is a primitive campground that spectacular sunset views!
Here you will not find showers or flush toilets, just the standard chemical toilet. RV's and tent camping is available but there are not utility sites for RV's. I was amazed at the number of birds that I saw in and around this campground!
Camping on North Beach, South Beach, and Yarborough Pass
Camping on the beach requires you to pay the park entrance fee and obtain a free camping permit. This is primitive camping and there are no services available.
Make sure to check beach conditions, as well as weather conditions, at the parks visitor center before heading out.
Be aware there are portions of deep soft sand that even four-wheel-drive vehicles become stuck so it is paramount that you are self-sufficient and able to get yourself out of a difficult situation.
Remember that cellular phone service is a rare find in Padre Island National Seashore.
Items to pack for camping at Padre Island National Seashore
Sunscreen - Hat - Binoculars - Field Guides - Insect Repellent - Portable fire pit - Beach recliner chair - Tent stakes for sand - Fast drying beach towel - kite - Beach toys
Photos of Campground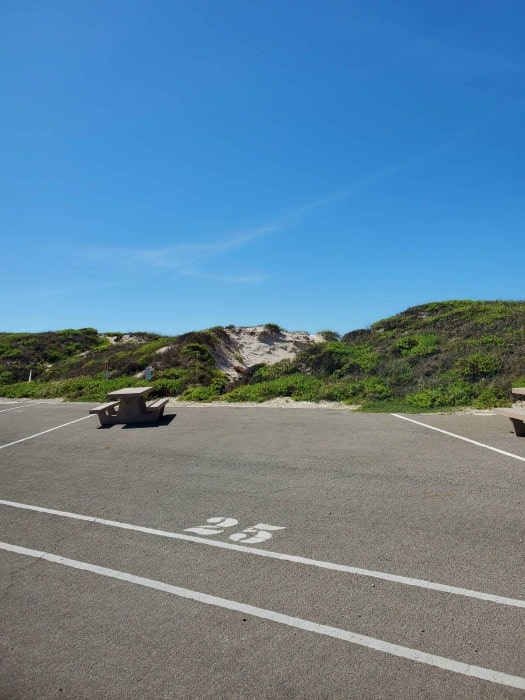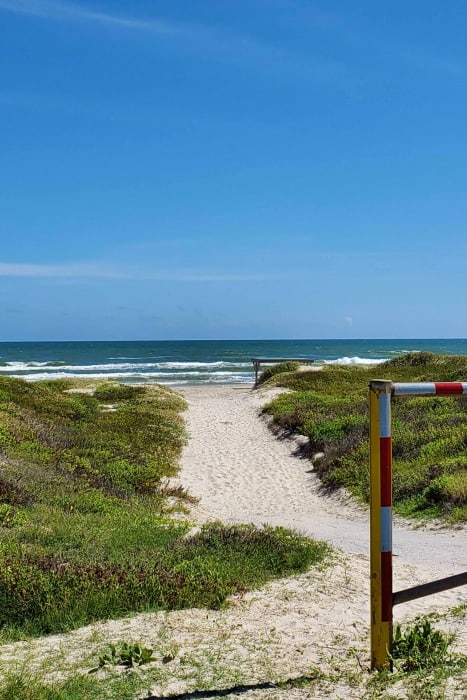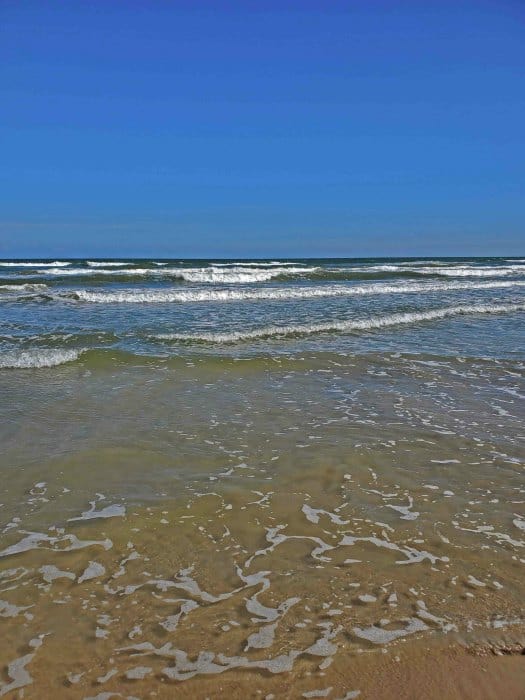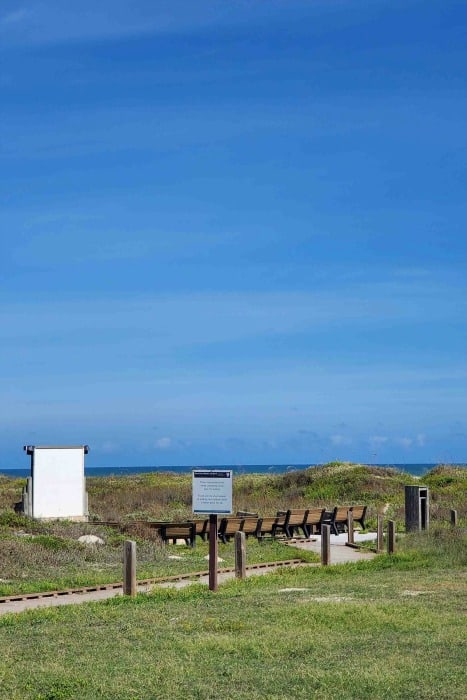 National Park Sites near Malaquite Campground
Palo Alto Battlefield National Historic Park - 163 miles away, 2 Hours, 40 minutes drive time.
San Antonio Missions National Historical Park - 151 miles away, 2 hours 25 minute drive time
Lyndon B. Johnson National Historic Park - 227 miles, 3 hours and 50 minutes away
Amistad National Recreation Area
Check out all of the great National Parks in Texas and neighboring National Parks in Louisiana and Oklahoma National Parks.