Do you or someone you know work outdoors? Do you still like to get outside and go for a hike even though winter is approaching? Are you someone that looks forward to the winter so that you can polish up your skis or put on some snowshoes and enjoy the cool brisk mountain air and beautiful blue skies?
Winter can be a great time to get outside and enjoy the outdoors! Having said that, I find a warm meal and a fireplace at the end of the day to be just as rewarding.
The problem is that we are often exhausted after spending an entire day outdoors in the elements and tend to not want to take the time to cook up one of these meals. Thank goodness we have that slow cooker crock pot sitting there calling our name.
It is so much easier to get things ready in the morning before heading out. I personally love snowshoeing and like to get this easy Slow Cooker Crockpot Lasagna Recipe set up before heading out to the mountain.
Crockpot Lasagna Recipe
When we come home completely exhausted and drop our stuff off by the door and ready to collapse, we have this amazing aroma that carries you to the kitchen.
This is that moment that you realize how happy you can be as you enjoy dinner and the fireplace before heading to bed.
Talk about a perfect winters day!
You don't have to be a fan of winter recreation to enjoy this recipe. Maybe you have to spend the afternoon shoveling out the driveway from your last snowstorm or you simply want to watch the snow fall with a hearty dinner.
This easy Slow Cooker Crock Pot Beef Lasagna Recipe is one of my favorite things to make. Did I mention that it is super easy to make which is always nice? I hope you enjoy!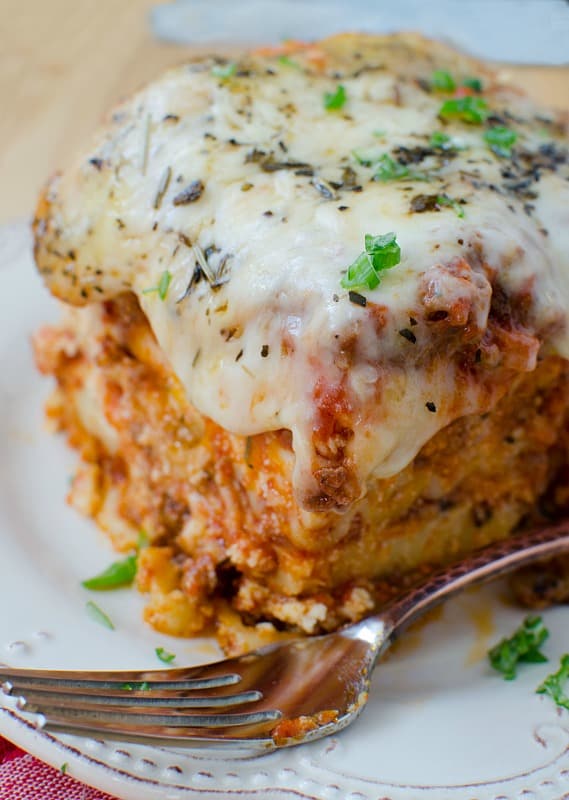 If you are like me and love comfort food recipes check out a few of my favorites:
Taco Tater Tot Casserole Recipe
Sloppy Joe Tater Tot Casserole Recipe
Make sure and pin this pic so you can easily find this recipe anytime you want to make it!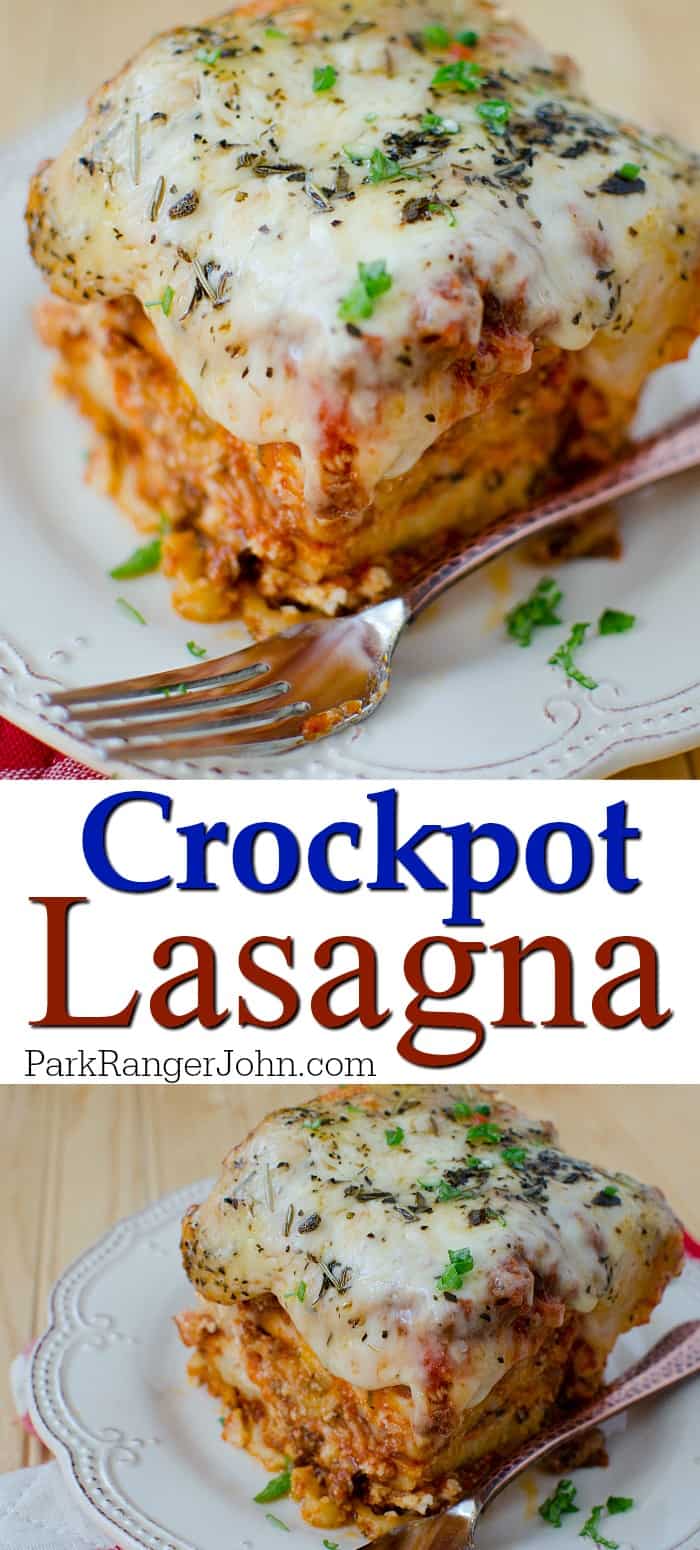 Crock Pot Beef Lasagna
Ingredients to make slow cooker lasagna
1 pound ground beef, browned
4-5 cups tomato sauce
24oz container ricotta cheese
8-10 lasagna noodles, uncooked
2-3 cups mozzarella cheese
Italian Herbs
How to make crockpot lasagna
1. combine beef and spaghetti sauce
2. Combine ricotta cheese and Italian herbs
3. Layer beef, dry noodles, ricotta cheese mix, mozzarella cheese...Repeat
4. Layer until you run out of ingredients
5. Cook on high for 4-5 hours or low for 6-8 hours
You can see all of my recipes on my Park Ranger John Recipe board on Pinterest!
Easy Slow Cooker Crock Pot Beef Lasagna Recipe
Delicious Easy Slow Cooker Crock Pot Beef Lasagne Recipe from ParkRangerJohn.com
Ingredients
1

pound

ground beef

browned

4-5

cups

tomato sauce

24

oz

container ricotta cheese

8-10

lasagna noodles

uncooked

2-3

cups

mozzarella cheese
Instructions
Combine beef and spaghetti sauce

Combine ricotta cheese and Italian herbs

Layer beef, dry noodles, ricotta cheese mix, mozzarella cheese…Repeat

Layer until you run out of ingredients

Cook on high for 4-5 hours or low for 6-8 hours
Nutrition
Calories:
679
kcal
|
Carbohydrates:
40
g
|
Protein:
41
g
|
Fat:
39
g
|
Saturated Fat:
20
g
|
Cholesterol:
141
mg
|
Sodium:
1238
mg
|
Potassium:
975
mg
|
Fiber:
3
g
|
Sugar:
8
g
|
Vitamin A:
1465
IU
|
Vitamin C:
11.5
mg
|
Calcium:
466
mg
|
Iron:
4.2
mg