The Sol Doc Hot Springs Resort is located next to Sol Doc Hot Springs and offers great access to Olympic National Park. The cabins are perfect for a National Park Getaway.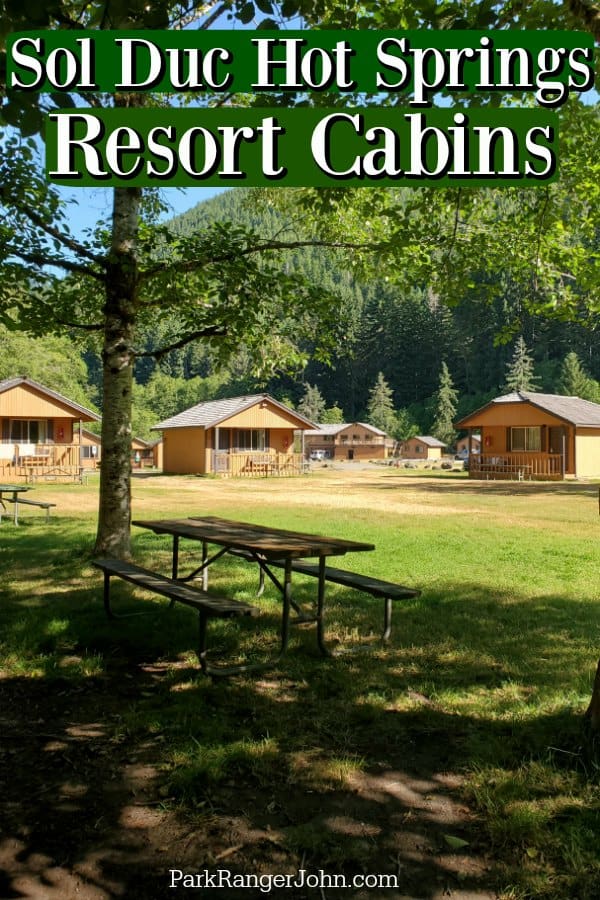 We stayed in a Sol Duc Kitchen Cabin with 2 queen beds. The cabin was nicely sized with a table and a small kitchen.
The one thing to know is the cabins do not have air conditioning so if you are visiting on one of the few hot summer days you will want to get the windows open as soon as you can.
We opened up the windows and there was a nice breeze that cooled off the cabin quickly.
The highlight of a stay at the Sol Duc Hot Springs Resort is included access to Sol Duc Hot Springs Mineral Pools!!! We started our day at the hot springs and it was amazing. Soaking in 106-degree mineral hot springs pools is the perfect way to soothe sore muscles from hiking the amazing Olympic NP Trails.
The cabins provide easy access to Sol Duc Falls and other hiking trails in the area. The resort offers the opportunity to truly explore the Sol Duc Valley and Sol Duc River as it flows through the park. Surrounded by the old-growth forest this part of the Olympic National Park is truly breathtaking.
Sol Duc Kitchen Cabin
1 King or 2 Queen Beds
Fully equipped kitchen with sink, refrigerator, stove/oven, coffee maker, dishes/flatware, cooking utensils, table with chairs, and dresser
ADA Kitchen Cabin has one king bed.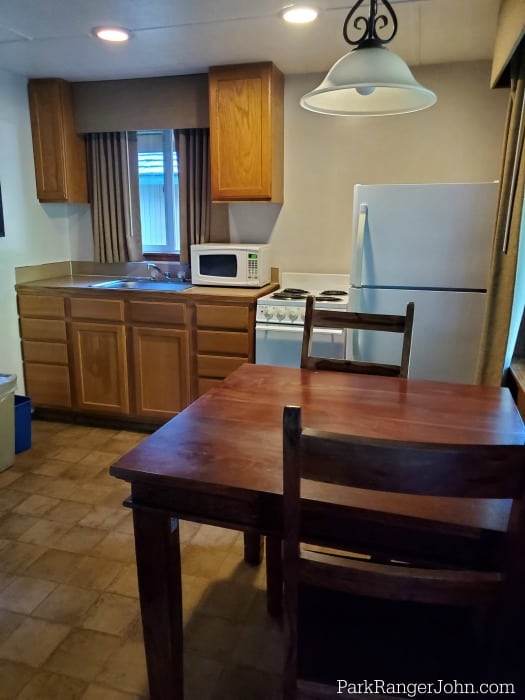 Room Amenities
Private Bathroom
Coffee Maker
ADA Accessible Rooms
Housekeeping Services
Hair Dryer
Non-Smoking
Pet-Friendly
Resort Amenities
Hot Springs Pool Access (included) Check with the front desk for pool hours
Swimming Pool
Gift Shop
On-Site Massage
Free Guest Parking Lot
Non-Smoking
ADA Accessible
Pet-Friendly
The resort has two electric vehicle charging stations located near the cabins.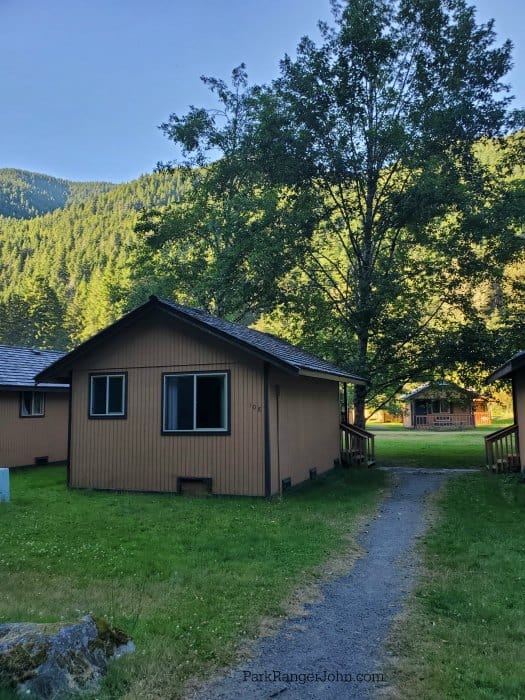 Things to know when planning a trip to the Sol Duc Resort
Check-In: 4:00 pm at the front desk of the main lodge
Check-Out: 11:00 am
Front Desk Hours: 7:30 am - 10:00 pm
Pets - A $25.00 non-refundable fee per pet per stay is due at check-in.
Pet must be leashed at all times.
A maximum of two pets allowed. No size limit applies.
Smoking - All rooms and tours at our facilities are non-smoking.
WiFi - There is no internet access
Additional Olympic NP Resources
Check out all of the Olympic National Park Camping options. There are 14 campgrounds within the park
Olympic National Park Lodging - Check out our complete guide of all the places to stay within the park
Things to do in Olympic NP - Find out all of the top things to do in this great park.
Free National Park Days - Check out the 5 days a year the National Park Service waives entrance fees.
Most visited National Parks - Check out all of the top-visited parks in the United States
Moon Olympic Peninsula Guide Book
Olympic National Park trails map
Check out all of the National Parks in Washington along with neighboring National Parks in Idaho, National Parks in Oregon, Hawaii National Parks, and Alaska National Parks