Taking a dip in the Sol Duc Hot Springs in Olympic National Park is an amazing experience. This is one of the top bucket list things to do in Olympic NP.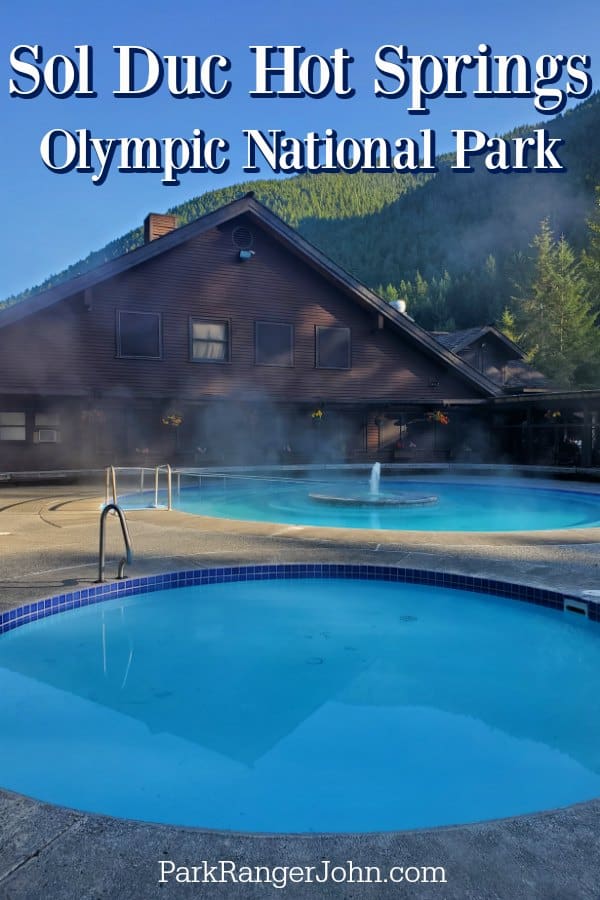 Sol Duc Hot Springs
Taking a dip in the Sol Duc Hot Springs should be on every visitor's to-do list when visiting Olympic National Park.
Located next to the cabins at Sol Duc Hot Springs Resort you can stay and play in this gorgeous part of the park
Sol Duc Hot Springs is located in Olympic National Park near the Sol Duc River on the Olympic Peninsula and offers the opportunity to soak in amazing hot pools.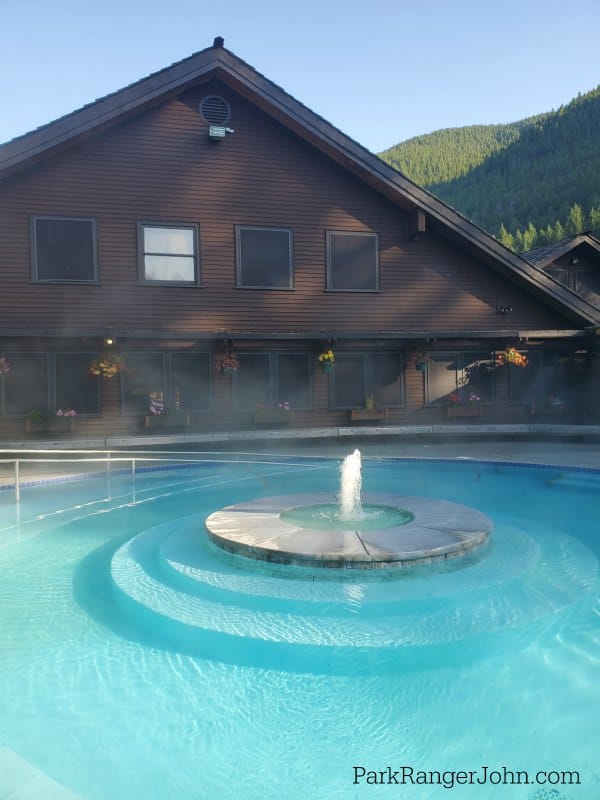 When you think of hot springs you may picture a natural pond surrounded by rocks that you have to hike out to. One of the really cool things about Sol Duc Hot Springs is the pools look like normal swimming pools.
You don't have to hike farther than walking from the parking lot into the main building and through to the pool deck to enjoy these hot springs.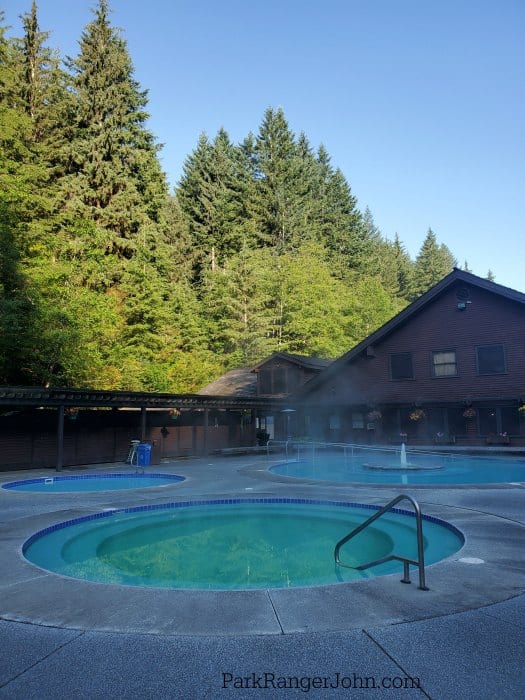 There are three hot springs at Sol Duc Resort and regular cool water swimming pool. The hot water is fed into the pools directly from the hot springs.
The three pools range in temperature from 98 to 104 with varying temperatures based on how many people have been in the pools, time of day, and season.
Mineral Water Wading Pool: approximately: 98F / 37C / 6-8' deep
Large Mineral Fountain Pool: approximately 101F / 38C / 3' deep (meets accessibility standards)
Medium Mineral Pool: approximately 104F / 40C / 3' deep
Freshwater Pool: Varies seasonally between 50F - 85F / 10C - 30C (universally accessible)
As a guest, you can enjoy moving between the pools easily to find the one that is just right for you.
It is worth remembering to bring a water bottle with you so you do not get dehydrated soaking in the hot pools.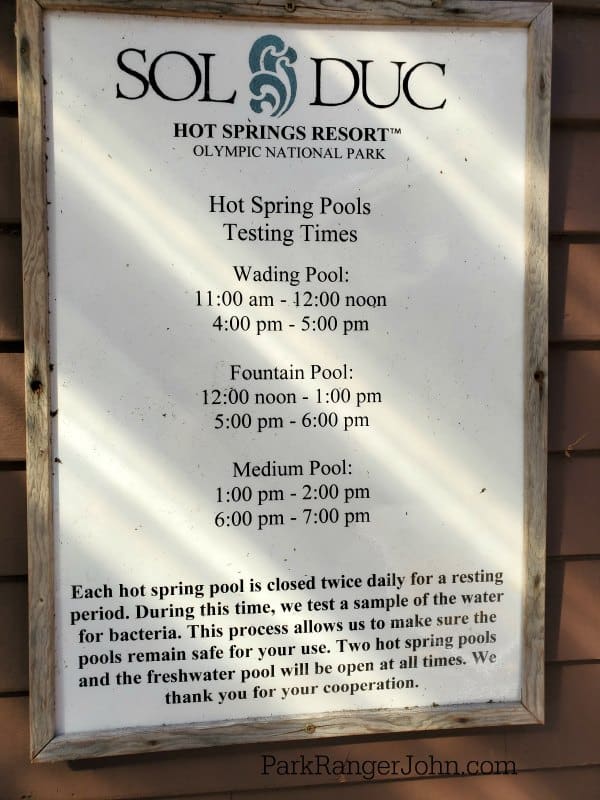 There is an hot springs restaurant that offers full dining and drinks next to the pools. It is a great place to take a break from the hot pools for a few minutes and grab something to eat.
Locker rooms are available onsite with showers and lockers.
There is a gift shop right when you enter the main entrance that has great gifts and products.
Guests of the Sol Doc Hot Springs Resort have entrance to the hot pools included in their room rates which is a great benefit for staying in this part of Olympic National Park.
We loved that the resort offers access to the mineral hot spring pools. It was such a great way to start our day before heading out to explore the nearby hiking trails and old growth forest.
Travel Tips
Pack flip flops or slip-on shoes for walking on the pool decks.
Don't forget to pack a water bottle to stay hydrated. There is no glass allowed on the pool deck so make sure you have a plastic water bottle
Plan to spend at minimum a few hours at Sol Duc Hot Springs. It is so relaxing soaking in the hot pools you will not want to leave.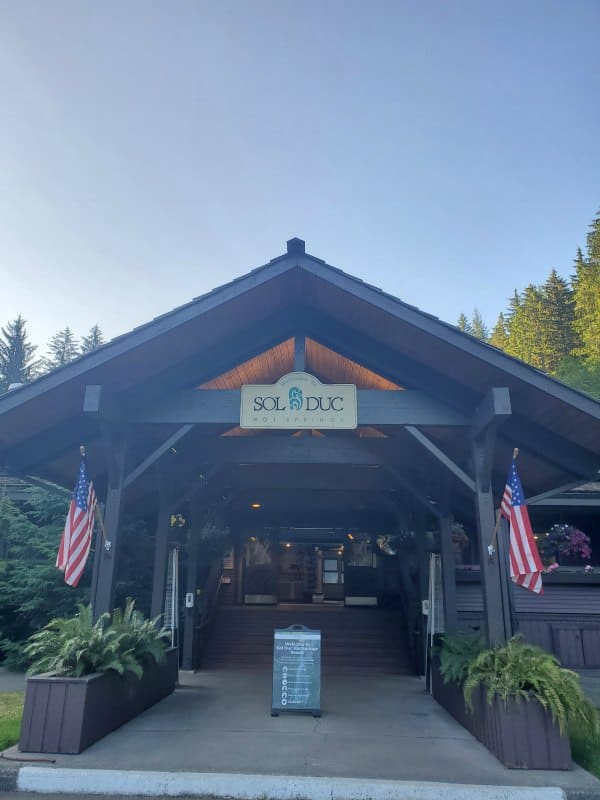 Sol Duc Hot Springs Address - 12076 Sol Duc-Hot Springs Rd, Port Angeles, WA 98363
Entrance Fee
Passes are available for purchase on site.
Adults (Age 12+)
$15.00
Children (Age 0-3)
FREE (with limited pool access)
Children (Age 4-11)
$11.00
Senior Citizens (62+), Disabled, or Military
$11.00
Twilight Hour Pool Rate (Last 2 Hours of Daily Schedule)
$11.00
Book of 10 Pool Passes
$110.00
Season Pass
$150.00
Locker Rental
FREE
Towel Rental
(Towels are for rent as available)
$3.00
Groups (25+ guests) Adults
$11.00
Groups (25+ guests) Children ages 4-12
$10.00
Sol Duc Hot Springs Pool Hours
| | | |
| --- | --- | --- |
| Spring | April 24 - May 21 | 9:00 am - 8:00 pm |
| Summer | May 22 - September 6 | 9:00 am - 9:00 pm |
| Fall | September 7 - October 25 | 9:00 am - 8:00 pm |
| Winter | Starting October 26 | Closed |
Closest Lodging
Closest Camping
Sol Duc RV Campground
Nearby Olympic National Park attractions
Additional Olympic National Park Articles
Olympic National Park Lodging Guide
Olympic National Park camping guide
Check out all of the Washington National Parks along with neighboring Oregon National Parks, Idaho National Parks, National Parks in Hawaii, and National Parks in Alaska