The Sol Duc Falls Trail is a remarkable hike through the Sol Duc in Northern Olympic National Park. The hike is fairly simple and is doable for almost all skill levels of hikers. It will take you through the beautiful old-growth forest and come down to the 50-foot cascading falls. These falls are utterly amazing.
The falls include an awesome wooden bridge and a walkway along the side of the falls with a railing to get different views of the falls. There is also a very cool log cabin shelter along the trail right before making the descent to the falls. This hike is one you do not want to miss!!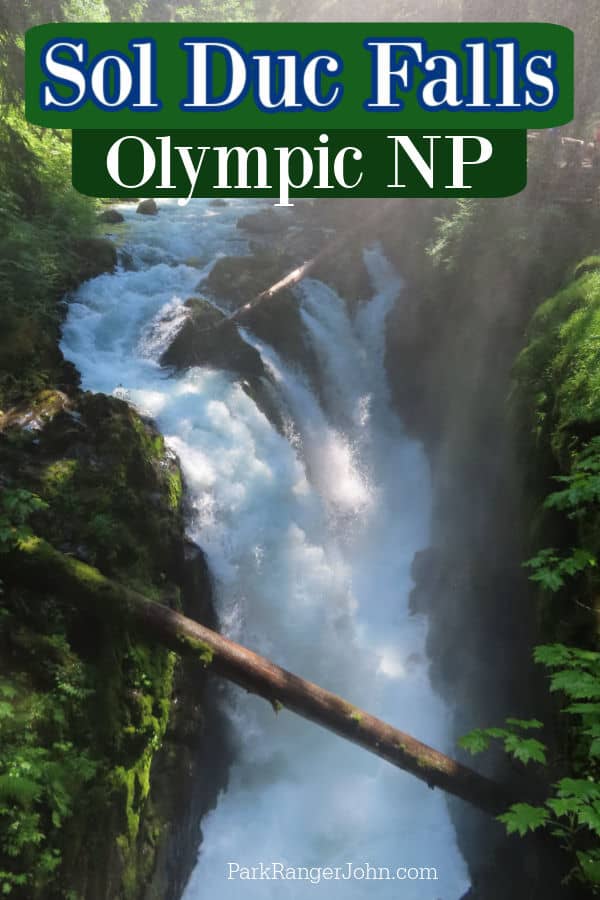 Sol Duc Falls Trail - Olympic National Park
Distance: 1.6 miles round trip, in and out
Elevation Gain/Loss: 200 feet
Time: About 90 minutes to 2 hours depending on the hiker's speed and the number of photographs taken.
Difficulty: Easy to medium difficulty for most hikers. There are a few inclines and the trail can be rocky and covered in roots at some points. This hike may be more difficult for people with knee, back, or other health problems.
Restrooms: There is an outhouse by the trailhead.
Accessibility: Not ADA Accessible
Pets: No pets are allowed on the Sol Duc Falls Trail
Parking: It has a small parking lot but if you get there early you don't have to worry about not getting a spot.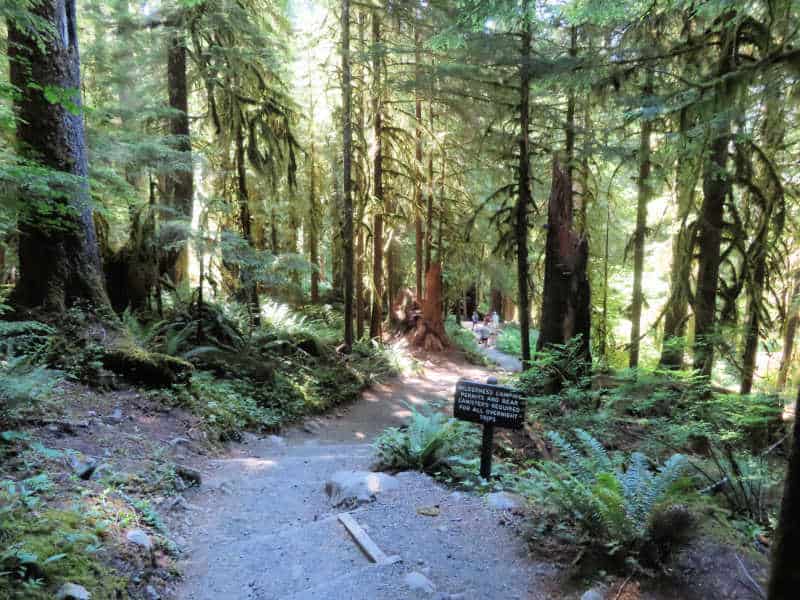 Where is the Sol Duc Trail?
Coming from Port Angeles, take US 101 West. In about 25 miles you will take a left onto Sol Duc Hot Springs Road. Travel for 9 miles then continue on Sol Duc Road for another 4.7 miles and you will arrive at the trailhead.
From Forks, head North on US Highway 101 towards Shuwah. Continue on US 101 for 27.6 miles. Then turn right onto Sol Duc-Hot Springs Road and travel for 9 miles. Then continue straight on Sol Duc Road for another 4.7 miles and you will arrive at the trailhead.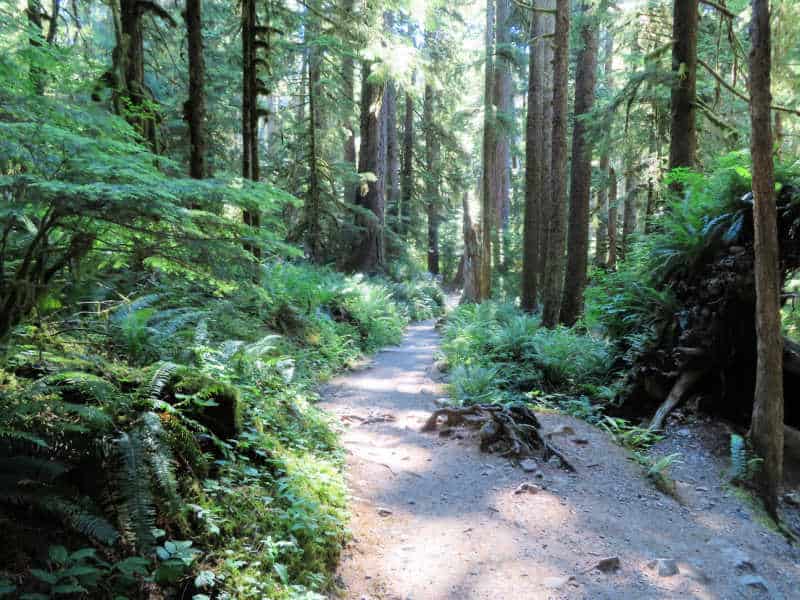 Hiking the Sol Duc Trail
The Sol Duc Falls Hiking Trail is a fun trail that is great for most skill levels of hikers. It has 2 major declines on the way to the falls that turn into inclines on the way back. There also can be some spots of the trail that can be rocky or have some exposed roots.
Once you get to the falls the bridge and trail can be wet and muddy so be careful. I suggest to take your time and soak in the hike as much as you can because it is amazing!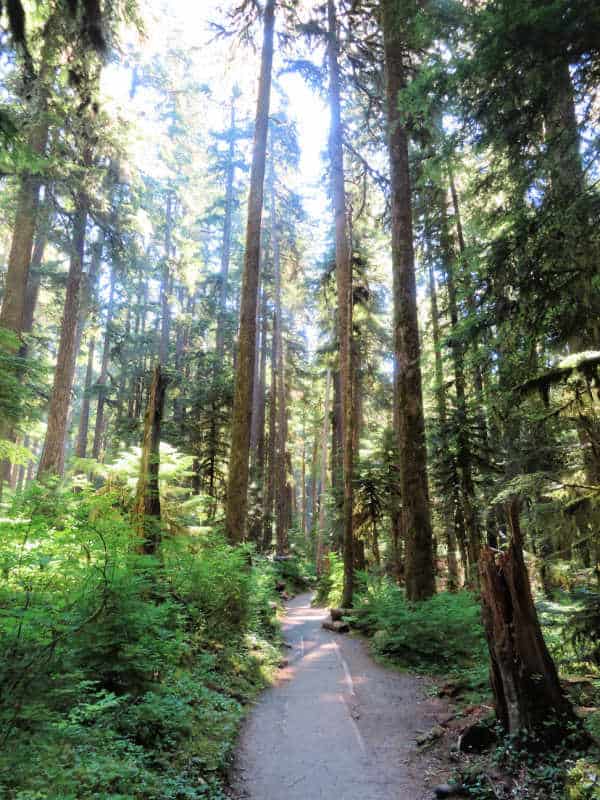 Trail Safety
Always be aware of bears and other wildlife and always know your bear safety. All wildlife can also be dangerous so keep an eye out for moose, elk, deer, and more.
Follow leave no trace principles while exploring this day hike trail and longer hiking trails.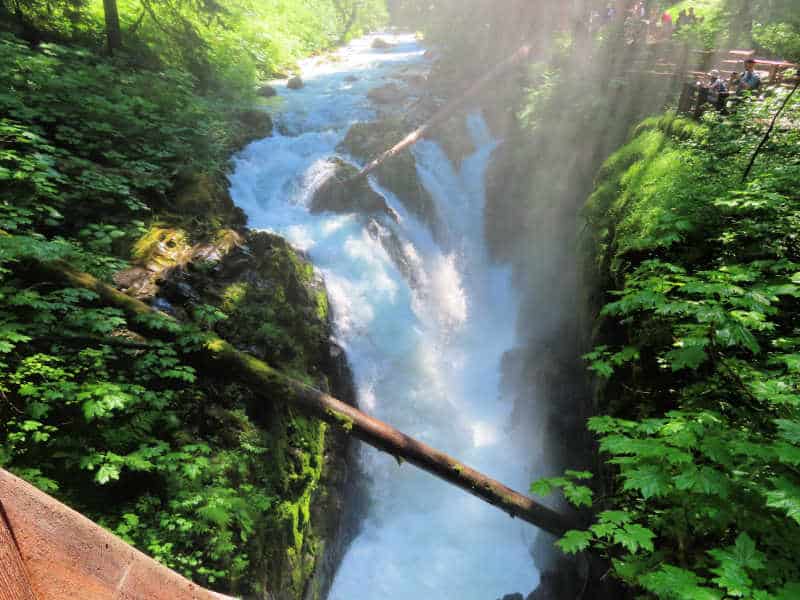 What to Bring
Water: It is not a very long hike but still bring water to help prevent dehydration and other heat illnesses
Closed-toed shoes/boots: Closed toes shoes and boots are recommended due to the water and mud that can be on the bridge and trail. Also, make sure your shoes or boots are comfortable for hiking to prevent foot sores.
Closest Attractions: Sol Duc Hot Springs, Lake Crescent, Spruce Railroad Trail, Hall of Mosses, Hurricane Ridge
Closest Campground: Sol Duc Campground
Closest Lodging: Sol Duc Hot Springs Resort
Distance to other Olympic National Park Destinations
One thing to know about traveling within Olympic National Park is many destinations are a fair distance away from each other. This is not a park you are going to see everything in one or two days.
It can take a lot longer than you expect to reach many destinations within the park. Plan extra time for driving!
Sol Duc to -
Hoh Rainforest - 72 miles, 2 hours 30 minutes
Kalaloch - 72 miles, 2 hours
Mora - 50 miles, 1 hour 30 minute
Lake Ozette - 69 miles, 2 hours 30 minutes
Hurricane Ridge - 39 miles, 1 hour 30 minutes
Lake Quinault Rain Forest - 104 miles, 2 hours 45 minutes
Staircase Ranger Station - 140 miles, 3 hours 30 minutes

Additional Olympic NP Resources
Check out all of the Olympic National Park Camping options. There are 14 campgrounds within the park
Olympic National Park Lodging - Check out our complete guide of all the places to stay within the park
Things to do in Olympic NP - Find out all of the top things to do in this great park.
Free National Park Days - Check out the 5 days a year the National Park Service waives entrance fees.
Most visited National Parks - Check out all of the top-visited parks in the United States
Moon Olympic Peninsula Guide Book
Olympic National Park trails map
Check out all of the Washington National Parks along with neighboring Oregon National Parks, Idaho National Parks, National Parks in Hawaii, and National Parks in Alaska