Lake Crescent in Olympic National Park, Washington is a beautiful lake offering camping, hiking, picnic areas, and beautiful scenery. The lake is 624 feet deep and truly magnificent.
Lake Crescent
Huge ice sheets formed the valley and Lake Crescent millions of years ago. As the ice fields retreated they left a steep valley that is now filled with water to become Lake Crescent.
Many geologists feel that Lake Crescent and Lake Sutherland were created at the same time.
The area is a great opportunity to explore more of the beautiful Olympic Peninsula in Washington.
Where is Lake Crescent?
Lake Crescent is about 18 miles west of Port Angeles making it a great day trip.
Lake Crescent is part of Olympic National Park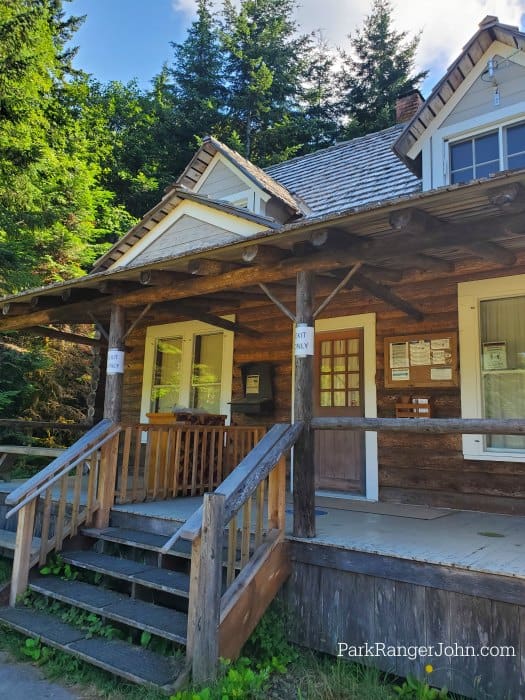 Storm King Ranger Station
The Storm King Ranger Station was built by the U.S. Forest Service in 1905. It has been a ranger station for over 100 years.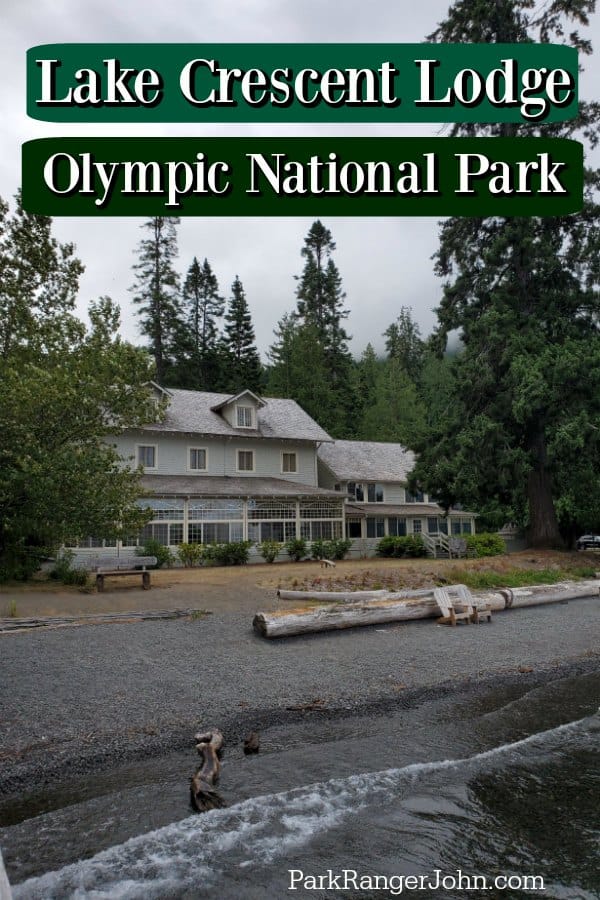 Located at Barnes Point on Lake Crescent Road, just off Highway 101
Lake Crescent Lodge offers a few different types of lodging options ranging from cottages to lodge rooms.
We stayed in a Singer Tavern Cottage and enjoyed amazing views of the lake right from the front porch of our cottage.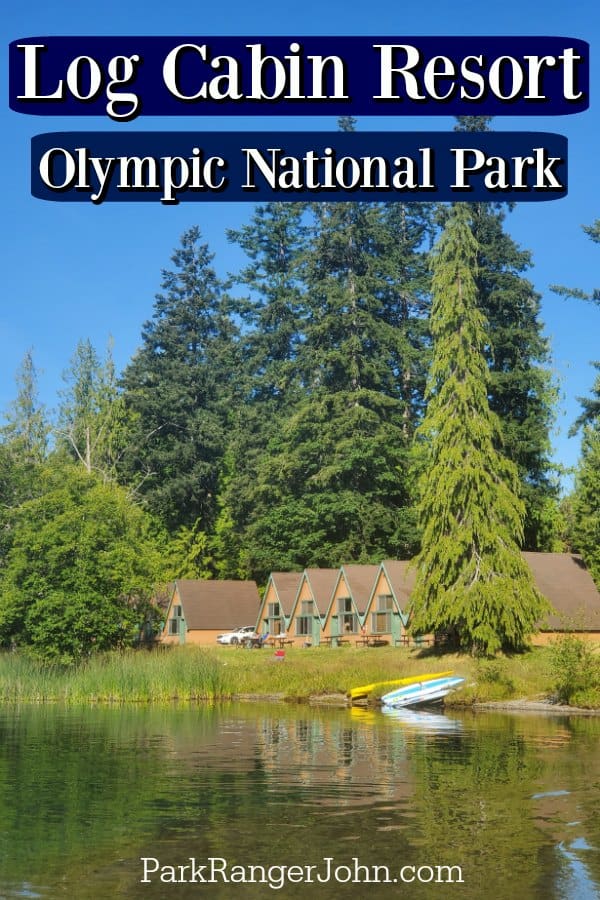 Located on East Beach Road, north of Highway 101.
The Log Cabin Resort has camper cabins, lodge rooms, and an RV area. The lodge rooms sit right near the lake and offer amazing views.
Fairholme Store
The Fairholme Store is located right off of Highway 101 and offers groceries and boat rentals (summer only).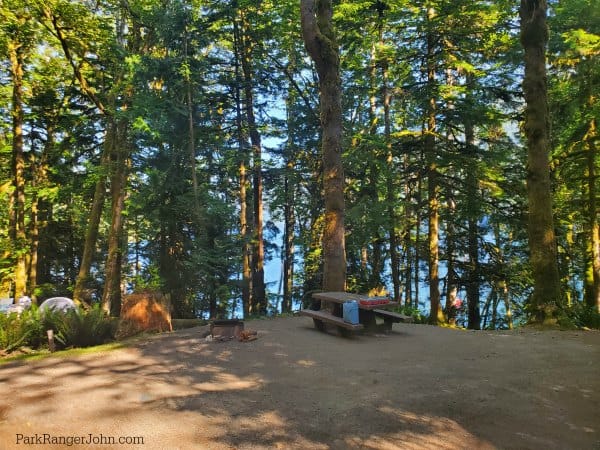 Lake Crescent Camping
There are a couple of options for Lake Crescent Camping including the NPS Fairholme Campground and the RV camping area at the Log Cabin Resort.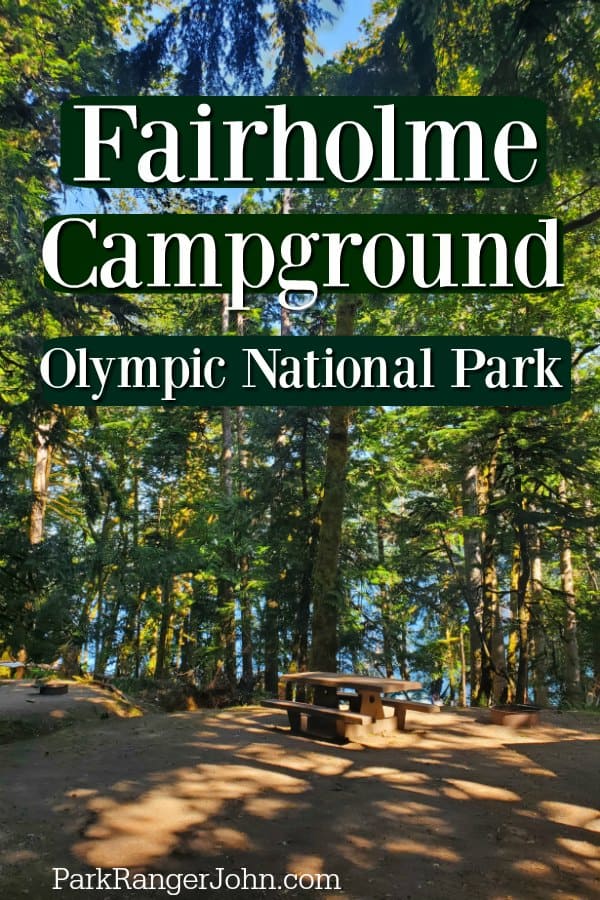 87 sites (one accessible), fire pits with grates, picnic tables, potable water, animal-proof food storage lockers, accessible restrooms, RV dump station.
Open late spring into early fall.
Log Cabin RV Resort
Summer-only RV campground.
I will say that calling this an RV resort may be a bit of a stretch. This small RV Campground does have hook-ups but the sites are tightly packed in together.
We had to sit for 20 minutes while a camper attempted to pull his camper out of his spot. The other trucks and RVs were so tight that he was struggling to be able to pull out.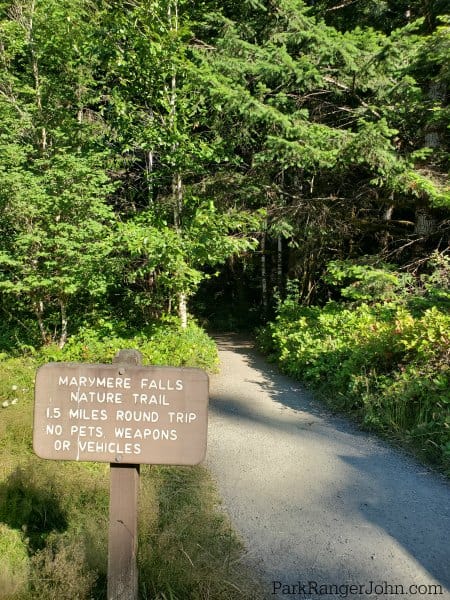 Lake Crescent Hikes
There are multiple hiking trails surrounding the lake. You can enjoy a leisurely walk to Marymere Falls or the longer but still gorgeous Spruce Railroad Trail.
Distance - 0.9 miles one way
Elevation gain - 400 feet
Hike to a gorgeous waterfall through an old-growth forest.
Moments in Time
Distance - 0.6 mile loop
Elevation Gain - None
Self-guided nature trail through forest and by the lake, accessible with assistance.
Mount Storm King
Distance - 2.2 miles one way
Elevation Gain - 2,000
Spruce Railroad
Distance - 4.0 miles one way (6.5 miles extension one way)
Elevation Gain - 100 or 500 feet
Fairholme Campground Loop
Distance - 0.8-mile loop
Elevation Gain - 100 feet
Pyramid Peak
Distance - 3.5 miles one way
Elevation Gain - 2,600 feet
Aurora Creek
Distance - 3.4 miles one way
Elevation Gain - 3,220 feet
Barnes Creek
Distance - 7.5 miles one way
Elevation Gain - 4,200 feet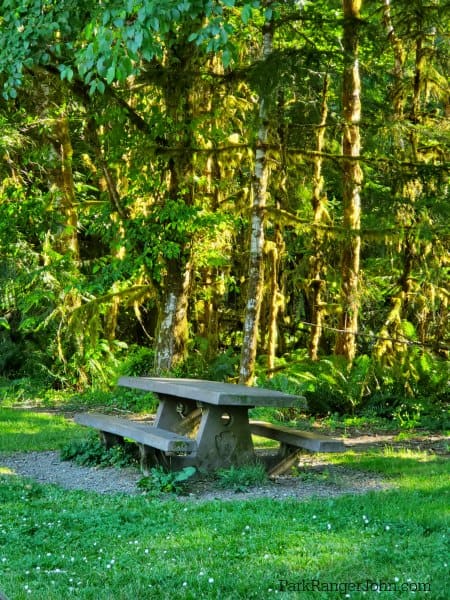 Picnic Areas
East Beach
The East Beach picnic area has a very popular swimming beach and great space for kids to play.
Amenities- accessible vault toilet, fire pits, tables.
Bovee's Meadow
Beach, accessible vault toilet, tables.
La Poel
La Poel picnic area has amazing views of the lake and Pyramid Mountain.
(summer only): firepits, tables, accessible vault toilet.
North Shore
Accessible vault toilet, firepits, tables.
Boating
Boat launches are located at both east and west ends of the lake.
Rowboats are available for rental from Lake Crescent Lodge.
We truly believe this is one of the best Olympic Peninsula Kayaking destinations!
Lake Crescent Map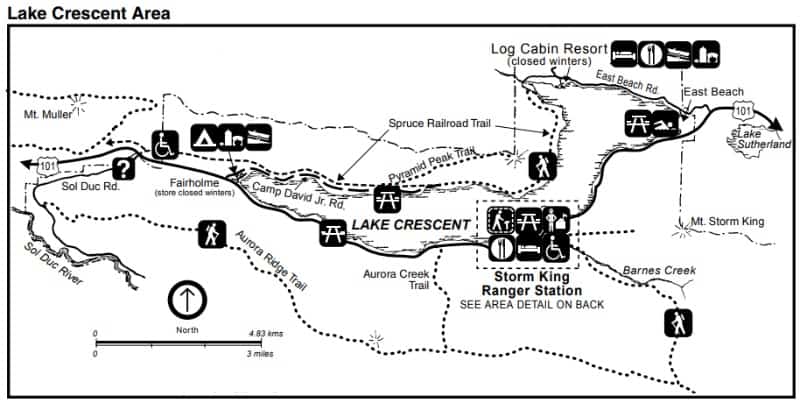 Distance to other Olympic National Park Destinations
One thing to know about traveling within Olympic National Park is many destinations are a fair distance away from each other. This is not a park you are going to see everything in one or two days.
It can take a lot longer than you expect to reach many destinations within the park. Plan extra time for driving!
Crescent Lake -Storm King Ranger Station to -
Hurricane Ridge - 39 miles, 1 hour
Sol Duc - 16 miles, 1 hour
Hoh Rainforest - 72 miles, 2.5 hours
Kalaloch - 40 miles, 1 hour
Mora - 48 miles, 1 hour 15 minutes
Lake Ozette - 65 miles, 2 hours
Quinault Rain Forest - 120 miles, 2 hours 45 minutes
Staircase Ranger Station - 126 miles, 2 hours and 45 minutes
Rules/Regulations
Pets and bicycles are not permitted on trails, except on the Spruce Railroad Trail.
Alcohol and glass are not permitted on public beaches.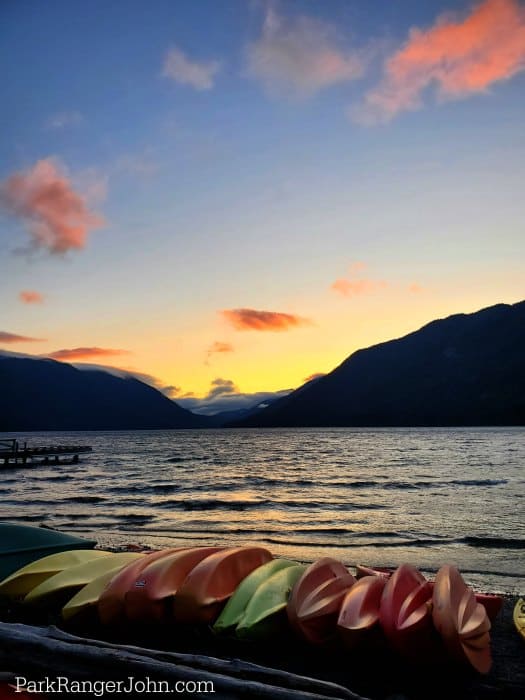 Additional Olympic National Park Resources
Check out all of the Olympic National Park Camping options. There are 14 campgrounds within the park
Olympic National Park Lodging - Check out our complete guide of all the places to stay within the park
Things to do in Olympic NP - Find out all of the top things to do in this great park.
Free National Park Days - Check out the 5 days a year the National Park Service waives entrance fees.
Most visited National Parks - Check out all of the top-visited parks in the United States
Moon Olympic Peninsula Guide Book
Olympic National Park trails map
Check out all of the Washington National Parks along with neighboring Oregon National Parks, Idaho National Parks, National Parks in Hawaii, and National Parks in Alaska