Marymere Falls Trail is a very fun trail in the northern section of Olympic National Park with an amazing view of the gorgeous Marymere Falls.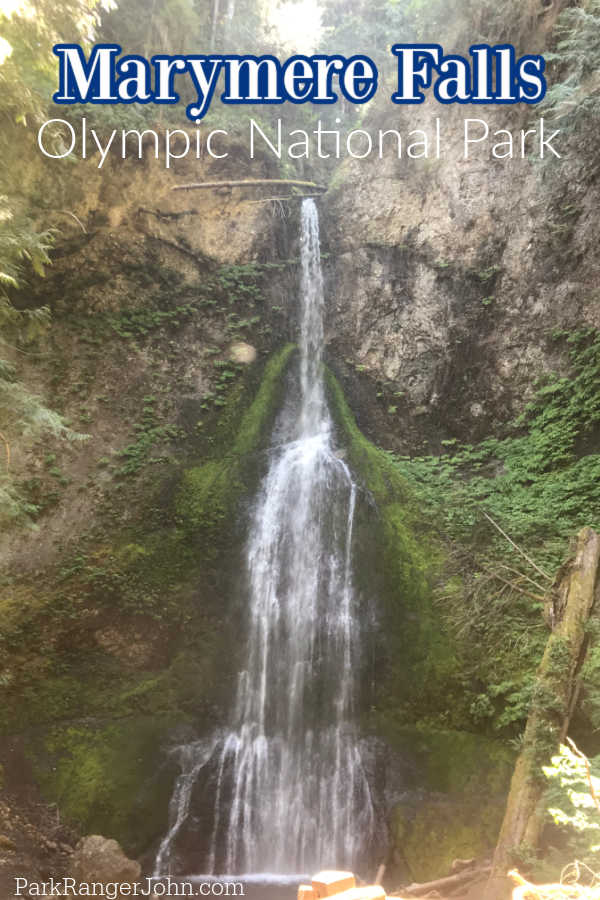 Marymere Falls Trail
This 90-foot waterfall pours from the top and about halfway down it lands on the face of the falls and spreads in many different directions making it very unique.
The trail consists of two bridges. A metal bridge over Barnes Creek and a cool wooden bridge that crosses over a stream.
The trail is made of dirt and has many ups and downs at times, but it has neat rails and steps in some portions of the trail. Be ready for an awesome experience on the Marymere Fall trail.
Distance: 1.7 miles round trip, Loop
Elevation Gain/Loss: 300 feet
Time: Around 2 hours depending on the skill level of the hiker and the number of photographs done.
Difficulty: It is around medium difficulty for most people due to the inclines on the trail near the falls. It can be very hard for people with knee and back problems or other health conditions.
Restrooms: Restroom at the trailhead
Accessibility: Not ADA Accessible
Pets: No pets are allowed on the Marymere Falls Trail
Parking: Storm King Ranger Station Parking Lot on the shores of Lake Crescent. The parking fills up very quickly so I would arrive early or be prepared to wait for a parking space.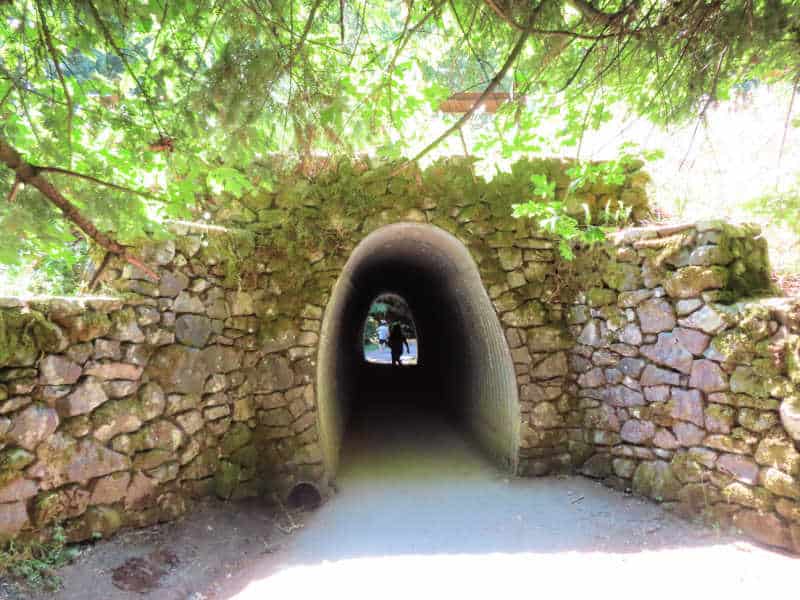 Where is Marymere Falls Trail?
From Port Angeles, travel on US Highway 101 West for 19.1 miles then turn right on Lake Crescent Road. Then take next right and you will arrive at the trailhead.
From Forks, travel North on US 101 36.2 miles. Then turn left on Lake Crescent Road and take next right and you will arrive at the trailhead.

Hiking Marymere Falls Trail
The Marymere Falls Trail is flat at first and once you get past the two bridges is when you must make your way up the inclines towards the falls.
There are some steps on the trail to make your way up to the upper overlook of the falls. If you struggle to go upstairs you can go straight past the second bridge to make your way to the upper overlook first, then walk down the stairs.
Also, be prepared for a few rocky spots or roots on the trail. The trail can be very crowded at times so it may be hard to get a good view of the falls or a good picture.
So, you may have to wait a few minutes. Although the trail can be rough and it can be crowded, it is definitely worth the hike and the wait for this amazing view.

Trail Safety
Always be aware of bears and know your bear safety. Also, be aware of any other wildlife for they can all be dangerous.
Always stay on the trail. When wandering off the trail you are not only not following leave no trace, but you are also putting yourself at risk of other dangers.

What to Bring
Water: Bring water to stay hydrated and to prevent dehydration.
Comfortable shoes or boots: Shoes or boots you feel comfortable walking long distances and on a dirt terrain is recommended.
Closest Attractions: Spruce Railroad Trail, Lake Crescent, Sol Duc Hot springs, Sol Duc Falls, The Hoh Rainforest.
Closest Campground: Fairholme Campground
Closest Lodging: Lake Crescent Lodge
Closest Visitor Center: The Storm King Ranger station is at the start of the trail. If there is no one there the next closest visitor centers are in Port Angeles or the Hoh Rainforest.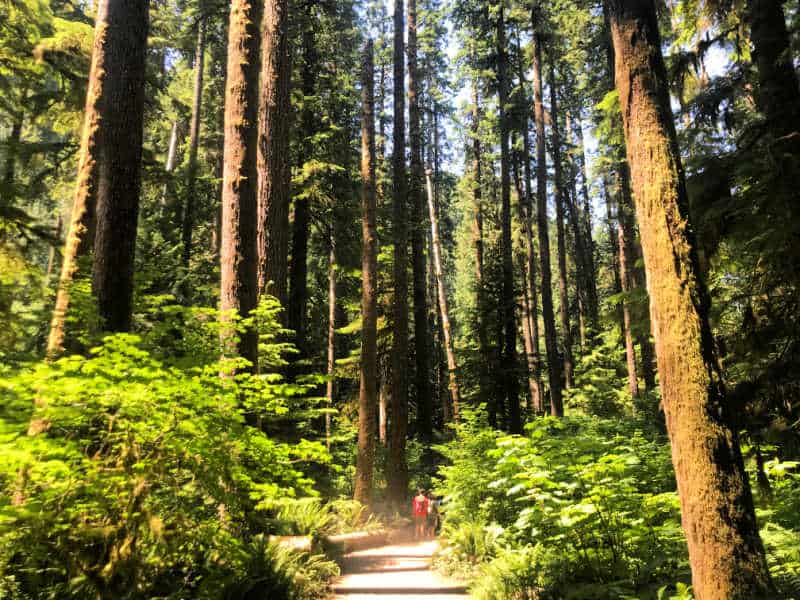 Distance to Olympic NP Attractions
One thing to know about traveling within Olympic National Park is many destinations are a fair distance away from each other. This is not a park you are going to see everything in one or two days.
It can take a lot longer than you expect to reach many destinations within the park. Plan extra time for driving!
Crescent Lake -Storm King Ranger Station to -
Hurricane Ridge - 39 miles, 1 hour
Sol Duc - 16 miles, 1 hour
Hoh Rainforest - 72 miles, 2.5 hours
Kalaloch - 40 miles, 1 hour
Mora - 48 miles, 1 hour 15 minutes
Lake Ozette - 65 miles, 2 hours
Quinault Rain Forest - 120 miles, 2 hours 45 minutes
Staircase Ranger Station - 126 miles, 2 hours and 45 minutes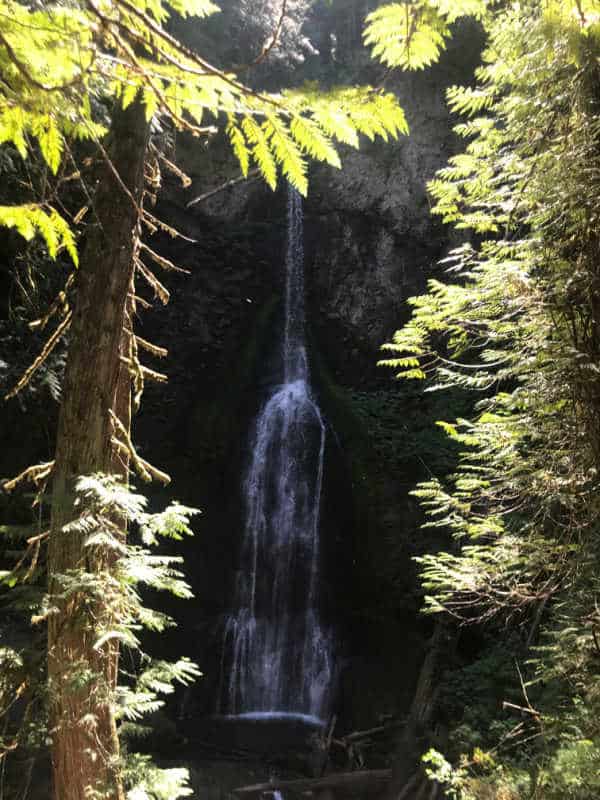 Additional Olympic NP Resources
Check out all of the Olympic National Park Camping options. There are 14 campgrounds within the park.
Olympic National Park Lodging - Check out our complete guide of all the places to stay within the park.
Things to do in Olympic NP - Find out all of the top things to do in this great park.
Free National Park Days - Check out the 5 days a year the National Park Service waives entrance fees.
Most visited National Parks - Check out all of the top-visited parks in the United States
Moon Olympic Peninsula Guide Book
Olympic National Park trails map
Check out all of the National Parks in Washington along with neighboring National Parks in Idaho, National Parks in Oregon, Hawaii National Parks, and Alaska National Parks