Hurricane Ridge in Olympic National Park is named for the gusting hurricane-like winds that can be experienced.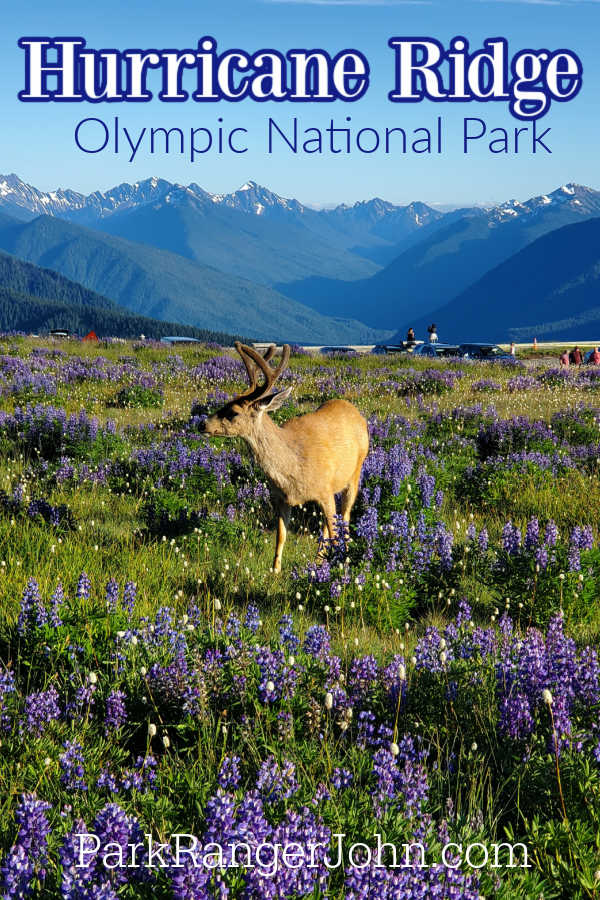 Hurricane Ridge - Olympic National Park
It is not uncommon for the area to get 30 to 35 feet of snow each winter. You can still experience snow all the way into the summer.
The drive up to Hurricane Ridge is gorgeous and slightly unnerving if you are not used to driving mountain roads. Don't worry it is a paved road to the top but you will want to keep an eye out for wildlife.
One of the best things about the Hurricane Ridge mountain area is the magnificent panoramic views of the park. The views of Olympic National Park and the surrounding area are breathtaking!
On a clear day, you can see Canada and so much more!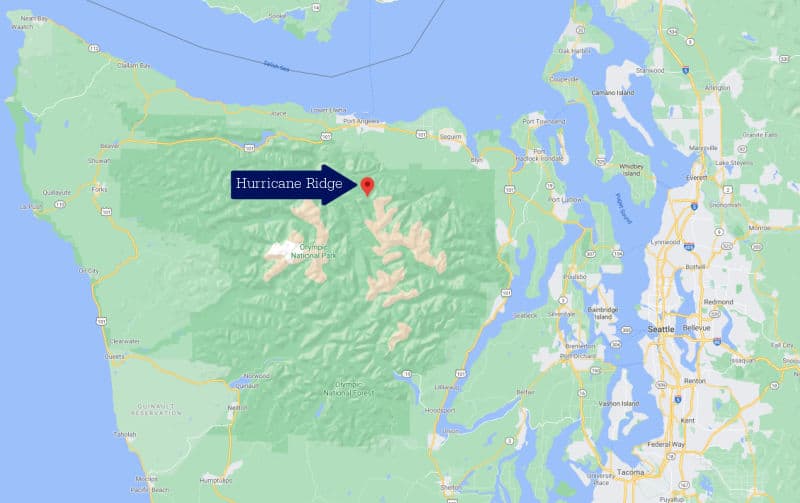 Where is Hurricane Ridge?
Hurricane Ridge is part of Olympic National Park in Washington State. The closest city is Port Angeles located at the base of the mountain.
It is approximately a 45-minute drive from Port Angeles to Hurricane Ridge. There is a National Park Service entrance station at the base of the hill that can get backed up and cause delays.
How to get to Hurricane Ridge from Seattle?
From Seattle, you have a couple of options to reach Hurricane Ridge and Olympic National Park. You can take the Seattle - Bainbridge Ferry across Puget Sound and then drive past Poulsbo and around the peninsula to reach Port Angeles and head up to Hurricane Ridge.
The other option is to drive south on I-5 to Tacoma and cross the Tacoma Narrows Bridge on Highway 16 and continuing until you reach Highway 3 and then drive around the peninsula to Port Angeles and up to Hurricane Ridge.
Hurricane Ridge Visitor Center
Unfortunately the Hurricane Ridge Visitor Center burned on May 8, 2023 and is unrepairable at this time.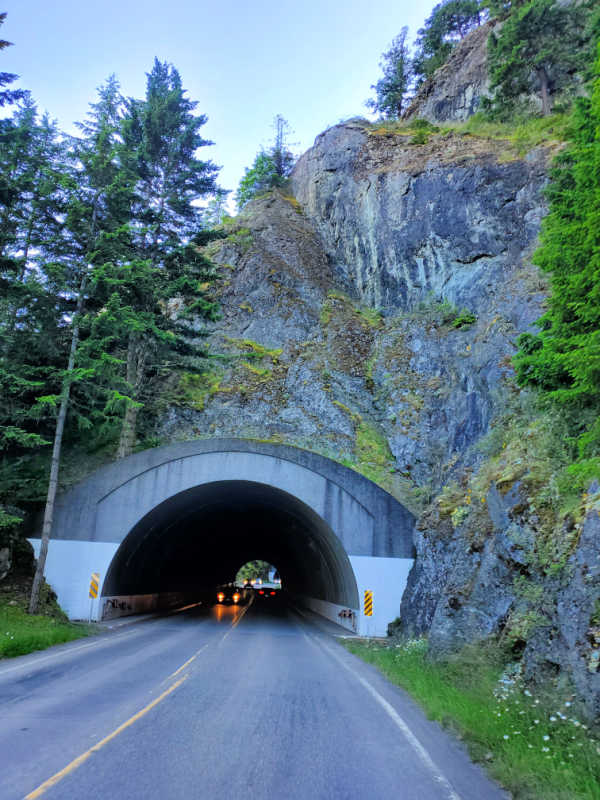 Hurricane Ridge Road
Open 24 hours a day from mid-May into October.
The rest of the year it opens (weather permitting) primarily on weekends.
Call 360-565-3131 for a 24- hour road and weather recording. It is really important to call for updates especially in winter, spring, and fall. You never know when the road will be closed due to snow.
The park service does a great job clearing the road but there can be delays and closures due to weather.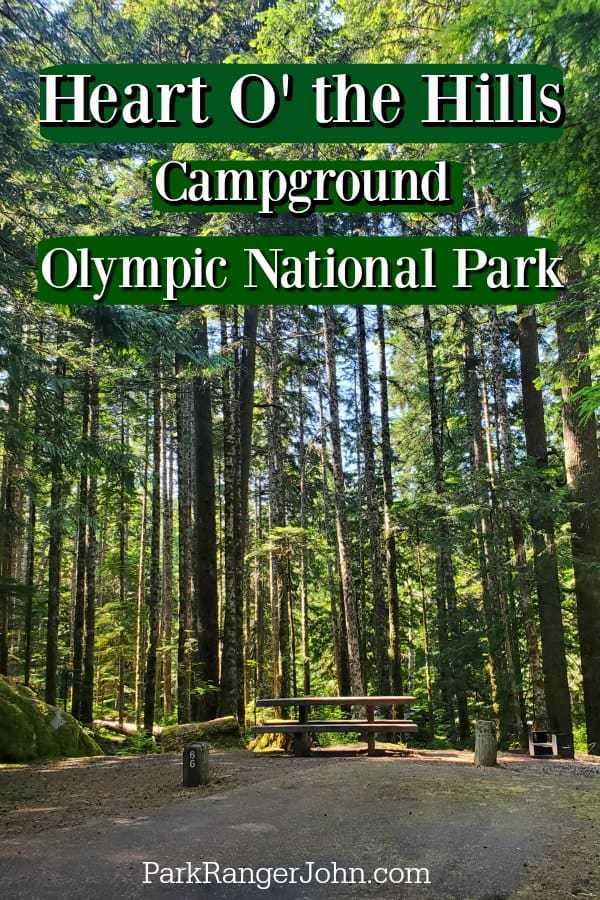 Hurricane Ridge Camping
The closest vehicle campground is at Heart O' the Hills, 12 miles downhill from the top of Hurricane Ridge.
Heart O' the Hills Campground has 105 campsites that are first come first serve. This campground is incredibly popular!!! You will want to get to the campground early in the day to find a campsite.
Wilderness Camping
Get wilderness camping permits at the Wilderness Information Center, 360-565-3100, in Port Angeles.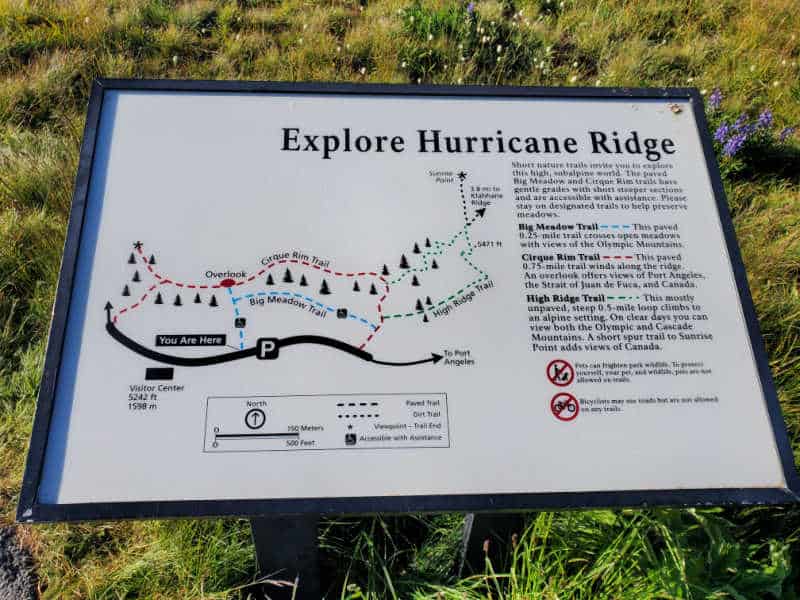 Hurricane Ridge Hiking Trails
Cirque Rim
Distance - 0.5 miles one way
Elevation Gain - Under 50 feet
Big Meadow
Distance - 0.5 miles one way
Elevation Gain - Under 50 feet
High Ridge
Distance - 0.5 mile loop
Elevation Gain - +220 ft.
Klahhane Ridge
Distance - 3.8 miles one way
Elevation Gain - +250 ft. first 2.8 miles
Hurricane Hill
Distance - 1.6 miles one way
Elevation Gain - +700 ft.
Wolf Creek
Distance - 8.0 miles one way
Elevation Gain - -3,772 ft
Little River
Distance - 8.0 miles one way
Elevation Gain - -4,073 ft.
Hurricane Hill/Elwha
Distance - 6.0 miles one way
Elevation Gain - -5,250 ft
Hurricane Ridge in the Winter
During the winter Hurricane Ridge is the place to go for snowshoeing, cross country skiing, snowboarding, and tubing along with downhill skiing in Olympic National Park. The average snowfall on the ridge is over 400 inches of snow!
The winter season normally runs from mid-December through the end of March depending on the snow each year.
During the winter months Hurricane Ridge Road is typically open to uphill traffic from 9:00 am to 4:00 pm, Friday through Sunday, and some holidays, weather and road conditions permitting.
Depending on road conditions the times can vary significantly.
Road and weather condition updates are available on the Road and Weather Hotline at (360) 565-3131 or by following @HRWinterAccess on Twitter.
All vehicles are required to carry tire chains and must be below the Heart O' the Hills entrance station by 5:00 pm during the winter season. This requirement applies to all vehicles (including 4-wheel drive), regardless of tire type or weather conditions.
Hurricane Ridge has 15 to 20 miles of snowshoeing and cross-country skiing trails each winter. None of the trails are marked or groomed.
The Hurricane Ridge Ski, Snowboard & Tubing Area is a small, family-oriented ski area operated by the Hurricane Ridge Winter Sports Club.
The ski area includes two rope tows, a Poma lift, and a tubing park. The ski area is generally open from mid-December through the last Sunday in March, weather permitting.
It is interesting to know that this is one of only 2 lift operations running within the National Parks.
One really important thing to know about visiting Hurricane Ridge in the winter is there are only 175 parking spots plowed at the top. To ensure you get a parking space and don't have to wait at the bottom for a space to open we highly recommend getting to the entrance station by 8 am.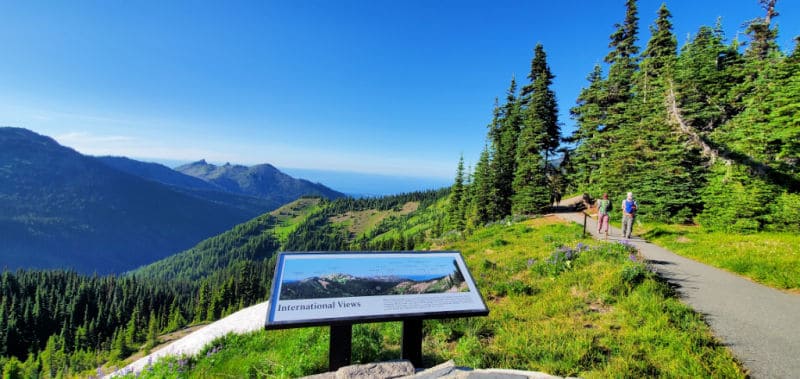 Hurricane Ridge Elevation
5,242 feet in elevation
Hurricane Ridge Map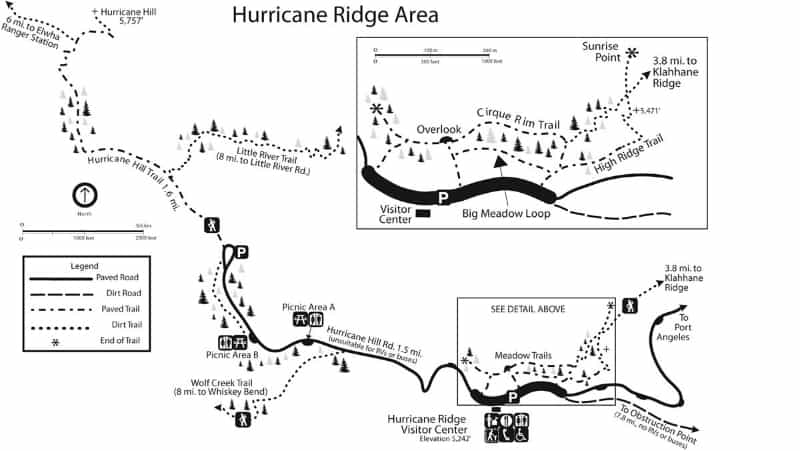 Distance to other Olympic National Park Destinations
One thing to know about traveling within Olympic National Park is many destinations are a fair distance away from each other. This is not a park you are going to see everything in one or two days.
It can take a lot longer than you expect to reach many destinations within the park. Plan extra time for driving!
Hurricane Ridge to -
Crescent Lake -Storm King Ranger Station - 39 miles, 1 hour
Sol Duc - 59 miles, 2 hours
Hoh Rainforest - 106 miles, 2 hours 45 minutes
Kalaloch - 109 miles, 2 hours 30 minutes
Mora - 85 miles, 2 hours 15 minutes
Lake Ozette - 93 miles, 2 hours 45 minutes
Lake Quinault- 143 miles, 3 hours 15 minutes
Staircase Ranger Station - 120 miles, 2 hours 45 minutes

Rules/Regulations
Pets and bicycles are not permitted on paved or dirt trails.
Do not feed wildlife.
Additional Olympic National Park Resources
Check out all of the Olympic National Park Camping options. There are 14 campgrounds within the park
Olympic National Park Lodging - Check out our complete guide of all the places to stay within the park
Things to do in Olympic NP - Find out all of the top things to do in this great park.
Free National Park Days - Check out the 5 days a year the National Park Service waives entrance fees.
Most visited National Parks - Check out all of the top-visited parks in the United States
Moon Olympic Peninsula Guide Book
Olympic National Park trails map
Check out all of the Washington National Parks along with neighboring Oregon National Parks, Idaho National Parks, National Parks in Hawaii, and National Parks in Alaska