Lake Quinault is located on the Olympic Peninsula and is surrounded by temperate rainforest in both Olympic National Park and Olympic National Forest. There is a gorgeous scenic drive around the lake that offers the opportunity to view the temperate rain forest, waterfalls, and epic views of the lake.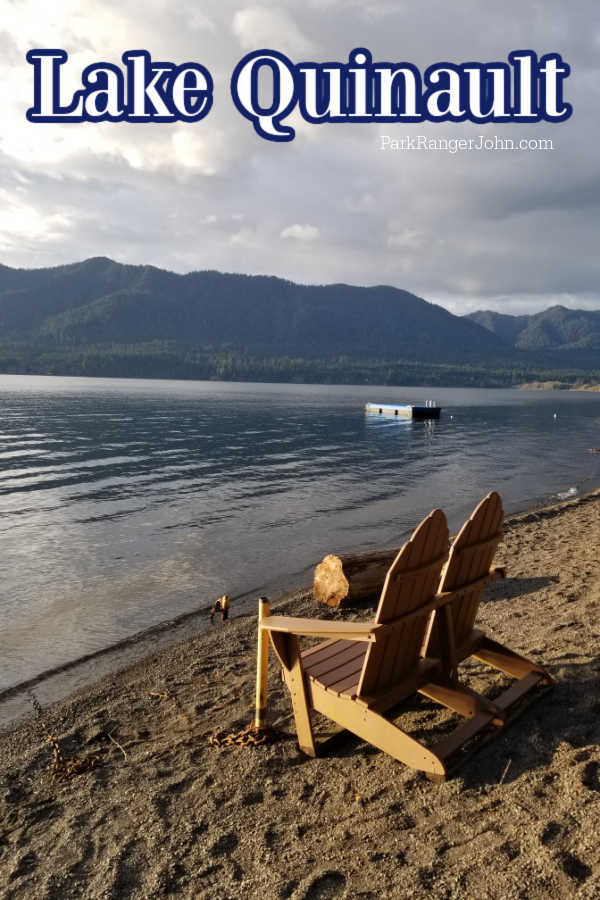 Lake Quinault - Olympic National Park
One thing to know about the Lake Quinault area is you will be visiting both Olympic National Park and also Olympic National Forest. The Quinault Indian Reservation also borders a portion of the lake.
The other thing to know if this area gets a LOT of rain. You will want to be prepared for the rain and mud.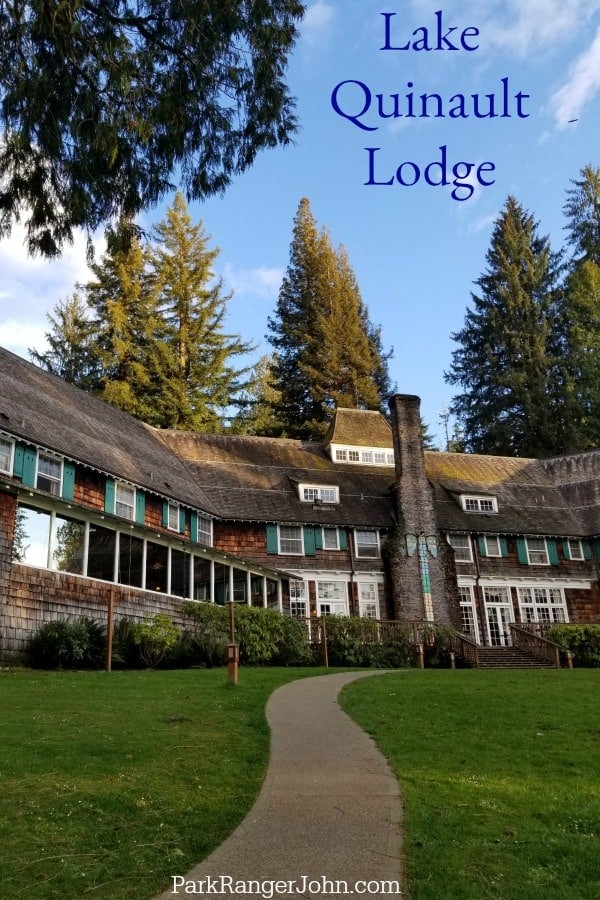 Lake Quinault Lodge sits on the south shore of Lake Quinault. This gorgeous lodge was built in 1926. One of the fun features of the lodge is the eagle rain gauge that measures the rain in feet versus inches.
President Roosevelt enjoyed a meal in the lodge dining room which is now known as the Roosevelt Dining Room. Lakeside Rooms offer views of the lake and are quite comfortable.
Lake Quinault Camping
There are both National Park Service and US Forest Service Campgrounds surrounding Lake Quinault. When planning a camping trip you will want to confirm which campgrounds you plan to camp in and who manages them.
National Park Service Campgrounds include Graves Creek Campground and North Fork Campground.
US Forest Service Campgrounds include Willaby Campground, Falls Creek Campground, Gatton Creek Campground, and Cambell Tree Grove Campground.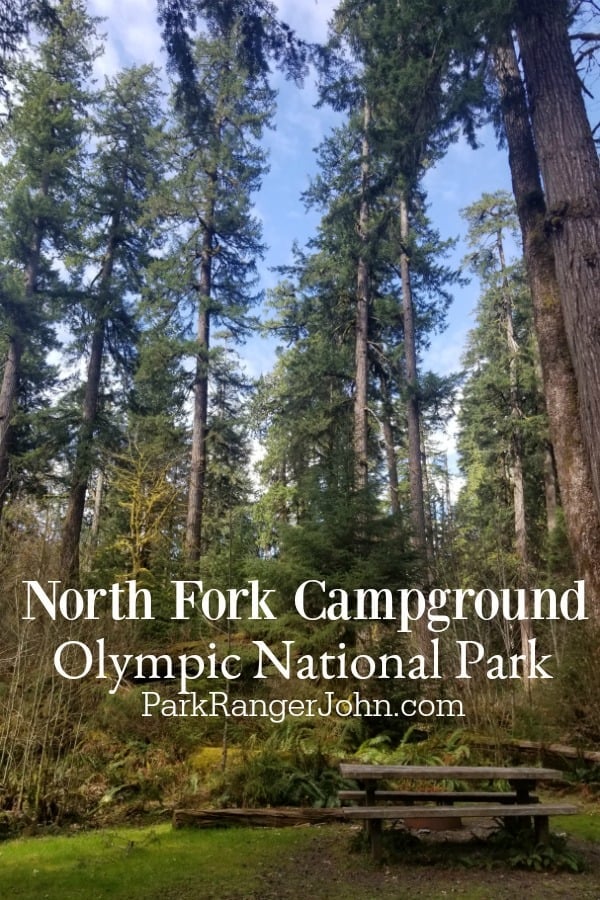 The North Fork Campground is the smallest campground in Olympic National Park. What it lacks in size it makes up for in views. You are literally surrounded by trees!
9 sites, pit toilet nearby, picnic tables, fire rings, no water.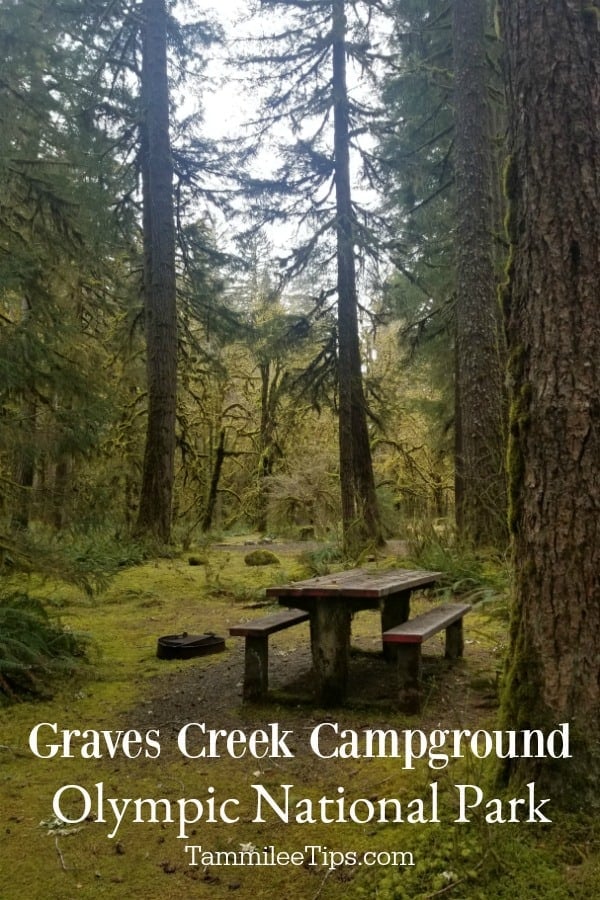 If you are looking for a primitive campground away from the crowds than Graves Creek Campground in Olympic National Park is the perfect camping spot!
30 sites, picnic tables, fire rings, restrooms (summer only), no potable water; the rest of the year it has an accessible vault toilet.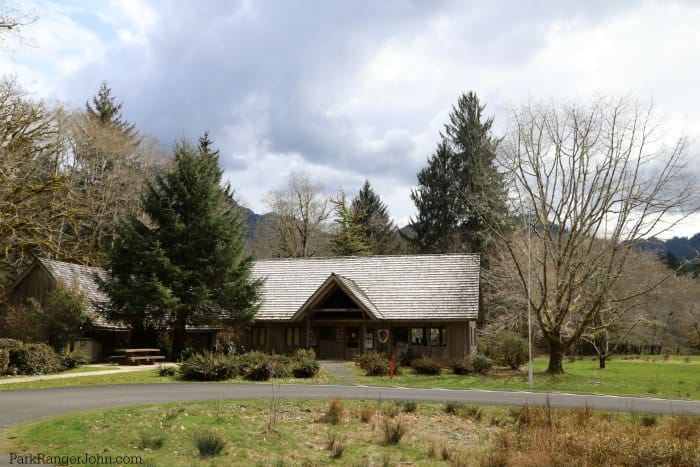 Quinault Rain Forest Ranger Station
Accessible restrooms, picnic tables, self-guided nature trails. Open part-time in summer as staffing allows, with information, exhibits, book, and map sales.
Olympic National Forest and Park Information Station
Open daily in summer, weekdays only the rest of the year. Information, wilderness permits, and bear canisters.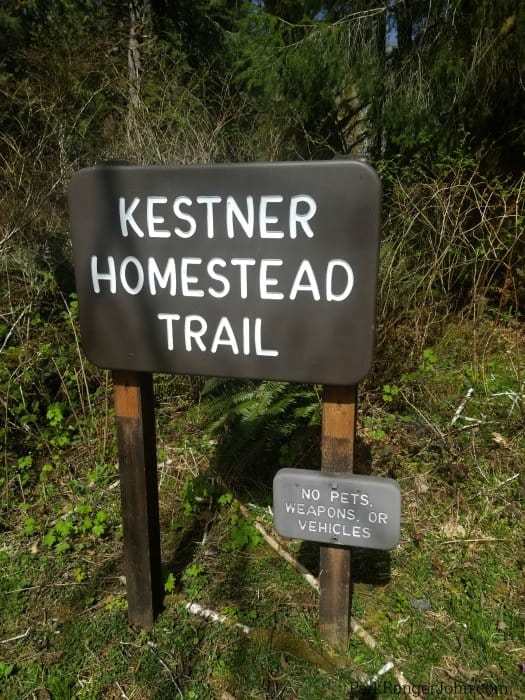 Lake Quinault Hiking Trails
Maple Glade
Flat 0.5-mile loop through a mossy bigleaf maple grove. Begins across the bridge from the Quinault Rain Forest Ranger Station.
Kestner Homestead
Learn about homestead life on this flat, self-guided 1.3-mile loop from the Quinault Rain Forest Ranger Station.
Cascading Terraces
A flat 0.5-mile trail through forest at Graves Creek. NOTE: 2016 flooding swept away the riverside part of this former loop.
Irely Lake
The trail climbs about 100 feet in 1.1 miles to shallow Irely Lake. It begins .25 miles before the North Fork Campground.
Trails from the North Fork and Graves Creeks trailheads offer longer hikes. There are also short loop trails and longer more strenuous trails on the south side of Lake Quinault in Olympic National Forest.
Quinault Rain Forest Nature Trail
This .5 mile nature trail provides the opportunity to hike through lush plants, hanging mosses, and be surrounded by giant trees.
There is a large parking lot and restrooms available.
There are small interpretive signs along the trail showcasing some of the features within the temperate rainforest.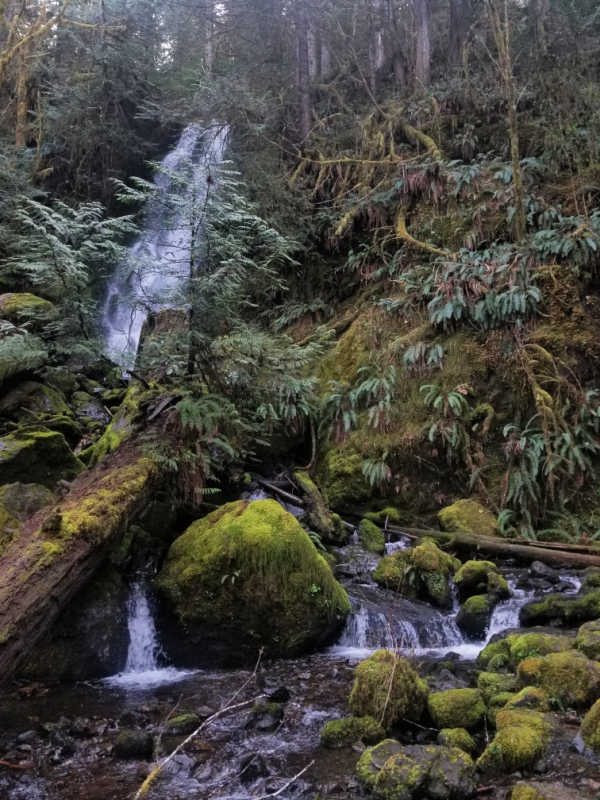 Lake Quinault Scenic Drive
The Lake Quinault Scenic Drive is a 31-mile drive around Lake Quinault and the Quinault River. It takes about 1.5 hours to complete but I would suggest planning more time so you can really take your time.
Along the scenic drive, you can stop and take a .3 mile walk to enjoy the world's largest Sitka spruce tree.
The scenic drive parallels the Quinault River for several miles providing great views of the wide river bed. Keep an eye out for Roosevelt Elk and other wildlife in the open fields.
Lake Quinault Map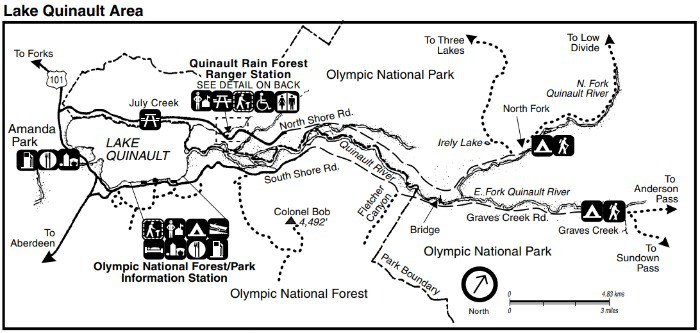 Roads in the Quinault Valley are often damaged by winter storms. Call 360-565-3131 for current conditions.
Distance to other Olympic National Park Destinations
One thing to know about traveling within Olympic National Park is many destinations are a fair distance away from each other. This is not a park you are going to see everything in one or two days.
It can take a lot longer than you expect to reach many destinations within the park. Plan extra time for driving!
Lake Quinault Rain Forest Ranger Station to -
Lake Crescent -Storm King Ranger Station - 143 miles, 3 hours 15 minutes
Sol Duc - 105 miles, 2 hours 15 minutes
Hoh Rainforest - 104 miles, 2 hours 45 minutes
Mora - 33 miles, 45 minutes
Hurricane Ridge - 123 miles, 2 hours and 45 minutes
Lake Ozette - 80 miles, 2 hours
Staircase Ranger Station - 126 miles, 2 hours 45 minutes
Additional Olympic National Park Resources
Check out all of the Olympic National Park Camping options. There are 14 campgrounds within the park
Olympic National Park Lodging - Check out our complete guide of all the places to stay within the park
Things to do in Olympic NP - Find out all of the top things to do in this great park.
Free National Park Days - Check out the 5 days a year the National Park Service waives entrance fees.
Most visited National Parks - Check out all of the top-visited parks in the United States
Moon Olympic Peninsula Guide Book
Olympic National Park trails map
Check out all of the National Parks in Washington along with neighboring National Parks in Idaho, National Parks in Oregon, Hawaii National Parks, and Alaska National Parks