If you are looking for a primitive campground away from the crowds than Graves Creek Campground is Olympic National Park is the perfect camping spot!
Tucked away near Lake Quinault this campground is surrounded by moss-covered trees, bordered by the east fork of the Quinault River and absolutely gorgeous.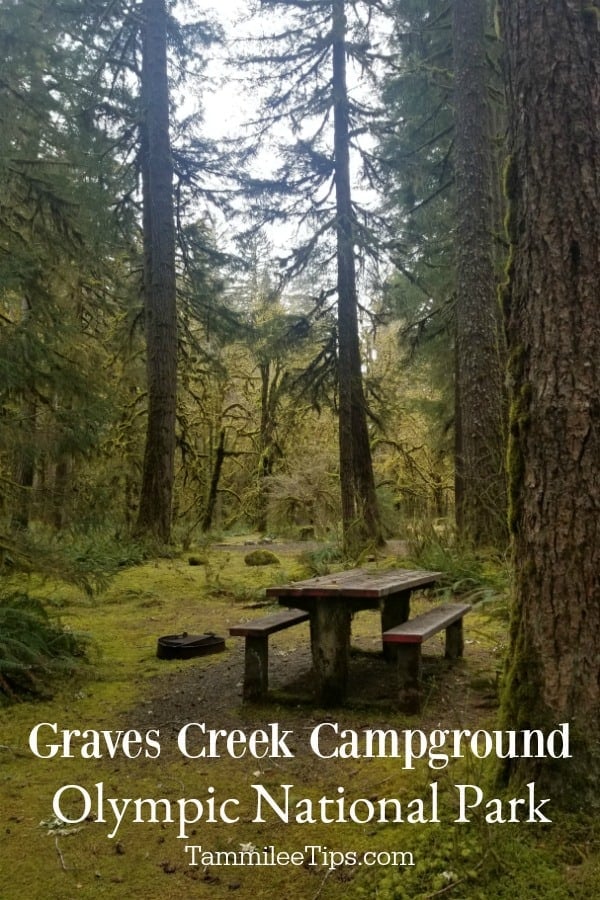 There are 30 campsites spread out around a central loop and along the river. This first come first served campground offers the perfect place to get away from the world for a few days.
With no cell reception or wi-fi, you can truly become one with nature without any distractions. You will need to bring water with you since there is no potable water in the campground. There are bathrooms on site near the campground loop.
Bear boxes are available if you do not have a car to store your food in.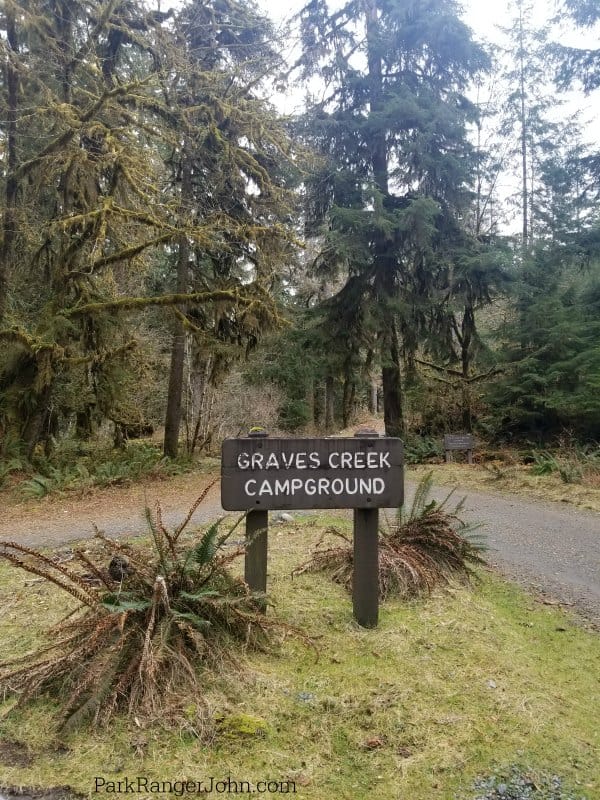 Season: Year-Round
Number of Sites: 30
Location in the park: Near Lake Quinault on the east fork of the Quinault River
Campsite Cost: $20
Payments accepted: Cash/Check
Reservations: First-come, first-served
Campground Address:
Latitude/Longitude: 47.574° N, 123.579° W
Elevation: 571 feet
Accessible Sites: There are no paved sites within the campground.
Pets Allowed: yes, they must be on leashes less than 6 feet long
Campground Reservations
Are campground Reservations Available? No
First Come, First Served? Yes
Campground Amenities
Flush Toilets: Yes, seasonally open. There is also a pit toilet
Payphone: No
Is wifi available? No
Is cellular Phone Service Available? No
Is camp host available on site? Yes
Is firewood available for purchase? There is firewood at the store near Lake Quinault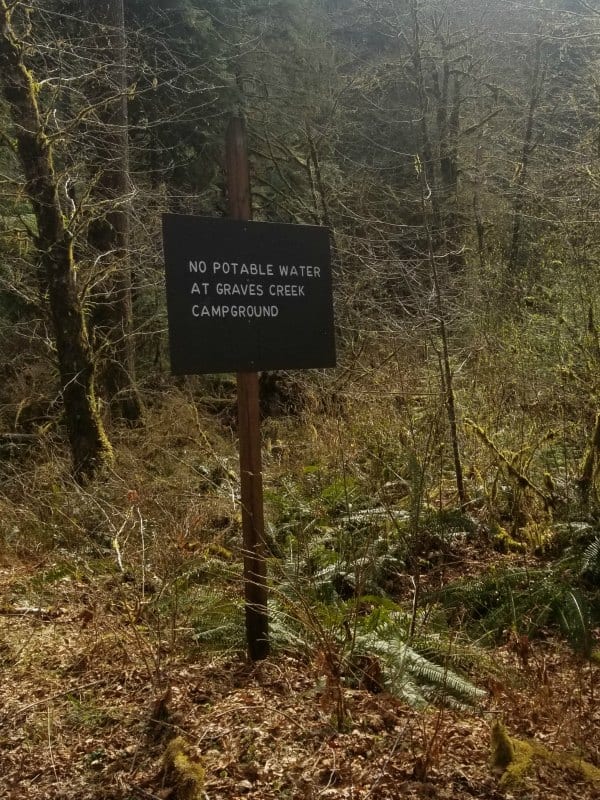 Amenities at each campsite
Fire pit in the site? Yes
Picnic Table in the site? Yes
Bear Box in site/area? Yes
Potable Water? No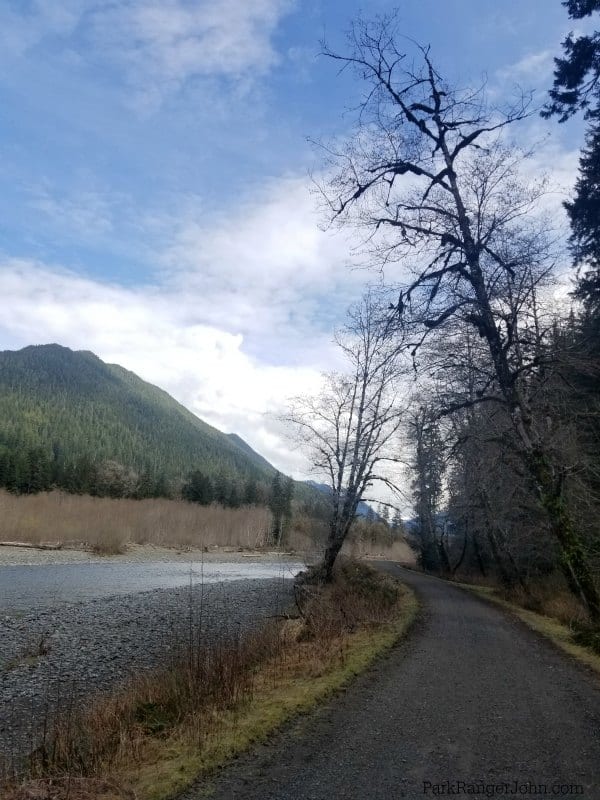 RV Camping at Graves Creek Campground
RVs and trailers not allowed due to road conditions into the campground
How to get to Graves Creek Campground
From Highway 101, turn towards the Lake Quinault Lodge. Pass the lodge and continue on the scenic lake drive. Graves Creek turnoff is along this road. It is then a drive down a dirt road to the campground.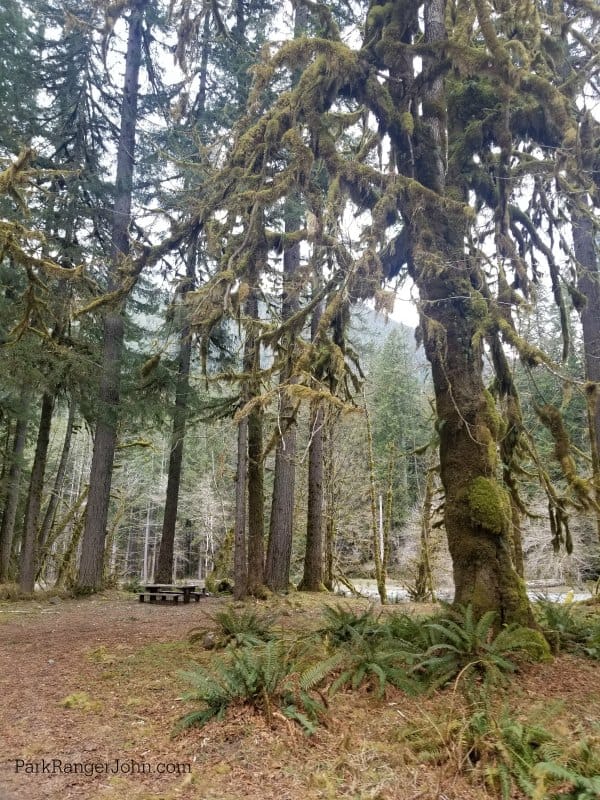 Graves Creek Campground Regulations
The maximum number of people in a campsite: Per site limit is 8 people
The number of cars per campsite:
Checkout time: 11:00 am
Quiet Hours: Quiet hours are from 10:00 p.m. to 6:00 a.m
Maximum Stay: 7-day maximum stay limit.
Graves Creek Campground Map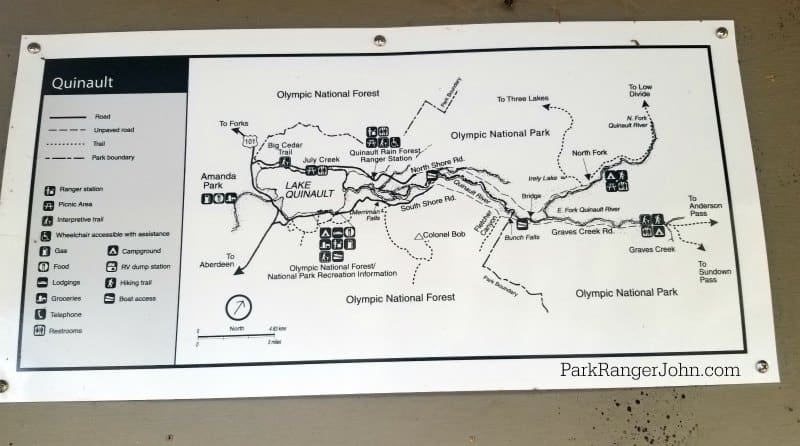 Photos of Graves Creek Campground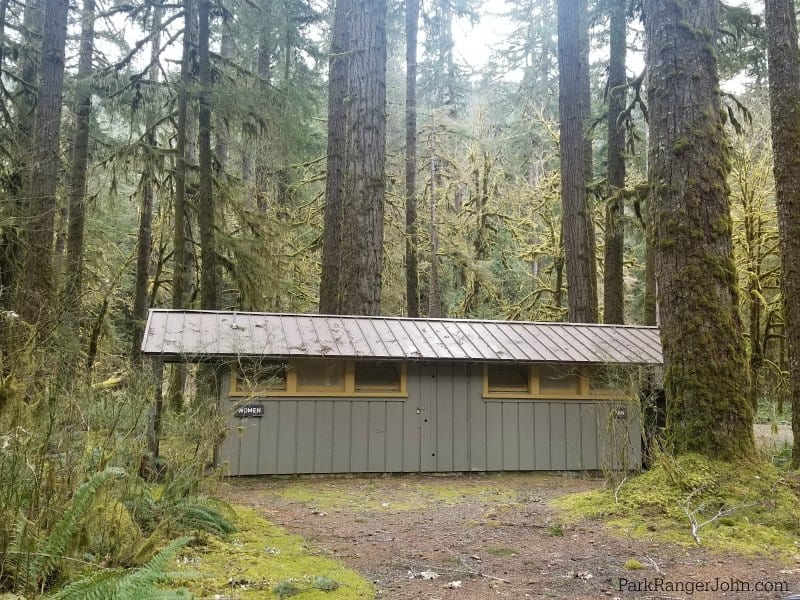 ADDITIONAL OLYMPIC NATIONAL PARK RESOURCES
Check out all of the Olympic National Park Camping options. There are 14 campgrounds within the park
Olympic National Park Lodging - Check out our complete guide of all the places to stay within the park
Things to do in Olympic NP - Find out all of the top things to do in this great park.
Free National Park Days - Check out the 5 days a year the National Park Service waives entrance fees.
Most visited National Parks - Check out all of the top-visited parks in the United States
Moon Olympic Peninsula Guide Book
Olympic National Park trails map
Check out all of the National Parks in Washington along with neighboring National Parks in Idaho, National Parks in Oregon, Hawaii National Parks, and Alaska National Parks