Built-in 1926 the Lake Quinault Lodge near Olympic National Park offers you the opportunity to stay within the park and enjoy the breathtaking scenery.
This part of Washington State is hard to describe it is so beautiful. Located in the Olympic National Forest this historic lodge is located on the shore of Lake Quinault.
The lodge built in 1926 has multiple room options including rooms with Lake Quinault views! How can you go wrong waking up with a view out over the water?
Lake Quinault Lodge is located 90 minutes from the Hoh Temperate Rainforest via highway 101. This is a great place to stay during a trip to the park. You can easily reach the main attractions of the park while staying in a gorgeous ninety-year-old lodge.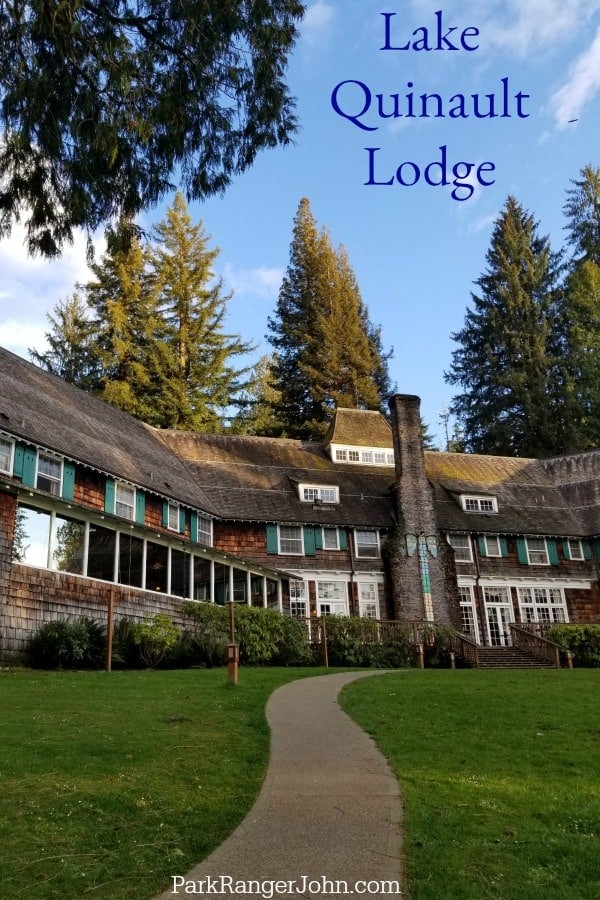 Lake Quinault Lodge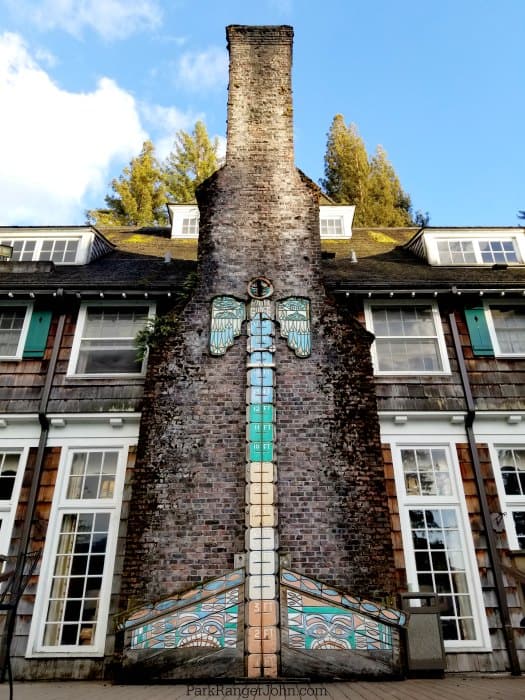 Don't miss the eagle rain gauge outside on the back deck.
It is crazy to see that the rain is measured in feet not inches.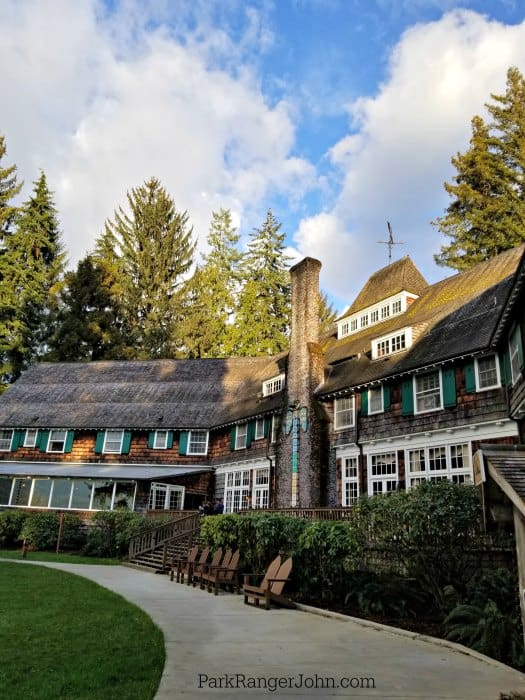 There are a few types of rooms to choose from at the lodge. From lakeside rooms to boathouse rooms they all offer something a little different.
The lakeside building along with rooms in the grand and rustic lodge main building is truly amazing. this rustic lodge built almost a hundred years ago has 91 rooms total and one suite.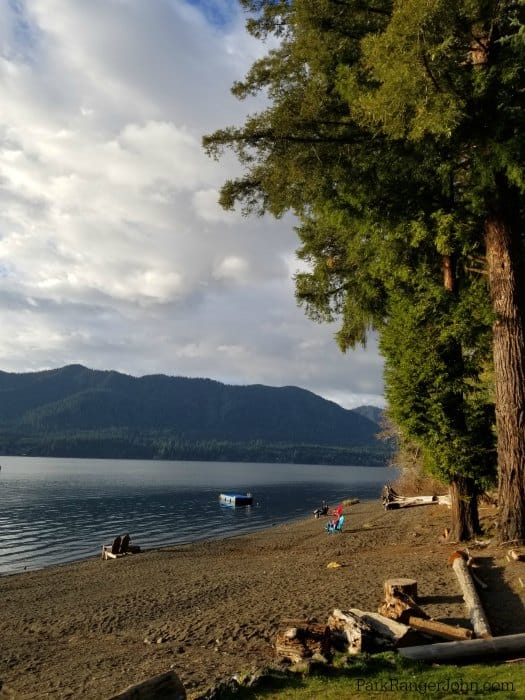 Lake Quinault Lodge Amenities
There is a heated pool, sauna and game room available for guests.
When the weather is lovely there are lawn games outside along with Adirondack chairs placed for the perfect view of the lake.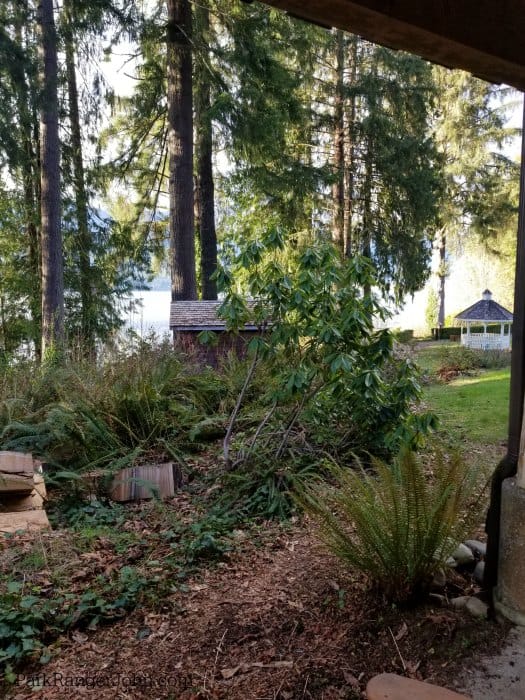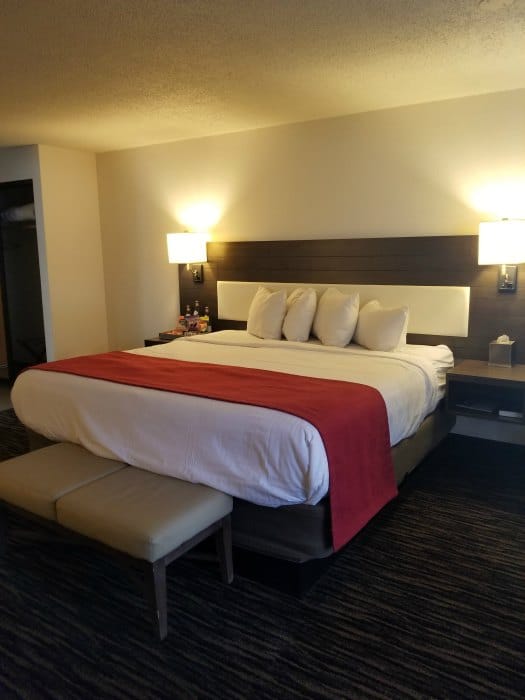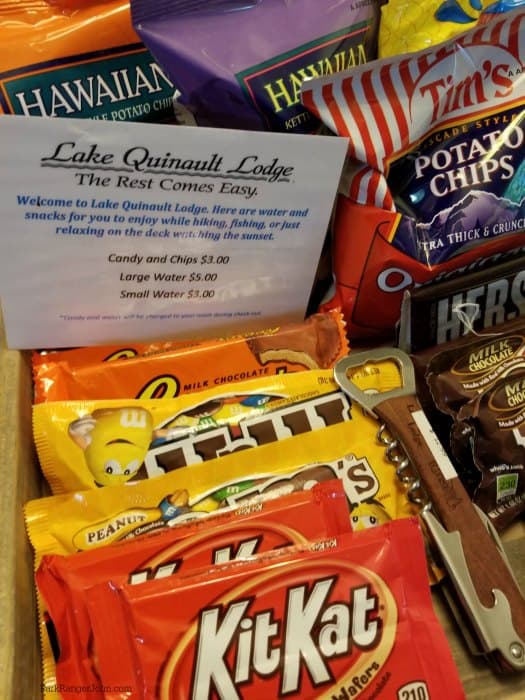 Lodge Fireplace Room with Lake View - King Bed
We stayed in a 1st-floor room with a semi-view of the lake and a fireplace. The bed was really comfortable and the room was really quiet.
I will say that the fireplace might not be worth the upgrade cost. It runs off the temperature of the room so if the room warms up the fireplace turns off. It then randomly turns on once the room cools down.
I don't think I would pay for the fireplace upgrade in the future.
Room amenities
1 King Bed
Television
Mini Fridge
Heated Bathroom Floors
Private Balcony or Patio
Adjoining Rooms Available

Lake Quinault Lodge Restaurant - Roosevelt Dining Room
In 1937, President Roosevelt enjoyed lunch at the Lake Quinault dining room while touring the area. Nine months after his visit to the Olympic Peninsula he signed into law the creation of Olympic National Park.
The Roosevelt Dining Room has epic views of Lake Quinault. The restaurant is open for breakfast, lunch, and dinner.
We enjoyed our meal at the Lake Quinault Lodge but it may not be the place we would be to return to. Our food tasted good but the price of it was a lot more than the flavor.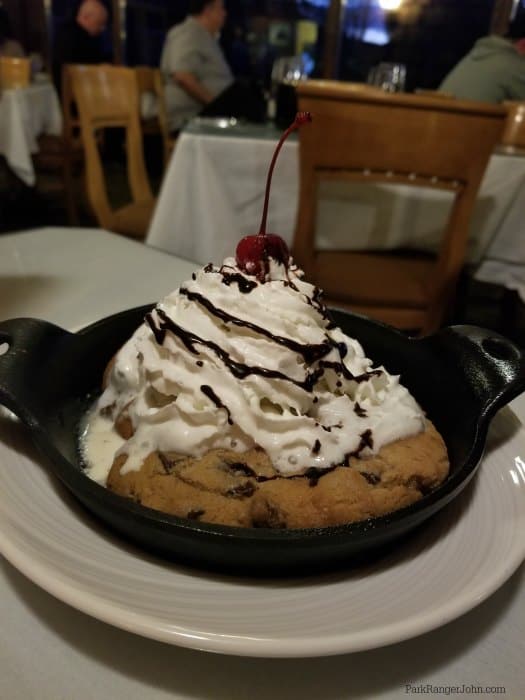 The prices felt a little high for the food that we received. I will tell you to definitely try the chocolate chip cookie skillet dessert.
Oh my goodness this was amazing!
I could have easily just ordered dessert and been happy with it.
Breakfast -7:30 am - 11:00 am
Lunch - 11:30 am - 2:00 pm
Dinner -5:00 pm - 8:00 pm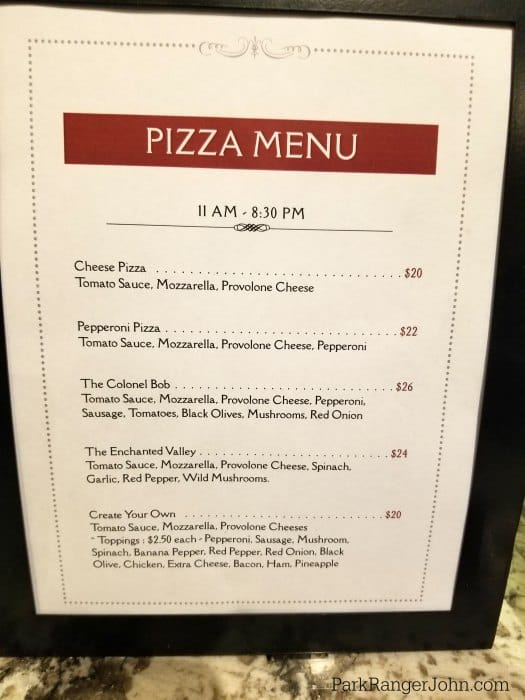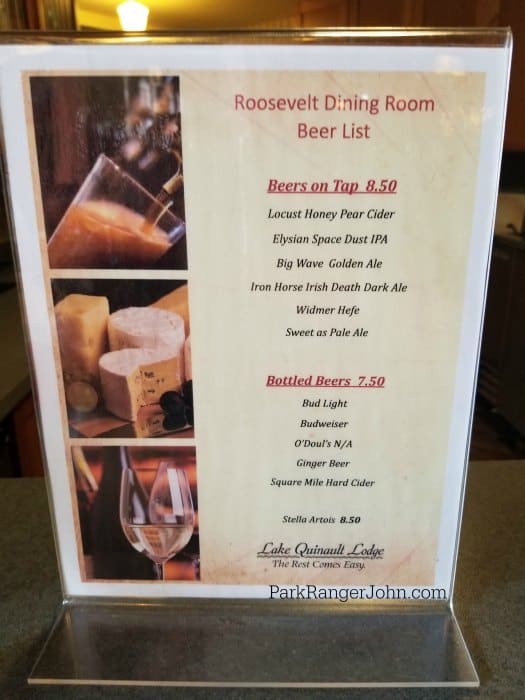 Things to know when planning a trip to Lake Quinault Lodge - Olympic National Park
Where is Lake Quinault Lodge?
Lake Quinault Lodge is located in Olympic National Park. The lodge is three hours from Seattle and three and a half hours from Portland.
How do I get to Lake Quinault Lodge?
From I-5 North or South, take exit 104 at Olympia (Aberdeen-Ocean Beaches) and head straight west to Aberdeen-Hoquiam.
From Hoquiam, go north on US 101 for 40 miles to milepost 125. Turn right on South Shore Road and go 2 miles to Lake Quinault Lodge.
Reservations - Make sure you make reservations on this site or by calling 1-888.896.3818
There are a few websites that show up if you google the lodge that charge an extra commission and are not through the actual concessionaire.
I almost booked through the wrong website and then realized that they were charging a commission for booking your room and also could not actually guarantee a room because they are not the actual lodge.
When we were checking in a few guests had booked through an online site that was not the lodges reservations and the lodge was unable to find their reservation.
Thankfully the lodge was not sold out and they were able to get them a room. I would definitely not try this in the summer when it is crazy busy.
Season - The Lake Quinault Lodge is open year-round.
Cancellation - $25 Cancellation Fee. Cancellation within 24 hours of arrival results in forfeiture of deposit.
Check-in time - 4:00 pm at the front desk of the main lodge
Check out time - 11:00 am
Pets - $25 non-refundable fee per pet per stay is due at check-in. Your pet must be leashed at all times. There is a 2 pet limit with no size restrictions. Pets are permitted in Boat House rooms only. Though they are not allowed in the Boat House Beverly Suite.
Smoking - All rooms and tours are non-smoking.
Wi-Fi - There is no WI-FI available in the guest rooms. There is Wi-Fi available in the hotel lobby.
Be prepared for the Wi-Fi to not be super strong. We did hear that Wi-Fi can be the strongest in the game room near the pool.
We had it work for a bit and then couldn't connect but we were good with it since the view of the lake was so amazing.
Be aware that your cell service may be limited during your stay. Make sure and let people know where you are staying and for how long.
There is pretty good cell service available in Forks, Washington.
Lake Quinault Lodge Phone Number - 360-288-2900
Lake Quinault Lodge Address - 345 South Shore Road, Quinault, WA 98575
Other great Olympic National Park lodging includes the Lake Crescent Lodge, Kalaloch Lodge, and the Log Cabin Resort.
Additional Olympic National Park Resources
Check out all of the Olympic National Park Camping options. There are 14 campgrounds within the park
Olympic National Park Lodging - Check out our complete guide of all the places to stay within the park
Things to do in Olympic NP - Find out all of the top things to do in this great park.
Free National Park Days - Check out the 5 days a year the National Park Service waives entrance fees.
Most visited National Parks - Check out all of the top-visited parks in the United States
Moon Olympic Peninsula Guide Book
Olympic National Park trails map
Check out all of the Washington National Parks along with neighboring Oregon National Parks, Idaho National Parks, National Parks in Hawaii, and National Parks in Alaska