The Hoh Rainforest in Olympic National Park, Washington is a wet temperate rainforest. With up to 12 feet of annual rain, you should plan on it being raining during your visit.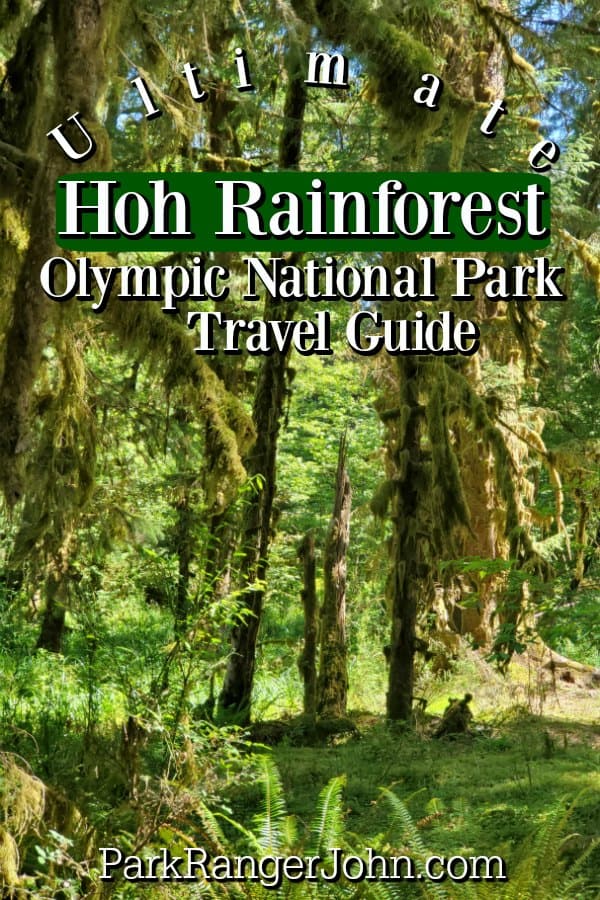 Hoh Rainforest - Olympic National Park
Visiting the Hoh Rainforest is a total Pacific Northwest Bucket List travel moment! You can see Banana Slugs, Roosevelt Elk, Sitka Spruce, Western Hemlock Trees, and more in this old-growth forest.
The Hall of Mosses Trail is incredibly popular so you will want to plan to arrive early in the day to get parking.
If you are visiting in the middle of the summer don't be surprised if it is hot and humid while exploring the Hoh. We have visited in July when it is 88 degrees outside and so dang hot it is hard to enjoy your time in the park.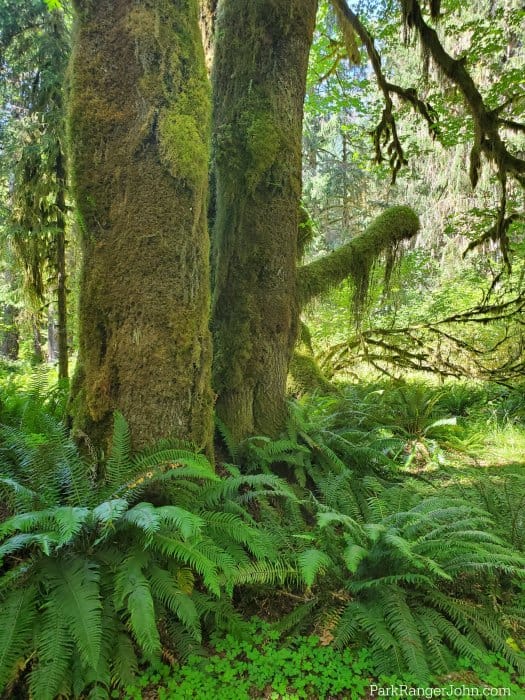 We do suggest always being prepared with bug spray!
We try to pre-spray our clothes and gear with permethrin spray so we know we have bug spray all the time. It can get really buggy as you are exploring the temperate rainforest. The sitting water from all the rain leads to mosquitoes.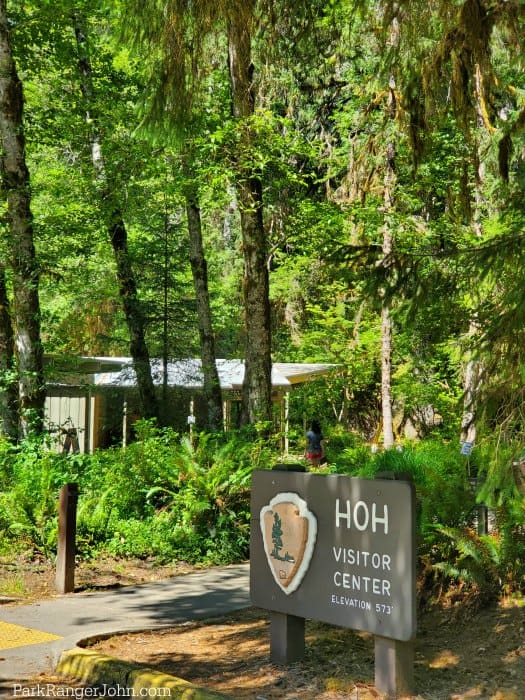 Hoh Rain Forest Visitor Center
The visitor center is open daily during the summer, closed January through early March, and generally open Friday through Sunday during the spring and fall seasons (hours may vary according to season).
Interpretive exhibits, educational sales items, wilderness camping permits.
No food or gas.
A Wheelchair is available for checkout from the visitor center.
Hoh Rainforest Weather
The majority of the average 140 inches of rain that fall in the rainforest happens during the winter.
That being said it can rain any day of the year. It is well worth being prepared with layers of clothing.
We have visited and experienced the high 80s one day and then cool and rainy the next day.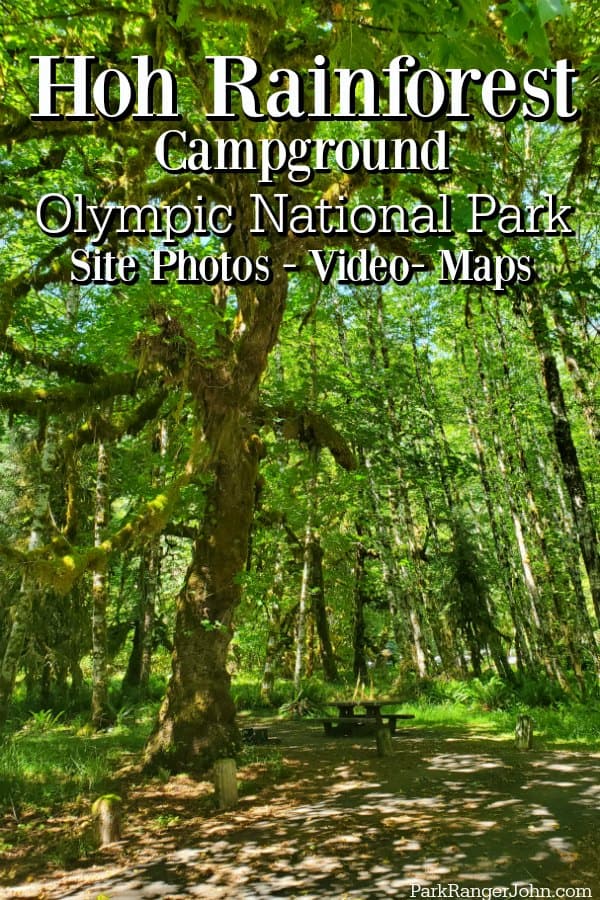 There is one campground in the Hoh Rainforest region of Olympic National Park. The campground has 3 loops and a total of 88 sites (one accessible).
Each campsite has a fire pit with grates, picnic table, potable water, accessible restrooms, animal-proof food storage lockers are available in the area.
RV dump station is available for a fee.
The campground is open year-round.
Hoh Rainforest Lodging
There is no lodging within the rainforest area but there are great options just down the road.
Kalaloch Lodge is located about an hour from the Hoh and offers beachside lodging and cabins.
Lake Crescent Lodge is approximately 90 minutes from the rainforest and is located right on gorgeous Lake Crescent.
Lake Quinault Lodge is a little over 90 minutes south of the rainforest on Lake Quinault.
Log Cabin Resort is approximately an hour and 45 minutes away on the shores of Lake Crescent.
Sol Duc Hot Springs Resort is approximately an hour and 45 minutes away next to Sol Duc Hot Springs.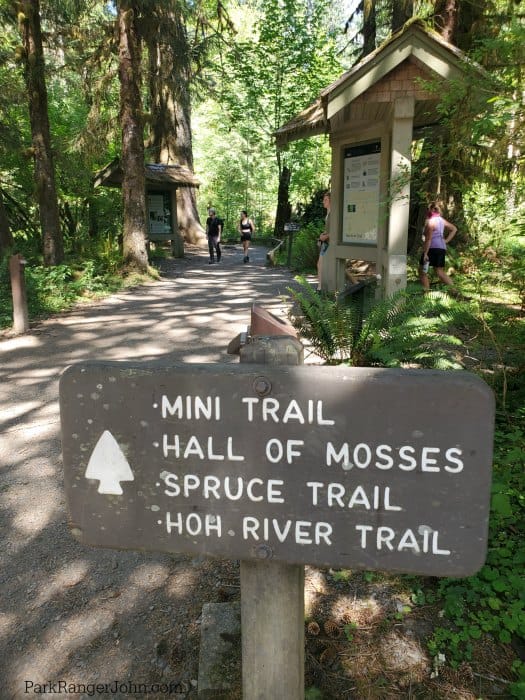 Hoh Rainforest Hiking Trails
Mini-trail
Distance - 0.1 mile
Elevation Gain - Flat, paved, accessible-with-assistance loop in an old-growth rain forest.
Distance - 0.8-mile loop
Elevation Gain - 100-foot elevation gain.
Spruce Nature Trail
Distance - 1.2-mile loop
Elevation Gain - Less than 100-foot elevation gain.
South Snider-Jackson
(Starts just west of entrance station):
Distance -11.8 miles
Elevation Gain - Ascending 2,700 feet before descending again to the Bogachiel River.
River crossings can be hazardous after heavy rain and snowmelt.
Hoh River Trail
Distance - 17.3 mile
Elevation Gain - For the whole route, elevation gain is 3,700 feet.
Day hikers can walk part of the 17.3-mile route to Glacier Meadows, on the shoulder of Mount Olympus.
An additional 700-foot climb in 0.9 miles leads to views of the Blue Glacier.
Backpackers must obtain a wilderness camping permit. Climbing Mount Olympus requires glacier travel skills and equipment.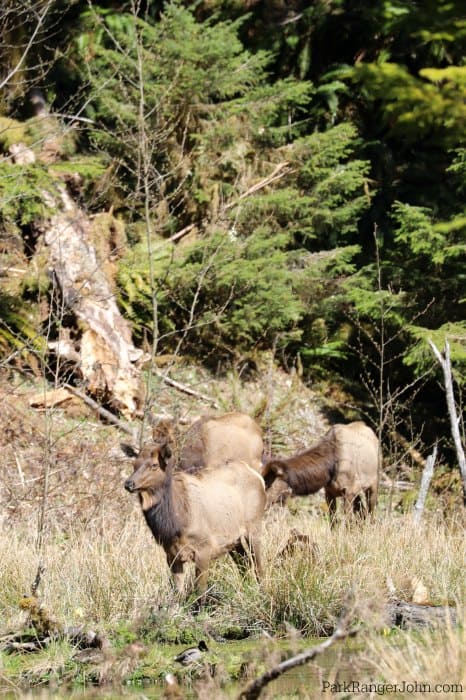 Hoh Rainforest Map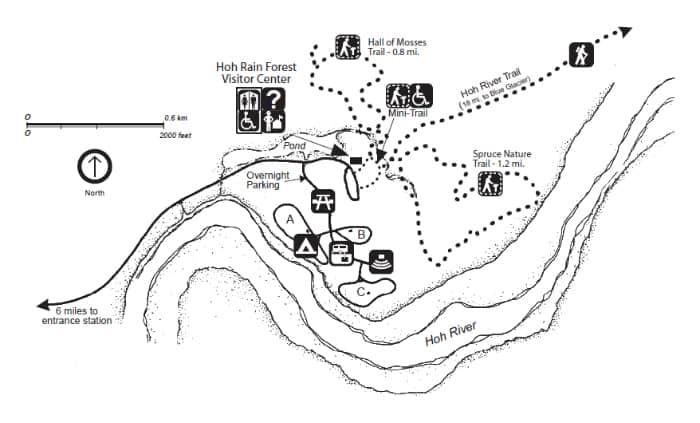 Hoh Rainforest Facts
The Hoh Rain Forest gets as much as 14 feet of rain a year
The Hoh Rain Forest is one of four rain forests on the Olympic Peninsula.
It has been designated a World Heritage Site and a Biosphere Reserve by UNESCO
Some of the trees that live here are over 1000 years old.
The most common types of trees that grow in the Hoh Rain Forest are Sitka Spruce, Western Red Cedar, Douglas Fir, and Western Hemlock (Washington's official state tree), which can reach over 300 feet high and seven feet in diameter.
Over 130 species of mosses, lichens, and ferns can be found here
Distance to other Olympic National Park Destinations
One thing to know about traveling within Olympic National Park is many destinations are a fair distance away from each other. This is not a park you are going to see everything in one or two days.
It can take a lot longer than you expect to reach many destinations within the park. Plan extra time for driving!
Hoh Rainforest to -
Crescent Lake -Storm King Ranger Station - 65 miles, 1 hour and 45 minutes
Sol Duc - 72 miles, 2 hours and 30 minutes
Kalaloch - 40 miles, 1 hour
Hurricane Ridge - 83 miles, 2 hours
Mora - 47 miles, 1 hour and 30 minutes
Lake Ozette - 85 miles, 2 hours and 20 minutes
Quinault Rain Forest - 70 miles, 1 hour and 45 minutes
Staircase Ranger Station - 191 miles, 4 hours and 15 minutes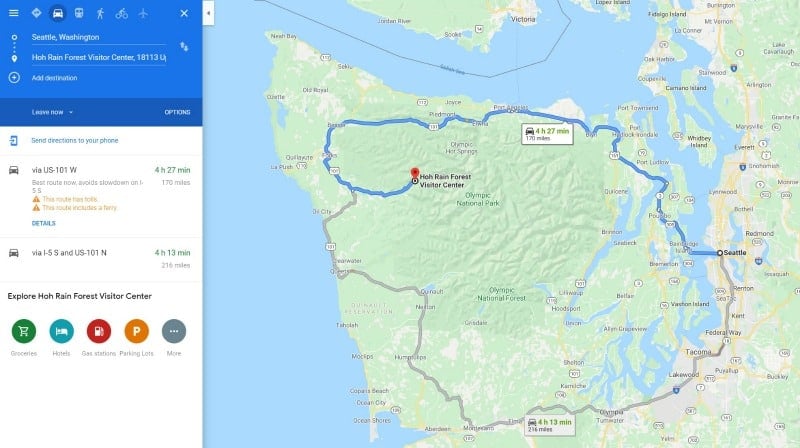 Seattle to Hoh Rainforest
You can expect the drive from Seattle to the Hoh Rainforest to take a minimum of 4 hours and 30 minutes not counting stops. It really depends on if you take the ferry from Seattle or drive south via I-5.
Both of these routes are amazing and provide great scenery.
It is worth noting that just doing a day trip to the Hoh and other parts of the park is not easy and will mean a really LONG DAY! It is better to plan to stay at one of the amazing Olympic National Park lodges or campgrounds for a night or two.
Forks - Under 1-hour drive
Port Angeles - 2-hour drive
Rules/Regulations
Pets are not allowed on trails in the Hoh Rain Forest.
Additional Olympic NP Resources
Check out all of the Olympic National Park Camping options. There are 14 campgrounds within the park
Olympic National Park Lodging - Check out our complete guide of all the places to stay within the park
Things to do in Olympic NP - Find out all of the top things to do in this great park.
Free National Park Days - Check out the 5 days a year the National Park Service waives entrance fees.
Most visited National Parks - Check out all of the top-visited parks in the United States
Moon Olympic Peninsula Guide Book
Olympic National Park trails map
Check out all of the National Parks in Washington along with neighboring National Parks in Idaho, National Parks in Oregon, Hawaii National Parks, and Alaska National Parks