The Hoh Campground in Olympic National Park is located in the heart of the Hoh Rainforest near the Hoh River. This campground is surrounded by temperate rainforest so you will want to be prepared for possible wet weather and cool evenings.
There are 88 sites that are first come first served year-round. During the winter some loops may be closed depending on the weather. There are RV sites available that fit 21 foot RV's with a few sites that can fit 35 foot RV's.
The campground is located near the Hoh Rainforest visitor center and multiple trails. We saw a group of elk near the campground while we were visiting.

Hoh Campground - Olympic National Park
The Hoh Rainforest receives up to 12 feet of rain annually! This rain helps create one of the most spectacular temperate rainforests in the world.
You will definitely want to be prepared for the rain. Don't forget your tent rain cover, extra towels, and sealed containers.
One thing a lot of rain brings is a lot of mosquitoes and bugs! Make sure you pack ample bug spray.
There is no food or gas available in the campground so make sure and plan accordingly. The closest town is Forks, Washington.
You can not only enjoy a bit of Twilight fandom but also pick up supplies in town.
Number of Sites
: 88
Location in the park: The heart of the Hoh rainforest
Campsite Cost: $20
Payments accepted:
Reservations: First Come - First Served
Campground Address: Upper Hoh Road is accessible via Highway 101.
Latitude/Longitude:
Latitude:

47.80392754

Longitude:

-123.6663848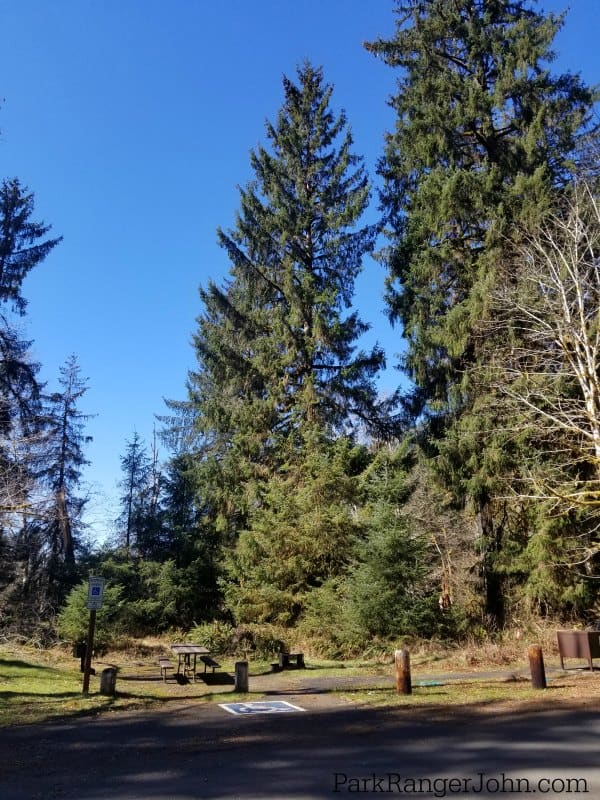 Accessible Sites: Yes, one accessible site
Pets Allowed: Pets are allowed but they must be on a leash less than 6 feet long.
Pets are not allowed inside park buildings or on specific trails.
Pets can be on the following trails: Rialto (to Ellen Creek) and Kalaloch beaches, Peabody Creek, Madison Falls, and Spruce Railroad trails only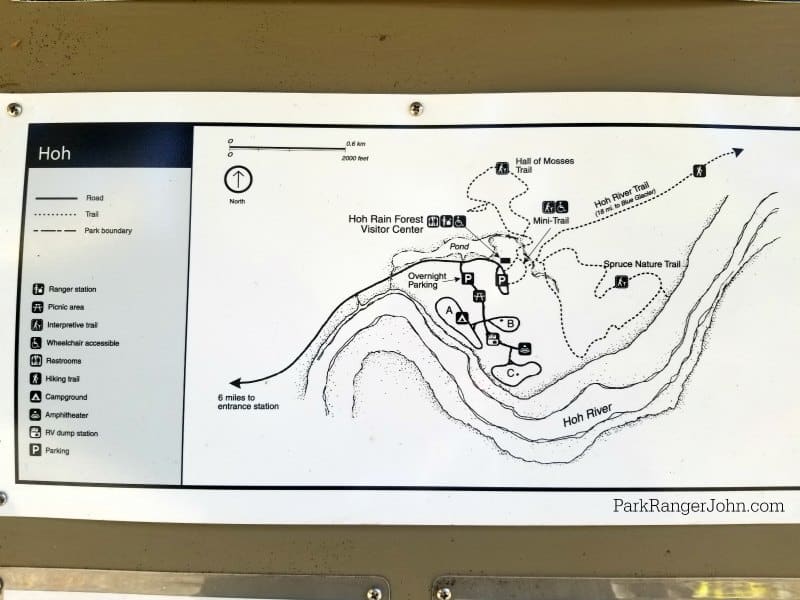 Campground Reservations
Are campground Reservations Available? No
First Come, First Served? Yes

Hoh Campground Amenities
Flush Toilets: Yes
Payphone: Yes
Is wifi available? No
Is cellular Phone Service Available? Maybe, depends on your carrier
Is camp host available on site? Yes
Is firewood available for purchase? Yes near the Loop B restroom
If campfire wood is no for sale you can collect dead and down wood no longer than 6 inches in diameter within a ¼ mile of the campground.
Amenities at each campsite
:
Fire pit in the site? Yes
Picnic Table in the site? Yes
Bear Box in site/area? Yes
Potable Water? Yes
RV Camping at Hoh Campground
RV Length: Sites for 21 feet, a few for up to 35 feet.
Dump Station: No
Generators:
Hookups: There are no hookups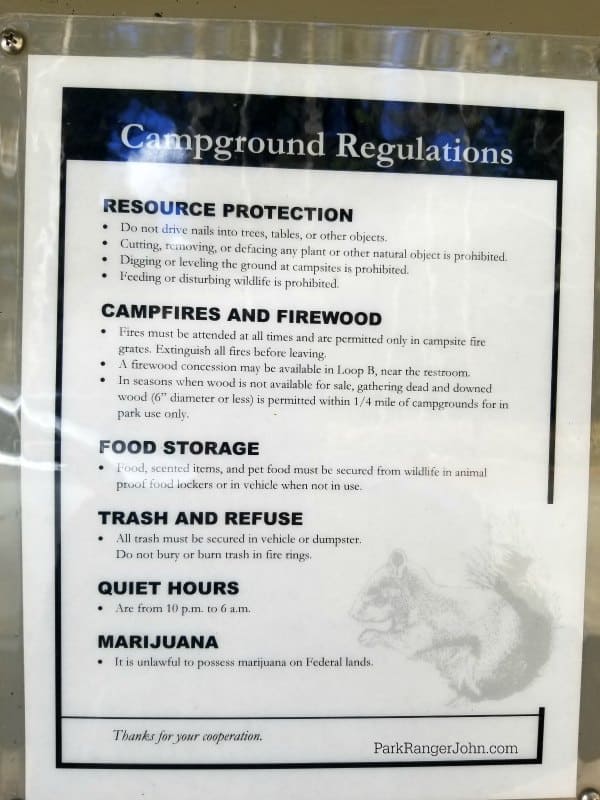 Campground Regulations
The maximum number of people in a campsite: Per site limit is 8 people
The number of cars per campsite: 2
Checkout time: 11:00 am
Quiet Hours: Quiet hours are from 10:00 p.m. to 6:00 a.m
Maximum Stay: 7-day maximum stay limit.
Don't forget to pack
Photos of Hoh Campground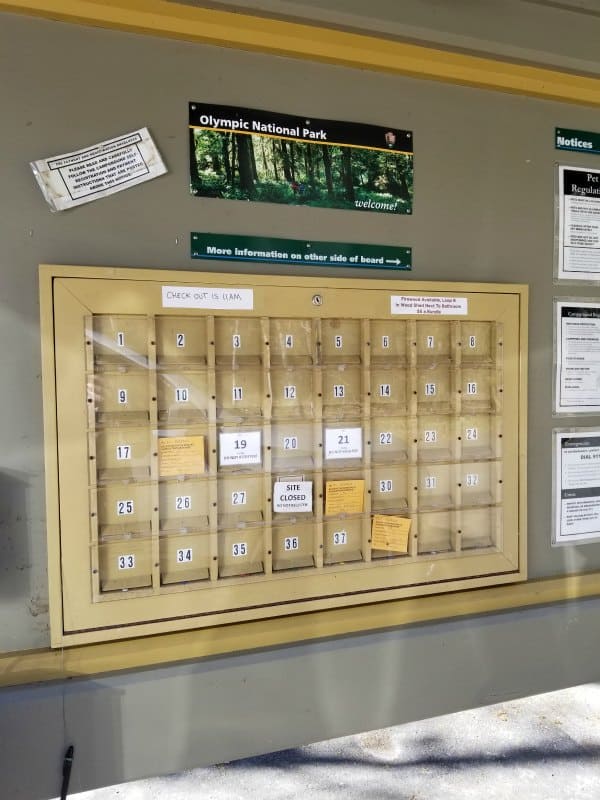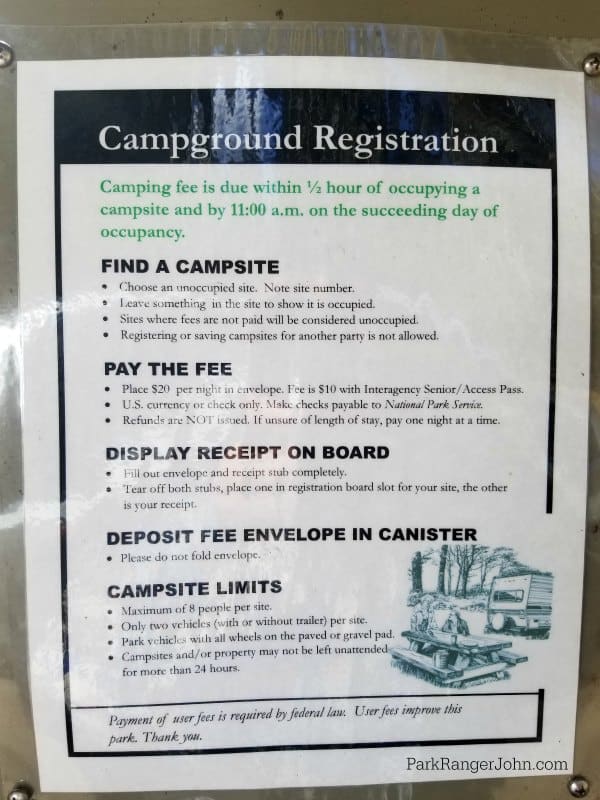 Loop A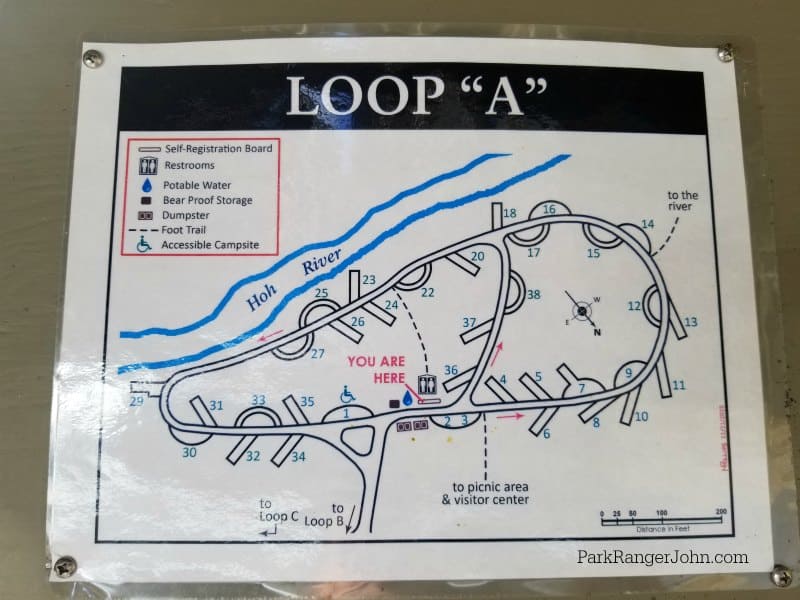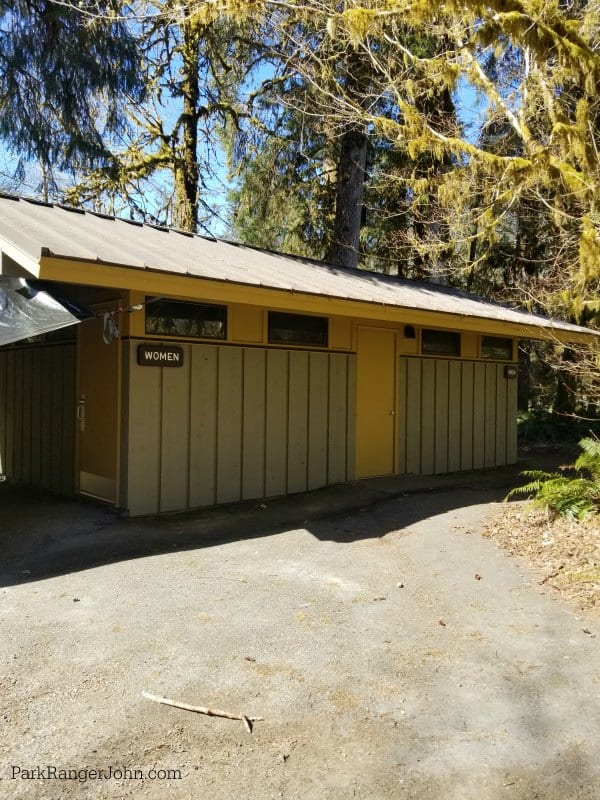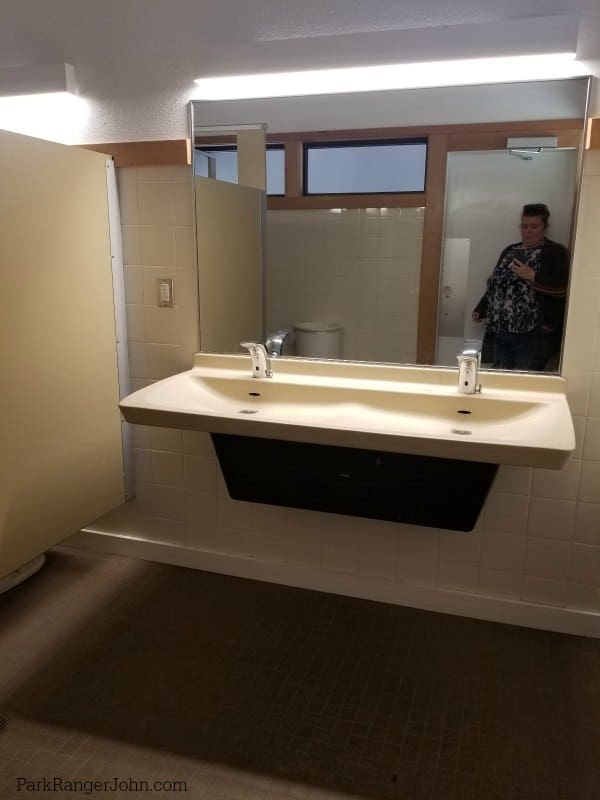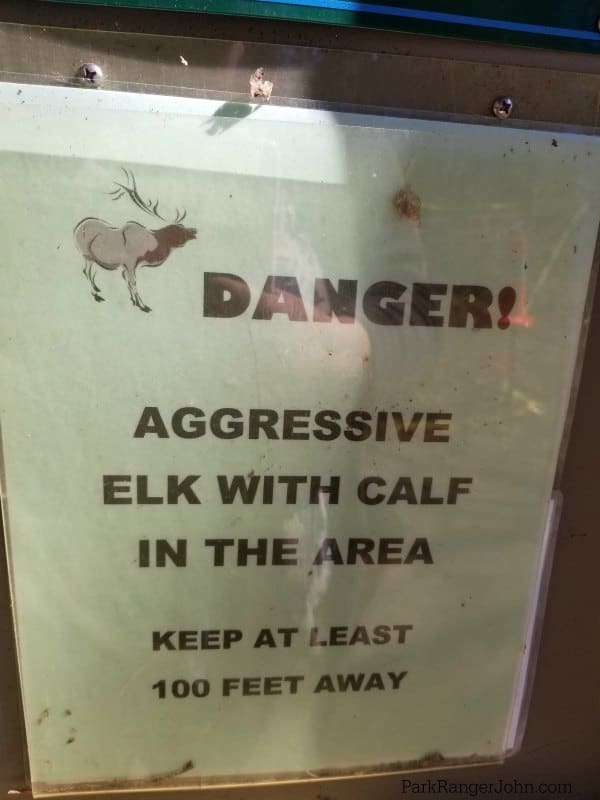 400 to 500 of the Roosevelt Elk found in Olympic National Park live in the Hoh valley. There is an estimated three to four thousand Roosevelt Elk in the entire park.
Make sure and say a minimum of 100 feet away from the elk.
Olympic National Park was created in 1938 to preserve and protect the native herd of Roosevelt Elk found in the park. Along with protecting the primeval forest.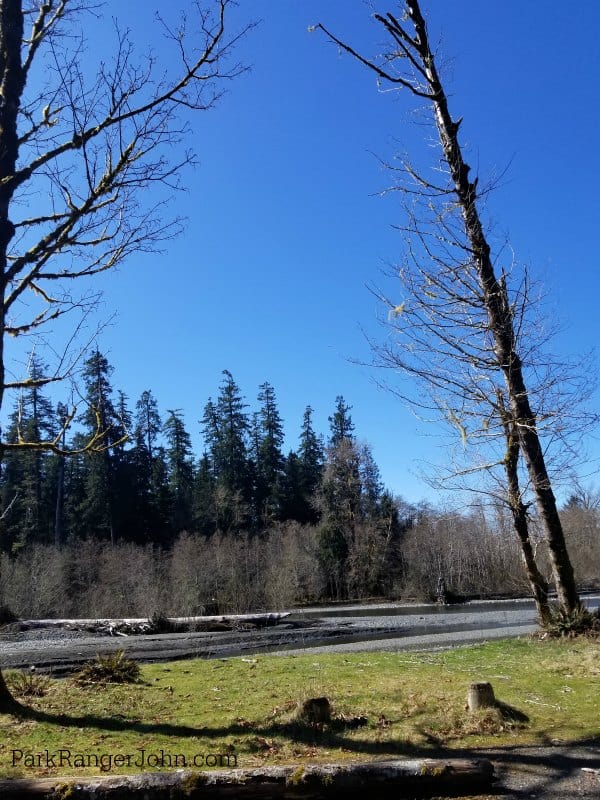 Loop B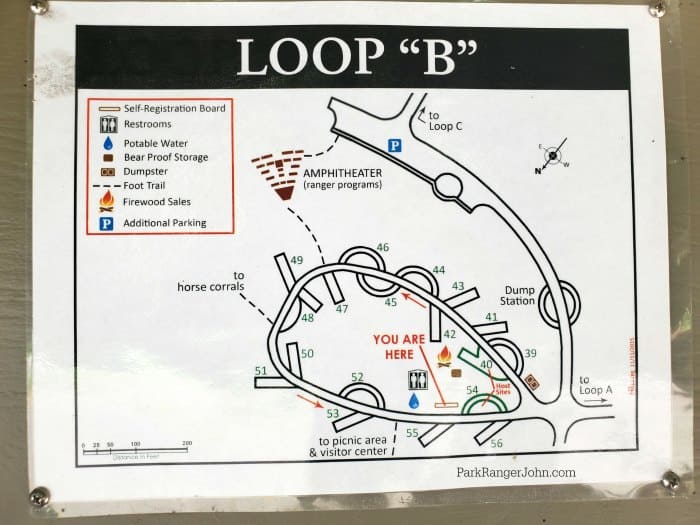 Loop C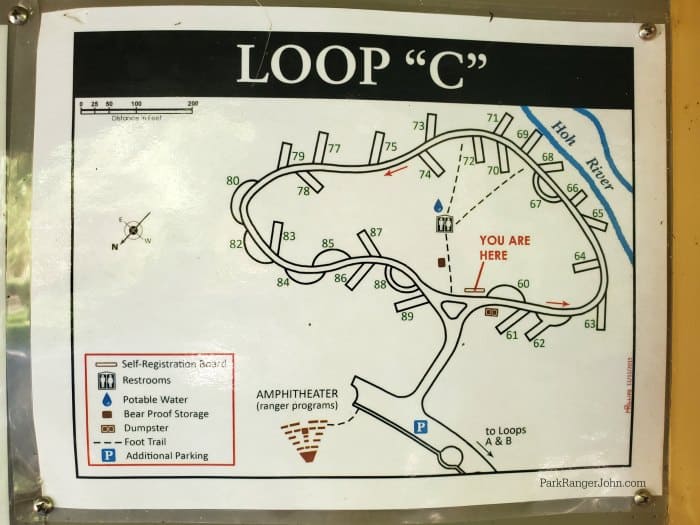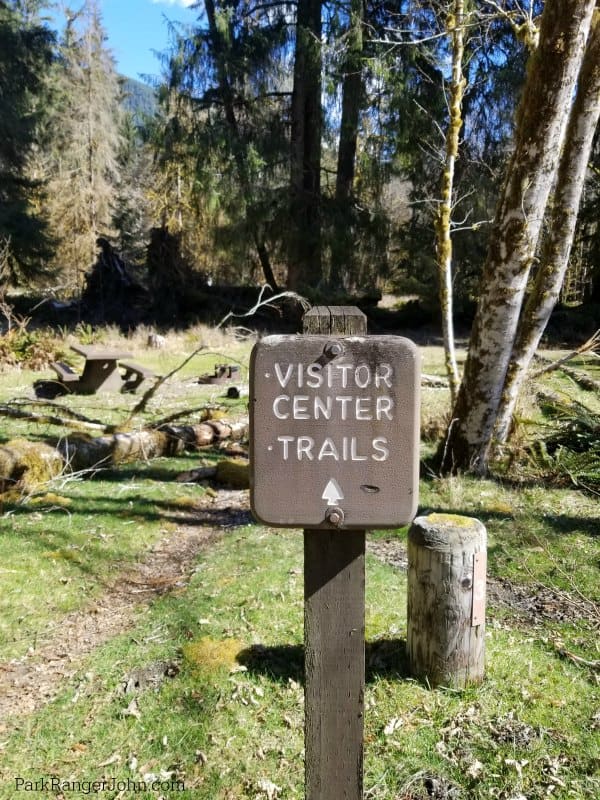 Trails near the Hoh Rainforest Campground
Mini-Trail: A .1 mile flat accessible with assistance loop into the old-growth forest.
Hall of Mosses: A .8 mile loop through an old-growth temperate rainforest that is easy to walk with a small 100-foot elevation gain.
Spruce Nature Trail: This trail is a 1.2-mile loop through the temperate rainforest to the Hoh River. There is less than a 100ft elevation gain.
South Snider Jackson Trail: This trail starts just west of the Hoh Rainforest entrance station. The trail is 11.8 miles and ascends 2,700 feet before descending to the Bogachield River.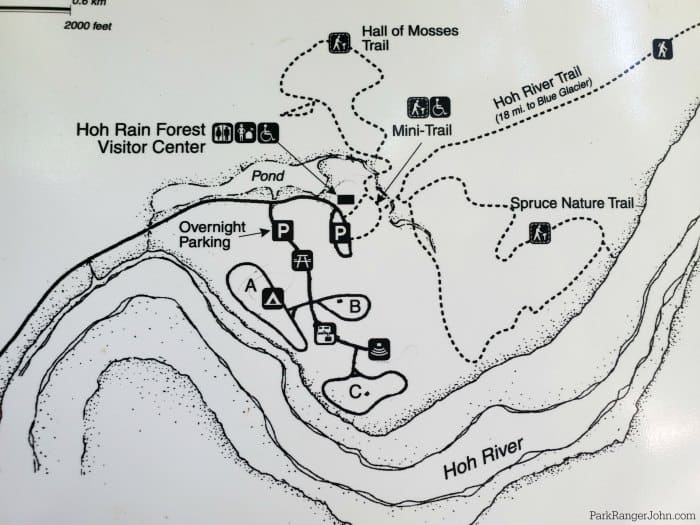 Additional Olympic NP Resources
Check out all of the Olympic National Park Camping options. There are 14 campgrounds within the park
Olympic National Park Lodging - Check out our complete guide of all the places to stay within the park
Things to do in Olympic NP - Find out all of the top things to do in this great park.
Free National Park Days - Check out the 5 days a year the National Park Service waives entrance fees.
Most visited National Parks - Check out all of the top-visited parks in the United States
Moon Olympic Peninsula Guide Book
Olympic National Park trails map
Check out all of the Washington National Parks along with neighboring Oregon National Parks, Idaho National Parks, National Parks in Hawaii, and National Parks in Alaska