This fall, why not indulge in a camping trip that takes you to the grand scenery of autumn? All over the United States you will find unique areas set aside for camping. The crisp air means fewer bugs to visit your campsite and usually fewer neighbors. It's a great time for camping.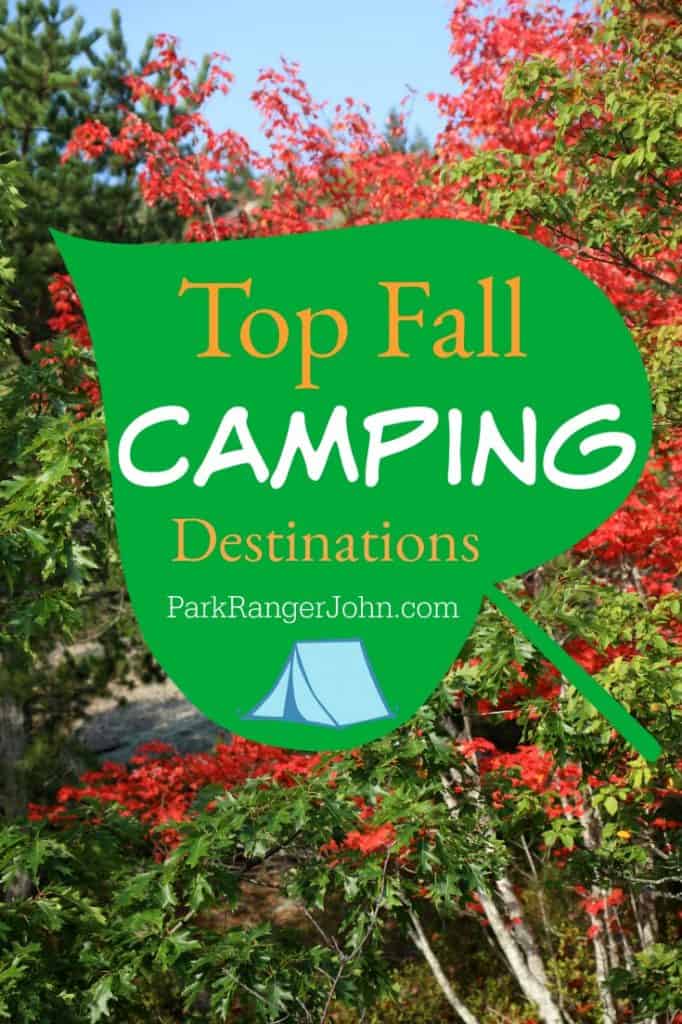 Top Fall Camping Destinations
Tent camping near the Grand Canyon is a never to be forgotten experience. Book in advance for this campground. You'll be overwhelmed by the scenery.
Near the historic Wawona Hotel, built in the 19th century as a getaway place for wealthy tourists, this is among the most beautiful of popular sites. You won't find much solitude, but the amazing scenery of Yosemite National Park will compensate. This is one of 13 Yosemite campgrounds in the park.
This is one of the most remote camping areas in Glacier National Park, a UNESCO World Heritage Site. Not for the novice camper, but well worth the trek, this area boasts stunning views of Bowman Lake and the surrounding mountains. Be prepared for a change in the weather. Safety is your paramount concern. This is just one of the epic Glacier National Park Campgrounds
Blackwoods Campground, Maine
Inside Acadia National Park you will find this gem of a campground. Restrooms are available, and shower facilities operate on a fee basis. Evening campfire talks and the island explorer shuttle bus are also available. Advance reservations are recommended. Check out more on Acadia National Park Camping.
Moraine Campground, Colorado
In the Rocky Mountain National Park, which was established in 1915, you will find five drive-in camping areas. These are primitive; they offer no electric, water or sewer hookups for campers.
Yellowstone National Park, Wyoming
Inside Yellowstone National Park you will find several campgrounds. Grant Village tends to be crowded, so if you like a lot of people, choose this one. Lewis Lake is more secluded. Facilities include modern restrooms and pay showers.
Bend Area, Oregon
The unique combination of a desert landscape and the shore of a lake that reflects spectacular sunsets on its tranquil surface makes this a must-see destination for campers. Set up your tent on the banks of the Snake River's Brownlee Reservoir and enjoy fishing, water skiing, or simply taking in the scene. Don't let the word desert or the warm days fool you; nights here are quite cold.
Black Mountain, North Carolina
This unspoiled spot has been a popular and well cared for camper's destination for decades. Few services are available, but the biking and hiking are incomparable.
Malibu Creek State Park, California
Not far from Los Angeles, this 7000-acre park nestled in a mountain range is a wonderful place for children to explore. The land used to be owned by 20th Century Fox and was used for filming many movies and television shows. Activities include horseback riding, mountain biking, fishing, swimming and bird watching.
San Francisco Bay Area, California
Near this great historic city are several campgrounds ranging from the walk-in primitive camps at Point Reyes to several with modern facilities. At Point Reyes, you can explore the seashore. At Big Basin Redwoods enjoy the serenity of the giant trees. Activities range from fly fishing to birding to enjoying hot springs. This close to the city, you can also indulge in a trip to China Town or even Alcatraz.
Big Sycamore Campground, California
Located on the central coast, this area is a nature lover's haven with 43 miles of shoreline. Along with the wilderness areas of Los Padres National Forest, you will find nearby art galleries and coffee shops. The white sand beach is one of the many attractions here.
Guadalupe River, Texas
The unique scenery of the Guadalupe River area combines with opportunities for white water rafting, canoeing, and miles of hiking trails. Tubing is also available well into fall due to the warm weather. Don't let the air temperature fool you. That water is cold!
Chickasaw Campground, Oklahoma
Hiking, boating, and fishing are available in this area where the fall color is spectacular. You may find it too cool for much swimming, though. Boat camping is a unique experience; you take your boat to a shoreline camping area and pitch your tent. Near your camp you will find the Travertine Nature Center, a Frank Lloyd Wright-inspired building that allows Travertine Creek to flow underneath and is used for environmental education programs.
Cumberland Island, Georgia
This barrier island offers a unique primitive camping experience, complete with serene beaches, unspoiled maritime forests, and marshes that will whisper your name. Camp in solitude or enjoy a ranger-guided walk. Located seven miles east of St Mary's, Georgia, the park is accessible only by water. Historic sites and critical habitat areas exist side by side on this beautiful island. Reservations are strongly suggested and can be made up to six months in advance.
Isle Royal National Park, Michigan
This area was named an International Biosphere Reserve in 1981. For primitive campers, the unique wildlife and secluded forest make for an unforgettable experience. Isle Royal offers three types of camping: 3-sided shelters, sites for 1 to 3 tents, and group camping. Maximum stay is 5 consecutive nights, and there is no fee for camping. Obtain a permit on arrival from Ranger III. Backpack into the campground. Bring a self-contained backpacking stove and 25-micron water filters and water treatment chemicals, or plan to boil water for 2 minutes before use. A good sleeping bag and foam pad are essential; nights will be cold.
So many wonderful campgrounds are available in the United States, you can't run out of places to enjoy an affordable and memorable vacation.