If you are looking to plan an epic trip to the Grand Canyon you definitely will want to check out the Bright Angel Lodge and Cabins. Perched on the South Rim of Grand Canyon National Park a stay at the Bright Angel will be a vacation highlight! The Bright Angel Lodge was built in 1935 and designed by famed architect Mary Colter.
We stayed in one of the rim-view Bright Angel Cabins and it honestly blew us away! Our cabin was maybe thirty feet from the canyon rim and offered unbelievable views out the window. We did not want to leave and are already talking about planning a return trip with more nights in a cabin.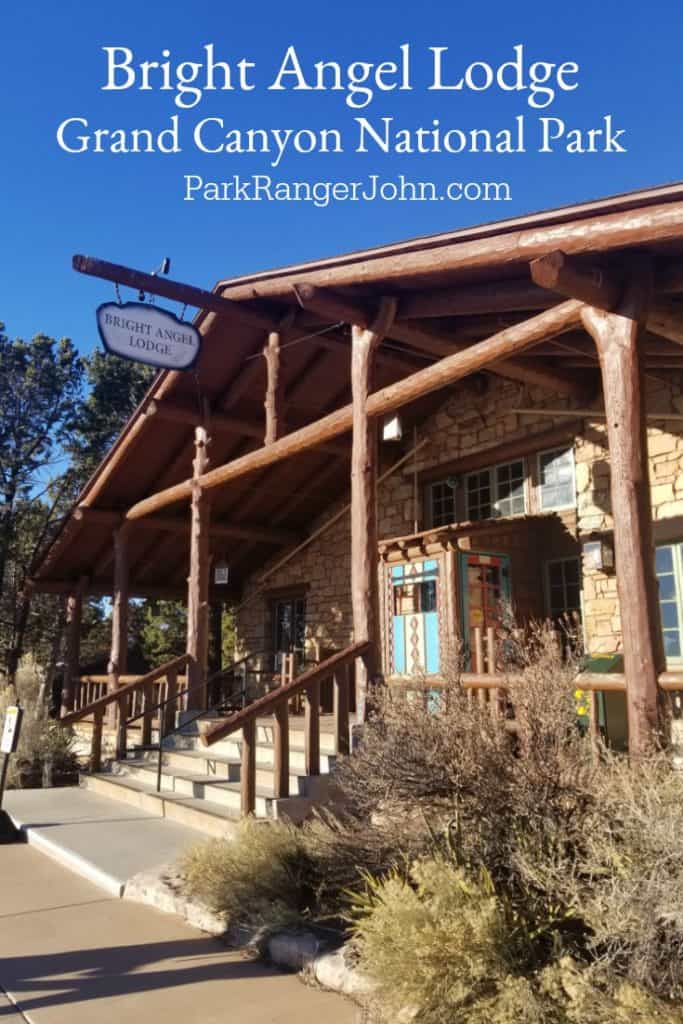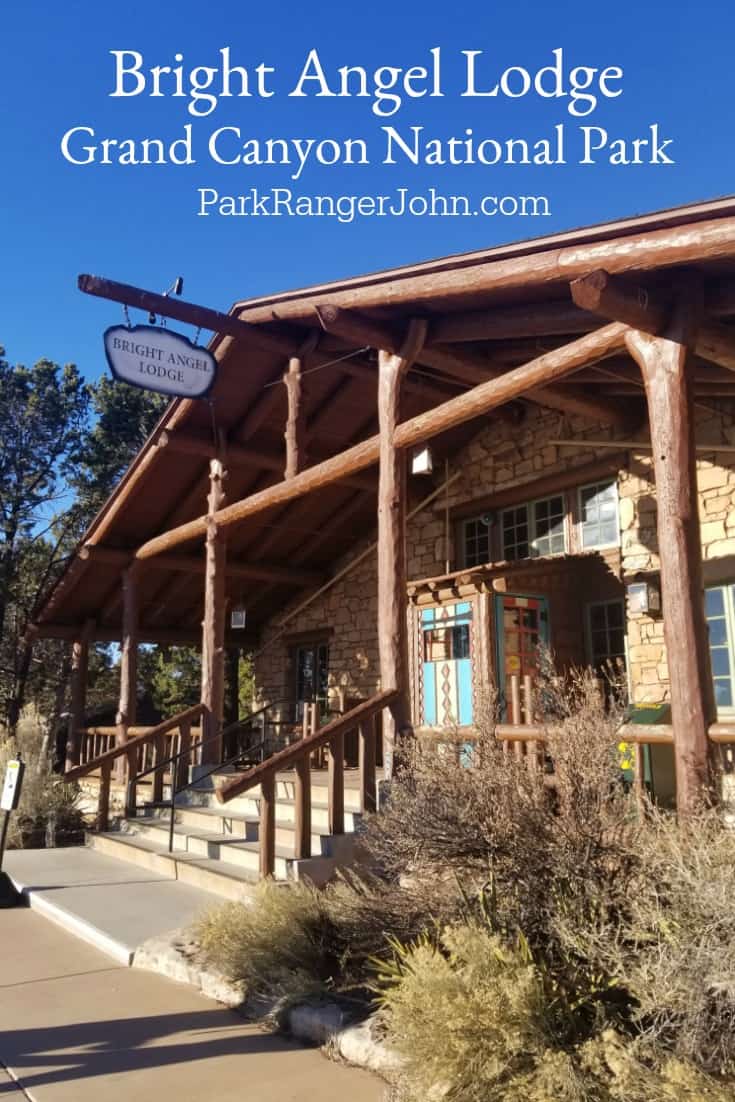 Bright Angel Lodge at the Grand Canyon
Bright Angel Lodge was designed in 1935 by famed architect Mary E. J. Colter. The lodge is listed as a registered National Historic Landmark. One thing not to miss in the Bright Angel Lodge is the geologic fireplace in the Bright Angel History Room. Colter designed the fireplace in rock layer order of the actual Grand Canyon. From the river cobbles to young rock strata you can see how each layer of the canyon changes.
Bright Angel offers 90 different lodging units including the Bright Angel Cabins, Lodge Rooms, and the historic Buckey O'Neill Cabin. One thing to know is the lodge rooms inside the Bright Angel Lodge have shared bathrooms and no TV's in the room.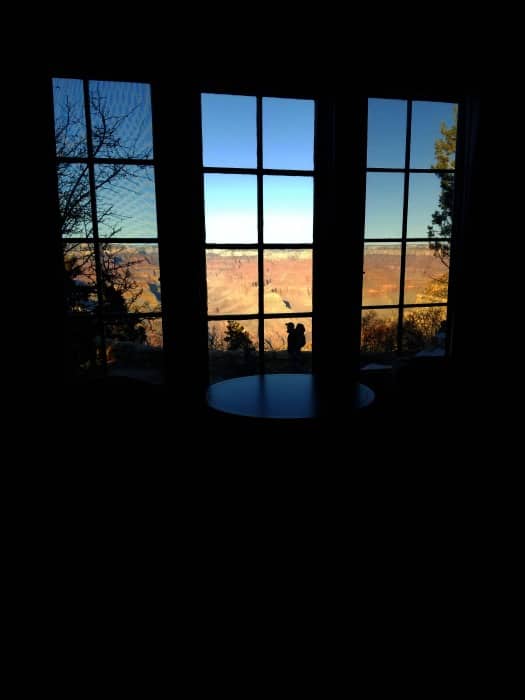 Bright Angel Cabins
There are multiple cabin types offered but I have to tell you if you can get one make sure and reserve a rim view cabin! You will not be disappointed. We were able to watch the sunrise over the canyon while curled up in the comfy chairs next to the window. The room has a Keurig so you can enjoy a hot cup of coffee or tea and watch the sunrise from the comfort of your cabin.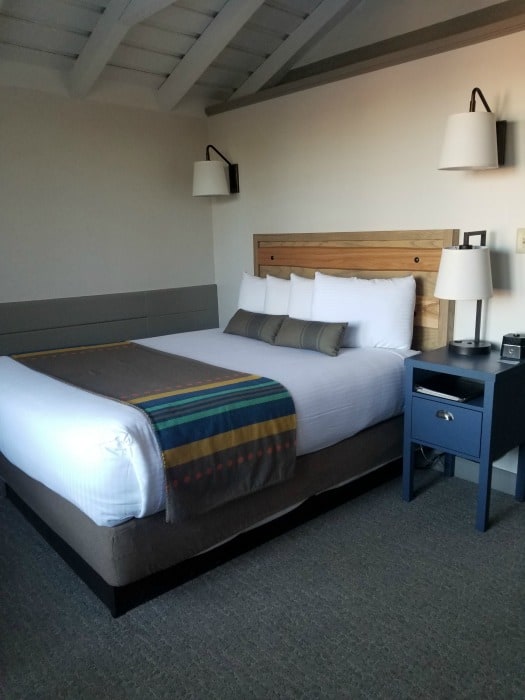 It was 17 degrees outside during our stay and being able to stay in comfy clothes and wrap up in a blanket was honestly amazing. The cabin is nicely appointed with a queen size bed, table and two chairs, flat screen TV, and a small dresser and closet. The bathroom comes with toiletry products including shampoo, conditioner, body wash and soap in a green tea lemongrass scent that is fantastic.
There is parking near the cabins so you do not have to hike far with your luggage. Our cabin overlooked the Lookout Studio and the south rim of the Grand Canyon.
One thing to know about the rim view cabins is the walls are pretty thin. We were able to hear our neighbors talking and understand part of their conversation.
There are a couple of stairs leading up to the cabin doors. The doorway is small so you will want to be careful as you enter so you don't trip over your own feet (trust me on this one, I may have done it)

Arizona Room
The Arizona Room is not just the name of the restaurant, but the inspiration behind its cuisine. The Arizona Room is open seasonally and offers steak, chicken and other great menu options.
Harvey House Cafe in the Bright Angel Lodge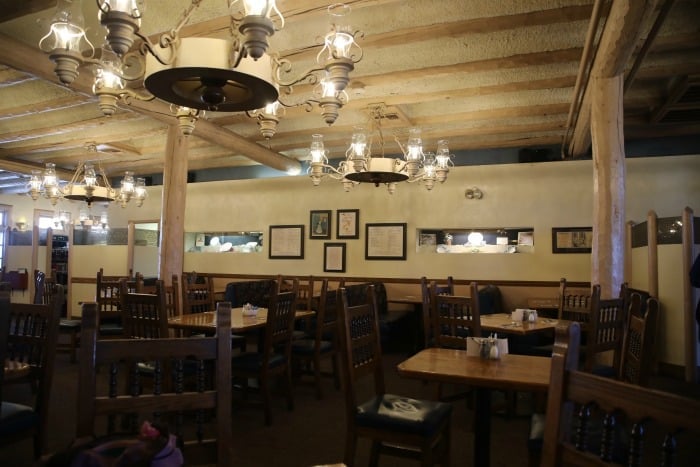 The Harvey House Cafe in Bright Angel Lodge is a sit-down restaurant that is casual and comfortable. The menu is pretty diverse from a turkey plate to spaghetti and meatballs. This is a great casual family restaurant perfect for relaxing in after a day out in the park.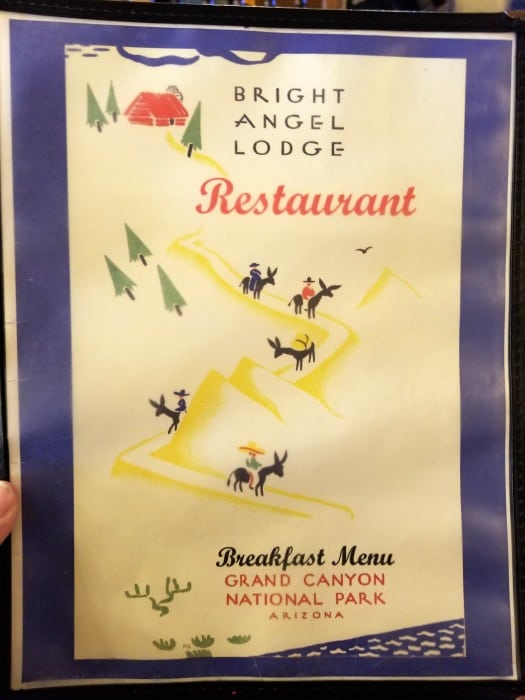 Breakfast Menu highlights
Huevos Rancheros -Featured on the 1955 Bright Angel Restaurant Menu
Refried Beans & Corn Tortillas topped with Enchilada Sauce, Pepperjack Cheese, Sour Cream, Green Chiles & Black Olives served with Two Large Eggs* Any Style, Served with Hash Browns or Fresh Fruit Salad
Buttermilk or Multigrain Pancakes – Featured on the 1953 Santa Fe Dining Car Menu
A Tall Stack of Buttermilk or Multigrain Pancakes. Served with your choice of Regular or Sugar-Free Syrup or Apple Cinnamon Sauce
Bright Angel Breakfast Sandwich -Featured on the 1942 Santa Fe Dining Car Menu
Grilled Brioche Roll with Two Eggs* Any Style, Sliced Ham, Sliced Avocado, & Pepper-jack Cheese, Served with Your Choice of Hash Browns or Fresh Fruit Salad
Harvey House Cafe Lunch Menu Highlights
Ponderosa Chicken Club – Appeared on the 1938 El Tovar Dining Room Menu
Grilled Chicken & Bacon, Cheddar Cheese, Lettuce, & Tomato on a Brioche Roll with Dijon Mustard
Chili Con Carne – Appeared on the 1956 Bright Angel Restaurant Menu
Made with Fresh Ground Beef, Plump Red Tomatoes, Beans, Onions, Peppers, Cotija Cheese & a Secret Blend of Spices loaded into a Sourdough Bowl with Crema & Diced Onion
Chef's Choice House Made Cobbler – Appeared on the 1940 La Posada Menu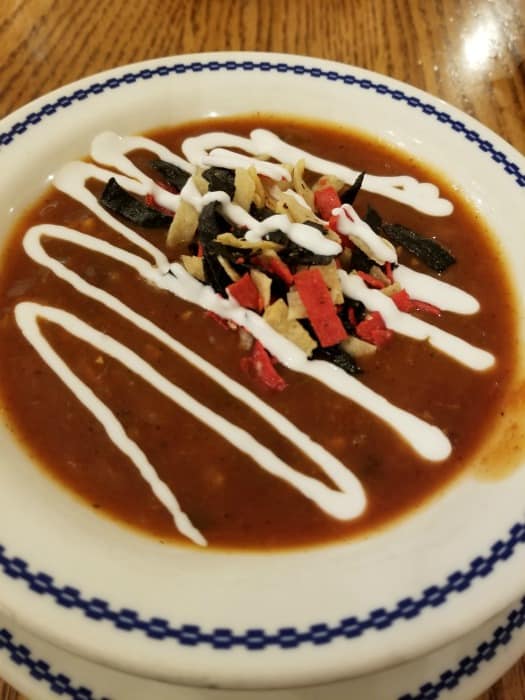 Harvey House Cafe Dinner Menu highlights
Guacamole Monterey – Featured on the 1980's El Tovar Dining Room Menu
Served with Tortilla Chips
Arizona Tom Turkey -Featured on the 1939 Bright Angel Menu
Sliced Roasted Turkey, Served with Sweet Potato, Chef's Choice Vegetable, & Mango Cranberry Sauce
The River Runner – Featured on the 1953 Santa Fe Dining Car Menu
A Boneless Trout Fillet, Lightly Dusted in Seasoned Flour & Sautéed to Tender Perfection. Served with Citrus Butter, Rice, & Seasonal Vegetables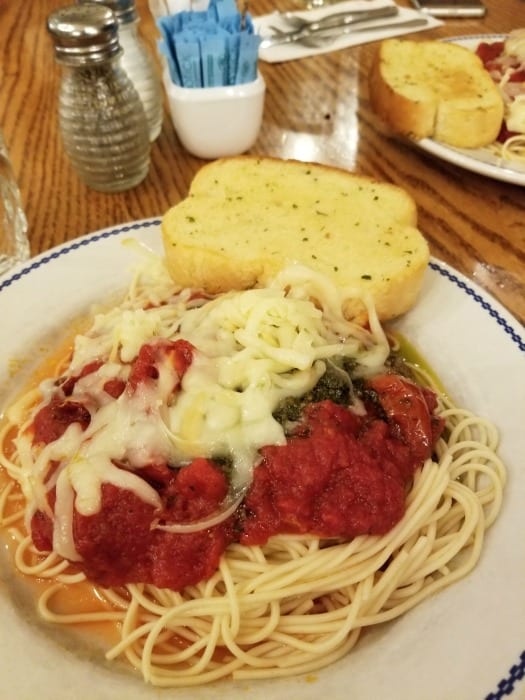 Santa Fe Spaghetti – Featured on the 1949 Bright Angel Menu
Homestyle Meatballs Smothered in Marinara or Meat Sauce with Smoked Mozzarella Cheese, Roasted Tomato, & Pesto Garnish accompanied with Warm Garlic Toast & Parmesan Cheese
House Made Bread Pudding – Appeared on the 1945 Cleveland Union Terminal Café Menu
served with Whipped Topping & Hot Caramel Sauce
New York Style Cheesecake – Appeared on the 1945 Cleveland Union Terminal Café Menu
A Rich & Creamy Tradition with Strawberry Compote or Caramel Sauce
Hours of Operation
Breakfast: 7:00 a.m. – 10:30 a.m.
Lunch: 11:30 a.m. – 3:30 p.m.
Dinner: 5:00 p.m. – 9:00 p.m.
Lounge: 11:30 a.m. – 10:00 p.m.
First-come, first-served. Reservations are not available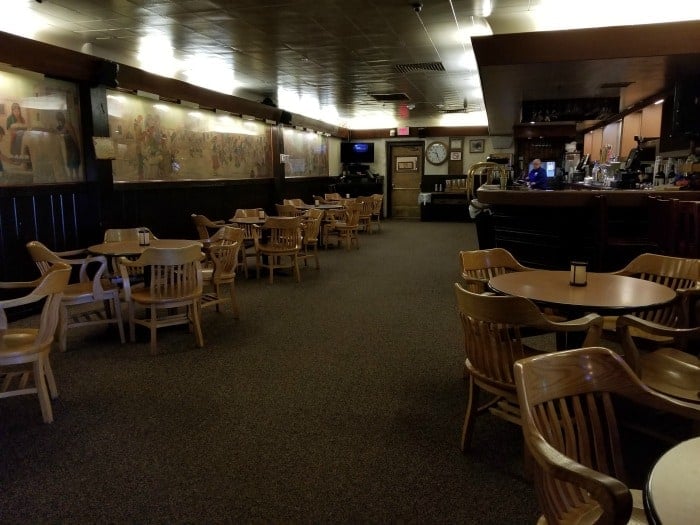 Harvey House Tavern
The Harvey House Tavern is located inside the Bright Angel Lodge and offers a casual setting to enjoy a cocktail or craft beer. The Harvey House Tavern is also the coffee shop and mini-snack stop in the morning.
Hours of Operation:
Open year-round
11:30 a.m. – 10:00 p.m.
Dress code is casual
Reservations are not required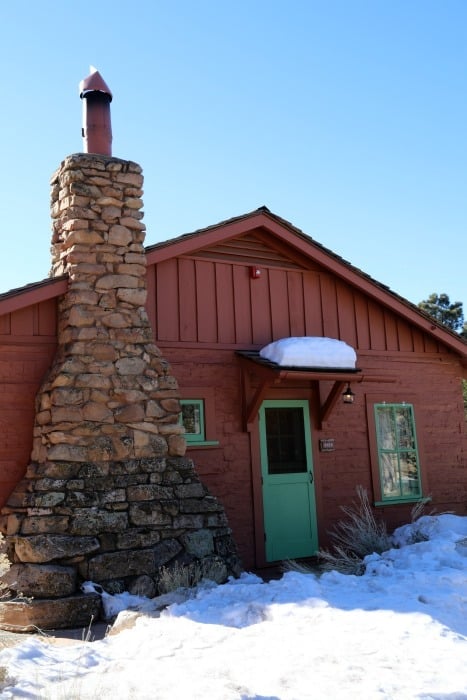 Things to know when planning a visit to the Bright Angel Lodge and Cabins
Bright Angel Lodge Address
9 North Village Loop Drive
Grand Canyon, AZ 86023
Bright Angel Lodge Phone Number: (928) 638-2631
Check in time – 4 pm
Check out time – 11 am
The hotel will hold a security deposit on your credit card when you arrive. You have the option of using a dining card that allows you to charge meals back to your room if you choose.
All rooms are non-smoking. If you smoke in the guest room or cabin, a charge of $175 will be added
Check out the great Grand Canyon Restaurants – South Rim you can enjoy during your stay.