If you are looking to camp in Great Smoky Mountains National Park but want to get away from the crowds Cosby Campground is the perfect campground for you. The campground is super peaceful and surrounded by large trees.
Located approximately thirty minutes from Gatlinburg you are close enough to get to the main portions of the park but far enough away to not have to worry about crazy crowds.
We were really impressed with how quiet the campground was even in June. The sites are well spread out so you are not looking into your neighbor's dinner plate. There are flush toilets and cold running water available in the campground.
Being in the Smoky Mountains you will want to make sure that you properly secure your trash and food in your car. There are no bear boxes at the sites so you are responsible for making sure your food is not left out in the campground.

Cosby Campground - Great Smoky Mountains National Park
Check out our complete guide to Great Smoky Mountains Camping
Check out all of our articles Great Smoky Mountains National Park
Season: 4/19- 10/27, 2019
Number of Sites: 157
Location in the park: 5 miles south of Cosby, Tennessee
Campsite Cost: $17.50
Payments accepted: Cash and Check on site for first come first serve sites, credit cards online for reservations
Reservations: Yes, 42 campsites are available for advanced reservations.
Campground Address:
127 Cosby Park Road, Cosby, TN 37722
Latitude/Longitude:
Latitude:
35.7533333
35° 45' 11.9999" N
Longitude:
-83.2086111
83° 12' 31.0000" W
Elevation: 2,459'
Accessible Sites:
Pets Allowed: Pets are allowed in the campground but must be confined or on a leash (6' maximum). Pets are not allowed on trails.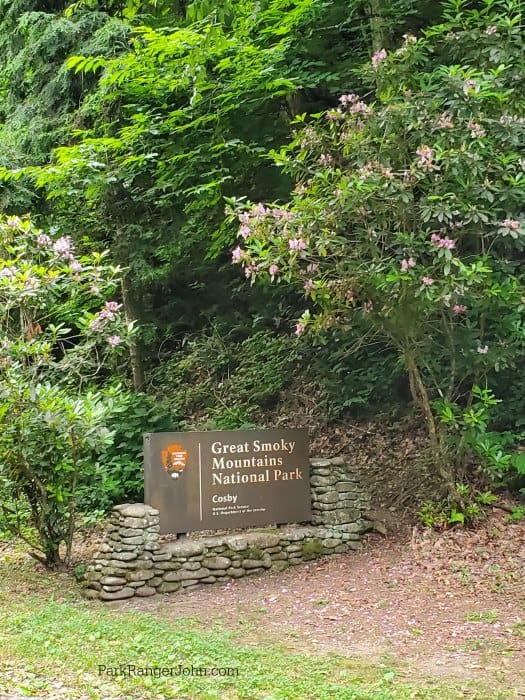 Campground Reservations
Are campground Reservations Available? Yes
115 campsites are available at Cosby Campground on a first-come, first served basis and 42 campsites are available for advanced reservations
Phone Number? 423-487-2683
Online? Recreation.gov
How Far Ahead can you make a reservation? individual campsites are released on a 6-month rolling basis
First Come, First Served? Yes, Over 100 sites are available first come first serve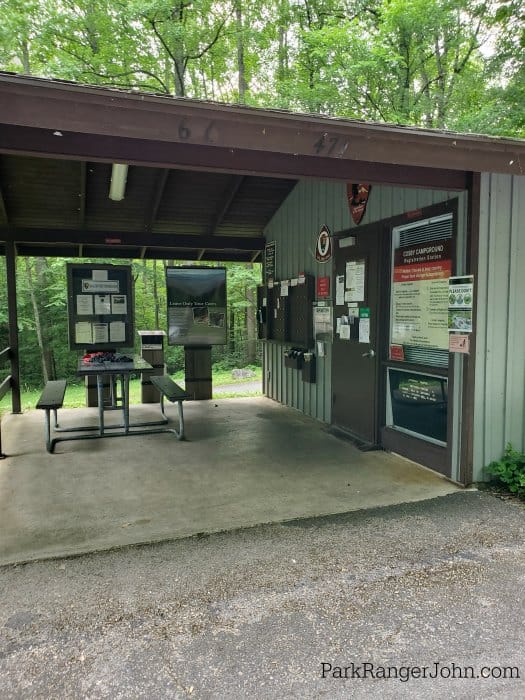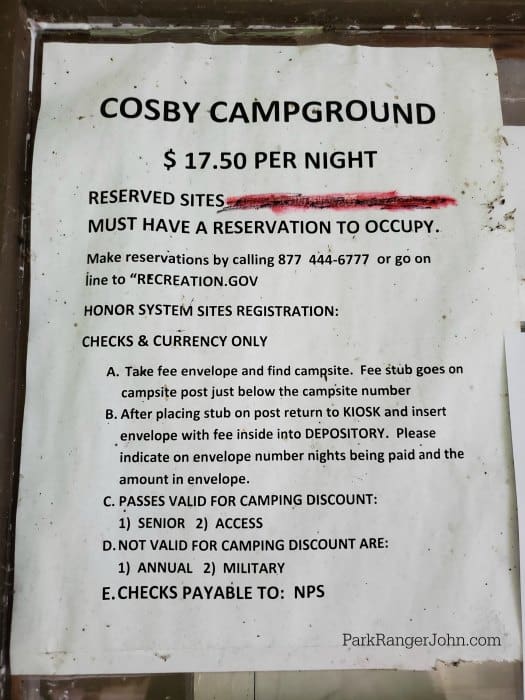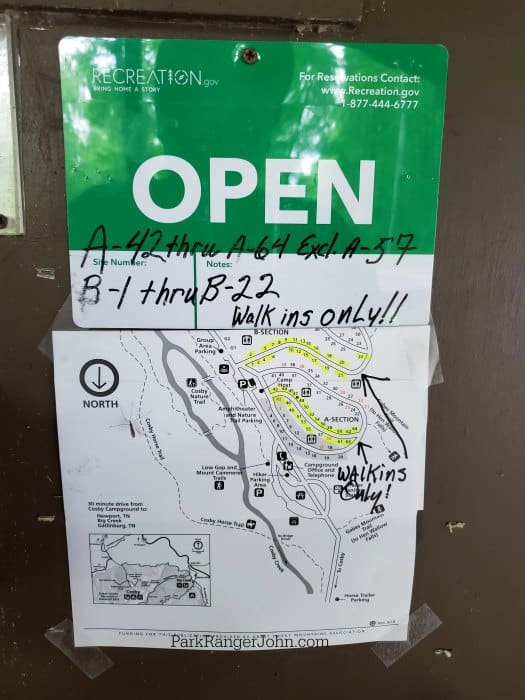 Campground Amenities
Flush Toilets: Yes
Payphone: There is an emergency phone in the campground.
Is wifi Available? No
Is cellular Phone Service Available? We did not have any cell service in the campground
Is camp host available on site? Yes
Is firewood available for purchase? Yes, You must use fire-treated wood in Great Smoky Mountain National Park.
Only heat-treated firewood bundled in its original packing and bearing a certification seal from the US Department of Agriculture (USDA) or a state department of agriculture may be brought into the park.
Campers may also collect dead and down wood in the park for campfires.
Visit www.nature.org/firewoodmap for a list of available vendors near the park.
Amenities at each campsite:
Fire pit in the site? Yes
Picnic Table in the site? Yes
Bear Box in site/area? No
Potable Water? Yes, available at the bathroom.
RV Camping at Campground
RV Length: Maximum length of 25'
Dump Station: Yes
Generators: Generator use is prohibited from 8 pm to 8 am. Generator use is restricted to 8 AM to 8 PM.
Hookups: There are no hookups in the campground.

How to get to Campground
From Cosby, TN, proceed south on TN 32 about 1.5 miles south of the junction with US 321. Turn right at Cosby sign. The campground is another 2 miles.
Important Dates for Campground
The campground is open during the following season - April 19, 2019 - October 27, 2019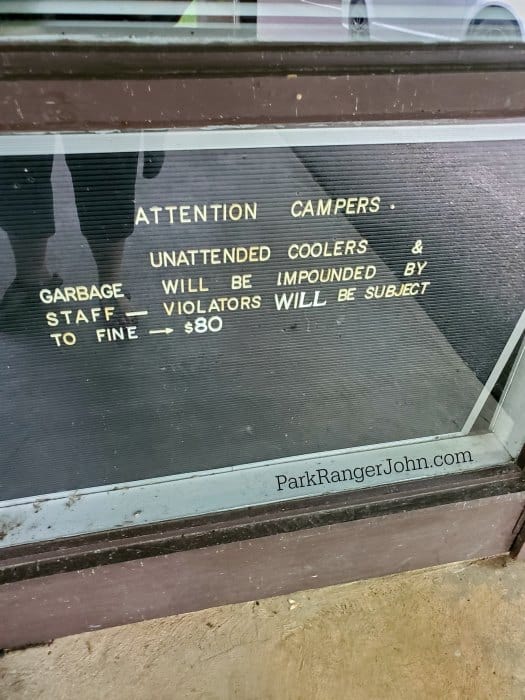 Campground Regulations
The maximum number of people in a campsite: up to six people per campsite.
The number of cars per campsite: No more than two motor vehicles or one vehicle with trailer are allowed per campsite
Checkout time:
Quiet Hours: 10 pm to 6 am
Maximum Stay: limited to 14 consecutive days at a time
A Tennessee or North Carolina fishing license is required to fish in the park.
Cosby Campground Map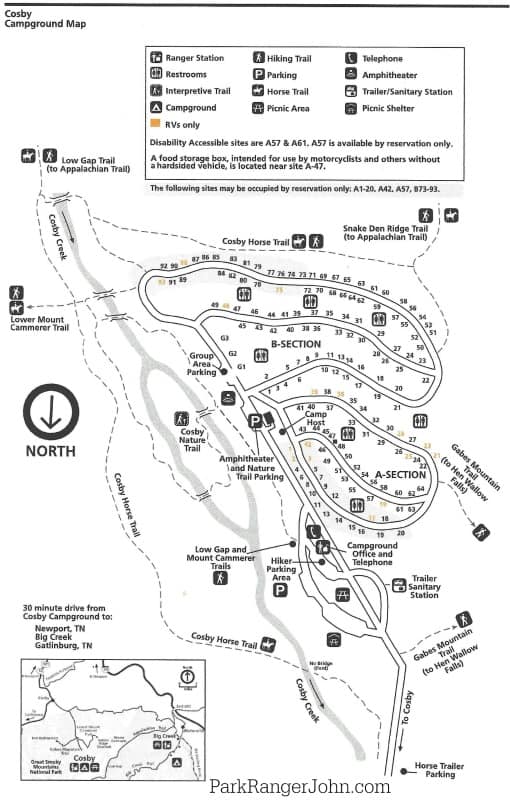 Photos of Cosby Campground
Check out all of our articles Great Smoky Mountains National Park