Goodell Creek Campground in North Cascades National Park is absolutely beautiful! It is located off the North Cascades Highway (Highway 20) and just west of the North Cascades visitor center in the old-growth forest next to the Skagit River.
Goodell Creek Campground is what I think most visitors from out of state think of when they think of Washington. The thought of dense old-growth forests, moss growing around the trunks of the trees, everything lush green, and the sound of a river in the background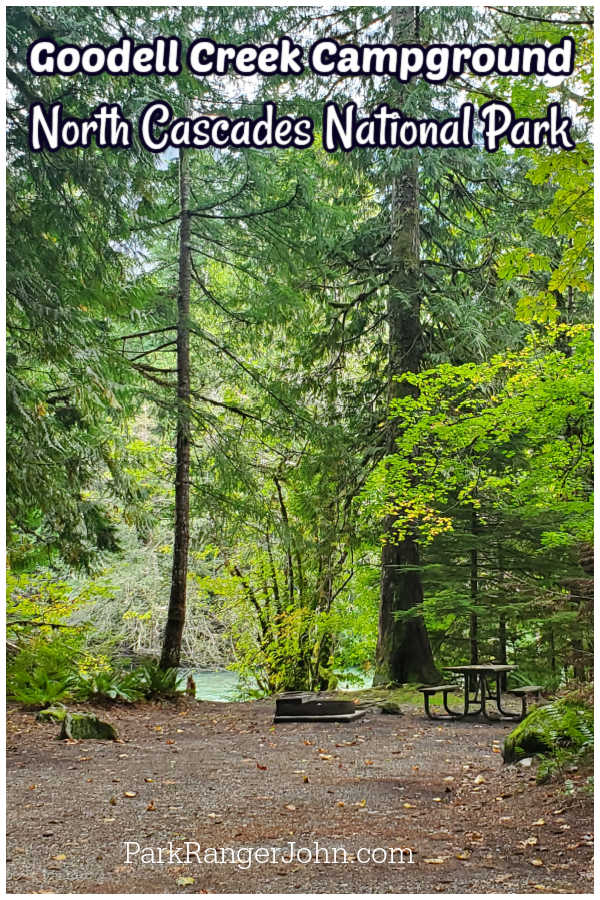 Goodell Creek Campground is located in the heart of the North Cascades National Recreation Area. You will be centrally located to many of the park's attractions including the town of Newhalem and the Newhalem Campground, Gorge Creek Falls, Diablo Lake, and Ross Lake.
There are several hiking trails nearby from short walks to all-day treks. For a short leisurely stroll try the Sterling Munro Boardwalk after visiting the park's visitor center. There are several great displays and an incredible view with a fireplace. You can opt for a longer 1.8 mile River Loop Trail that also starts off at the park's visitor center.
Campers will have plenty to keep them entertained or they can simply sit back and relax.
This campground is surrounded by Douglas Fir and is absolutely gorgeous.
Number of Sites: 19 sites for tents or smaller RV's.
Location in the park: Located south of SR 20 at milepost 119. 13 miles (21 km) east of Marblemount, 74 miles (119 km) west of Winthrop.
Campsite Cost: $20
Senior/Access Camping Fee: $10.00
Payments accepted: Cash/check only
Reservations: Yes, Recreation.gov
Latitude/Longitude:
Accessible Sites: We did not see any ADA Accessible Campsites.
Pets Allowed:
Pets must be on a maximum 6-foot leash in the campground.
Pick up waste after your pet and put it in a receptacle.
Do not leave pets unattended.
Pets are not allowed on trails in North Cascades National Park.
Pets are allowed on trails Pets are allowed on trails in Ross Lake National Recreation Area and the PCT.
Campground Reservations
Are campground Reservations Available? Yes
Phone Number? 1-877-444-6777
Online? Recreation.gov
How Far Ahead can you make a reservation? Individual sites at this campground operate on a 6-month rolling basis
First Come, First Served? Sites that are not reserved are available on a first-come, first-served basis and usually fill by late morning, especially on weekends.
Due to limited phone access, there is no way to check the availability of first-come, first-served sites. You must physically be in the campground to claim a site if it is open.
Check out all of the North Cascade Camping options.
Campground Amenities
Dump Station: No, Dump Stations are available at Newhalem and Colonial Creek Campgrounds.
Bear Boxes: The National Park Service website states they have bear boxes but I don't remember seeing them. I also did not see any in my photos.
Perhaps they were recently installed but I would not count on one.
Flush Toilets: No, Vault Toilets
Payphone: No
Firewood: You will need to bring your own firewood to the campground. The nearest store is in Newhalem.
Is wifi available? No
Is cellular Phone Service Available? No
Is firewood available for purchase? No
Amenities at each campsite:
Fire pit in the site? Yes
Picnic Table in the site? Yes
Bear Box in site/area? Yes
Potable Water? Safe drinking water is available during peak season
RV Camping at Goodell Creek Campground
RV Length: Maximum Length 22 feet
Generators: 8 am to 8 pm
Hook-Ups: There are no hook-ups within the campground
How to get to Campground
Located south of SR 20 (North Cascades Highway) at milepost 119. Thirteen miles (21 km)east of Marblemount, 74 miles (119 km) west of Winthrop.
Campground Regulations
The maximum number of people in a campsite: 8 people, 3 tents and 2 vehicles limit per campsite.
The number of cars per campsite: 2
Checkout time: 12 pm
Quiet Hours: 10 p to 6 am
Wildlife frequents the area. All food must be stored in animal-resistant food lockers or hard-sided vehicles until use.
Camping is limited to 14 days from July 1 through Labor Day (first Monday in September) and to 30 days the rest of the year.
Upper and Lower Goodell Group Camps
Lower Group sites maximum 50 people, 25 vehicles per site.
Upper Group maximum 30 people, 10 vehicles per site.
Cost - $75/night for reservations. Reservations can be made 3-360 days in advance at www.recreation.gov or by phone at 1-877-444-6777. Check out time noon.
Goodell Creek Campground Map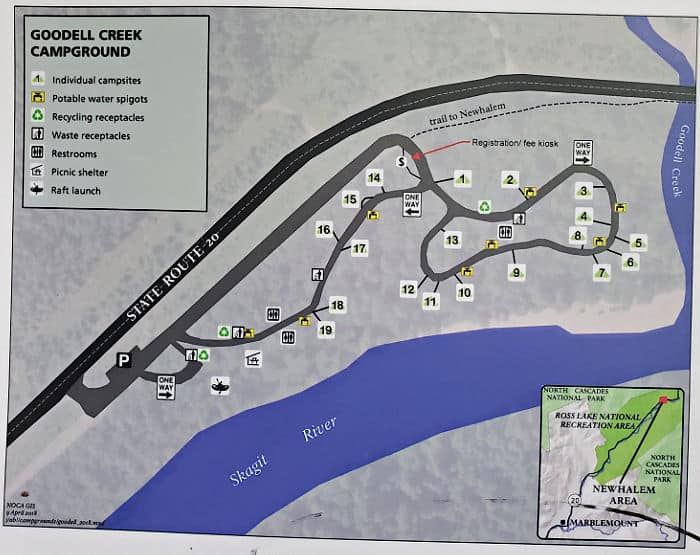 Photos of Campground
National Park Sites near North Cascades National Park
San Juan Island National Historical Park
Minidoka National Historic Site (Washington and Idaho)
Make sure to check out all of Washington's National Parks, Oregon National Parks, and Idaho National Parks.