Lees Ferry Campground is located in Glen Canyon National Recreation Area on the Colorado River. This campground offers the opportunity to camp surrounded by gorgeous red rocks and scenic views.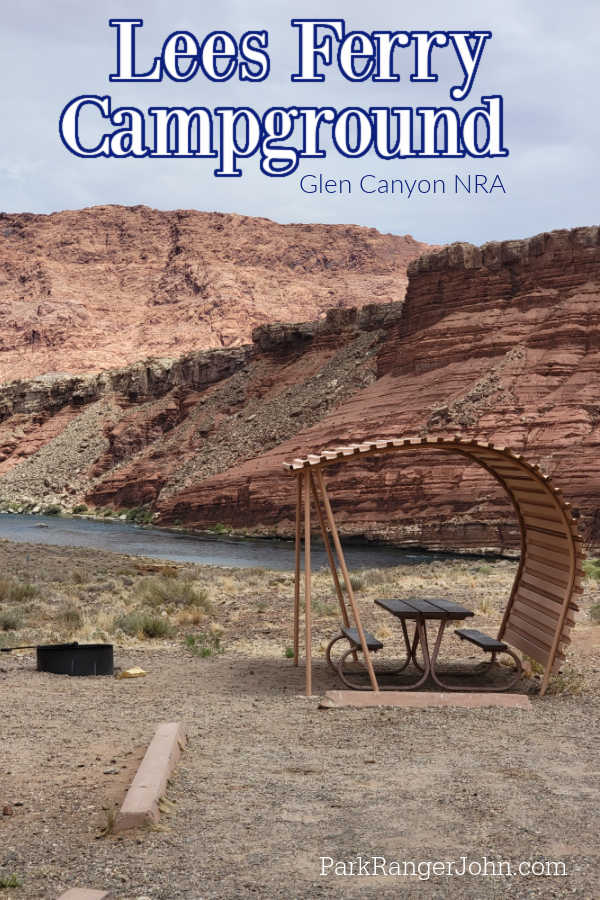 Lees Ferry Campground - Glen Canyon NRA
One thing about this campground is it can be HOT, HOT, HOT! When we were in the campground it was 101 degrees at 1 pm during the 1st few days of June.
The campground can feel like a hot furnace during the heat of the day when the wind is blowing. I don't want to detour you from camping here I just want to make sure you are prepared for the weather.
There is a sign in the campground that says that temperatures can range from 0 degrees in the winter to 115 degrees in the summer.
One really really cool thing about this Glen Canyon Campground is this area has one of the highest concentrations of California Condors! There is a release site near here so there are quite a few California Condors in the area! Keep an eye out for them while visiting Lees Ferry and nearby Navajo Bridge.
We also read that you need to keep your food and trash secure because ringtail cats, ravens, squirrels, and mice are common. How cool would it be to see a ringtail cat while camping! We have only seen them once while driving in Yosemite at night.
Number of Sites: 54
Location in the park: The campground is just down the road from the boat launch ramp.
Campsite Cost: $20 per site/per night
There is a $30 park entrance fee that admits one single, private, non-commercial vehicle and all its passengers and is valid for 7 consecutive days.
Senior/Access Camping Fee: 50% discount
Reservations: No reservations, all sites are first come first served
Campground Address: Lees Ferry Rd, Marble Canyon, AZ 86036
Latitude/Longitude: 36.8594° N, 111.6063° W
Accessible Sites: No designated ADA sites, but the campground is flat and mostly paved
Pets Allowed: Yes, Pets must be on a leash.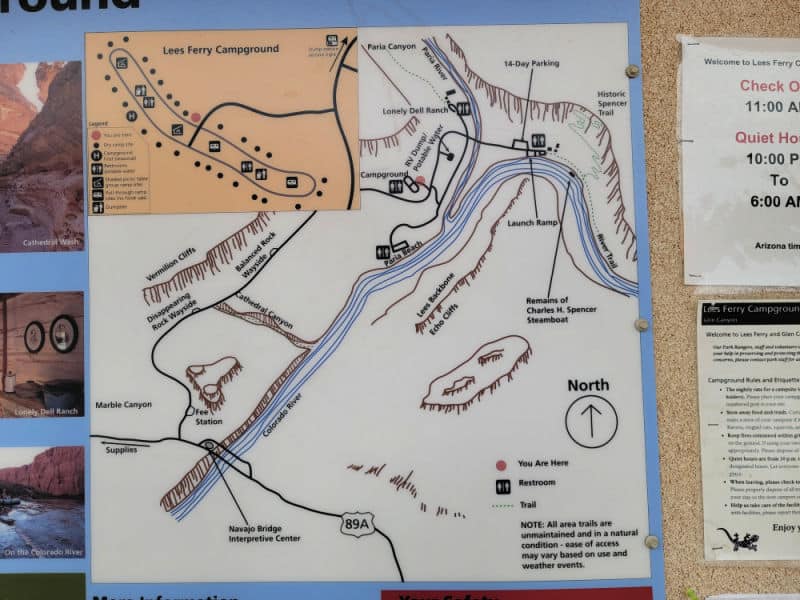 Campground Reservations
Are campground Reservations Available? No
First Come, First Served? All sites are first come first served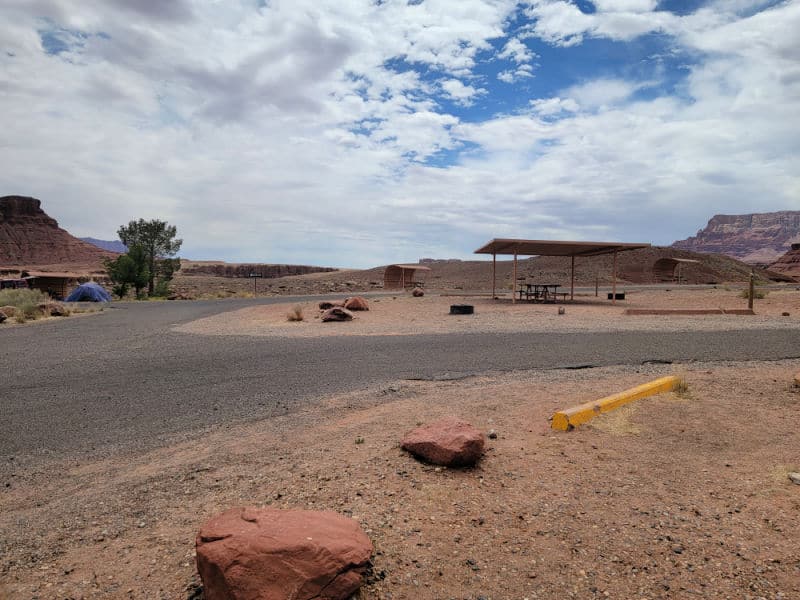 Campground Amenities
This is a normal front-country campground with picnic tables, fire rings, and easy to reach restrooms. Many of the sites also have wind/sun covers over the picnic tables to make them more enjoyable to use. The campsite parking areas are gravel. Many sites have epic views of the river.
Dump Station: Yes
Bear Boxes: No
Flush Toilets: Yes
Payphone: No
Is wifi available? No
Is cellular Phone Service Available? Maybe, We had service in and out while in Lees Ferry
Is camp host available on site? There was no camp host while we were in the campground. There is a designated site for camp hosts seasonally.
Is firewood available for purchase? No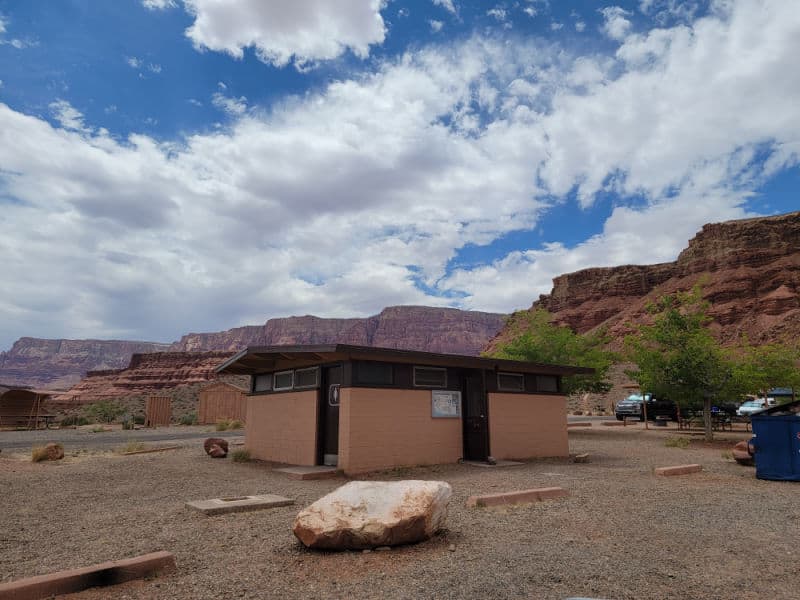 Amenities at each campsite:
Fire pit in the site? Yes, fires must be contained within the fire ring or grill. They are not permitted on the ground.
Picnic Table in the site? Yes
Bear Box in site/area? No
Potable Water? Yes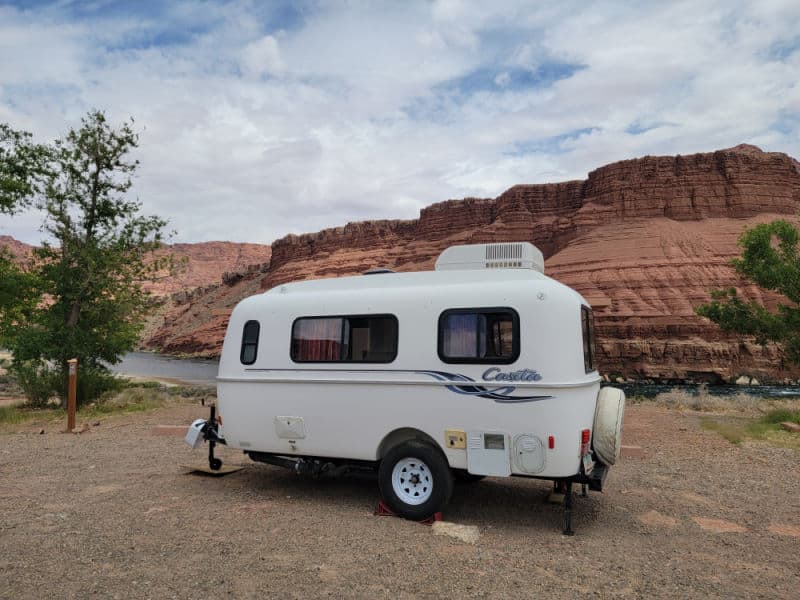 RV Camping at Lees Ferry Campground
RV Length: We did not see a designated length listed.
Generators: There are designated generator hours.
How to get to Campground
Lees Ferry is 42 miles (61 km) from Page via Hwy 89 south and Hwy 89A west. It is 85 miles (125 km) from the North Rim of the Grand Canyon via Hwy 89A and Hwy 67.
The Lees Ferry Junction and Park Entrance is in Marble Canyon, just west of Navajo Bridge Interpretive Center. A paved road leads 5 miles (8 km) to the Ferry area.
Campground Regulations
The maximum number of people in a campsite: 8
Check-In Time: 12 pm
Checkout time: 11 am
Quiet Hours: 10 pm to 6 am
Lees Ferry Campground Map
Photos of Lees Ferry Campground
Great Park Sites near Lees Ferry Campground
Navajo Bridge - Make sure to look for California Condors while staying in the campground and visiting Navajo Bridge
Grand Canyon Lodge - North Rim
North Rim Campground - Grand Canyon North Rim
Vermillion Cliffs National Monument - BLM
Antelope Canyon
Lake Powell Resort along with Glen Canyon Dam
Pipe Springs National Monument
Check out all of the National Parks in Arizona along with neighboring National Parks in California, National Parks in Colorado, National Parks in Nevada, New Mexico National Parks, and Utah National Parks
The campground is managed by the National Park Service.