Epic Guide to Joshua Tree Hikes! Taking time to go for a hike is one of the best ways to enjoy this incredible desert landscape. Actually, you get to explore two distinctly different desert ecosystems at Joshua Tree; the Mojave and Colorado.
You can also see the famous Joshua Trees and the Cholla Cactus. If that's not enough, exploring its arches and fascinating rock formations like Skull Rock will leave you dazzled!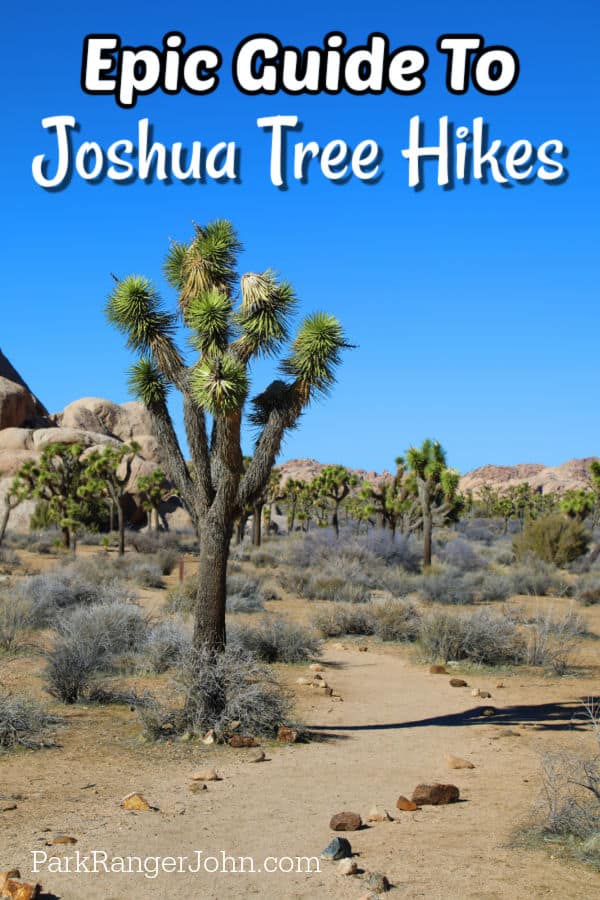 Epic Guide to Joshua Tree Hikes
Joshua Tree Hiking Tips
Carry plenty of water - even on the shorter trails! It's essential to stay hydrated during your hike, so don't forget your water bottle in the car.
Get an early start. Summer temps can stretch upwards of 100 degrees, so avoid hiking between 10 am and 4 pm. Your hike will be much safer (and more enjoyable) if you avoid the hottest parts of the day.
Beware of rattlesnakes. The desert has its fair share of rattlesnakes, so watch your feet while hiking to avoid stepping on them!
Look out for Cholla cacti. There are tons of these other-worldly cacti spread across the park, and they are a large part of what makes up the incredible landscape of Joshua Tree. But they are best observed from a distance! These cacti have some seriously big and sharp spindles that can jab into hiking boots and bare skin. So watch where you're going and give these unique cacti a wide berth.
Hike with a partner whenever possible. If you're going solo, be sure to tell someone where you're going and when you plan to return.
Check trail conditions and the weather forecast before heading out. Joshua Tree sees a wide variety of weather throughout the year. From extreme temperatures (both hot and cold), rain and thunderstorms, and even occasional snowfall, it's important to be prepared.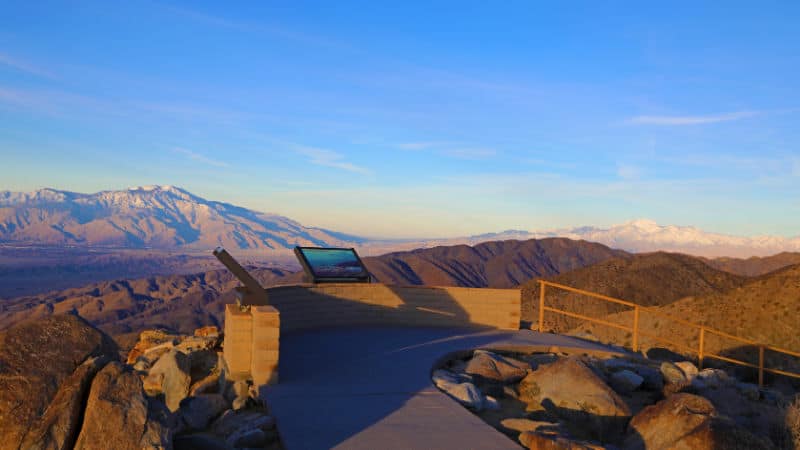 What to pack for hiking in Joshua Tree
Sun protection is extremely important when hiking in Joshua Tree. There is little to no shade available on most trails, so layer on the sunscreen and don't forget a hat. Even the winter sun can be severe, so come prepared no matter what time of year you're hiking.
Layers. It can be cold in the mornings and evenings, but you can usually bet on it warming up significantly throughout the day. Be sure to pack for all types of weather for hiking in Joshua Tree. Long sleeves can also help protect against the big spikes of the Cholla cacti that line some of the trails.
Proper footwear. Hiking boots with good traction and ankle support are the best option, but a good pair of tennis shoes will also work for shorter hikes.
Easy Hikes in Joshua Tree
Arch Rock Trail
Length: 1.4 miles
Elevation Gain/Loss: 100 feet
Time: 1 hour
Location: Twin Tanks parking lot (Arch Rock Trailhead)
Arch Rock Trail is reminiscent of one of Utah's Mighty 5 park trails - its all about the cool rock formations! The trail starts out at the Twin Tanks parking lot and then begins to wind its way through impressive rock clusters and big boulders. The first .6 miles are sandy and flat. Then comes the rocky loop measuring about .2 miles.
At times, scrambling across the large formations may feel like bouldering than hiking, but it's a fun, interactive trail that is great for hikers of all ages. In addition, there are interpretive signs along the trail depicting the geology, flora, and fauna of the area.
Be sure to seek out Arch Rock, located about halfway through the loop. This is where the trail got its name, but it often goes overlooked amongst the other cool rock structures. Hiking the loop counterclockwise will give you better views of Arch Rock.
If you can't get enough of the cooky rock formations, you can venture onto one of the spur trails along this route.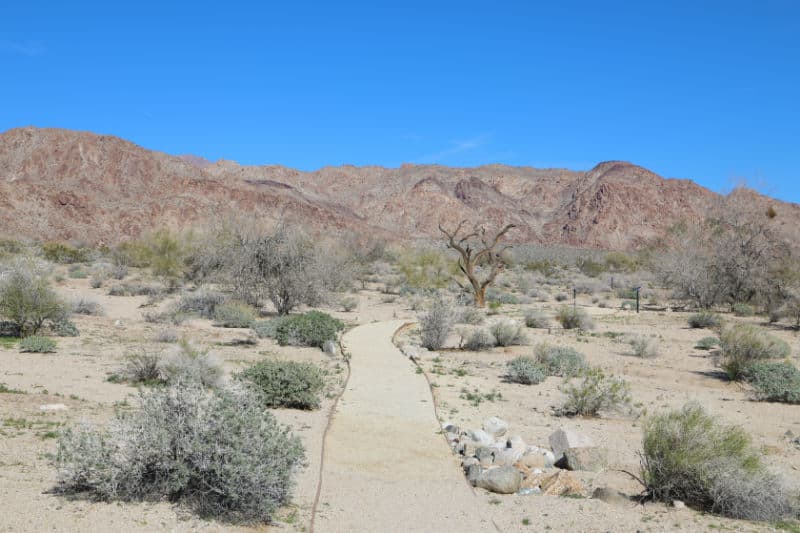 Bajada Nature Trail
Length: .25 mile
Elevation Gain/Loss: 20 feet
Time: 15-20 minutes
Location: South of Cottonwood Visitor Center; North of the South Entrance
The Bajada Nature Trail is one of the best routes to discover some of the park's most interesting plant species. This short loop is an easy jaunt, just .25 miles of dirt and gravel. It winds through a bajada - a section of debris created by erosion along the nearby mountain slopes.
This trail is best hiked in the spring, specifically in March and April when the desert vegetation is in full bloom. You'll also see signs depicting the plants that you see along the way. If you're lucky, you may even spot some desert critters like the Mojave Desert Tortoise or the Desert Spiny Lizard.
Barker Dam
Length: 1.1 miles
Elevation Gain/Loss: 50 feet
Time: 1 hour
Location: Barker Dam parking area
If you're short on time, check out the Barker Dam Trail. This easy loop trail offers up a great variety of scenery, culture, and history. The Barker Dam was built back over a century ago to support the cattle ranching that once thrived in this area. The dam is listed on the National Register of Historic Places.
During wetter months, the reservoir fills with water, and wildlife like migrating birds and bighorn sheep can be seen utilizing this watering hole. After the dam, you'll come across a short spur that leads to a small cave with petroglyphs on the walls. The route also shows off a wide variety of cool rock formations and desert flora, including Joshua trees, Cholla cacti, pinyons, oaks, and more.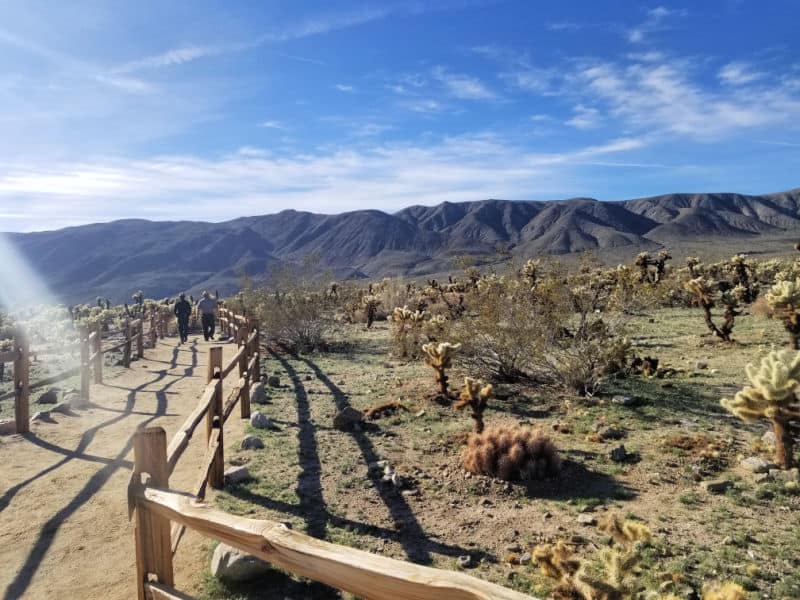 Cholla Cactus Garden
Length: .25 mile
Elevation Gain/Loss: 10 feet
Time: 15-30 minutes
Location: 20 miles north of Cottonwood Visitor Center (Pinto Basin Road)
It may be tempting to write off the short trail, but what the Cholla Cactus Garden trail lacks in length it more than makes up for in scenery. As you walk along the flat boardwalk, you'll take in views of the quirky Cholla cacti as far as the eye can see.
Although the trail is a bit far off the beaten path (it's one of the only areas of the park that is actually part of the Colorado Desert rather than the Mojave), the ethereal scenery attracts visitors in hoards. If you want to avoid the crowds, try to catch the garden at golden hour - either at sunrise or sunset. Not only will you be rewarded with a little bit of solitude, but you'll also see the desert scenery bathed in a beautiful golden light.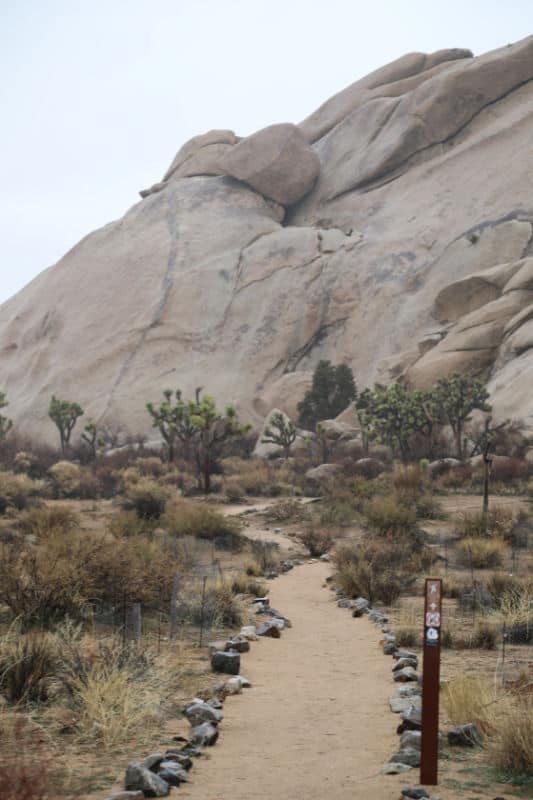 Hidden Valley
Length: 1 mile
Elevation Gain/Loss: 100 feet
Time: 1 hour
Location: Hidden Valley picnic area
Hidden Valley Trail is another one of the more popular routes in the park. But even with the crowds, it's absolutely worth hiking, especially if it's your first time at Joshua Tree. The trail boasts all the attributes of a great Joshua Tree trail, including big boulders, pinyons, a variety of cacti, beautiful mountain views, and of course, plenty of Joshua trees.
Rumor has it that this enclosed valley was once used by cattle rustlers, though today both cattle and rustlers are long gone. You're more likely to see professional climbers scaling the massive rock formations surrounding the trail, and there are plenty of smaller boulders for amateurs to ascend as well.
Because Hidden Valley is such a popular trek, the trail can get extremely busy. Try to arrive early in the morning or later in the afternoon to avoid the worst of the crowds (and heat).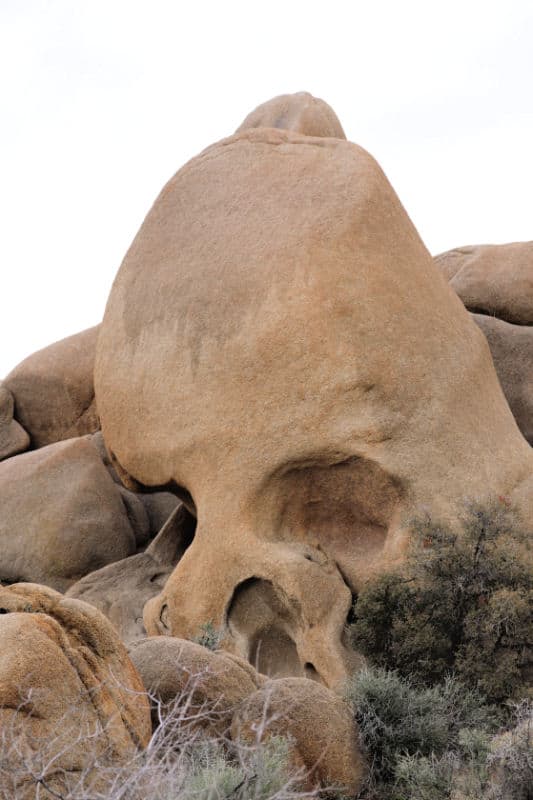 Skull Rock
Length: 1.7 miles
Elevation Gain/Loss: 160 feet
Time: 1-2 hours
Location: Skull Rock parking area; Jumbo Rocks Campground
Named for the iconic skull-shaped rock along its path, Skull Rock Trail is a must for every first-time visitor to Joshua Tree National Park. In addition to Skull Rock, hikers will catch site of other quintessential park features, including cacti, juniper, Joshua trees, yucca, and more. Of course, there are also plenty of other cool boulders to scramble along the trail.
If you visit during the spring, you'll be treated to a variety of wildflowers in full bloom, including woody forget-me-not, bush penstemon, and various flowering cacti, among others. Depending on the time of day you're hiking, you may even spot some of the park's wildlife, including rabbits, lizards, and coyotes off in the distance.
Moderate Hikes in Joshua Tree
Lost Horse Mine
Length: 4 miles
Elevation Gain/Loss: 550 feet
Time: 1-2 miles
Location: Lost Horse Mine Trailhead (Keys View Road)
Explore some of Joshua Tree's rich history along the Lost Horse Mine Trail. The mine has long since been abandoned, but in its heyday (1895-1905), it generated the modern equivalent of about $5 million dollars worth of gold and silver ore. You won't find any precious metals left in this area, but the mine still puts out a nice treasure for hikers in the form of epic views across the park's southernmost reaches.
Hike the Lost Horse Mine Trail counterclockwise for the best views. You'll hike through a wash of yucca and Joshua trees before you hit some high ground with incredible views across the valley floor. From there, you'll run into the ruins of the old mine, including pumps, cables, pipes, and other small artifacts. There are also information panels depicting the history of Lost Horse Mine.
Mastodon Peak
Length: 3 miles
Elevation Gain/Loss: 375 feet
Time: 1.5-2.5 hours
Location: Cottonwood Springs parking area
This moderately challenging loop leads you to the base of the Mastodon Peak summit in the Colorado Desert portion of Joshua Tree. Along the way, you'll pass through the Cottonwood Springs Oasis, a rare lush area of the desert with tall fan palms and plenty of shade to cool off in. You'll also get a great vantage point of large swaths of yucca and ocotillo.
From there, you'll make your way to the summit, and the views from here are worth making the trek. On a clear day, you can see all the way to the Sultan Sea to the south, Eagle Mountain to the east, and the San Jacinto Mountains to the west.
But the panoramic views are just part of the charm of Mastodon Peak Trail. After the summit, the trail leads down to the remains of the Mastodon Gold Mine, which is a great way to get a feel of the history of the Joshua Tree mining era.
This trail is especially beautiful in the early spring when the desert floor is carpeted in vibrant wildflowers. Not surprisingly, spring is a popular time to take this trek, so arrive early in the morning - especially if you are hiking during the weekend!
Difficult Hikes in Joshua Tree
Boy Scout Trail
Length: 8 miles
Elevation Gain/Loss: 1190 feet
Time: 6 hours
Location: North end: Indian Cove backcountry board; South end: Boy Scout Trailhead
Maybe you're looking for a challenge, or maybe just a bit of solitude. Either way, the 8-mile point-to-point Boy Scout Trail checks both boxes. It's one of the longest and most challenging trails in the park, and therefore it doesn't get a whole lot of traffic.
In addition to the challenge and solitude provided by Boy Scout Trail, hikers seek it out for the impeccable scenery. The trail travels along the edge of the Wonderland of Rocks - a gigantic jumble of rocks that don't seem to belong to this planet.
The Boy Scout Trail is also a great place for watching wildlife. If you're lucky, you might catch a glimpse of the endangered bighorn sheep or desert tortoises, both of whom call this area of the park home.
Note that this trail is long and challenging and should not be undertaken without some serious planning. Because it is a point-to-point trail, you'll need to arrange a vehicle shuttle to transport you back to where you started.
Fourtynine Palms
Length: 3 miles
Elevation Gain/Loss: 300 feet
Time: 3-4 hours
Location: Fortynine Palms parking area (Highway 62)
The Fortynine Palms Oasis trail is one of the most beautiful in the park, and it's also one of just two that features an oasis of the native California fan palms.
The trail starts with a steep incline, dotted with barrel cacti and increasingly beautiful views across the valley below. At the top of the ridge, the scenery come to a climax, with views to the city of Joshua Tree and the Fortynine Palms Oasis - your final destination.
From there, you'll begin to descend along the other side of the mountain, and you'll make your way towards the oasis in the distance. The oasis is comprised of large rocks and plenty of shade from the palms overhead, so feel free to relax here and maybe even enjoy a picnic before making the long trek back the way you came.
Ryan Mountain
Length: 3 miles
Elevation Gain/Loss: 1050 feet
Time: 1.5-2.5 hours
Location: Parking area between Sheep Pass and Ryan Campground
Ryan Mountain Trail boasts some of the best views in the park, but you'll have to put in some serious effort to reach the summit! This is one of the most difficult routes in the park, with steep inclines and little shade.
Those who make it to the top will be rewarded with some of the best views around, with 360-degree vistas of the entire park. The views are the best on a clear day when you can see all the way to the peaks of San Jacinto and San Gorgonio.
This trail should not be hiked without considering the great effort it takes to make it to the top. If you choose to undertake the Ryan Mountain Trail, be sure to avoid hiking in the middle of the day and bring plenty of water along with you.
Wall Street Mill
Length: 2.4 miles
Elevation Gain/Loss:
Time: 1-2 hours
Location: Wall Street Mine parking area (Park Boulevard)
If you only have time for one historical hike during your time in Joshua Tree, make it the Wall Street Mill. This mill cleaned miners' gold and was in business until 1966. It is also on the National Register of Historic Places.
As you hike, you'll come across various artifacts, including rusted cars, a ranch, an old windmill that pumped water for the mill, and more. You'll even pass by the site of a famous shootout, where the mill owner (Bill Keys) had a dispute with his neighbor (Worth Bagley) and ended up killing him.
Warren Peak
Length: 6.3 miles
Elevation Gain/Loss: 1110 feet
Time: 3-4.5 hours
Location: Black Rock
More great views await along Warren Peak Trail, tucked into the relatively unvisited western part of the park. The trail is steep, but the views along the way help distract from the leg burn.
As you climb, you'll take in views of Joshua trees, Mojave yucca, and staggering rock formations. Further up, the landscape switches to pinyon pines, oak, and juniper trees.
You'll have to conquer a series of switchbacks and steep sections that may have you crawling on all fours, but the view from the top is worth the scramble. Once you reach the summit, you'll be rewarded with incredible views of some of the state's tallest mountain peaks. There are also great vistas of Coachella Valley and the Mojave Desert.
Additional Joshua Tree National Park Resources
Complete Guide to Joshua Tree National Park
Things to do Joshua Tree National Park
Complete camping guide to Joshua Tree National Park
National Park sites near Joshua Tree
Castle Mountains National Monument
Santa Monica Mountains National Recreation Area
Cesar E Chavez National Monument
Lake Mead National Recreation Area
Check out all of the California National Parks along with neighboring Arizona National Parks, Oregon National Parks, and National Parks in Nevada